Want to measure Net Promoter Score in your SaaS products & distinguish your promoters from passives and detractors? Check out this blog to learn the best way to measure NPS in SaaS products.
In 2018, Hootsuite launched a major update to its platform, which included new features and a more intuitive user interface. Despite the positive response to the update, Hootsuite received a negative NPS score of -2 in a survey conducted by G2 Crowd.
Reason?
Hootsuite delved deeper into the analytics and found that the negative score was attributed mainly to the company's customer support and pricing. Users reported difficulty reaching Hootsuite's customer support team and were dissatisfied with the company's pricing plans.
Hootsuite bounced back by introducing a new self-service support portal and flexible pricing options, resulting in a significant Net Promoter Score improvement.
Lesson learned: Seek product feedback at every touchpoint and measure NPS across business segments to keep your customers smiling!
Measure Product Feedback & User Insights 💻
With Product Feedback Surveys, understand what users need and learn ways to delight your customers.
Measuring NPS can help you leverage the NPS data to gain deeper insights into which aspects require refinement, prioritize immediate action items, and identify long-term improvement opportunities. In this blog, we will delve deeper into how to measure Net Promoter Score in SaaS products so that you can win loyal customers that would love to spread positive word of mouth. So, let's get started!
Table of Content
Steps to Measure NPS in SaaS Products?
When it comes to measuring NPS in SaaS products, there are certain steps that one should follow. Whether one is setting up NPS within their CRM or Sales tools or choosing from the best NPS tools, ensuring that everything is set up properly to is crucial to measure customer loyalty successfully. Below are some of the quick steps that one can follow to measure NPS in SaaS products more effectively:
Define your Customer Segments: Start with identifying and segmenting the different types of users of your SaaS products. You can segment them on different parameters like free trial users or paying customers, geographic segmentation, feature-based segmentation, lifecycle stage segmentation, and other types of user segmentation.
Determine the When To Send NPS Survey: The next is to decide when you want to send out the NPS survey. Onboarding NPS Surveys can be sent a few minutes into their onboarding. Product feature NPS surveys can be sent once the user has spent some time experiencing a particular feature of the product. Customer service NPS surveys can be sent once an agent has closed a ticket. And so on. Collecting NPS feedback throughout the different stages of the customer journey can help you identify the issues faster and address the concerns.
Design your NPS Survey for SaaS Product: Keep a few elements in mind while designing NPS surveys for Saas:


Customize the NPS survey question based on the touchpoint in the SaaS product journey.
Microsurveys work best with SaaS products as they capture essential data in a few seconds.
Skip the welcome screen and ask users to directly give scores from 0 to 10 on the basis of their likelihood to recommend.
Make sure to add a follow-up question or an open-ended survey question encouraging users to share their qualitative feedback as well.
Set up triggers for pop-up surveys to open up after key events, plan upgrades, or other actions performed by the user to capture their loyalty.

Distribute The Survey: Choose the survey channels correctly based on the user segment you are targeting. For instance, you can use in-app NPS surveys for existing users, while email surveys can be used for new or lost customers. The best channels for distributing NPS surveys for SaaS users are in-app or email. You can use pop-up surveys, pop-over surveys, or feedback buttons to capture the loyalty metric of your users more effectively.

Calculate NPS Score:

There is a simple formula to calculate Net Promoter Score. First, you segment the responses as:


Detractors (0-6): Unsatisfied users who are less likely to recommend or repurchase.
Passives (7-8): Neither positive nor negative about your brand.
Promoters (9-10): Brand loyal advocates who would recommend your brand to others.

Once you have the numbers, subtract the total percentage of Detractors from the percentage of Promoters to find out your Net Promoter Score. However, if you are using NPS software to collect and measure your NPS, the metric will be automatically calculated and shown to you within your reports.

Analyze the Result & Take Action: Don't stop at just collecting the NPS score. Make sure you are closing the feedback loop effectively by analyzing and interpreting the NPS score to look for patterns and trends. Also, go through the comments added by users to gain more insight. You can use this data to make more informed decisions. Just like Hootsuite did with its NPS survey and made it successful.
You can also check out our blog: Step-by-step Guide to Measuring Net Promoter Score, for a more in-depth understanding of how to create and successfully implement NPS surveys.
Best Practices to Measure NPS in SaaS Products
Zendesk CEO Mikkel Svane considers measuring NPS as a critical metric that they use to understand how well they are serving their customers. He says, "We're always looking for ways to improve our score and deliver a better experience for our users." Canva, on the other hand, gathers insights from NPS data to drive its product development and roadmap. Slack finds NPS as a reliable way to measure customer satisfaction and tracks progress by continuously monitoring it.
While all top SaaS companies emphasize measuring the NPS, what best practices can you follow to maximize product-led growth for your SaaS product? Let's look at them.
a. Time your NPS Surveys Right
While setting up the NPS survey in-app or on-website, you can time the survey to capture the most accurate and reliable customer insights. It will help measure transactional NPS data from customers at the right moment when their experience with the product or service is still fresh.
For example, let's say you sell online fitness programs and want to send out an NPS survey to your customers; the right time to send the NPS survey would be after your customers have completed a workout or finished a program. This would enable them to provide valuable feedback that can be used to improve the customer experience and increase loyalty.
If the company sends out the survey too early, such as immediately after a customer signs up for the program, the feedback may not accurately reflect their experience with the product. Similarly, if the survey is sent out too late, such as several weeks after the customer has completed the program, their feedback may not be accurate. M
b. Leverage User Segmentation
By leveraging user segmentation, you can identify the customers falling into the detractors, passives, and promoters. Say, you want to know data about enterprise users who are detractors; you can leverage the segmentation feature by setting up conditions based on survey interaction, contact attributes, and scores. Once you have that data, you can easily identify the cause of their rating. Instead of taking the NPS at face value, segmenting users to gain a deeper understanding of their concerns is always a good idea.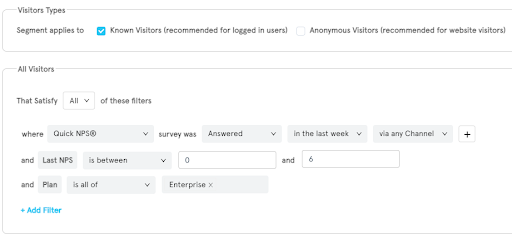 You can also identify customers who interact most with your product and have given an NPS score of less than or equal to 6 to dig deeper into their pain points, as they would have the most valuable insights into improving your product. These are just some use cases of the segmentation feature of Zonka Feedback; similarly, you can identify the NPS data of your valued users based on whether they took the NPS survey at all, partially answered, not viewed, or sent.
By segmenting users, you can identify patterns and trends of a specific group of customers and take targeted actions to improve their experience and reduce customer churn.
c. Always Ask a Follow-up Question
This one goes without saying. A follow-up question to your NPS scale helps provide more in-depth information as to why your users are giving you the particular score. The simplest follow-up question could be to ask the reason behind giving the score. By adding logic and branching to your NPS survey, you can also add condition to ask question like what you can do to make the product/experience better if they have given a score lower than 6-7. For those who fall in the category of promoters, you can ask what they like the most about your SaaS product, specific features, etc.
d. Assign Attributes for your SaaS Users
Measuring NPS by identifying customers based on demographics, purchase history, customer behavior, etc., can come in handy to analyze the data in a better manner. For example, let's say that you run an online clothing store, and you want to measure the NPS of your customers. You can get NPS data based on attributes such as age, gender, location, and purchase history to segment your customers and measure their NPS scores.
By applying attributes based on age and gender, you might find that female customers between the ages of 25-34 have given a higher NPS score than male customers in the same age range. It can help you tailor your marketing and product offerings to better meet the needs of these customer segments.
You can also add attributes such as frequency of use or time spent on the website to segment your customers based on their behavior. For example, you might find that customers who spend more than 10 minutes on your website have given a higher NPS score than those who spend less than 5 minutes. It can help you understand which customers are most engaged with your website and take the required actions to improve the customer experience of those who were detractors.
By blending attributes with segmentation, you can gain deeper insights into your NPS data and take targeted actions to improve the customer experience.
e. Tag NPS Survey Response
By tagging the NPS survey responses, you can categorize and analyze the responses received from the customers. For example, in the NPS survey follow-up question, you asked the reason for rating from your customers, and they responded with various comments, such as:
"I love the customer service. They are always so helpful!"
"The product is great, but I had difficulty navigating the website."
"I would recommend this company to anyone looking for a quality product at a good price."
"I found some features missing."
These comments can be categorized into themes such as customer service, product quality, website usability, feature missing, and pricing. Doing this lets you gain insights into which aspects of your business positively impact the NPS score and which areas need improvement.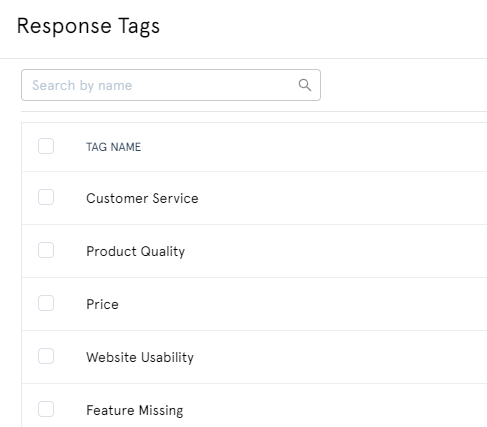 For instance, if most customers praise customer service, you can focus on maintaining or improving that aspect to increase customer satisfaction and loyalty. On the other hand, if there are complaints about website usability, you can direct the NPS feedback to the customer service team and take steps to improve the website's functionality and design.
By tagging NPS survey responses based on keywords, you can measure NPS data by following a systematic and structured way of analyzing customer feedback to identify key areas for improvement.
f. Look for Patterns & Trends Within NPS Data
By analyzing NPS data, you can look for patterns in customer feedback to identify areas of improvement. For instance, if users from the age group 25-35 are primarily promoters or 35-45 are usually passives, try adjusting the messaging appeal to the latter group too.
If the customers are churning out due to price, offer them a discount, or if they mention features are less for the pricing, offer a few extra bells and whistles to retain them. In a follow-up NPS survey question, ask what would make them more willing to recommend you and then see if the response can be met with some solution.
Analytics and report features can also be used to analyze the sentiment of customer feedback. It can help you understand whether the feedback is positive, negative, or neutral and identify key issues that require prioritized responses. Try reaching out to not just detractors but promotors as well, as they are your biggest asset. By measuring NPS, HubSpot reaches out to its promoters and offers them an opportunity to become their advocates. By leveraging customer advocacy through referral programs, it has created more brand visibility and retained customers.
With Zonka Feedback, you can unleash the power of reports to get a bird's eye view of customer feedback. From snapshot summaries to response tag reports, the analytics suite offers unparalleled insights into survey responses. With these reports, you can effortlessly pinpoint areas for improvement and understand how your customers truly perceive your product.
g. Measure NPS Data Continuously
NPS data doesn't stand still as it changes with your action or inaction. Continuous measurement of NPS for SaaS products is crucial as it provides a clear understanding of customer loyalty and satisfaction levels, enabling you to make informed decisions about your SaaS product. NPS is also an excellent predictor of customer retention and growth, allowing companies to identify and address issues before they lead to churn.
For instance, let's say you offer an online project management tool. You initially had a high NPS score, indicating that their customers were satisfied and willing to recommend the product to others. However, over time, you added certain new features, which resulted in a decline in the NPS score. Through analytics and reports, you can understand the primary reason for the decline, which, let's say, is the unfriendly user experience of the new feature. You can immediately fix that by using workflow and CX automation and getting the UX team to improve the feature, thereby preventing customer churn and increasing loyalty.
h. Choose the Best NPS Survey Software
While one can measure NPS using different means, the best way is to use an NPS survey software for your SaaS product. Using NPS software, you not only save time but also enjoy the benefits of creating more impactful surveys that are powered by automation & intelligent capabilities.
An NPS software like Zonka Feedback can help you set up and start collecting NPS data from your users in a matter of minutes. Using Zonka Feedback, you can start by customizing your NPS surveys and their appearances to reflect our brand consistency. You can also segment your users, distribute on different channels through a single platform, trigger surveys on different events, and even access in-depth reports for analysis.
Benefits of Measuring NPS in SaaS Products?
"Measuring NPS is essential for any SaaS business that wants to grow and thrive. It provides invaluable insights into customer satisfaction, loyalty, and advocacy. By tracking NPS over time, we can identify trends and take action to improve our product and customer experience, ultimately driving customer retention and revenue growth." - Karen Peacock, CEO of Intercom
It is a no-brainer that measuring NPS in SaaS products helps you understand customer satisfaction. If your customers are happy with your product, they will recommend it to their friends and family. Dropbox is an example that became popular with word-of-mouth and witnessed 3900% growth in just 15 months through its referral program. It became the cloud service monolith we know today by outpacing Mozy or Carbonite, who had a fierce start and were already standing firm in the cloud service space.
By measuring NPS, you can not only identify areas for improvement and address potential issues but also leverage the positive feedback of satisfied customers to drive growth and increase customer loyalty, as in the case of Dropbox.
Here are a few reasons why you must measure NPS in your SaaS product:

Anticipates Churn: Customers who give a low NPS score or are categorized as detractors are at higher risk of churning. By reaching out to these customers, you can better understand their concerns and work to address their issues, potentially avoiding churn. Additionally, you can identify common themes or patterns in the feedback of detractors to make improvements to their products or service to prevent future churn.
Opportunity for Upselling: By focusing upselling efforts on promoters, you can increase the chances of success of your product and maximize revenue. In addition, promoters may be more willing to provide testimonials and recommendations, which can help attract new customers and further drive growth.
Benchmarking against Competitors: By understanding where your NPS score sits in relation to the industry average, you can identify areas for improvement and make strategic decisions to improve customer satisfaction and loyalty. For the SaaS industry, the average NPS score is 31, and a score of 50 would be considered good.
Pinpoints Product's Strength and Weakness: NPS survey follow-up questions with open-ended responses can identify customer preferences and dislikes. By matching this feedback with customer behavior data, you can get a complete view of how the product is used and perceived. For instance, if customers frequently mention that a particular feature is difficult to use, you can focus on improving it to make it more user-friendly. Alternatively, if customers are delighted with a specific feature, you can double down on it and make it a key selling point.
SaaS Companies that Drive Growth by Measuring NPS
A study has shown that companies with high NPS scores grow at more than twice the rate of their competitors. By measuring NPS data, top SaaS companies have continuously improved their product and are able to build a loyal customer base driving growth in an increasingly competitive market.

Let's look at the NPS score of some of the top SaaS companies that have succeeded and solidified their market position by measuring NPS.
| | | | | |
| --- | --- | --- | --- | --- |
| Company | NPS Score | Promotors | Passives | Detractors |
| Canva | 69 | 77% | 15% | 8% |
| Freshworks | 58 | 74% | 10% | 16% |
| Slack | 55 | 68% | 19% | 30% |
| GitHub | 51 | 64% | 23% | 13% |
| DocuSign | 44 | 64% | 14% | 22% |
| HubSpot | 44 | 60% | 24% | 16% |
| Zoho | 43 | 66% | 11% | 23% |
| Salesforce | 39 | 64% | 11% | 25% |
| Shopify | 38 | 59% | 20% | 21% |
| Atlassian | 37 | 57% | 23% | 20% |
Source: Comparably.com
Conclusion
In today's competitive SaaS market, measuring NPS is critical for driving growth and staying ahead. Top SaaS companies like HubSpot, Salesforce, and Zoom have leveraged NPS to achieve incredible growth and success. In the words of Bill Macaitis, CMO of Slack, "NPS is a leading indicator of future growth. The larger the number of advocates for a product, the lower the customer acquisition costs for the company, and the more effective the customer success team will be."

By following best practices for measuring NPS, such as segmenting users, timing the survey, and leveraging analytics and reports, SaaS companies can gain valuable insights into their customers' satisfaction levels and improve their overall experience. Measuring NPS is not a one-time thing; you have to continuously measure it to understand how every addition to your product is doing for your customers. By actively addressing the concerns of detractors, acknowledging and expressing gratitude towards promotors, and working on converting passives into enthusiastic supporters, it is possible to create a positive and engaged audience that can help to drive success and growth for your SaaS product.

To measure NPS and get deeper insights into the needs of different customer types, sign up for a 7-day free trial on Zonka Feedback. It comes packed with various features like tagging, automation, and advanced user segmentation that will help you measure your NPS data effectively and strategize your product roadmap to put you ahead of the competition.