NPS has emerged as one of the most popularly used Customer Experience metrics for its simplicity and effectiveness in quantifying Customer Loyalty using a single question.
Measure Customer Loyalty with NPS ❤️
Create NPS surveys, measure customer loyalty, and close the feedback loop with Zonka Feedback.
Before moving to the steps to measuring NPS, let's know a little bit about NPS and why it's an important metric for you to start measuring.
What is NPS®?
Net Promoter Score
®
(NPS) is a Customer Feedback metric developed by Bain & Company. It is measured with a single question, '
How likely are you to recommend us to a friend or colleague?
' It is rated on a scale of 0-10 and is a measurement of the likelihood of customers to recommend your brand to someone else.
Based on what score the customers choose, they are divided in three categories:
Promoters (who rate 9-10) — They are highly satisfied customers and will not only recommend your brand to their known ones, but can also try to convince them to opt for your brand.
Passives (7-8) — They are moderately satisfied customers, however, they will not promote your brand to the extent of promoters and may even switch to other brands also if offered a little more.
Detractors (0-6) — They are the unhappy and dissatisfied customers and will never promote your brand. They will not only switch to another brand but can also badly affect your goodwill through their negative word of mouth.
The NPS is calculated by subtracting the percentage total of Detractors from the percentage total of Promoters. The Net Promoter Score is a number between -100 and +100 and not a percentage. Access free Online NPS Calculator to calculate NPS.
Why Measure NPS?
The need for measuring NPS increases when we understand the importance of Customer Loyalty. Customers' word of mouth is one of the most wonderful and effective marketing element that promotes sales. 64% of the marketing executives indicate that they believe Word of Mouth to be the most effective form of marketing.
It is a general tendency of the customers to choose those products which are recommended by a friend. In fact, people trust 90% more likely to trust a brand and buy its products and services if it is recommended by their friends.

A satisfied customer is more loyal and can bring more customers to your business. Whereas, a dissatisfied customer stops other customers also from choosing your brand, forget about bringing more business for you. And it is often seen that detractors are louder than promoters which makes it necessary to find them and satisfy them to prevent a negative word of mouth spreading in the market and harming your goodwill.

How to start Measuring NPS quickly and effectively?
If you use the right method and steps, it's actually easy to get started with measuring Net Promoter Score in your business.
Steps to Measure Net Promoter Score
Define the reason to measure NPS
Choose an NPS Software
Create and customize your NPS Survey
Choose the survey distribution method and frequency
Add the team members who would address the feedback
Set up NPS Survey Alerts and Notifications
Send the Survey
View real-time NPS Responses
Analyze Detailed NPS Reports
Take Action and Close the Feedback Loop
Let's explore these steps in detail.
1. Define the reason to measure NPS
First and the foremost step to measure NPS is to identify the reasons for which you are choosing NPS survey for your business. What are you looking to measure? Are you looking at measuring loyalty based on a transaction or a general relationship?
Considering these aspects, you can choose among Transactional NPS Survey and Relationship NPS Survey. Transactional NPS Survey means you choose NPS survey to be sent to the customers either immediately or after sometime post an interaction. Whereas, the latter means you have chosen to do a regular survey to find the customer loyalty for your brand and to maintain good customer relations.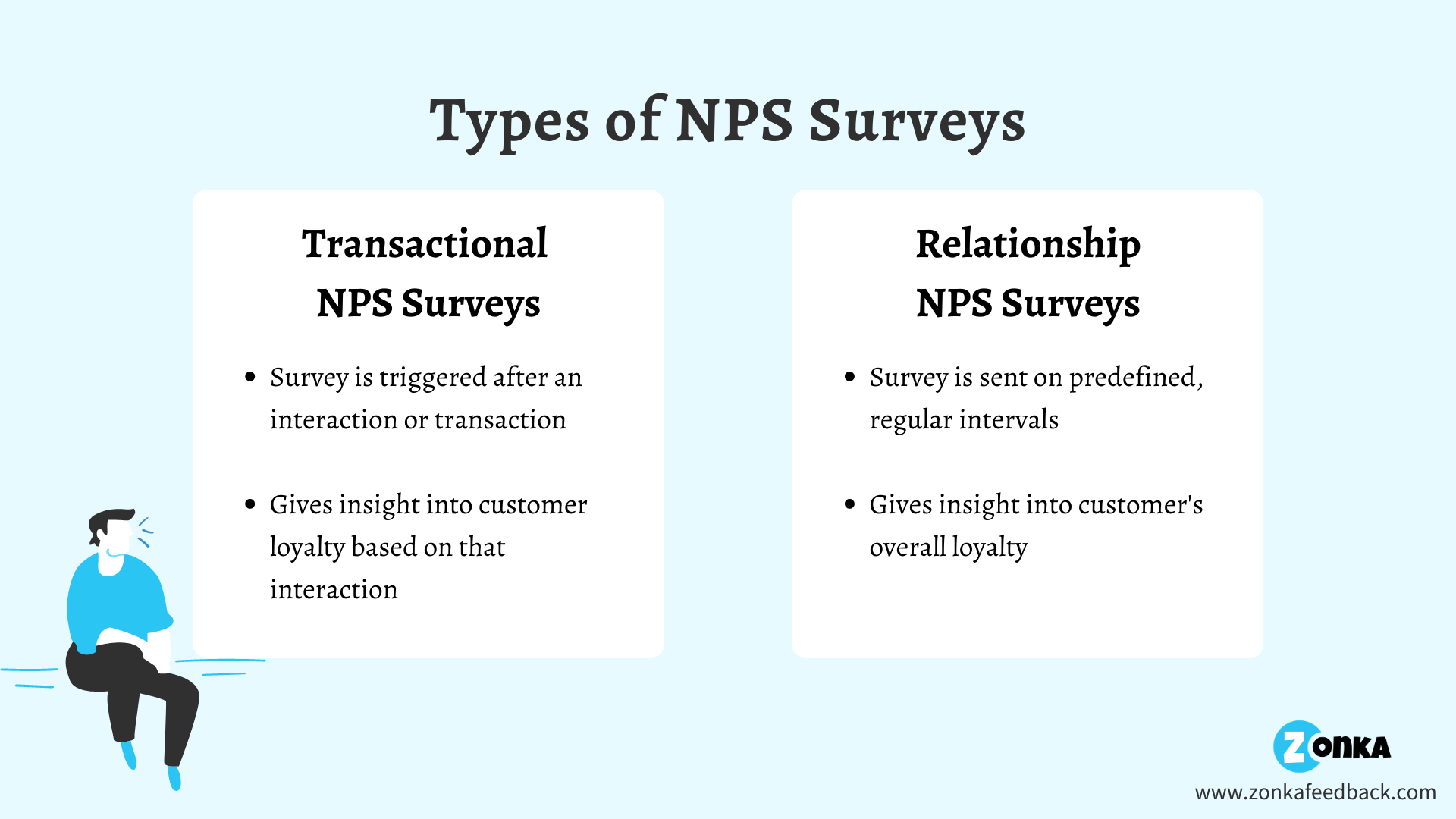 2. Choose an NPS Software
The easiest way to measure NPS is to choose a good NPS Software that can help you easily create and send NPS surveys to your customers and give you access to real-time NPS reports. You need to choose your NPS survey software wisely. The software you choose must have these features:
It should enable you to create both Relationship as well as Transactional NPS Surveys
It should be provide you real-time alerts and notifications for detractors to solve their issues.
It should be able to give you detailed NPS reports and dashboard.
It should be able to help you compare NPS over various locations and time.
It should enable you to send NPS surveys through multiple channels - tablets, kiosks, online, email and SMS
3. Create and customize your NPS Survey
The next and the main step is to create and customize your NPS Survey. For this, you should:
Log into your NPS Software to create your NPS Surveys.
Use ready-to-use NPS Survey Templates available in your Survey Software. These templates help you to easily create attractive surveys and save your precious time.

Customize your surveys based on the company's brand. Good survey software and apps help you not only to create beautiful surveys but also customize them. To customize your survey, you need to:
Add your brand's logo and do all the branding of your company with the help of the feature of white-labeling your surveys.
Modify the NPS question to ask exactly what you are looking for.
Also add a generic follow up question to obtain the Customer Feedback in their own words.
Add logic to ask different and relevant questions for promoters, detractors and passives.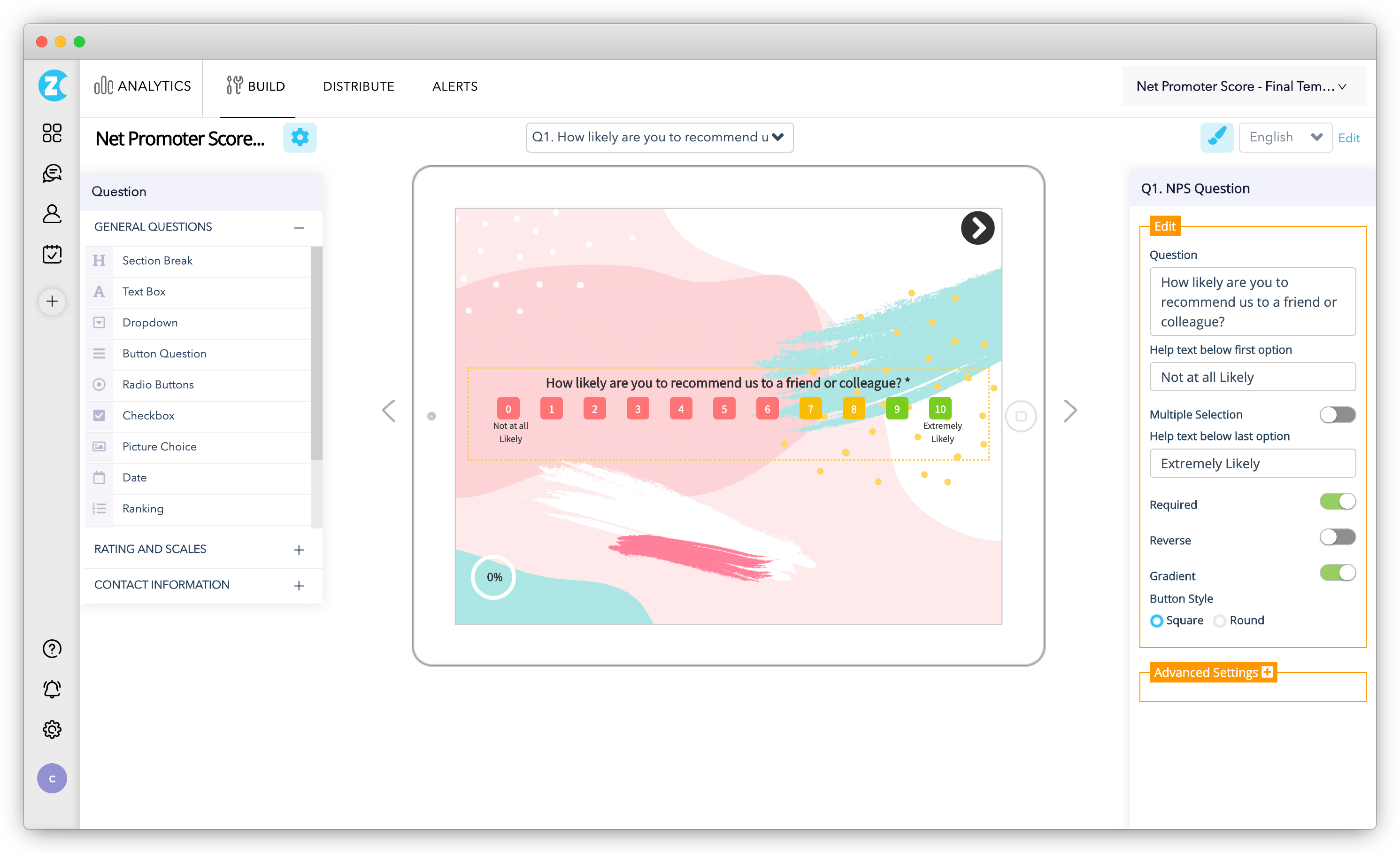 4. Choose the distribution method and frequency
When you have created your customized NPS survey, the next step which you need to take is to decide on the distribution method. Good survey apps these days provide you options to take your survey responses through multiple ways like emails surveys, SMS surveys, kiosk surveys, online and offline surveys.
It is your decision which method to choose from. You can choose among them as per your business requirements and your customer base. For instance, you can choose to get NPS survey responses:
Through tablets and kiosks if your business requires you to obtain on-premises Customer Feedback.
Though emails and SMS surveys, if the customers are not on-premises and have shared their contact details with you.
Through Web Widgets and Web Popups if you are taking feedback from website visitors.
Through QR codes and Web Links in case you are not contacting with the customers directly but want to give them option to share feedback.
Through APIs and Integrations to trigger NPS Surveys based on certain events and transactions.

5. Add the team members who would address the feedback
This is an important step which most people skip. What happens when you get feedback? Who's responsible? Who's looking at the feedback? Before you send the survey, it would be a good idea to define what to do with Customer Feedback.
Although being a simple and easy single-question survey, NPS survey is an important task for which you need to define a dedicated team not only to conduct NPS surveys, but also analyze results and take actions on that.
You can add users and team members in your organization and define what access they would have. You can allot some persons to contact your detractors and address their issues. This will help you to know the extent to which your detractors are dissatisfied and you will be able to measure NPS and work on it accordingly to bring your customers back.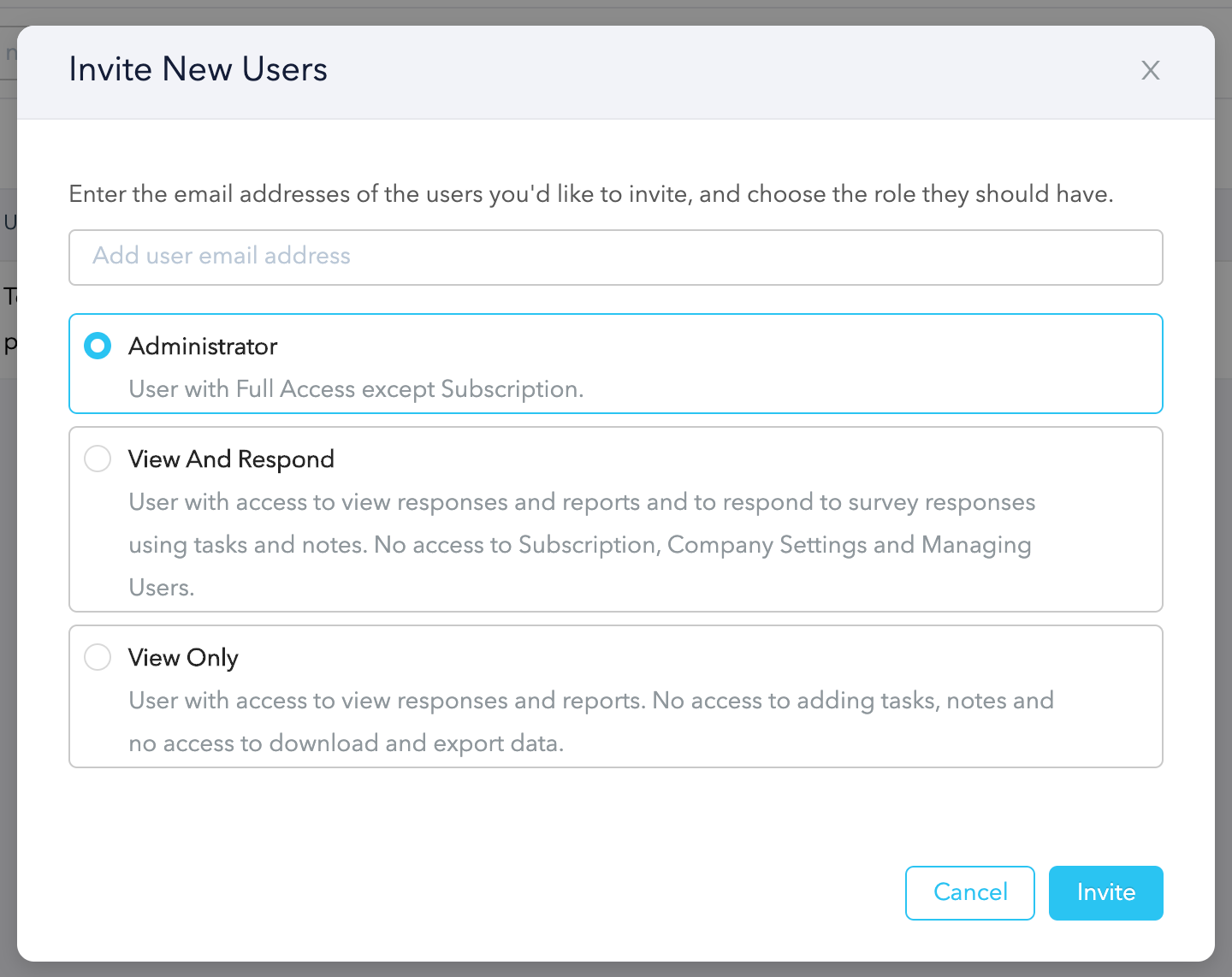 6. Set up Alerts & Notifications
This is really handy and can speed up your feedback process a lot. Setting up automated Alerts and Notifications as soon as you get feedback ensures that your team is aware in the moment of bad reviews and can take action to prevent the customers from leaving your business.
Types of Alerts you can set in Zonka Feedback
Default Response Notification: These notifications alert you about a bad NPS score so that you can take timely action. Seeking detractors on the right time and working on their concerns to resolve their issues impacts them in a very positive way. This improves their Customer Experience to an extent that your detractors can be converted into promoters.


Custom Alerts: These alerts can be customized and you can set them as per your business requirements. You can choose any filters, question and answers as well as Contact Attributes in order to set up these alerts.


Notifications for Respondents: You can setup automated emails to Respondents based on their score.

7. Distribute the NPS Survey
Next step is to of course send your survey to the customers and start getting NPS data in the form of customer responses and reports. You send the NPS Survey using any channel you like — Email, SMS, QR Code, Web Link, Embed on Website or take it on premises using Tablets and Offline Kiosks.
8. View real-time NPS responses
Once you've sent your NPS Survey and start getting responses, you can view them in real-time in your Response Inbox. You will also simultaneously start getting any alerts you may have set for new Responses and Negative Responses (detractors).
In the Inbox, you can filter your Responses, Star them, Mark them as Important, Add Notes, Add Tasks and more. This is where you can take action on individual responses to close the feedback loop.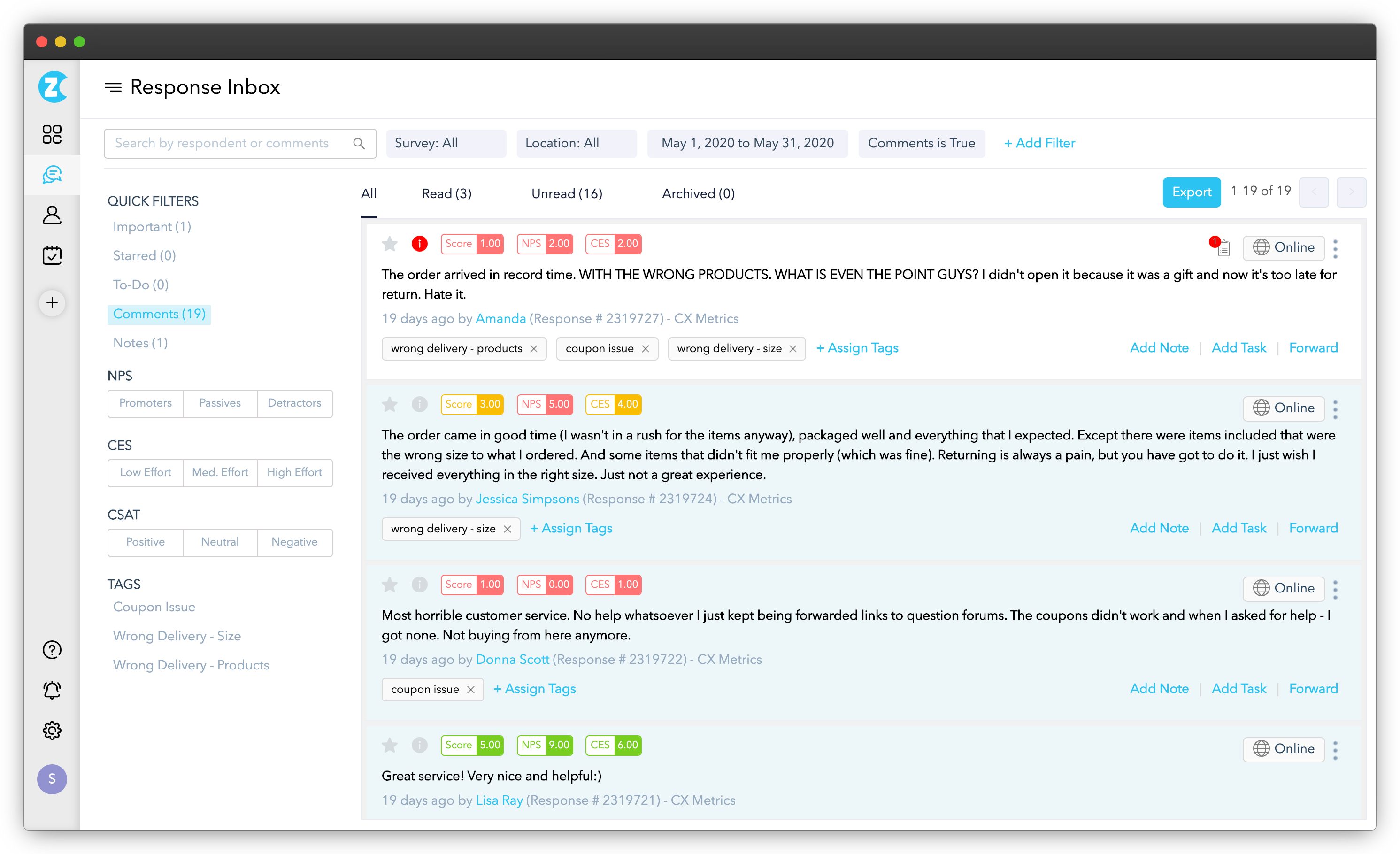 9. Analyze detailed NPS reports
Besides looking at individual responses, you can view details NPS Reports with NPS Snapshot, NPS Meter Report, NPS Trends, NPS in context to every survey question, and more. These Reports will give you a comprehensive view of your Customer Loyalty and will be the foundation for business action and changes.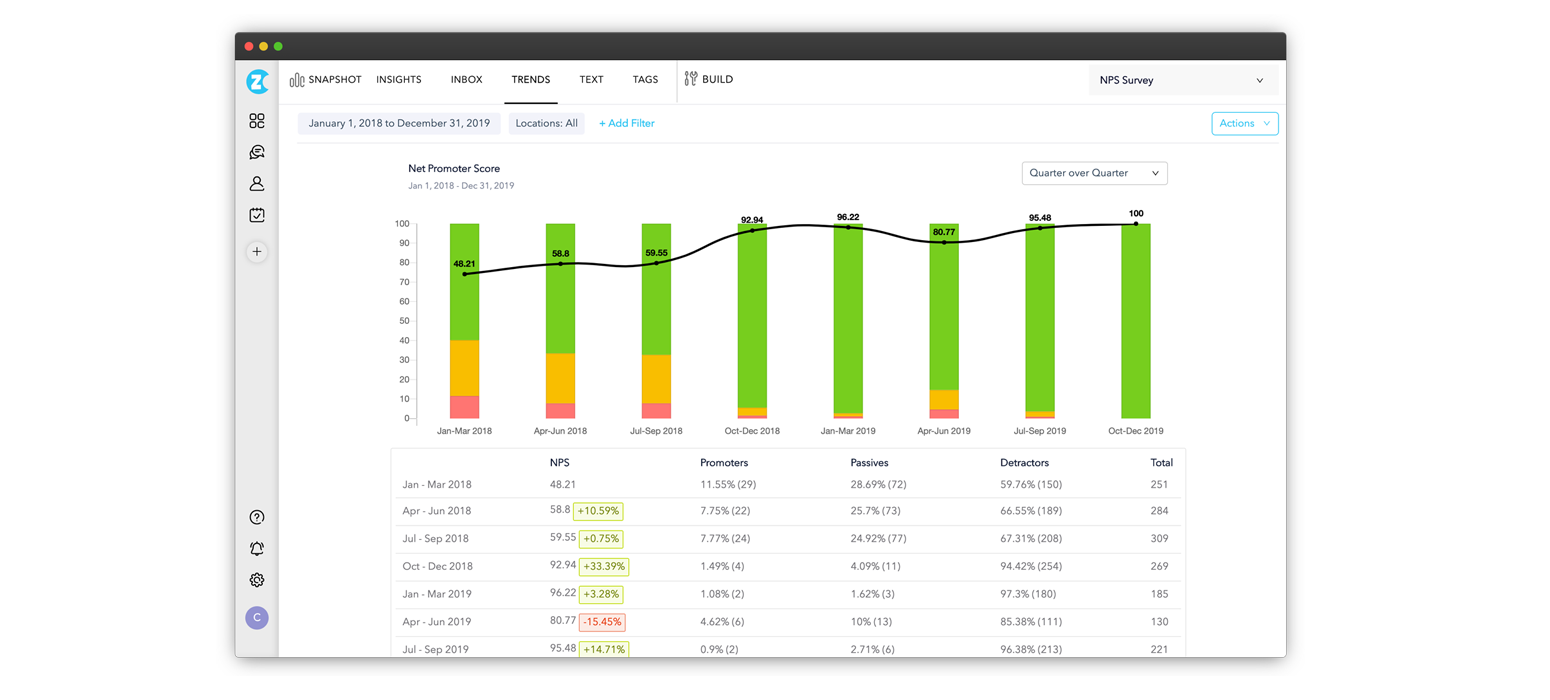 10. Take action and close the feedback loop
When you have got your NPS score and done with the analysis of your NPS reports and responses, the final step is to take appropriate action to improve Customer Experience and thus your NPS. You can reward your loyal customers, and address the miffed customers to bring them back to your business.
For this purpose, you can create tasks for your team and assign those task to concerned persons. This will help you Close the Feedback loop and thus drive more business.
Learn more about the Net Promoter Score (NPS)