Introduction to Net Promoter Score
NPS or Net Promoter Score is one of the Customer Satisfaction Metric that is used by several companies worldwide. It's used primarily to measure Customer Loyalty towards a company. It was developed by Bain and Company in the year 2003. NPS Survey will consist of a single question "On a scale from 0 to 10, how likely are you going to recommend our company/products/services to your friends and family." The loyalty score can range from -100 to 100. A higher score is recommended.
NPS is a valuable metric for every organization, and a high NPS score will help you analyze a healthy relationship with your customers who can become your brand advocates.
How is NPS Calculated?
The NPS Formula is simple —
NPS = %Promoters -%Detractors
To calculate NPS, it's vital first to understand the terms that are used in the formula. In NPS, customers are categorized into 3 groups depending upon their score – promoters, detractors, and passives.
Promoters — They are those customers who will answer the question with a score of 9 or 10. They are your loyal customers who will stick with your company for a longer duration and going to recommend your company to friends and family.
Detractors — They are those customers who will answer the question with a score of 0-6. They are not happy with your company and will look for other options. They will even share negative reviews and discourage others from using your products and services.
Passives — They are those customers who will answer the question with a score of 7-8. They are neutral customers who are somewhat satisfied, but not happy to be considered promoters. Nor are they going to promote your products and services, and neither is going to discourage others from buying products and services from you.
Do's of using Net Promoter Score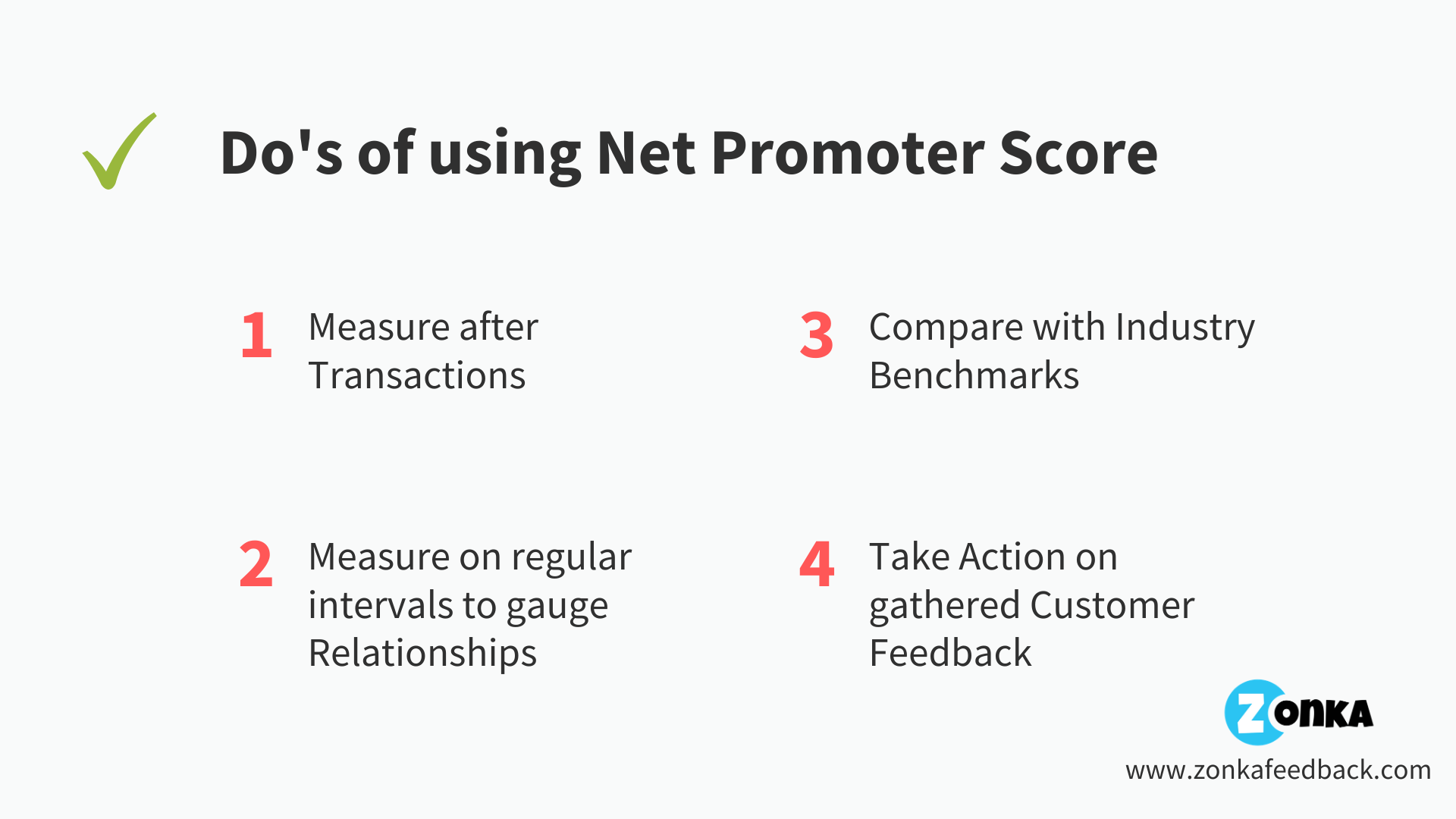 Measure after transactions: Transactional Net Promoter Score is used to gauge customer's satisfaction after a specific event or engaging in a particular activity. It's used to assess customer's satisfaction after carrying out a specific business transaction or after product order or product delivery/installation. For instance, sending an NPS Survey immediately after a customer places an order. The Transactional NPS Surveys are focused on a specific event or after a customer service interaction.
Measure on a regular basis to gauge the relationship: Relationship NPS Surveys should be conducted at regular intervals to assess the relationship between the customers and your business. It will aid in gauging customer satisfaction levels and identifying the issues that needs to be resolved. To get the most out of these surveys, it's important to divide your customers into different clusters and decide the appropriate time to conduct it.
Compare with industry benchmarks but also self-improvement: The best way to utilize NPS is by comparing your company's NPS score with similar companies when analyzing your business NPS. A massive amount of differences can be seen between industries like B2B/B2C and the way you measure NPS. To get accurate results, it's always recommended to compare the same type of NPS like compare transactional NPS with other transactional NPS.
Act on feedback: Apart from collecting positive and negative feedback with the help of NPS Surveys, it's essential to take proper actions on the collected data. Doing so will ensure that you care for your customers, and their opinion matters to you. With the help of an NPS Survey Software, you will able to identify your promoters, detractors, and passives. Moreover, you would be able to send messages within the software to your customers based on their NPS rating. You can implement effective strategies that can help you convert your detractors into promoters

.
It's essential to interact with your customers and identify the reasons behind their dissatisfaction that will play a pivotal role in closing the feedback loop. It also means addressing your customer's concerns and enhancing your products and services as per their requirements.
Don'ts of using Net Promoter Score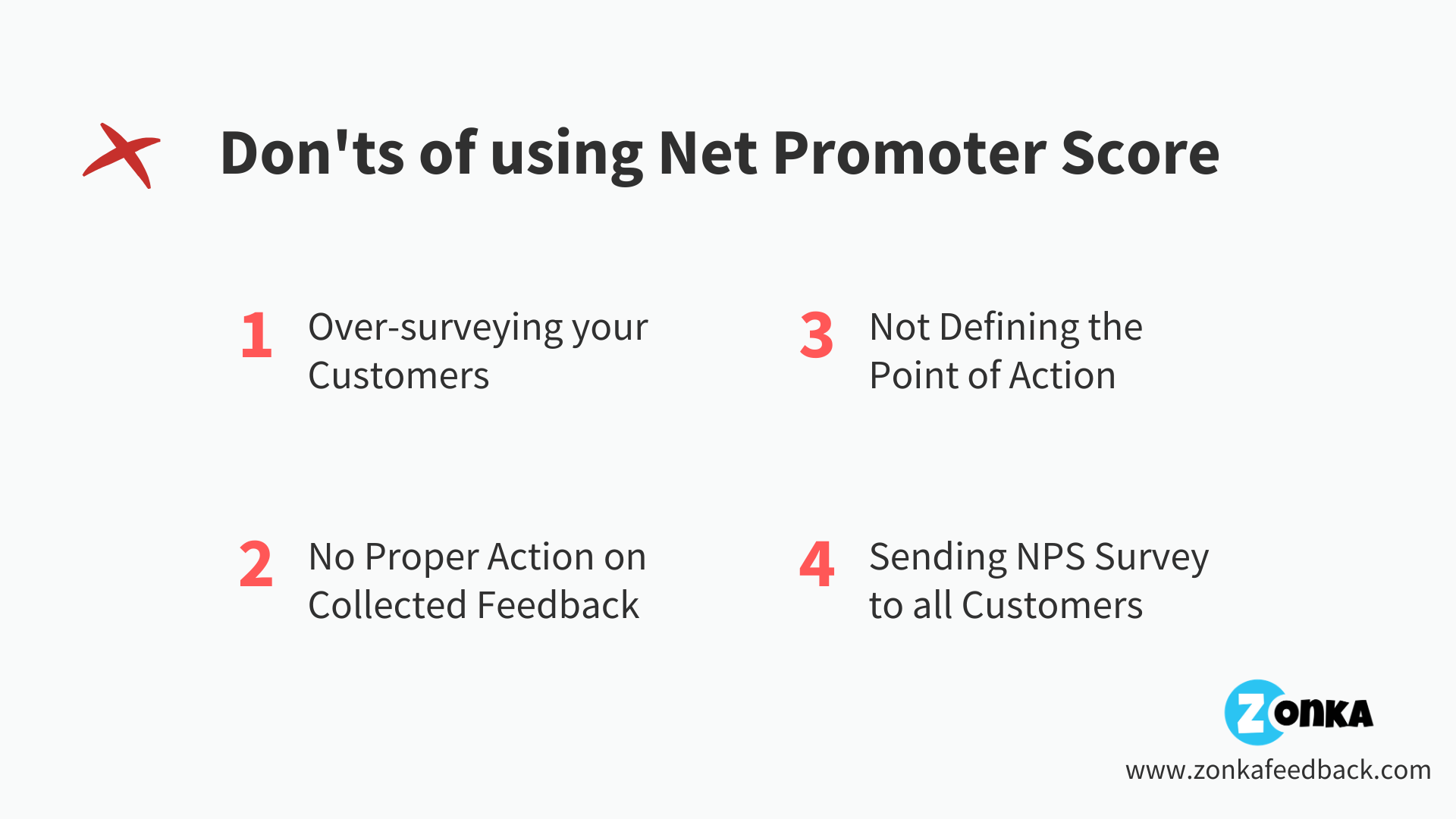 Oversurveying: Many times businesses commit one major mistake of conducting NPS Survey after every touchpoint. Instead of over surveying, it's recommended to use it in the appropriate place. For instance, brands send NPS surveys to their customers immediately after the sale. This seems to be the right strategy if you want to measure the effectiveness of the shopping cart process, but if you want to measure customer loyalty towards your brand, then this might not be the right strategy. You might be sending the survey even before the customer has received the product or service, then they might not even take the survey, and you won't be able to measure NPS.
Not taking action: If gathering feedback is one crucial aspect of the customer journey to get a relevant NPS score, then taking proper action on the collected data is equally important. Businesses often forget to take action. Don't ignore this process. You need to ensure that every respondent who takes part in a survey gets an appropriate response, and you need to take appropriate action to resolve their issues.
Not defining the POA for the whole company and people responsible: Creating an NPS survey will not be sufficient till the time you don't need any proper action. It's important that companies need to define point of action and assign people who can look into the matter. Your employees will never know how to deal with happy or miffed employees. Therefore, it's critical to come up with some strategy and set up a team of experts who can understand your employee's concerns and address their issues.
Don't send NPS Surveys to all your Customers at once: Most brands make a mistake of sending NPS Surveys to all their customers in one go. It will not give you the correct NPS score. For instance, if you have added a new functionality or feature in your product, it might take 3-6 months to see any effects on the score. Sending NPS surveys to your customers over a period of time will help you gauge better customer sentiments. It will also give you an ample amount of time to respond to surveyors individually. Sending out a portion of the NPS Survey instead of sending it whole will help you manage the feedback more effectively.
Wrap Up
NPS is one of the biggest drivers for customer loyalty. Implementing it correctly with the help of an NPS Survey Software will help in enhancing the products and services of any business. The software will help businesses to create customized surveys and conduct them on numerous channels – tablets, kiosks, online, email, and SMS. With the help of a tool, businesses would be able to gather & analyze customer feedback and take appropriate action easily. NPS is an important customer experience metric for reducing customer churn and increase business growth.
Learn more about the Net Promoter Score (NPS)