Net Promoter Score Survey usually referred as NPS survey is a quick and easy survey, which usually takes taking 15-20 seconds to fill. It very effective compared to surveys that require 15-20 minutes of time. In addition to the ultimate question, adding a follow-up question about the reason for the score makes it even more powerful. It gives a clear direction to the follow-up actions to be taken. You can quickly conduct the Net Promoter Score Survey through the Net Promoter Score Software.
Measure Customer Loyalty with NPS ❤️
Create NPS surveys, measure customer loyalty, and close the feedback loop with Zonka Feedback.
The Net Promoter Score Survey is very dynamic and any organization that is willing to implement the NPS survey has the opportunity to perform the survey process in one of two ways: Transactional and Relationship. Which approach/type of survey would be best for your organization will depend upon certain things like your organization type, the number of customers and your customer lifecycle etc. For making your choice of NPS survey type easy, we have elaborated both the approaches below -

Types of Net Promoter Score Survey
There are 2 broad categorizations under which NPS surveys are divided.
1. Relationship NPS Survey
Relationship surveys attempt to investigate a customer's loyalty towards a company/brand. These surveys focus on extracting the overall satisfaction of the customers with the company. They occur at regular intervals (monthly, quarterly, half-yearly).
The company's which are just beginning with using the NPS system, they should start with Relationship style of surveying. Send out your NPS survey in stages initially and then keep a tab on touch points that are majorly affecting it. Transactional surveys should then focus on those touchpoints that relationship surveys indicate as the most important to the customer experience.

However, the relationship surveys can be altered by companies to make it apt for deriving customer satisfaction scores transaction-wise.
2. Transactional NPS Survey
Transactional surveys investigate the experience a customer has in a specific transaction/interaction (touchpoint). This survey is designed, not to measure customer loyalty, but to measure satisfaction with a specific company segment in order to improve it.
For transactional NPS surveys, the NPS question can be altered a bit. As asking someone's likelihood to recommend a company is not related to a customer's satisfaction with a transaction. As a solution, many construct the NPS question as: "Based on your recent experience, how likely are you to recommend the experience to your friends, family or colleagues?"
Now this question can also be altered industry wise, for e.g.-
"Based on your recent online shopping experience with AZA store, how likely are you to recommend the experience to your friends, family or colleagues?"
We have divided the transactional NPS surveys as used in different industries and point of time in a customer journey.
Real time
Drip

Real-time NPS survey are apt when your customers are still on-premises.
Example – Imagine, a customer just shopped for some clothes from your Retail outlet and you have captured their information at the billing desk. Sending a real-time NPS survey through SMS or Email will be most suitable according to this situation.
This is so because waiting a day or two before sending the survey will mean that the customer's memory of the transaction/shopping experience would have changed, and also the customer's incentive to take the survey would have diminished with time.

NPS surveys can be sent like a series of drip emails that are based on customer's usage and journey with your company. Drip approach of conducting NPS surveys is a common scenario for Saas industry popularly known as NPSaaS. The NPS survey is integrated into the app (In-app) or sent through Emails.
To keep an ongoing pulse on customer sentiment and react in the moment, drip NPS is used. After a new feature releases, you can instantly start measuring the effect of a new feature on customer loyalty. Just make sure that you conduct NPS surveys for a small fraction of your customers (if you have huge customer base) at fixed intervals so that results are not overwhelming for you.
Post transaction
Post purchase

Ever came across the NPS magic question while inside an app post you made a transaction? Or have you received an email with NPS question after you made an online hotel booking through some travel app? Well that instant NPS is post transaction approach of surveying.
Paytm uses this transactional approach of NPS surveying. You would have came across the NPS question many times after doing transactions through Paytm or after completing a ride with UBER.
Banks and Financial sector can use this way of conducting NPS survey. They can either integrate the NPS survey link with the default Credit/ Debit balance update text or conduct an NPS survey in app in case of E-banking applications.

Just like in the case of Real-time NPS surveys where the surveys are sent as soon as the customer crosses a touchpoint, the case in Commerce industry (online/offline) is opposite.
If you want to measure the whole experience from browsing/ordering to receiving the item such as in case of E-commerce, you must time your survey post 2-3 weeks of the product delivery and not after the purchase.
Industries such as Automobile can follow suit. They can send a NPS survey post 1 month after the automobile purchase as by that time the customer would have formed an opinion about the vehicle purchased.
Timing & frequency - When and how frequently to send NPS surveys
No matter how quick and easy to deploy NPS surveys look like, this does not mean that you can bombard your customers with them whenever you feel like. With surveys in general and especially NPS surveys, timing is everything!

So the question here rises - "When to send an NPS survey and how often?"
Keeping in touch with your customers through regular surveys creates a positive impact on your customers as well as creates a feedback loop for growth. You get to keep a tab on the experiences your customers have with your company. But then it is also advisable that you also do not blast your customer's inbox with frequent bulk NPS surveys.
However, the timing and frequency of your NPS surveys depend primarily upon your industry and customer base as discussed previously.
NOTE: NPS surveys are used to gauge customer loyalty and satisfaction and you cannot expect a new customer to be as loyal to you as an old one. Make sure you conduct NPS surveys at a point of time in your customer's life when he has spent a subsequent amount of time with your company / brand. NPS surveys should not be conducted on transactional basis. For that CES surveys would be more apt.
NPS Touchpoints
Deciding on a channel to deploy NPS surveys can be pretty confusing as well as challenging. The touch point/channel at which the survey gets collected and the survey timing largely decides its response rate. No matter how effectively your survey is designed all will go in vain if it is not implemented at the right touch point.

For instance, imagine a company that has an exceptional NPS score of 55. Now they might feel that their customers are highly satisfied with them based on the score, but what if NPS survey collected had a poor response rate of only 10-20%? And there can also be a possibility that the maximum customers that are left unsurveyed happen to be detractors.

That would make the scoring dip greatly. This is what happens when you don't use an apt channel for deploying your survey to reach your target customers.

Zonka allows response collection from multiple channels. For collecting NPS surveys, Tablet, Kiosk, Web, SMS, Email, Embedding, QR Code are the most popular channels.
Tablet
Using tablets as a medium of collecting NPS surveys does the maximum justice when your customer is on your premises. Collect real-time NPS surveys while your customer's encounter with your brand is still fresh in their minds.
With Zonka on a tablet, you can hand it over to your guests for filling NPS surveys or set it up as a kiosk anywhere you like. It can work without WiFi, can be locked to prevent misuse and syncs all your data securely.
Mode
As per the demand of the place, tablets can be implemented in the following two modes -
Assisted/ Hand-held
Hand-over the tablets to customers for filling out NPS surveys at places where staff assistance can be provided. For example- Hand over white-labeled NPS surveys on tablets to guests in fine dining restaurants to share their NPS scores. The assisted mode is also apt for implementation in hospitals where the staff members can carry a tablet and hand it over to the patient post-discharge for filling an NPS survey. Assisted mode of tablet surveying can fit into many industries such as Hotels & Resorts, Banks & Financial Sector, Automobile Sector, Events & Promotions, Spa & Salons, etc. that want to give personal attention to their customers and survey them at their comfort.
Kiosk
Setting up tablets as kiosks is a popular mode of conducting NPS surveys. Personal assistance cannot be provided at all the places, this is where kiosk surveying comes in. Run visually appealing NPS surveys displayed on an iPad or Android tablet mounted on a kiosk stand. The greatest advantage of collecting NPS survey results on tablet kiosk is that you don't need an internet connection for the same. You can collect offline surveys with Zonka! The survey results get saved in the device itself and can later be synced.
The results of NPS surveys taken on Kiosks can be considered most trustworthy as the customer fills them up voluntarily. While kiosks can be installed by any industry with high customer footfall, NPS surveys on Kiosks are ideal for Retail, Hospitality, Healthcare and Airport environments.
For maximum response rates, kiosk surveys can be implemented in various ways.
Kiosk Implementation Ideas
| Wall/table mounted | Desktop mounted | Freestanding kiosks |
| --- | --- | --- |
| Wall mounted kiosks are apt for conducting NPS surveys at places such as washrooms, hotel rooms, inside patient wards in hospitals. | Integrate these with the best POS systems at the retail stores, departmental stores, etc. Customers can fill up a quick NPS survey while they are getting billed for the shopping. | Free standing kiosks should be implemented at optimum heights at high frequency areas, so that more and more people can come up and fill the survey. |
Web
Web surveys are the most innovative when it comes to their distribution. Create an Online NPS survey in Zonka under 5 minutes and generate a web survey link there and then. Now, this link can be distributed to customers in a lot of ways.
You can share this web survey link over email, SMS, or even generate a QR code leading to this web survey.
SMS
Surveys sent on SMSes are the easiest and fastest way to reach out to your customers. NPS survey links sent on text messages will surely grab your customer's attention in a jiffy and its opening rates will always be high as compared to Email NPS surveys. Moreover, NPS surveys on SMS is an excellent way of gauging customer satisfaction post service. This medium of survey distribution is being actively used by Travel industry (Airlines, Railways), E-Commerce and Healthcare industry. But it should be kept in mind that SMSes are already too intrusive in nature so their frequency must be regulated so that they do not irritate your customers.
Zonka allows you to send SMS to your customers from within the system.
An E-commerce website can send a NPS survey on SMS after a person orders from their website. Though the NPS question should be altered in a way that it becomes a transactional NPS survey. The ordering process requires the customer to fill in the contact details. The phone number captured there can be utilized to send an instant NPS survey web link on SMS as soon as the person check out / confirms his order. Looking at such an instant reaction (of sending a survey) from your side will surely encourage your customer to fill up this survey and it will supposedly be honest too as the customer would have just had an experience with your company/brand.
Healthcare environments can also advantage substantially with NPS surveys sent on SMSes. Moreover, NPS scores are usually the highest for Healthcare sector. Web links to NPS surveys can be sent to patients post discharge. If a patient is getting his/her treatment done from a hospital for a prolonged illness, quarterly relationship NPS surveys can be send to such patients. An SMS containing NPS survey link can also be sent to a patient post his OPD visit to the hospital asking him the likeliness to recommend based on his latest visit.
Also Read: 3 Killer Strategies to get Patient Feedback
Email
Emails are still the most used and efficient tools when it comes to surveying customers for NPS ratings. It is less intrusive than an SMS and also cheaper. Currently, emails are being extensively used for sending out NPS surveys. The online survey more likely is distributed by email. Delivering surveys through email is quick and easy. It also allows you to formulate a personalized message that can be sent with the survey link to a set list of contacts. The recipients of the email can simply click on the link you've sent them in order to visit and fill the survey. Using email means that you can also track who has opened the email, clicked on the link and filled in the survey. You can also re-send the survey to those on the list who have not opened the initial email.
NPS Surveys can be distributed on emails post a training session in a corporate. The NPS question can be on the lines – "Based on the last training session you attended, how likely are you to recommend 'Company name' to your friends and family?" Sending the NPS surveys post the training session immediately to the employees is quite easy and very effective. You can also ask the employees to provide a reason for their ratings in a question followed by the NPS question, so that you can immediately work towards improving their experiences.
NPS surveys on emails can be executed smoothly in Banking environments. The NPS surveys can be send to the customer post they use the e-banking facilities to transfer funds. You can capture the level of their satisfaction instantly and also intercept discrepancies if any by asking them the reason for their ratings.
Online
Embed
NPS surveys can also be integrated with websites by embedding a link to the survey. This method has the added advantage of collecting responses without making users leave your website. With Zonka you can quickly generate an embedded link and start collecting online NPS ratings from the website visitors.
Embedded NPS surveys are ideal for Food ordering websites, Ecommerce websites, Banking websites, etc. NPS surveys also go well when visitor website feedbacks have to be collected. You can capture the level of satisfaction of your online visitors by conducting NPS surveys embedded on your website. But make sure that you do not make any question mandatory in the survey because the visitor always has the chance of closing the website tab. For higher response rates, make sure the survey pop-up should appear after the user has spent at least a minute or browsed through more than 5 webpages.
For Restaurants providing online ordering through their websites, NPS surveys can be conducted easily. The NPS survey can pop-up on the website once the order gets confirmed and the restaurant can capture the visitor's satisfaction with the whole ordering process as he/she experienced. An NPS survey can also be shot on SMS or Email after 2-3 hours of order delivery capturing the customer's satisfaction with the order.
QR code
You can get really creative with executing the NPS survey once you generate a QR code for reviews/surveys. QR codes can be put up on premises in printable format or can be sent online through different mediums. QR codes are super useful if you want to distribute the surveys non-digitally too.
Delivery restaurants can print the survey QR codes on their food delivery boxes and food bills. Implementing the code in such places gives high visibility and the customers can easily scan and take the NPS survey.
Retail establishments can print the QR codes and paste it at highly visible areas within their premises for maximum response rates. QR codes are easy, just scan and you are good to go!
Powerful NPS Survey Technique - Survey Logic
Logic-based NPS Survey
Who knew something like a survey could be logical too! With Zonka, create intelligent NPS surveys with logic and cater to all the customers with a single survey.

In an NPS survey, the customers can choose their score between 0-10 on the basis of their satisfaction levels with the brand. No matter how hard you try but it is quite natural for different customers to have different experiences and satisfaction levels with your brand. Some may be completely satisfied while the others may not be that satisfied. Such situations are tackled well with logic based NPS surveys as they create a custom path through the survey, the path depends on the answers provided by the respondents.

For e.g - A hotel - 'Hills International' conducts an NPS survey (with survey logic) on the kiosk at the time of guest check-out. And based on the respondent ratings, the survey kiosk displays further question that is relevant to that particular respondent.
NPS Question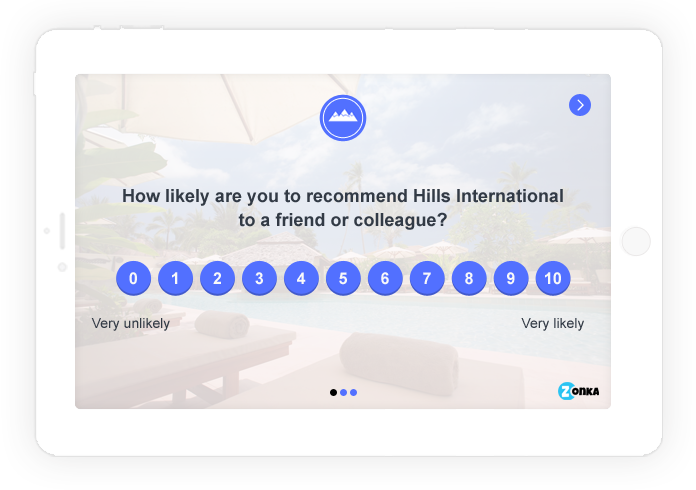 If respondent rates 9-10 (Promoters), this question gets displayed on the survey kiosk.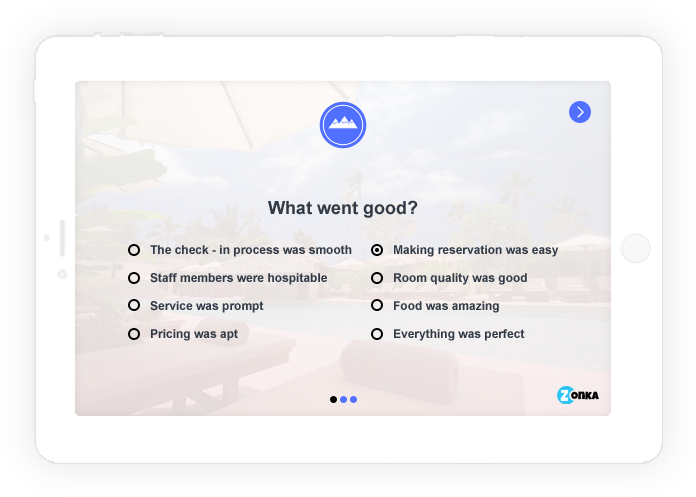 The question presents the customers with a predefined selection of reasons, rather than have them submit their own reasons for their ease.
If respondent rates 0-8 (Detractors and Passives), this question gets displayed on the kiosk -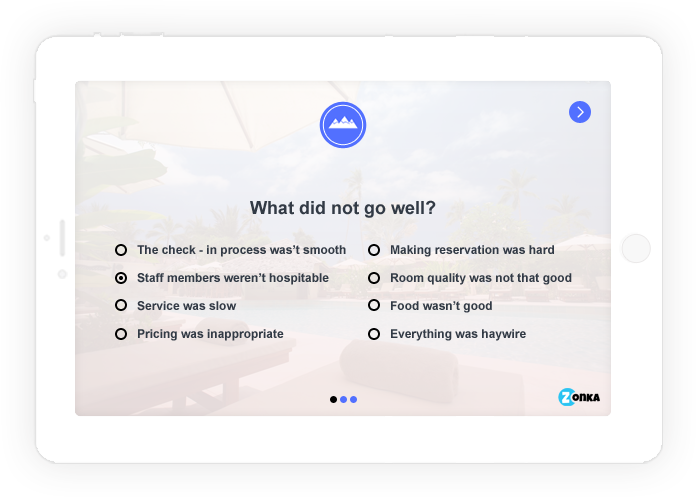 Advantages of using Survey logic for NPS Surveys
Survey logic gets more actionable data by showing respondents the questions they need to answer.

Cater to all the three segments (Promoters, Passives, and Detractors) with one single survey.

Adding logic makes the survey more relevant and quicker to complete.

Helps in achieving higher completion rates.

Aids in gathering relevant results for more accurate analysis.