Surveys do not only help you collect feedback from your customers, but they also enable brands to understand their customers and audience better. Information like the age groups your customers fit in, the localities they are from, the gender ratio of your customers, etc. helps in creating the most accurate customer personas. This, in turn, helps brands not only target their customers but sell them better too.
Build and send a survey today 🔥
Choose from over 30+ question types, add your own themes and create amazing surveys that people love answering.
In this article, we talk about one of the most important types of survey questions - Demographic Questions. We explore the various Demographic Questions and their uses based on your business requirements and feedback goals.
Let's first understand...
What is a Demographic Question?
A Demographic Question is a research instrument that helps identify specific sets of audiences and get insights about those audience sets. It helps in understanding your customers better and classifying them into sets based on common characteristics. This further helps in making educated guesses to appeal to customers and target audiences. For example, an apparel brand starting a children's clothing line can ask customers their marital status and be able to target those who are married and may have kids.
Here's a pre-filled contact form to help you understand what Demographic Surveys may look like: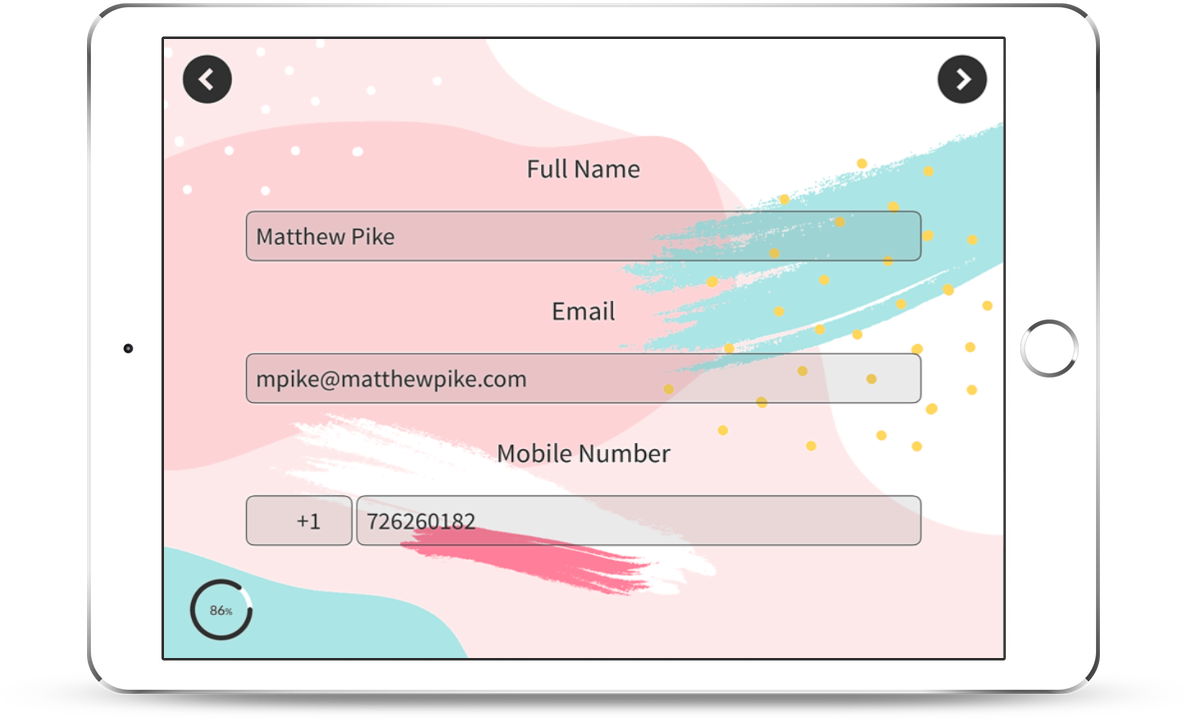 Why are Demographic Questions Essential?
Businesses can leverage Demographic questions uniquely to benefit from them. Here are some of the most common uses of Demographic Questions:
To create relevant marketing content to appeal to specific customers and audiences.
To make informed business decisions. For example, whether or not to open a branch in a specific location based on the number of customers in the vicinity.
To customize products for specific consumer groups.
To improve the online shopping experience by offering demographic-based suggestions to consumers.
To create survey samples for specific feedback goals. (You can read this article to learn about Survey Sampling techniques)
Demographic Questions to Ask in Your Survey
Here are the top 7 Demographic Questions you can ask in your survey:
1. Age
A question about age is a part of almost all the surveys because most brands segment their customers or audience by age. This helps them create, customize, and market products and services to the right age group. For example, a truck insurance company can survey its target audiences such as drivers to know about their age, tuck types, and cargo load and recommend insurance policies ideal for their requirements, such as cargo insurance, general liability, primary liability, or any other as per their requirements.
The most practical way of asking your audience about age is using a closed-ended question with age groups to select from since some people may not be comfortable sharing their exact age. Here is the question that you can ask to know your customers' ages:
What is your age?



0 - 15 years old
15 - 30 years old
30 - 45 years old
45+
Prefer not to answer
2. Gender
Gender questions are fundamental questions not only for research but also to sell gender-specific products or services. For example, an online retail brand may survey customers to be able to give them better recommendations of gender-specific products. This can dramatically improve the shopping experience of website users.
However, gender is a sensitive topic. So, make sure to avoid asking this question if you offer gender-neutral products or services.
Here's how you can ask the gender question:
What gender do you identify as?



Male
Female
Trans-gender
Non-binary
Prefer not to answer
Other____
3. Location
Information about location or geography can help reveal opportunities of expansion and also give insights to make informed business decisions. For example, if a significant customer base lives in the vicinity of a potential branch location of your business, then you can consider it a green signal and proceed with the expansion. Similarly, understanding the location or having geographic information of your customers or target audience can help improve the customer experience. For example, a software website can be designed to display region or location-specific currency for software prices to ensure visitors' ease of understanding.
Here's the question you can ask to know your users' locations:
Please specify your location.



North America/Central America
South America
Europe
Africa
Asia
Australia
Caribbean/Pacific Islands
Other: ______
Prefer not to say
4. Language
Information about language is very critical for almost all businesses to be able to improve customer or user experience. For example, an online store catering to a global audience can understand its users' language preferences and improve their experience by ensuring that all communication from the website to the customer support calls is in the language preferred by the user.
Here's the question you can ask to get your users' language information:
In what language do you prefer to communicate with us?



English
Hindi
Spanish
Italian
German
French
Russian
Mandarin
Other
5. Employment
Information about employment can help businesses to understand their audiences' buying power. For example, a student may not be interested in buying high-end products, whereas a full-time working professional may be the right audience for the same. This information can also be helpful if the business is related to employment. For example, an employment consultancy may survey its audience to understand their employment status and offer better job recommendations.
What is your current employment status?



Employed Full-Time
Employed Part-Time
Self-Employed
Seeking Opportunities
Retired
Prefer not to say
6. Marital Status
The marital status of your audience or customers is critical for market research since it helps businesses not only sell better and relevant products but also make near-accurate assumptions. For example, based on the marital status of its customers, a brand can open up a new product category for children. This may appeal to customers who are married. Therefore, the brand can use this information to target potential customers.
Here is the marital status question you can use:
What is your marital status?



Single, never married
Divorced
Separated
Married or cohabitating
Widow or widower
Other___
7. Income
Annual income information of your customers or audience is critical if you wish to gauge their spending power and position your offerings strategically. For example, based on the information about income, you can market your low-budget products, discounts, etc. to a lower income group. Similarly, you can understand who you can showcase your premium memberships or premium products to if you know people who can spend more. You can also use this information to see if you need to come up with a lower-cost or higher-cost alternative to appeal to the right sets of audiences.
Here's the question you can ask to capture the annual income information:
What is your annual income range?



Under $25,000
$25,000 – $50,000
$50,001 – $100,000
$100,001 – $250,000
$250,001 – $500,000
$500,001 – $1,000,000
Above $1 million
Demographic Questions to Avoid
Though Demographic Questions can help you know your audience better, there are certain questions you must avoid to protect the privacy of consumers. Here are a few:
1. Address
Unless there is a transaction or delivery involved in a transaction, avoid asking the complete address of your customers. If the exact address cannot help you in any way, stick to asking only about the locality, country, state, or even city. Asking the complete address may come across as suspicious to the consumers.
2. Religion
If your offering doesn't have anything to do with religion, completely avoid asking people about their religion. This may be a sensitive issue and may even stop participation in your survey.
3. Name or Information About Family Members
Some of your survey participants may be willing to share information anonymously. So, if you ask them their name (or even email address), they may not be comfortable sharing information like annual income or marital status. So, make sure to avoid asking participants their names unless absolutely necessary. Also, avoid asking for any information about their family members, such as name or age. This is a red flag that can completely stop your users' participation in your survey.
Conclusion
Demographic questions can give you insights into your customers' preferences and behaviors. But asking too many Demographic Questions can overwhelm the participants and even affect the survey participation rate. So, don't ask questions to get the information you already know. Make sure to keep your survey short and ask only the relevant questions that can help you service your customers better. Moreover, choose intelligent survey software with ready-to-use survey templates so that no matter what industry you are in, you can create surveys with all types of Demographic Questions quickly and effortlessly.
You can also create an inviting welcoming survey screen with the number of questions and the purpose of asking certain questions. This will give participants a fair idea of your survey and encourage them to participate.