Although you need skills, experience, expertise, and an awesome team to create a product that satisfies your hunger for innovation, it's equally important to listen to the product users about what they want.
User feedback is the only way to get an overview of your product through a fresh set of eyes. The change in perspective allows you to make changes in your product roadmap and improve your app for your users.
In app user feedback is a significant aspect of the app development process as it allows you to know the flaws in your app, what can be improved, and what the users expect. When you conduct in-app surveys, it gives your app users a space to share their feedback and connect with you better.
Elevate your PX with User Insights 🔥
Measure user feedback within your app at all touchpoints and get effective user insights to transform and improve your product experience.
Why Collect In App User Feedback?
There are multiple ways in which in-app feedback tools can help enrich the app development process. For starters, you will get much-needed insights into improving the usability of your app features.
The feedback will also highlight any possible bugs for further amelioration. Since the in-app feedback is context-sensitive, it can be a powerful way of hitting the pain points in your app and revamping it for maximum serviceability.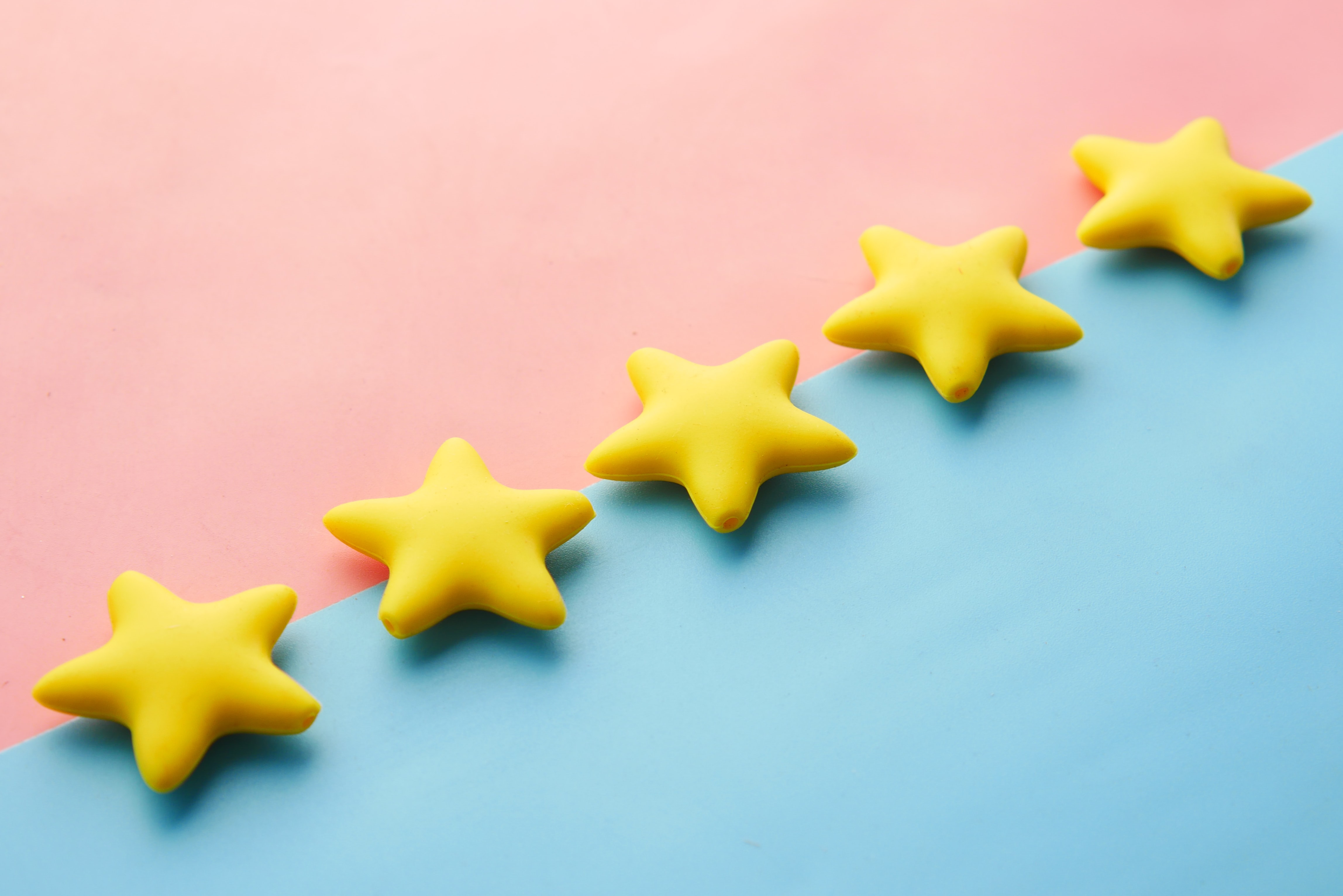 Here are some convincing arguments to help you understand the importance of in app user feedback:
1. Prevent App Abandonment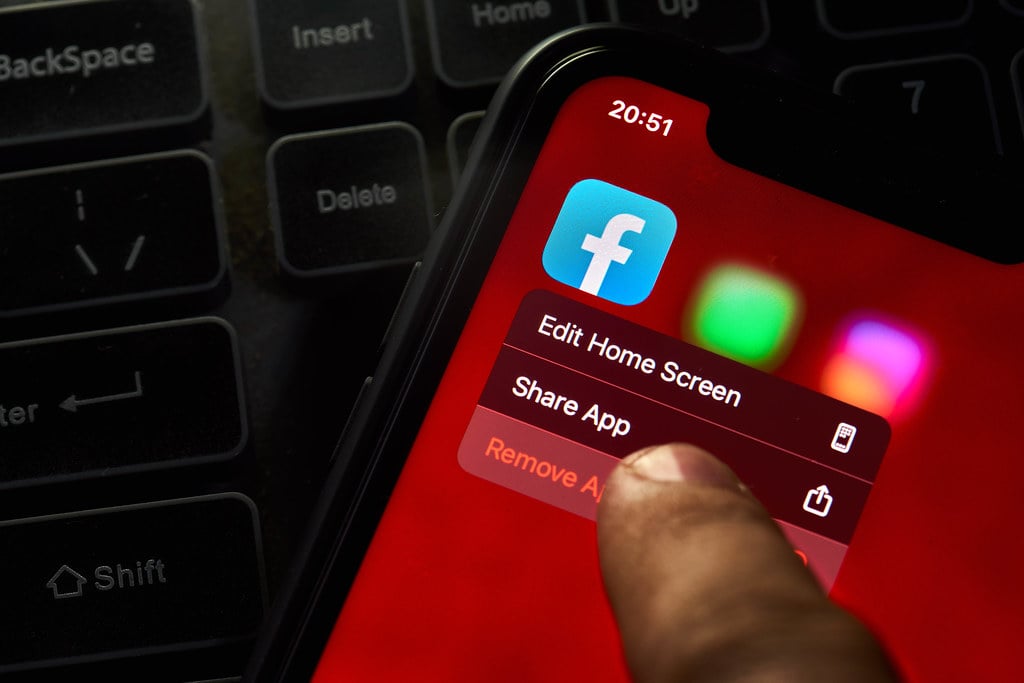 How many times have you downloaded an app and deleted it within minutes of using it? Was it because you downloaded it by mistake? I don't think so. Is it because the app had a complicated design and unusable features? Maybe. Or is it because there were no instructions to help you navigate the app? Most probably.
You should know that over 90% of downloaded apps get used only once before getting deleted by the users.
In order to avoid this, most designers will include an onboarding process that works somewhat like a tutorial or introduction to the app. It helps users get acquainted with the app and offers an opportunity for the company to collect valuable data through activity-based feedback.
If the users stop the onboarding process, you can instantly ask them why they are leaving. And if they complete the process, you can ask them about their experience with the onboarding. The feedback loop created can be used to ensure that users don't delete your app after downloading it.
2. Avoid Over-Feeding the Users
It's always exciting for the company as well as the users when a new feature is introduced. But many times, companies get ahead of themselves and roll out tons of new features in a single update. Doing so can be a mistake as it can be overwhelming for the users to get acquainted with the sudden updates, reducing the quality of the overall app experience.
Whereas, when you take it slow, release one update at a time, and make use of feedback, you can analyze the relevance and usability of the feature and if it is adding any value to your customer experience.
This feedback is indispensable and allows you to monitor the valued aspects of your application. You can use the information to prioritize the product roadmap, amplify engagement and create a user persona for your marketing endeavors.
3. Keep Your Users Close

As we mentioned before, in app user feedback can be a foolproof way to uncover any errors and bugs in your application quickly. The faster you find and address the customer pain points, the better experience you'd be able to provide. Faster problem resolution can also lower the app abandonment percentage, which happens when the problems remain unresolved for a long time.
Another thing is that a feedback mechanism of an app is available to customers 24/7, so you won't need any round-the-clock staff. Such a feedback mechanism assures the customers that they are heard and their opinions are valued.
In-app feedback tools with questions like 5-point smiley scale, star rating scale, etc. can be used to maximize the feedback collection through smartphone apps.

- In app user feedback tools support faster feedback collection.

- In app user feedback amplifies user satisfaction by offering convenience.

- In app user feedback supports accurate and instant bug report generation.

- In app user feedback offers insight into the usage behaviour of the users.
Working of In App User Feedback Mechanism
Feedback collection tools provide various ways for you to collect user feedback through the smartphone application. The popular ones include:
1. Feedback Buttons
2. Pop Over Surveys
3. Embedded Survey forms
4. In app Popups
5. App Rating Prompts
These feedback collection processes can be placed at multiple touchpoints during the app journey to capture instant feedback.
The feedback tool will give you an analysis report that can be used to categorize and segment the feedback into actionable insights that can be shared with the relevant teams for the closure of the feedback loop.
With feedback management tools like Zonka Feedback, you can automate the workflows and close the loop faster by keeping teams and customers in the loop in real-time.
Tips to Ensure Quality In App User Feedback
In app user feedback always comes in handy whether you are crowdsourcing ideas, want to know how a feature update is being received, or want to know what your loyal app users are feeling.
That is why you need to ensure an outstanding user experience when it comes to internal product feedback collection. So, here are some tips that can help you get quality feedback.
1. Include Survey Duration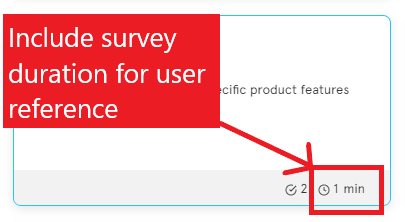 Be transparent about the approximate time it will take to complete the survey. While a lot of app users would love to give you feedback, it's the time constraints that might stop them from doing so. In case your survey will take a long time, be upfront about it.
2. Keep Surveys Short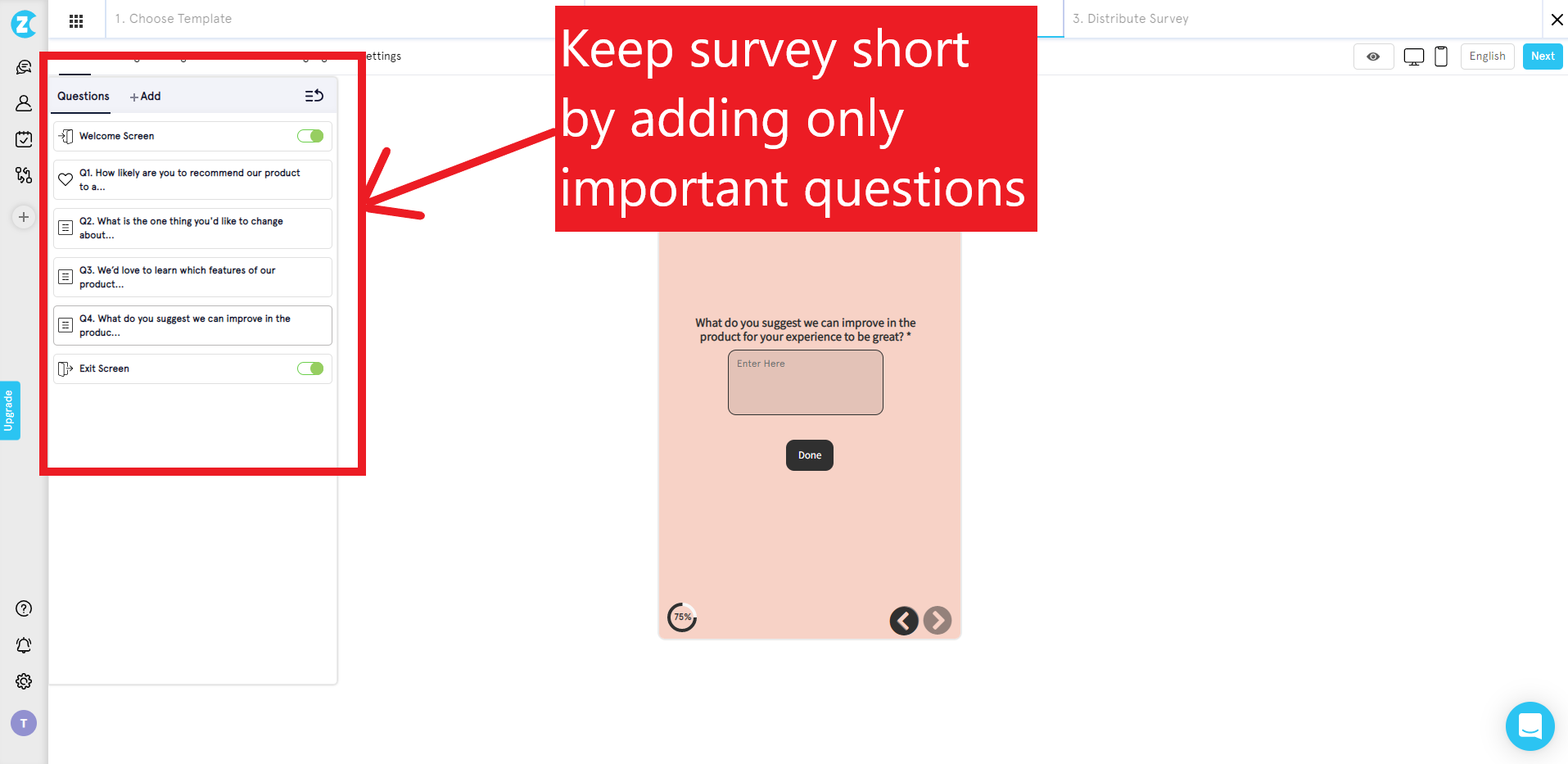 If you got influenced by the previous pointer, you might be thinking of conducting short surveys. Good choice! Keeping surveys short and sweet will help you get more engagement.
This doesn't mean skipping crucial questions. It only means that ask the most critical question you need an answer to right now.
3. Add a Progress Indicator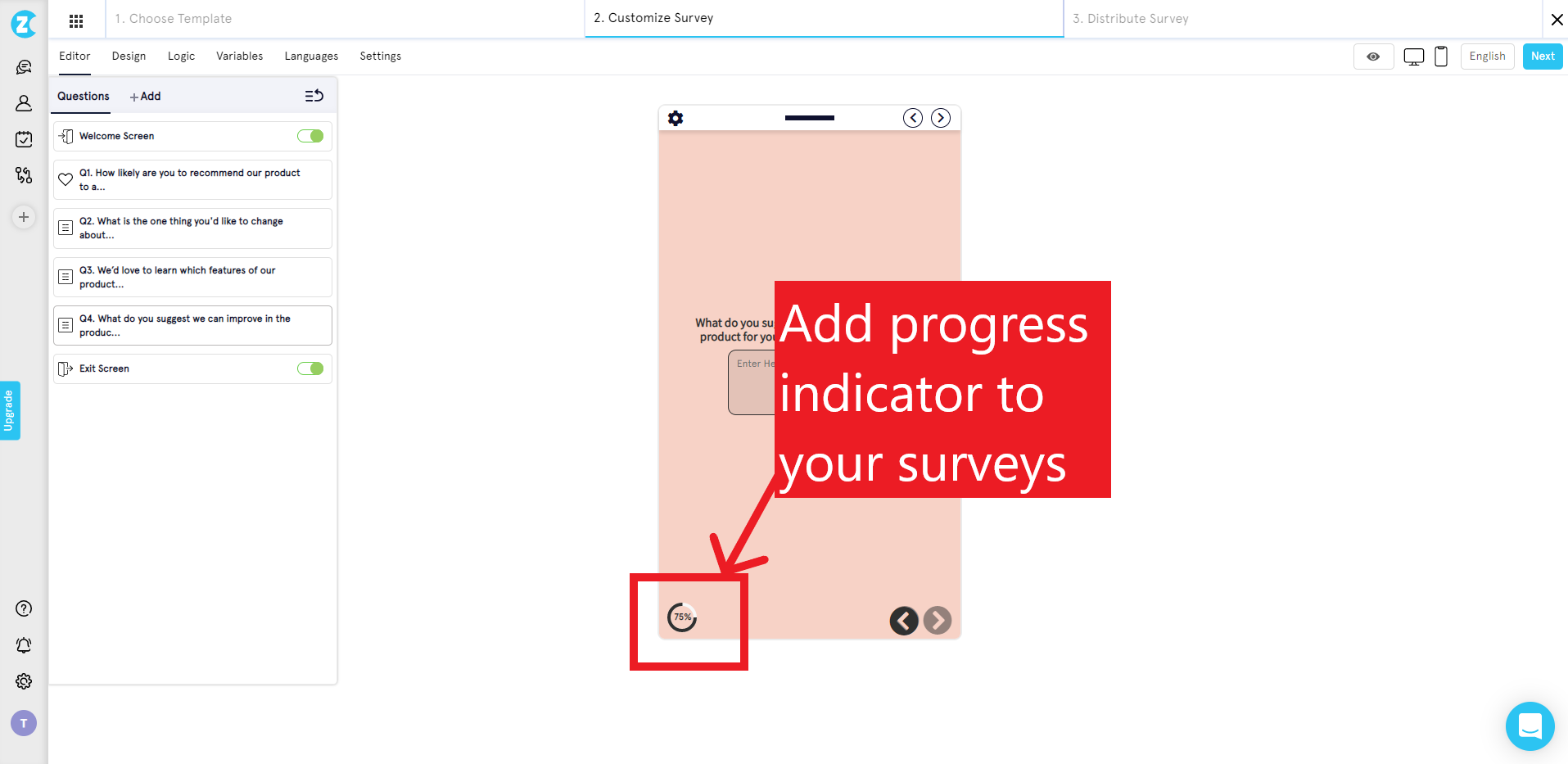 It's always important to tell your users how far they have come while filling out the survey and how far they still have to go. For that, you can just add a progress indicator.
4. Decrease Mandatory Fields
While you'd want to know everything about your users and you must already have thought of the questions while reading this article but remember that bombarding the users with too many mandatory fields will only put your users off and deflect them from giving you the much-needed feedback. Allow the users to choose what they want to share without pushing them too far.
How to Gather In App User Feedback?
Want to know how you can incorporate feedback surveys in your mobile app and collect your users' feedback? You're in for a treat. Yes, you can use tools such as Smartlook for mobile app analytics. However, we have discussed some of the best ways to get in-app user feedback.
1. Feedback Button
Feedback buttons are one of the most common ways to collect app user feedback. These feedback buttons or widgets can be placed within the app without interrupting the user's journey. They are a valuable tool for gathering customer insights at various touchpoints.
Feedback buttons, especially smiley face surveys, allow you to get open-ended feedback due to their flexibility. Zonka Feedback offers customizable feedback button designs where you can add your logo, background images, colors, etc. On top of that, you can customize your questions and add visuals & descriptions to make them more engaging.
You can either program feedback buttons to appear after the users take specific actions or use them passively at the side or bottom of their screen enabling the users to provide feedback whenever they have a suggestion or face a setback.
Just make sure that the feedback button is easily visible and quickly accessible to the app users so they can give you real-time updates/feedback whenever needed.
2. Embed Survey Forms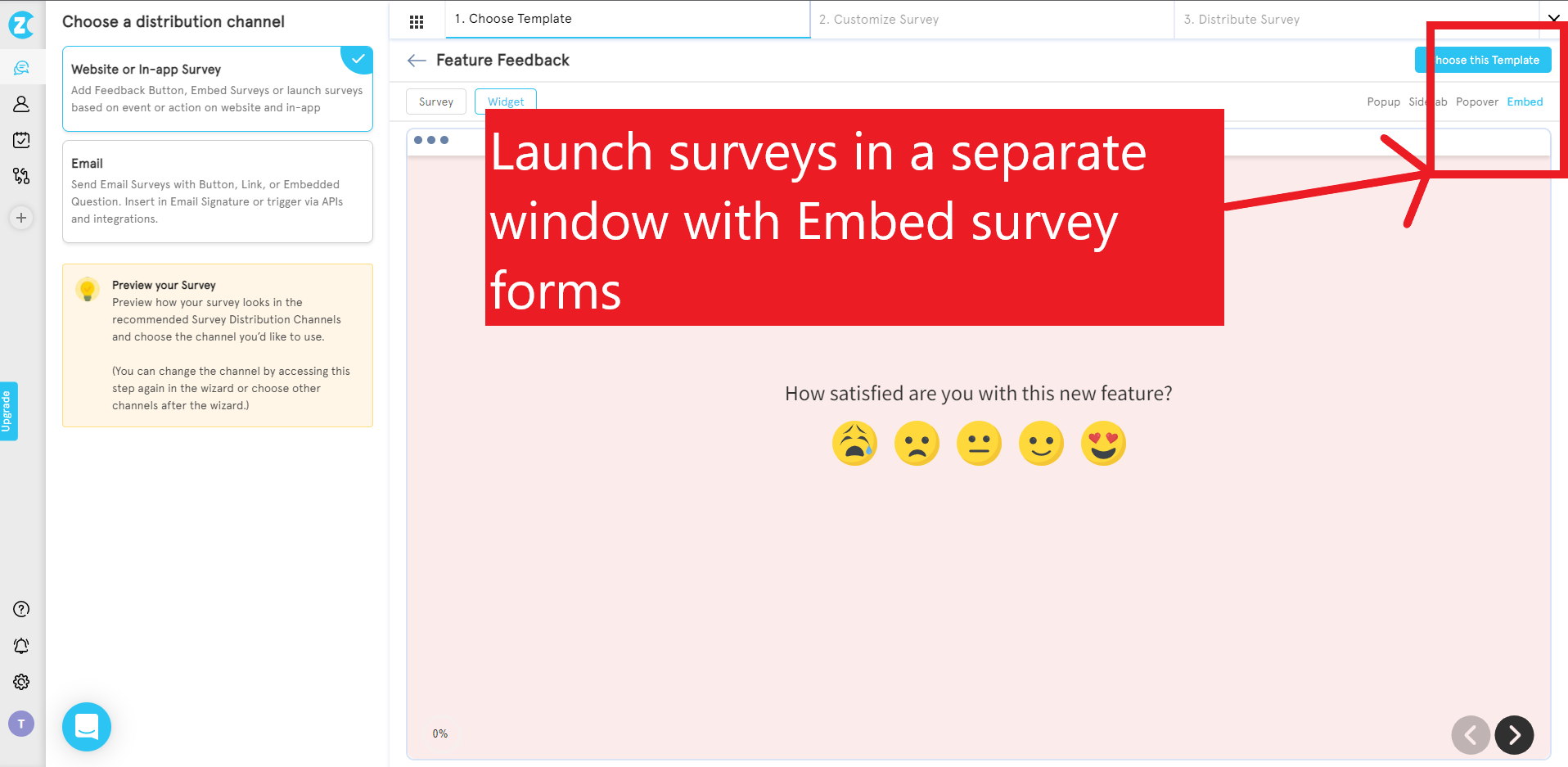 Another simple way to collect in-app user feedback is to use embedded survey forms. This kind of survey is usually launched in a separate window or redirects the app users to the survey page upon clicking a link.
The good thing about embed surveys is that it passes the focus from your mobile app to a browser view and the users won't even notice if they have left your app.
Zonka Feedback gives you the option to customize the imagery, logos, fonts, and colors of the survey. Those surveys can be embedded at different touchpoints of the customer journey.
3. Pop-up Surveys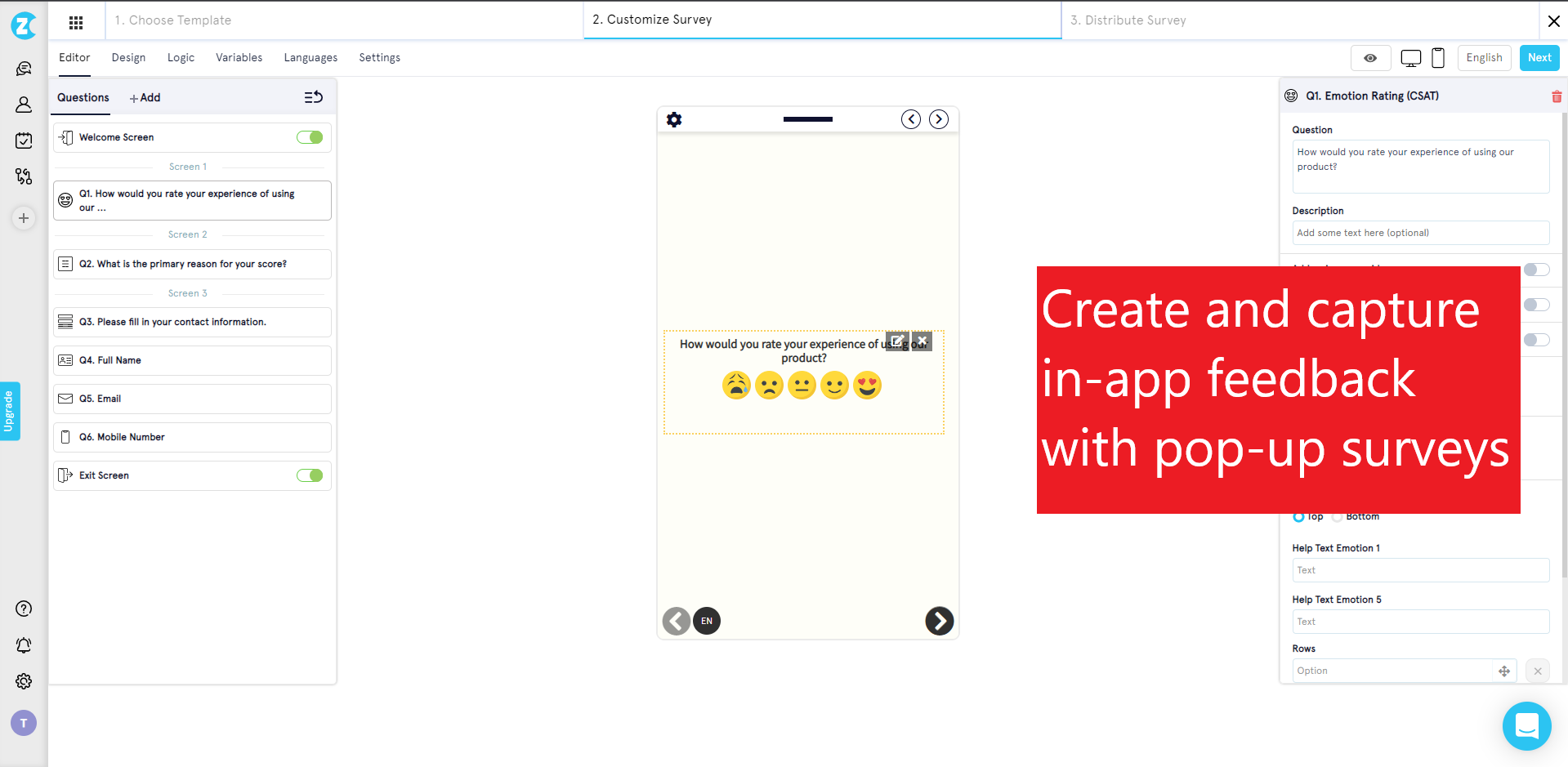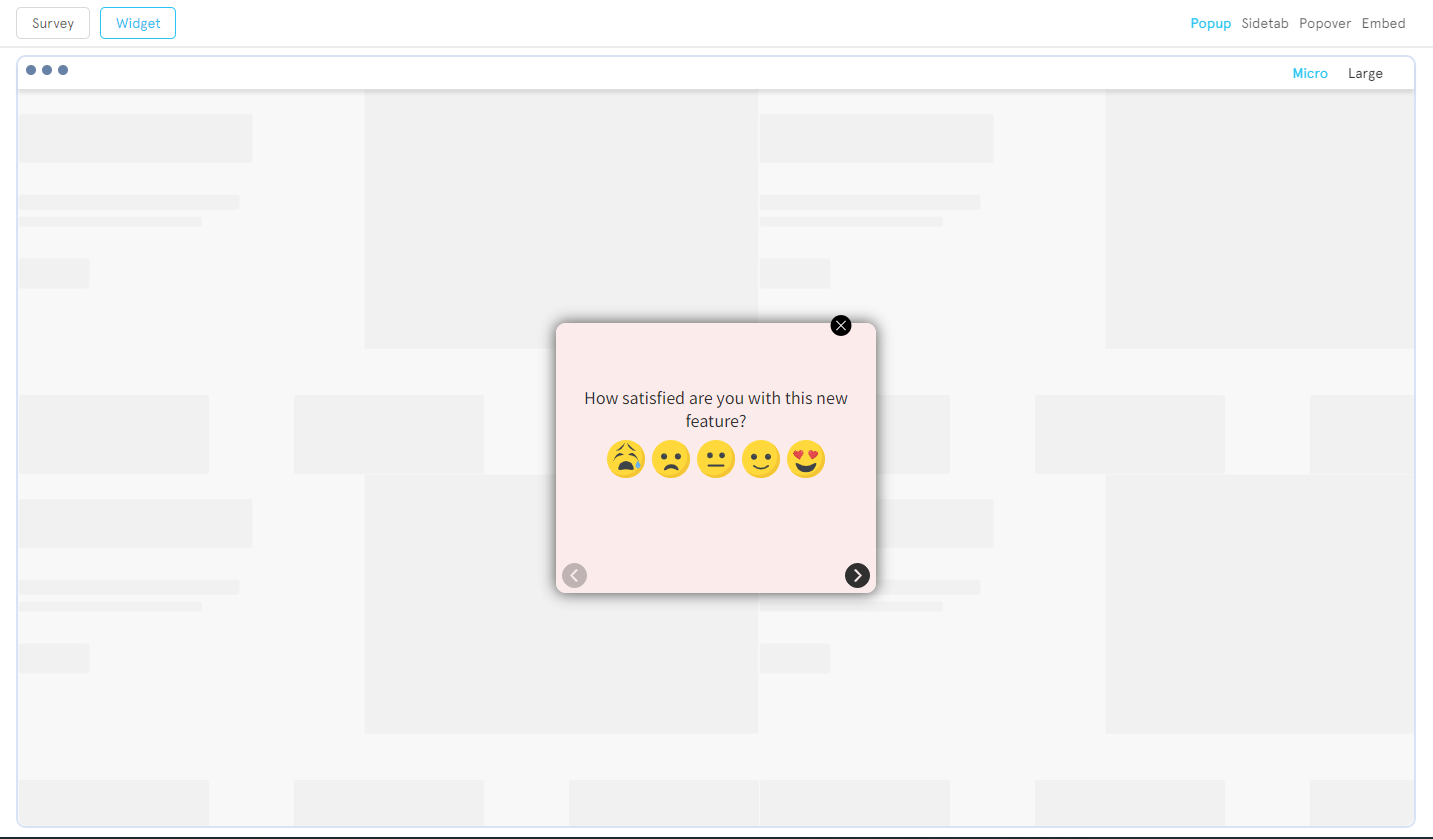 Pop-ups are an amazing tool to capture in-app feedback. They can be easily optimized to get user insights and improve the virality of your platform. In order to make the most out of pop-ups and ensure that they can be used for your benefit, you need to ensure that you are using them right.
To give you an idea, in-app pop-up surveys are displayed based on an event or moment during the user journey and encourage them to share their feedback. Although they can be a great feedback motivator, they can also be obstructive when displayed at the wrong time.
That is why, they work best when displayed as cart abandonment surveys, exit intent surveys, post-transaction surveys, lead generation forms, or post-booking.
4. Pop-over Surveys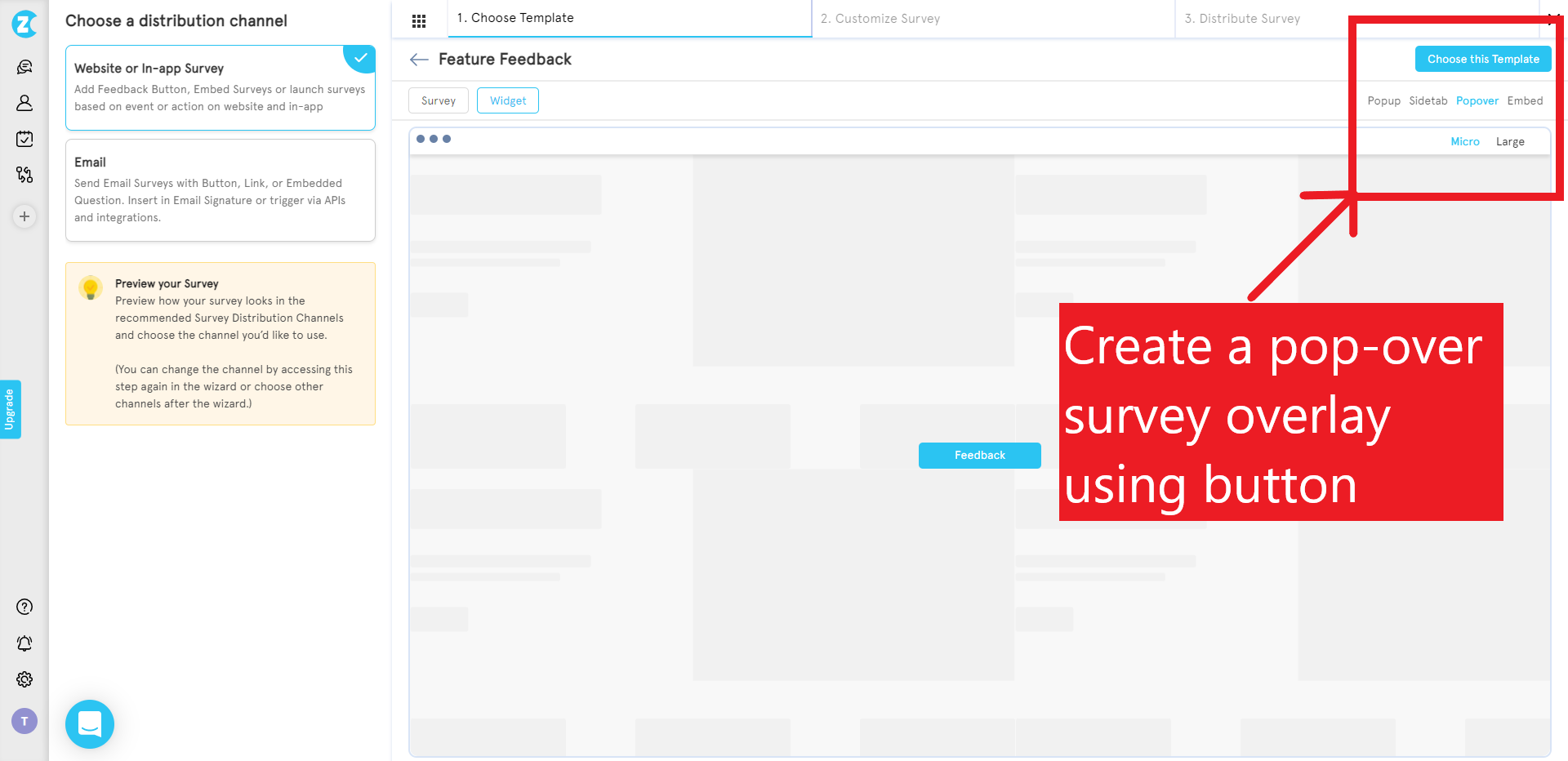 Pop-over Surveys are those that reveal themselves in an overlay on the app after clicking a button. The difference between a pop-up and pop-over survey is that, unlike a pop-up survey that is triggered by an event, pop-over surveys are triggered by the actions of a user which is usually the click of a button. Besides pop-up and pop-over surveys there are also many other website popup examples that you can incorporate to your site to make it more catchy.
While pop-up surveys open in the middle of the screen, pop-over surveys open right to the link or button where they have been placed. These kinds of in-app surveys are great for gathering context-based feedback like feature feedback.
5. App Rating Prompts
As the name suggests, app rating prompts offer a doorway to influencing prospects and measuring customer satisfaction. App rating prompts offer an intelligent rating flow that only gets displayed for pre-qualified customers to give ratings to your app.
The best way to use them is by asking for a rating only when the user has demonstrated some kind of engagement with your app. This allows the users ample time to form an opinion of their own about your app.
While repeated rating prompts can be annoying for the app users, you can time them properly by placing them at least a week or two before making a rating request to users who are yet to provide you with feedback.
Top Surveys for In App Feedback
To understand user preferences, gather valuable customer feedback, and in-depth usage insights, and boost engagement & retention, in-app surveys can be a great tool. Here we have discussed some of the best online survey types that you can conduct for maximum output.
Customer Effort Score Surveys
This survey helps you measure the user-friendliness of the mobile application. One of the examples of CES scores would be doing a poll among users and asking them to choose on a scale of 1-10 how much they disagree or agree. With CES surveys, you can quickly measure the time and effort put in by your customers to get their queries resolved.
When to Use: In-app CES surveys are used to determine how much effort they put into using your app. You can conduct Mobile App Feedback Survey after the user has:
- Taken some action in the app
- Performed a certain task
- Post a live chat seeking support
- Post issue resolution
- After your customer browses through the help center articles.
Questions to ask: Mentioned below are some of the website usability survey questions that you can customize as per your product to determine system usability:
- Were you able to make the booking using our app?
- How much would you rate the user-friendliness of our app?
- Was it easy for you to checkout using our app?
- Was it easy to rate our services?
- Were you able to easily navigate our application?
Net Promoter Score Surveys
NPS surveys can be especially beneficial to gauge the loyalty of your app users. These software and app customer feedback surveys and short and ask a simple questions to your app users -
"How likely you are to recommend your mobile app to their friends or colleagues?"
When combined with an optional open-ended follow-up question like "What made you give the rating?" or "What can we do to improve our app experience?", you can collect valuable insights on the numbers.
Net Promoter Score is easy to calculate and somewhat similar to the app store ratings that you receive. Since it is an in-app survey, you can directly access the feedback in your mobile application.
When to Use: NPS surveys can be used in the following scenarios-
- While aligning customer experience with product management.
- Collecting on-site data
- Improving ongoing NPS campaigns
- Audience segmentation to identify trends.
Questions to Ask:
- On a scale of 0-10, how likely are you to recommend our business to a colleague or friend?
- On a scale of 0-10, how likely are you to recommend our app to a friend or colleague?
- On a scale of 0-10, how likely are you to recommend our services to a friend or a colleague?