In a study by Zendesk, it was discovered that around 80% of customers would not do business with a competitor after more than one bad experience. And yet, only 1 in 15 customers would complain to you directly.
Business models earlier were created around competitive prices, which is not the case anymore since customers' satisfaction matters more than the bucks they spend with a brand. So much so, that they are willing to spend more in return for an excellent experience. Therefore, businesses around the world are now highly relying on customer satisfaction survey data to gauge and improve customers' experiences with their brands.
In this article, we talk about how you can go about measuring customer service satisfaction levels using Zendesk surveys right within this popular helpdesk tool.
TL;DR
Businesses are shifting focus from competitive prices to customer satisfaction.
Zendesk surveys help measure Customer Satisfaction Score (CSAT) to gauge how happy customers are with a product or service.
CSAT surveys aid in identifying challenges, improving products, increasing revenue, and building customer loyalty.
In Zendesk, CSAT surveys can be customized and integrated with Zonka Feedback for real-time feedback, allowing businesses to measure and enhance customer service performance effectively.
To start using Zonka Feedback as your customer satisfaction software for Zendesk, you can sign up with the tool for a free 7-day trial or schedule a demo.
Measure Customer Service Performance
Improve your customer service and grow your business with real-time feedback
Let's begin with understanding the Customer Satisfaction Score in a little more detail.
What is a Customer Satisfaction Score in Zendesk?
Customer Satisfaction Score or CSAT score is an important CX metric that gauges how satisfied customers are with your product, service, or complete experience with your business. It is a key performance indicator that represents the reaction of customers to a specific interaction with a brand.
CSAT is measured using customer satisfaction surveys with a very important question -
How would you rate your overall satisfaction with [goods/services] you received?

The customers can share their answers on a scale that ranges from 'Very Unsatisfied' to 'Very Satisfied'. And the average of all answers can give a composite Customer Satisfaction Score that can be used by brands to measure where they stand.
CSAT surveys allow following up this question with the next question that prompts customers to share the reason for the score they chose to give. This can help you dramatically in identifying what's working and what's not, which can further help you deliver excellent customer experiences.
Customers can also provide their feedback regarding their experience with the customer support team by enabling CSAT ratings in Zendesk. These can effectively gauge the level of satisfaction that customers have when it comes to getting their queries resolved post a ticket is closed.
Importance of Measuring Customer Satisfaction with Zendesk
Customer satisfaction score indicates satisfaction levels among customers and highlights customer challenges that may have gone unnoticed for a long time. And this can bring your brand several benefits.
Let's understand.
1. Improvement of Product or Service
Measuring customer satisfaction with Zendesk helps in identifying the customer satisfaction score as well as the challenges that customers face with your brand. And it goes without saying that this information can go a long way in helping you fix those problems and dramatically improve customer experience. They can be triggered at different touchpoints in the customer journey to identify the exact areas of improvement.
2. Increased Revenue
According to research by PWC, 86% of buyers are willing to pay more for a better experience. And customers who have had a great experience with your brand are more likely to make repeat purchases with you. And this directly translates to an increase in revenue.
3. Greater Customer Loyalty
If you run a business, you may very well know that getting new customers is more expensive than continuing to sell to existing ones. And with the help of a customer satisfaction survey, you are basically telling customers, "Your experience matters to us and we would love to work on any problem you may have experienced with us".
And this can be a major contributor to earning customers' loyalty. Moreover, consistently improving and delivering on customers' expectations will automatically turn your customers into your brand's advocates. This means that not only would they spend more, but they would also recommend your brand to family and friends.
4. Enhancing Customer Experience
By regularly measuring satisfaction after any ticket is closed or via customer service surveys, businesses can understand how well they are meeting customer expectations. This information is vital for making data-driven decisions to enhance overall customer experience, leading to increased loyalty and positive word-of-mouth.
5. Employee Morale and Performance
Happy customers often result from the efforts of engaged and motivated employees. Measuring customer satisfaction through Zendesk surveys can provide insights into employee performance and the effectiveness of customer-facing teams. Recognizing and addressing issues can boost employee morale and, in turn, improve customer interactions.
Measuring Customer Satisfaction in Zendesk
In Zendesk, CSAT surveys are defaulted to be sent out 24 hours after a ticket is closed. And the customers are requested to share their experience on a binary scale and choose between 'Good' and 'Bad'. You can also ask your customers to share the reason for their answer through a follow-up question.
However, if the default CSAT survey settings do not fit the bill for you, you can customize your survey triggers, group customers to send out CSAT surveys in batches, and even transform the look and feel of your survey to increase participation. All of this can be done with a simple integration of Zonka Feedback with Zendesk, an intuitive survey tool that not only enables feedback collection right within Zendesk but also helps you manage customer data more effectively. The key is having a smooth Zendesk implementation to enable good data collection.
Measure Customer Service Performance
Improve your customer service and grow your business with real-time feedback
Let's understand what you can do with Zonka Feedback and Zendesk.
1. Measure Customer Satisfaction Through CSAT Surveys
Zonka Feedback allows you to measure customer satisfaction in Zendesk in a couple of ways:
Embed CSAT surveys within Zendesk Email
Trigger the CSAT survey after a ticket is closed or updated
Leverage Macros to Collect Feedback from Chat
Let's understand how this can be done.

Embedding CSAT surveys within Zendesk Email
You can follow these simple steps to embed a CSAT survey in your Zendesk email manually:
Select the survey you wish to send to your customers, and in the navigation bar at the top, click on 'Integration'.
Now since you have already integrated Zonka Feedback and Zendesk, you will see the option 'Settings' after clicking on the Zendesk window. Click on Settings and turn on 'Embed a Question'.
Click on 'Choose Embed Style'.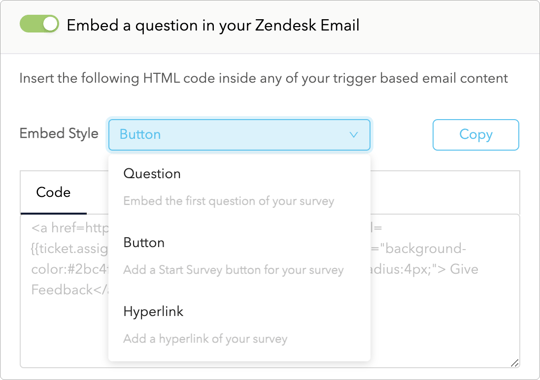 You will get three options:
Question

: This will allow you to embed a CSAT survey question directly within the email body so that your customers do not have to follow a link to take the survey.

Button

: This will allow you to embed a button, for example, 'Start Survey'. This, when clicked, will open the survey in the email body.

Hyperlink

: This will simply help you embed the link to the survey within the email body and will open the entire survey in the browser.
Once you select the type of question you wish to embed in your email, you will get an HTML code, which you will need to copy and paste into the Zendesk email body.
Note: Customers who wish to share detailed feedback in addition to the CSAT score will be redirected to the survey screen on the browser.
Triggering CSAT Survey After a Customer Ticket is Closed
By turning this feature on, your CSAT surveys will be sent out after the tickets are marked closed. Let's understand how you can do that.
Go to 'Integrations' after selecting the CSAT survey you wish to send to customers automatically and click on 'Settings' inside the Zendesk integration box.
Turn the toggle on for 'Send Zonka Feedback Email Survey Automatically'.
Choose from 'Closed', 'Solved', and 'Closed or Solved' ticket statuses based on when you would like your survey to be sent out.
Select the duration of delay after a ticket status is updated. For example, if you have selected the ticket status as 'Closed' and the delay duration as 'one week', your survey will be sent out one week after the ticket is marked closed.
Click on 'Save'
Leverage Macros to Collect Feedback from Chat
You can use Zonka Feedback to seamlessly integrate your CSAT survey into chats. Customers having conversations in Zendesk can simply receive a message to share their feedback on a 1-5 rating scale or smiley survey question without having to exit it.
2. Sync CSAT Score and Survey Responses With Zendesk
Zonka Feedback gives you a lot of control over how you manage your customers' data. The best part is that the scores collected from different customer satisfaction metrics can be synced directly with Zendesk so that you can manage everything in a single place.
When you choose to sync just the CSAT score, your customer service agents can view the Customer Satisfaction Scores given by customers. When you choose to sync CSAT responses, customers' answers are added to their respective tickets as comments or attribute field values. This can empower customer service agents to resolve the unique challenges of each customer.
Let's understand how you can sync CSAT scores and CSAT responses with Zendesk tickets.
Syncing Customer Satisfaction Score and CSAT Survey Responses with Zendesk
Syncing CSAT survey responses and CSAT score is super easy and can be done in just a few steps.
Go to Integrations and turn on the toggle where it says 'Sync Survey Response to Zendesk'.
Choose the checkboxes for 'Sync Score' and 'Sync Complete Response'. You can also check just one of the boxes if you prefer either one.
Click on 'Save' and you will be good to go.
Zonka Feedback Survey Tool for Zendesk
The Zonka Feedback survey tool for Zendesk offers not just the easiest integrations with several customer management and customer ticketing tools, but it also enables you to make customer feedback super insightful with the least amount of effort. Here are some of the features that you can enjoy:
Instead of offering customers binary answers to choose from in Zendesk surveys, you can get creative with Zonka Feedback surveys and use rating scales, MCQs, Likert Scale, etc.
You can choose from different languages and create surveys that connect.
You can create amazing surveys using ready-to-use survey templates.
You can do a lot with survey designs to make them more attractive and easy to take.
You can set up reminders and receive real-time notifications.
You can create detailed surveys to collect feedback on different aspects.
If you are just starting out with CSAT surveys, you can use Zendesk CSAT surveys. But if you're looking to get access to advanced survey features, then Zendesk integration with Zonka Feedback survey software is your answer.
Measure Customer Service Performance
Improve your customer service and grow your business with real-time feedback