96% of consumers across the globe say that customer service is an important factor when it comes to being loyal to a brand. It's no revelation that customer service has taken the center stage in most industries. But how do you make sure that the customer service in your business stands up to your customers' expectations? The answer is Customer Service Feedback. Your customers are the best people to let you know what you are already doing great and what you need to work on.
But how do you ask customers for feedback? Should you survey customers after you have provided a resolution? Should you insert surveys directly in your email responses and survey customers at every step in the interaction? Do your customers get every chance to share feedback? Or do they get overwhelmed with the frequency of the surveys being sent out to them?
In this article, we explore how you can use two types of Email Surveys — In-Signature Surveys and Email Embedded Surveys — for different types of customer service interactions. By the time you finish reading it, you will be able to decide which mode of customer service feedback can work best for your business.
Measure Customer Service Performance
Improve your customer service and grow your business with real-time feedback
Let's get started.
What is an Email Signature or In-Signature Survey?
An Email Signature Survey (or In-Signature Survey) can be an embedded survey question, a link or a button inserted in the signature of ongoing communication. It allows collecting insightful feedback in a non-intrusive way while interacting with the customer.
An Email Signature Survey question may consist of multiple answer choices or rating scales and appears as a part of the signature. And an Email Signature Survey with a link or a button allows opening a survey on click in a new window. The survey method allows collecting real-time feedback in each email interaction with customers.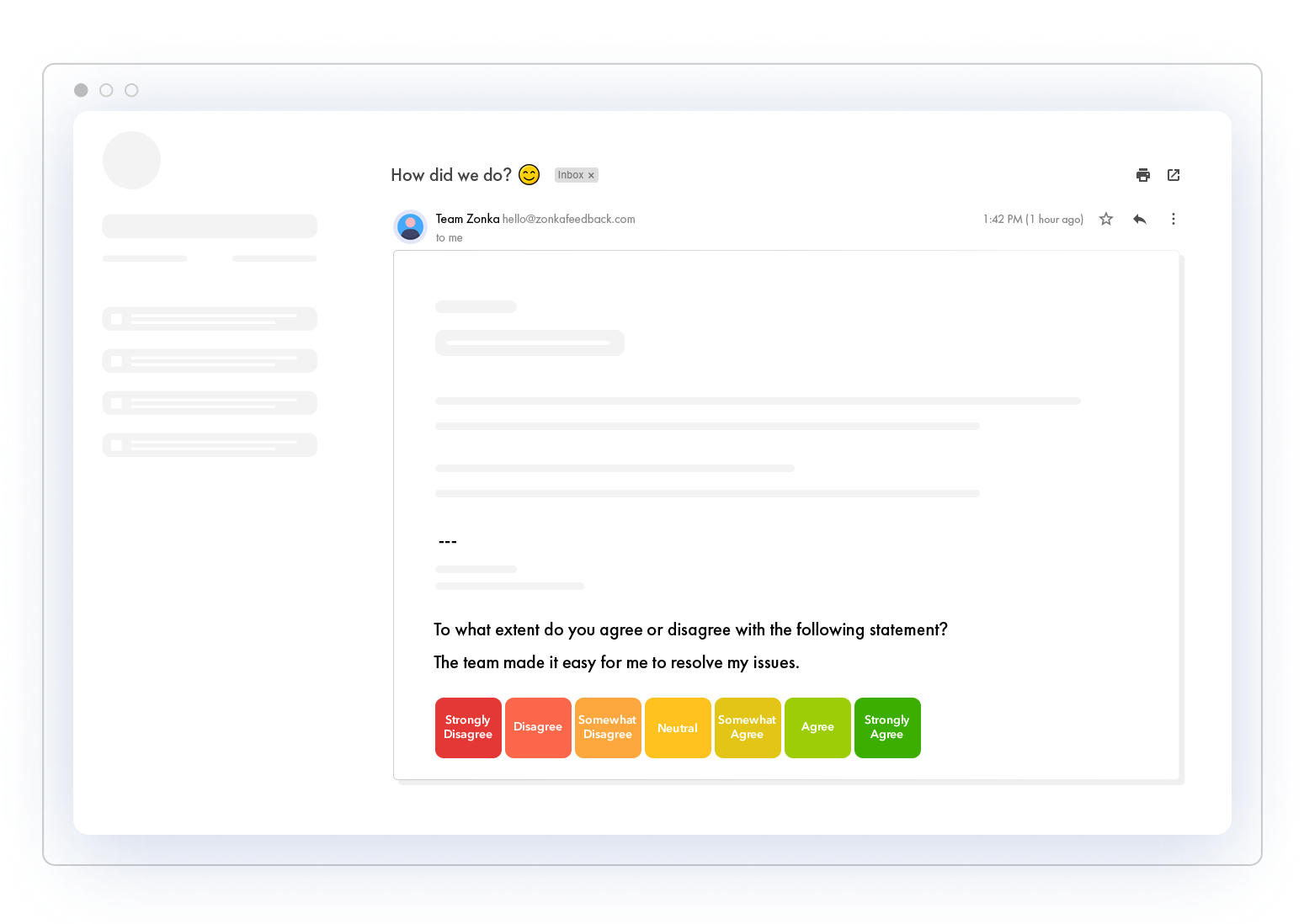 Benefits of using In-Signature Survey for Customer Service Feedback
Reduced Customer Effort
Increased Survey Response
Feedback During All Interactions
In-the-Moment and Valuable Feedback
1. Reduced Customer Effort
Every time a customer sends in a query, they receive an acknowledgement that the brand has received their email. This is then followed by customer service emails consisting of a resolution. And after the ticket is closed, they receive yet another email being asked to share feedback on the support they were offered. And it only gets more problematic if they are expected to open a survey and fill a form to share feedback.
This unnecessarily increases customer effort. But if you embed a survey right in the signature of the support email, customers can share feedback in the same email instantly without making any extra efforts.
2. Increased Survey Response
Studies suggest that 40% of people agree that they have more than 50 unread emails in their inboxes. Email survey requests can easily go unopened and even unnoticed. But in most cases, people keep a track of all updates, especially during an ongoing communication with a brand. So, when you're sending a response to a customer query or sharing an update, you can insert an In-Signature Survey at the bottom. This reduces the chances of your survey going unnoticed. And when customers repeatedly see the same survey over and over again, they may be unknowingly convinced that their feedback is important. Plus, In-Signature Surveys are effortless, which further increases the survey response rate.
3. Feedback During All Interactions
Separate surveys requests cannot be sent frequently since they can end up losing value and affecting your response rate. But with an Email Signature or In-Signature Survey, you can collect feedback at every point during the customer service interaction. You may go for a Post-Resolution Survey if you want to look at the problem-solving process as a whole, but if you're looking for exactly what needs improvement to further your customer service standards, it is best to ask for feedback at every step in the interaction.
For example, if a customer is looking to track their order because of a certain delay in the delivery, you may first ask them to rate the promptness of the service agent in replying with the status of the package. And once the package is delivered, you can ask for feedback again checking if the resolution was right and the issue was fixed on time.
4. In-the-Moment and Valuable Feedback
Since In-Signature surveys are sent along with the customer service response, you don't have to wait until the ticket is closed to capture the feedback on the resolution provided. Customers can provide feedback as soon as you reply with a resolution. And this way, you can modify the resolution process or communication based on the feedback received to match customers' expectations.
Moreover, feedback received via In-Signature Surveys can be extremely valuable since customers share it while the experience is still fresh in their minds. If they are surveyed later, they may sometimes forget to mention critical details that can make or break your customer service. Therefore, if you're looking to tap into every little opportunity for improvement, In-Signature Feedback is the way to go.
When to use In-Signature Surveys?
Based on the benefits that In-Signature Surveys provide, here are some instances where you can best use this customer service feedback method:
When you do not want to overwhelm customers with another separate email consisting of a survey request.
When you're seeking more feedback and a better response rate.
When you're looking to collect feedback on every response and customer service interaction.
When you want instant feedback to be able to improve customer service standards in line with customers' expectations while you're still offering support. This can help you create an overall positive customer service experience.
When you're looking to capture valuable feedback that comes from a fresh customer service experience.
What is an Email Embedded Survey?
An Email Embedded Survey or inline email survey allows embedding the first survey question in the email body itself. The question is usually a multiple-choice question or consists of a rating scale to gauge the general sentiment of customers. And after answering the first question, customers are automatically redirected to the survey page where they can either share feedback in their own words or take a full-fledged survey in case of long surveys.
Email Embedded Surveys are usually short and are great for when you want to give your audience a glimpse of your survey. They are best suited for post-resolution and milestone feedback.
Learn about all Question Types that can be embedded in Email Surveys.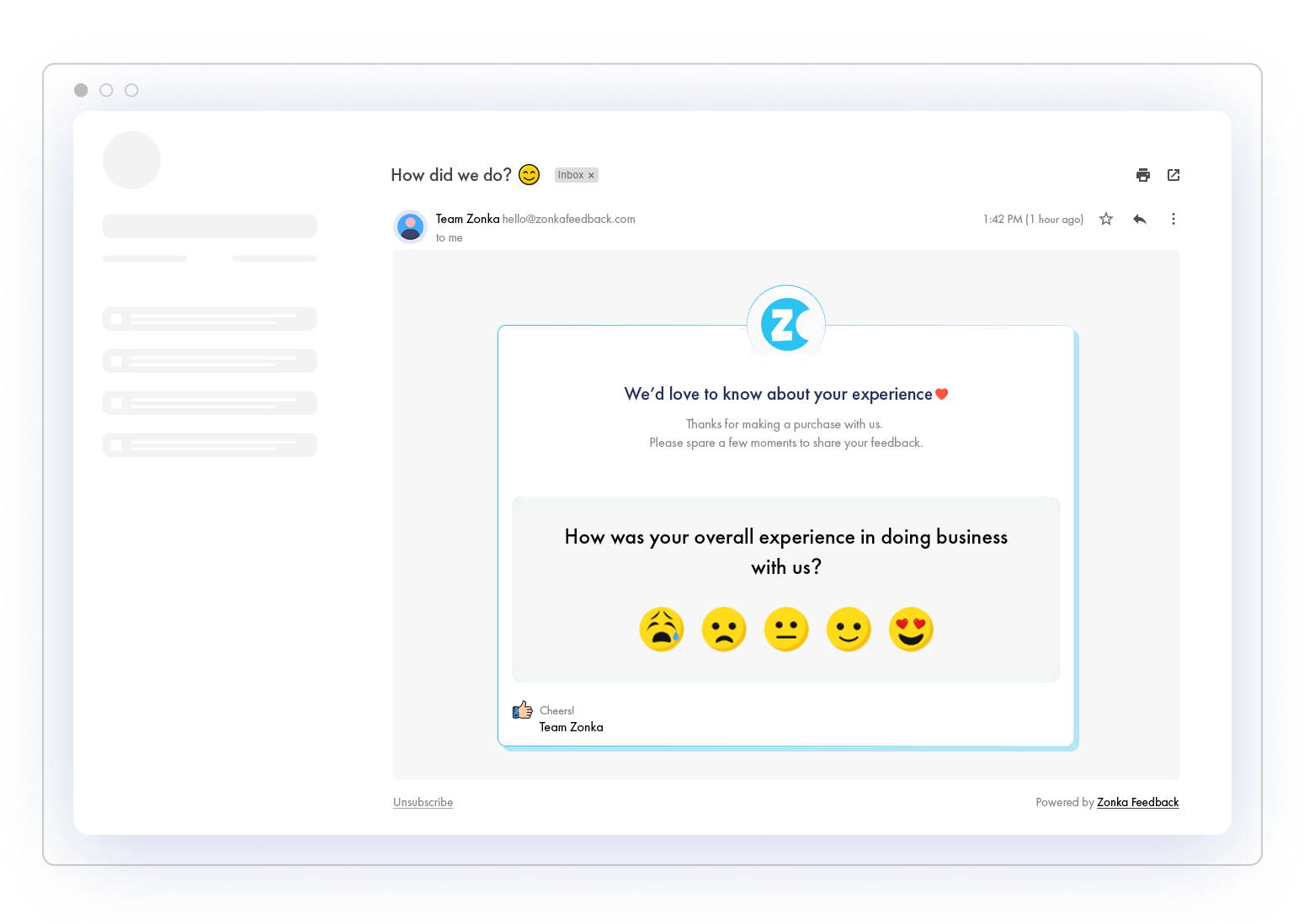 Benefits of an Email Embedded Survey When Collecting Customer Service Feedback
Feedback as a Whole
Well Thought-Out Feedback
Quality Feedback of the Service
Focus on Overall Customer Experience and Loyalty
1. Feedback as a Whole
No matter how many times you take feedback to improve the customer service feedback, at the end of the customer service interaction, customers prefer rating if they like the resolution and the customer service process as a whole. This is where Email Embedded Surveys or Post-Resolution Surveys can prove to be helpful.
You can send an Email Embedded Survey at the end of the support and ask customers to rate the support received. This information can help you have a birds-eye view of your customer service and identify shortcomings in the process as a whole.
2. Well Thought-Out Feedback
When customers are asked to share feedback instantly when they are already experiencing a challenge with your brand, they may tend to get emotional and provide critical feedback out of anger. However, the information may not be as valuable as you'd expect. But when the issue is resolved and customers are then asked to share feedback on the customer service, they can take their time to evaluate the support received and provide feedback that may actually help you improve your process. They can go over the entire customer support process in their heads and share what was good about it and what can be improved to make it more seamless.
3. Quality Feedback of the Service Standards
A customer support agent may be great at communicating with customers but may not necessarily give excellent resolutions. Similarly, an agent may not acknowledge every word the customer utters and may still end up providing the most amazing resolution. This is the reason collecting feedback after resolution using Email Embedded Surveys is important.
You can embed a customer service survey in an email after resolution and can expect to receive feedback that actually focuses on the service standard and not the individual responses by the support agents.
4. Focus on Overall Customer Experience and Loyalty
Excellent customer service ranked number one among customers who were asked how brands could win their trust. Therefore, after offering resolution, you can layer feedback with Net Promoter Score to gauge customers' loyalty to your brand. You can simply ask customers:
Based on your customer service experience and resolution, how likely are you to recommend our brand to others?
This Email Embedded Survey Question would help you gauge the overall sentiment of customers towards your brand. You can then measure customers' loyalty with respect to the support your service team offers. As a result, you can understand what you can improve to increase customer loyalty.
When to Use Email Embedded Surveys?
You can use Email Embedded Surveys to measure customer service feedback:
When you're looking for feedback on the support provided as a whole.
When you want to give customers enough time to provide constructive feedback that can add value to your customer service feedback.
When you're looking to get feedback on the quality of resolution and not just the quality of interaction.
When you wish to layer customer service feedback to gauge customer loyalty.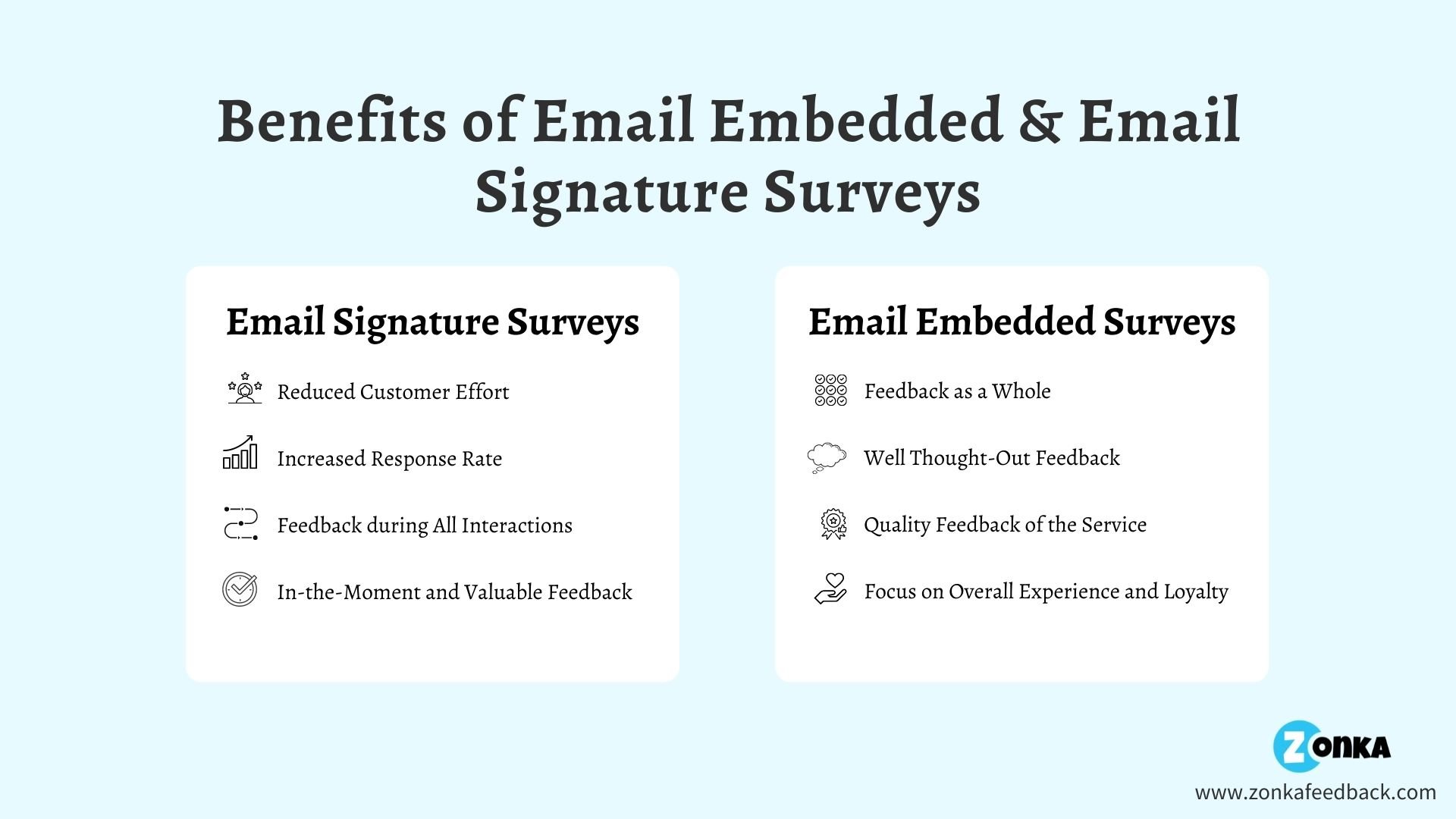 Conclusion
With such amazing benefits, it may be difficult to choose one form of email survey over other. The key is using a combination of Email Signature Surveys and Email Embedded Surveys so that you can leverage the benefits of both. For real-time customer feedback, you can always go for Email Signature Surveys, and for gauging the overall customer sentiment, you can go for Email Embedded Surveys.
Create a plan of when you wish to survey customers and you will be able to make the best use of both these types of email surveys.
Measure Customer Service Performance
Improve your customer service and grow your business with real-time feedback