We are super delighted to announce that Zonka Feedback has been given eleven recognitions at once by G2 Crowd in its Grid Reports of Fall 2021. We have won seven badges in the category of Survey, three in the category of Experience Management, and one in the category of Feedback Analytics.
In the previous four quarters also, we have been named 'High Performer' in the Experience Management Category by G2 Crowd. But this time, we have been able to rise much above and achieve eleven recognitions in multiple categories with multiple titles. The recognitions which we have received are: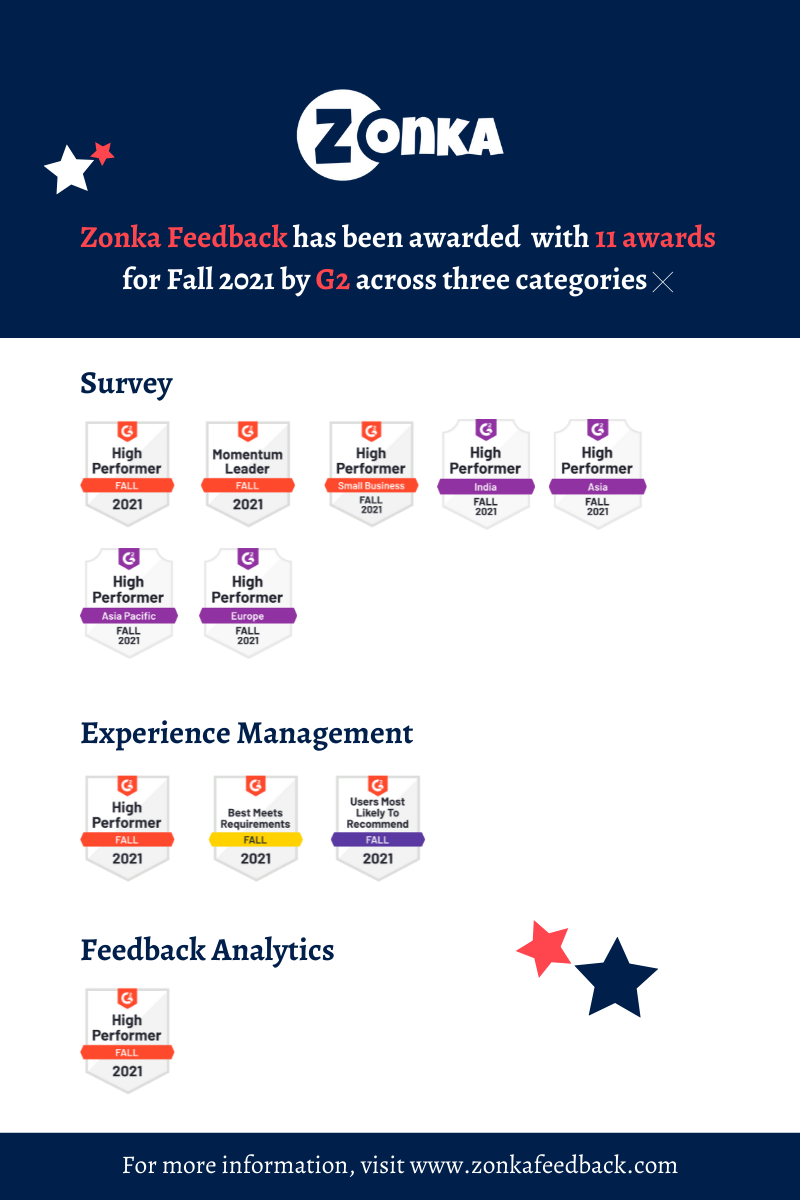 In the Category of Survey:
High Performer Fall 2021 in the Grid Report
Momentum Leader Fall 2021 in the Momentum Grid Report
High Performer Small Business Fall 2021 in the Small Business Grid Report
High Performer India Fall 2021 in the India Regional Grid Report
High Performer Asia Fall 2021 in the Asia Regional Grid Report
High Performer Asia Pacific Fall 2021 in the Asia Pacific Grid Report
High Performer Europe Fall 2021 in the Europe Regional Grid Report
In the Category of Feedback Analytics:
High Performer Fall 2021 in the Grid Report for Feedback Analytics
In the Category of Experience Management:
High Performer Fall 2021 in the Grid Report for Experience Management
Best Meets Requirements Fall 2021 in the Index Report
Users Most Likely to Recommend Fall 2021 in the Index Report
Receiving such multiple recognitions at once is a sure shot reason to be proud, especially from an entity like G2 Crowd, which is known for its unbiased ratings and recognitions in the software industry.
G2 Crowd is a peer-to-peer review website that provides a platform for various business software. It is a website where business owners, technology, and software buyers look for the right tool for their business. As it is well known for its unbiased reviews, companies refer to this website while deciding to buy or invest in a software product or tool.
G2 collects reviews and ratings from the actual users of the software, and based on these ratings and reviews; it evaluates the various software and tools on parameters like ease of use, customer satisfaction, and market presence.
The biggest strength of this platform is that the reviews and ratings on this website are genuine. G2 has its own algorithms to find out and eliminate fraudulent reviews from employees to their own companies or their competitor companies. Moreover, the platform also asks for real pictures and screenshots from the users to verify their reviews and ratings. Getting so many recognitions from such an authentic platform is itself an outstanding achievement for us.
We'd like to take a moment to thank our two pillars — our team and our customers. The effort from our team and the love from our customers have made this possible and contributed to this achievement.
We are always committed to providing smooth and happy experiences to our customers. We promise to keep this pace of continuous improvement to achieve many more recognitions like this in the future.
We are grateful to our customers for recognizing our efforts and the zeal to serve you to the best possible extent and better each time. We assure you that we will continue to deliver the best service and strive to provide you incredible experiences.😊
Start your Customer Feedback Journey Today
Collect real-time, in-moment feedback at all touchpoints in customer journey and leverage feedback insights to transform customer experience.