We started off building an all-new Survey Builder in May, and we've not stopped. We are excited to introduce our all-new Survey Builder to you, making it 10x times easier to create and edit surveys.
Create Beautiful Surveys that Customers Love to Answer🔥
Personalize your surveys with themes, fonts, logos, and backgrounds, add your own questions, and create stunning forms that align with your brand to get the right data.

The All-New Survey Builder: One Place to Create, Customize, and Personalize your Surveys.
Recap: So in our last Survey Builder Update in May, we introduced the left Survey Editor panel with all your questions, the question bank, reorder question options, and a right section to edit Look & Feel for all your screens (including the Welcome and Thank you screen) together. We also added the option to add your choices in bulk and different icons for CSAT questions.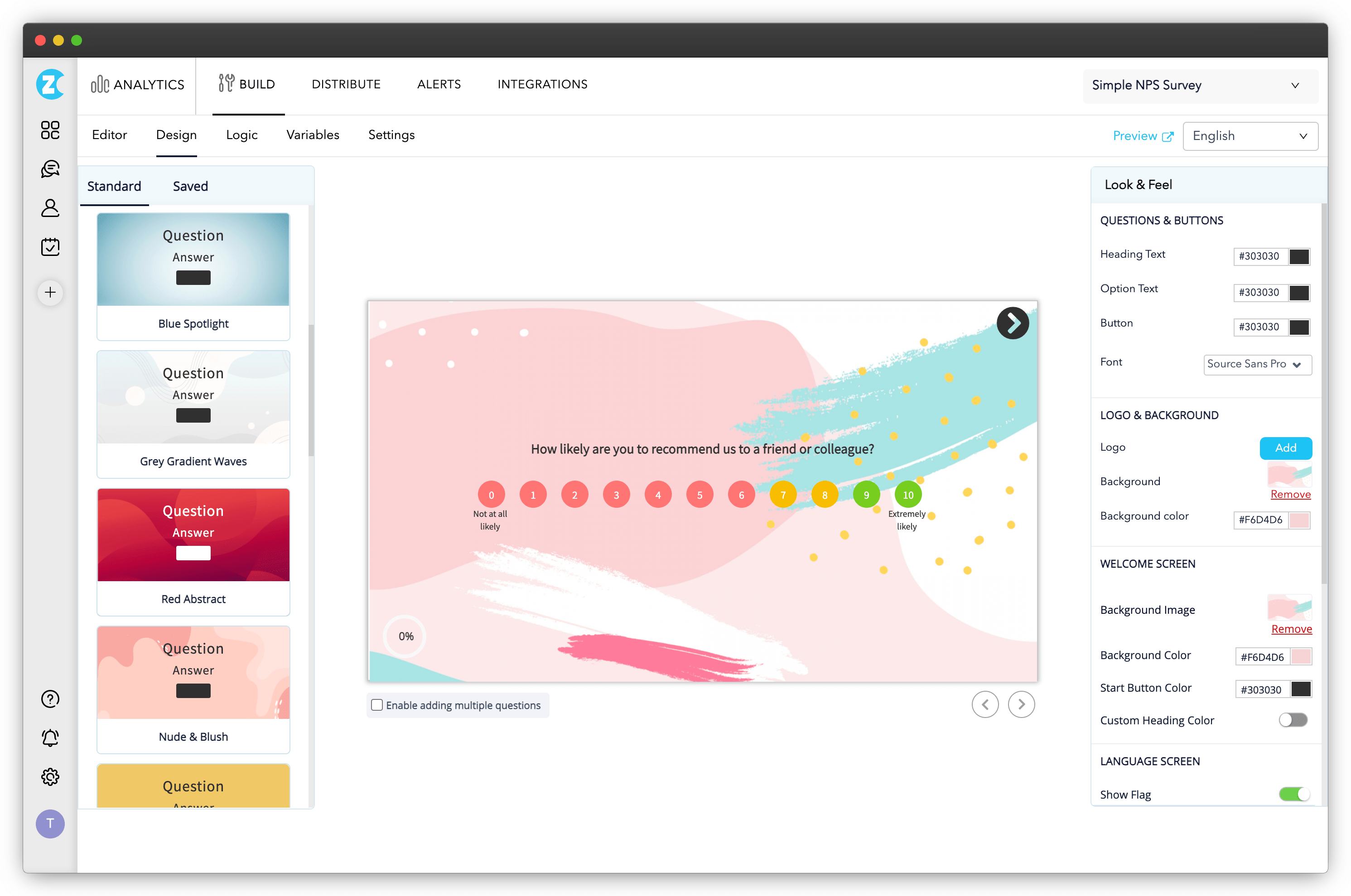 In our latest update, here's all that's new:
Sleek Navigation
To browse through everything in your Survey Builder - Editor, Design, Logic, Variables, Settings - Jump to any section quickly and configure your surveys.

Introducing Survey Themes & Survey Design
Once you've got the questions you added, time to make your Survey attractive and add your company branding, and if you're not a pro at picking the right colors that go together, don't worry; we've got it covered.
Use our all-new Survey Themes. Choose from existing Survey Themes or save your themes to use in all your surveys.
We've moved the Look & Feel editing to the Survey Design section, where you can choose colors, logo, font, and background for your Survey Screens, Welcome Screen, and Thank You, while also saving them as Themes to use later.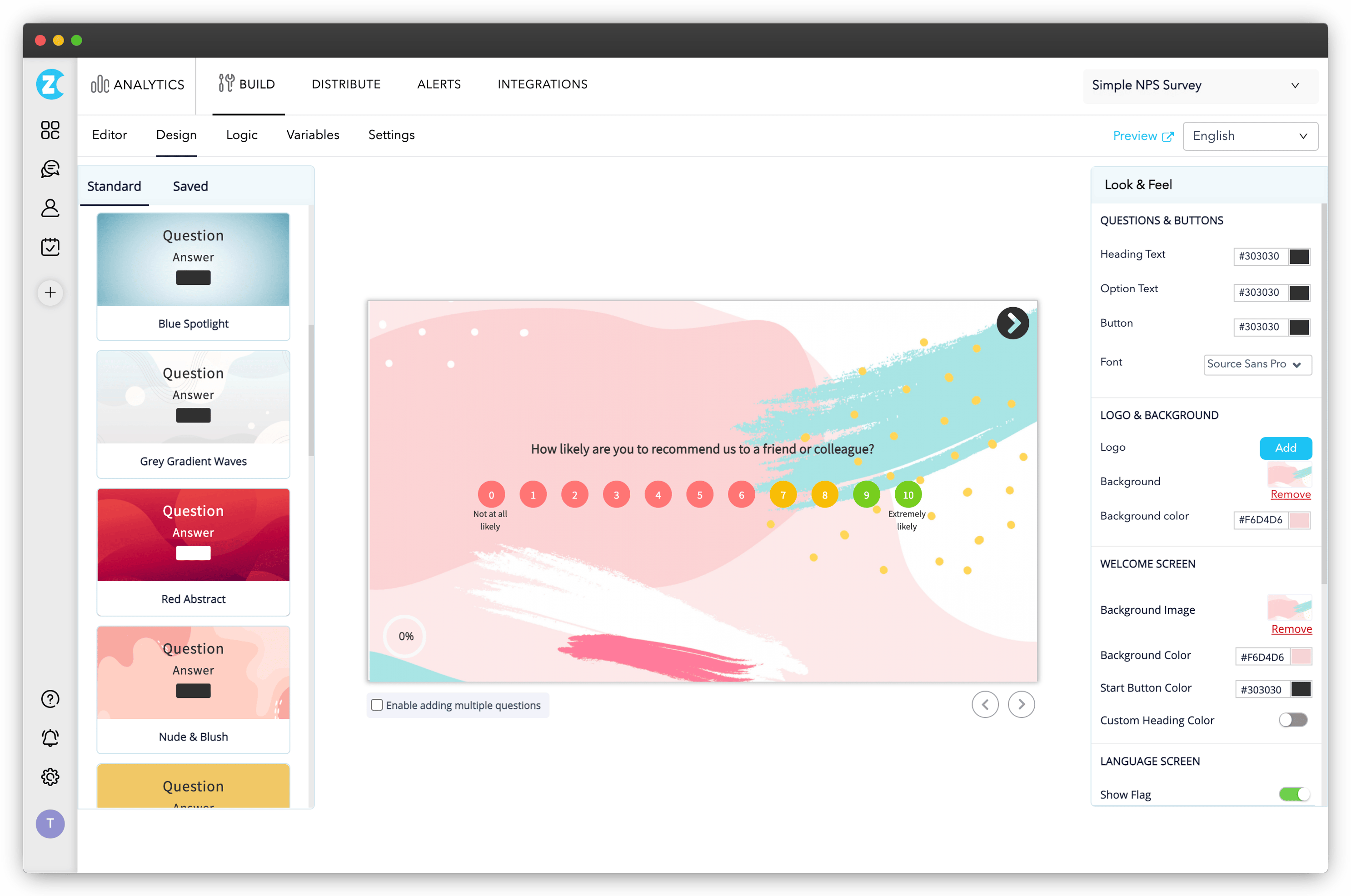 Survey Logic
Don't just stop with creative and good-looking surveys; make them smarter.
Survey Logic skips and hides questions based on what your customers answered, makes the Survey more relevant, and helps increase survey relevancy. While you could always add Survey Logic to your questions in Zonka Feedback, you can now add, view, and edit them together in the Survey Logic section. The new Survey Logic panel makes it super easy for you to view all of your survey logic together and edit them in one place.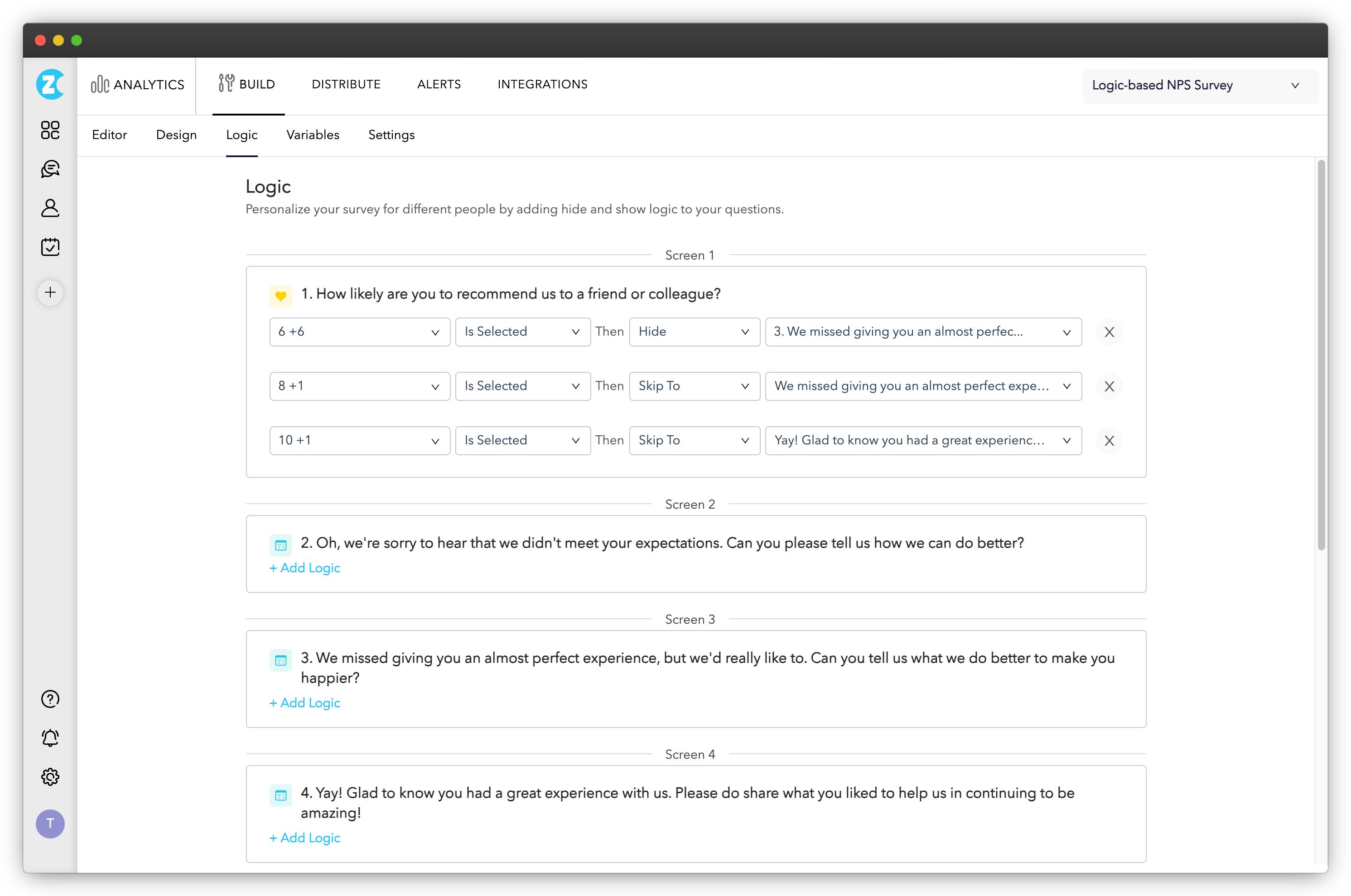 How does Survey Logic work?
Choose the question you would like to apply the logic to and click on '

+ Add Logic.

'

On the popup, choose the event based on which the logic would work.

You can set the

If selected for the answer option chosen, then skip/hide question logic

.

Once done, click the 'Save Logic' button to complete the setup.
Variables
Now we are all set for distributing our surveys. Oh, wait! Did we personalize them?
Personalizing your surveys and passing data with Survey Variables helps to store additional information in the Survey. It also makes surveys more relevant for respondents and adds more insightful information to your Survey Responses and Reports.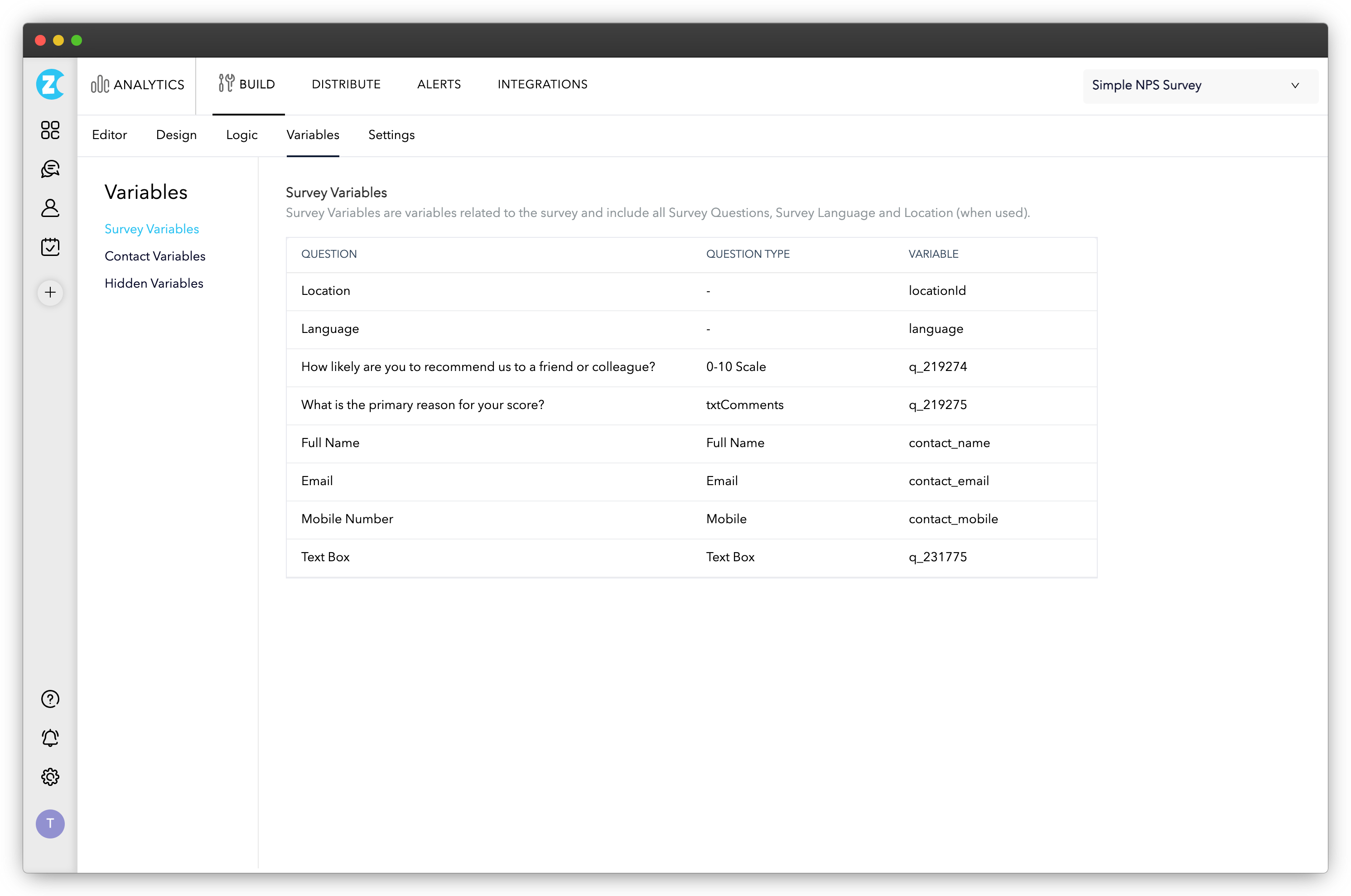 In your Zonka Feedback Surveys, you can add three types of Variables and pass them in your Survey.
Survey Variables

:

Survey Variables are variables related to the Survey and include all Survey Questions, Survey Language, and Location. When you pass values in Survey Variables, you can choose to display the question or hide the question from the respondents.

Contact Variables

: Contact Variables are variables related to Contact Attributes and can pass information about Contact Attributes. Like Survey Variables, these can be displayed or hidden from the survey respondents based on whether you have also added them as a question. For example, customer name, email address, phone number.

Hidden Variables

: Hidden Variables include information and data that you want to pass in your survey response without adding Survey Questions or Contact Attributes. For example, flight number, membership ID.
With the new Variables section, view, copy, and add Variables all in one place while editing your Survey.
Survey Settings
All different Survey Settings are together in one section, 'Settings.' Here's all you can edit and set.
General Settings

: In General Settings, you can edit your Survey Name, Title, Description.

Offline Surveys

:

In the Offline Surveys, you can manage settings for Offline Surveys, edit your Data Capture Mode (Mobile Forms, Kiosk Forms, or Face to Face Surveys), Survey Display Orientation (Landscape & Portrait Mode), Survey Inactivity Time Out, Survey Restart Time (Survey Loop), Survey Exit Options.

Online Surveys

: Manage the settings for Online Surveys here. Choose Web Survey Alignment (Center or Left) and Redirect your survey to a valid URL upon a survey completion with Survey Redirection URL.

Language

: Choose Survey Languages, Survey Default Language, and choose how you'd like respondents to select their preferred language while responding.
What's the biggest advantage of the new survey builder? One place to Edit, Design, Logic, Personalize, and set your preferred Settings. We've heard your feedback and made the survey building experience much smoother.
We're pretty stoked about streamlining and bringing together all Survey Editing options for you in one place, with easy browsing. So explore it and tell us what you think! 😊