We're happy to introduce Zonka for Webex — our new Webex Edition where Zonka is available as a part of Webex's Embedded Apps.
Online virtual meetings and web conferences are on the rise. In the time of the pandemic, popular web conferencing tools enabled millions of users to work remotely from their homes and connect with their teams virtually through an online platform. One such popular platform is Webex by Cisco. In the month of April 2020 alone, Webex by Cisco reported 25 billion meeting minutes.
Keeping that in mind and leveraging Webex's new Embeddable Apps, we are happy to introduce Zonka for Webex — an amazing solution to make working remotely more engaging for employees and for employers to rise up to the challenges of making remote meetings and Webinars more inclusive and exciting.
Measure CX with Webex Surveys📝
Run live polls, quizzes, and surveys and measure customer satisfaction across all touchpoints in real-time right within Webex using Zonka Feedback.
With more companies adapting the flexible working models with full time remote or hybrid working, employee engagement, feedback and inclusivity are key to ensuring team bonding and effective working. SaaS solutions integrated well with the web conferencing tools can be very powerful in helping employers seamlessly deliver good employee experience, even remotely.
Zonka Feedback's embeddable app within Webex is well integrated for enabling engagement. Surveys, Polls and Quizzes can be created right within Webex and distributed to participants and audiences during live Webex Meetings and Webinars. Admins can view results, view live poll results and see quiz scores while attending the meetings.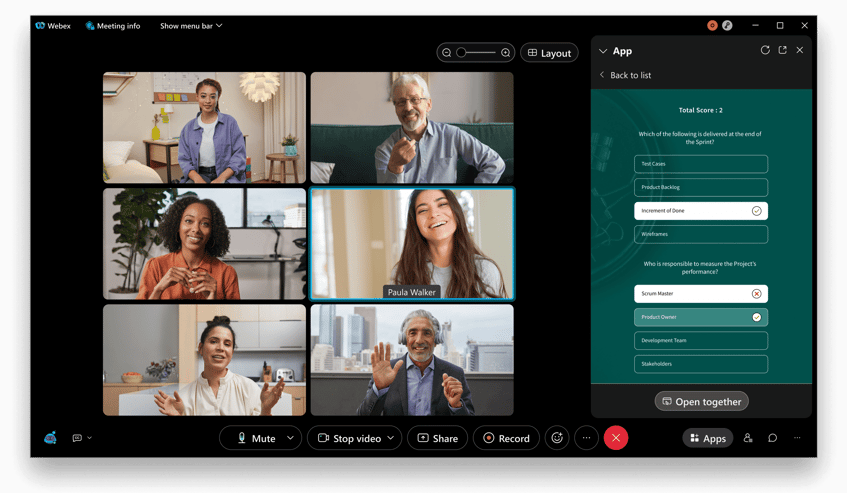 How does Zonka for Webex work?
With Zonka for Webex, you can create surveys, share them with your team, run polls and live quizzes right within the Webex App, without having to leave it at all. Additionally, also see live responses, results and reports within Webex.
To get started,
Go to Webex and start a meeting.
Click on Apps and select 'Zonka Feedback' from the list.
Sign into your account or create an account
Once signed, share existing surveys or create a new survey, poll or quiz to share with your meeting attendees

Besides sharing surveys, quizzes and polls to your Webex Meeting attendees, you can also view responses, live results and reports right within Webex.
What Zonka brings to your Webex Meetings?
Zonka for Webex has a lot of powerful features. These include:
Live Survey, Polls and Quiz Builder
You can create your surveys, polls and quizzes within Webex itself — before or while in your meeting.


Live Polls
Want to run polls or get votes from your meeting attendees? Create quick polls with custom questions and collect votes from your attendees in real-time. Participants can share their votes within the Webex app and also view live poll results!


Quizzes
Quizzes are fun ways to engage meeting attendees and test their knowledge. Create fun quizzes for your audiences with scores or right answers displayed at the end of the quiz. Makes your meetings very interactive making knowledge-sharing a lot of fun.


Live Q&As
Want to let audiences share questions with you? Create a simple text survey and let audiences share their questions with you during a meeting or Webinar.


In-Meeting Satisfaction
Run satisfaction surveys to gauge how well the meeting is going by sharing feedback forms with your meeting attendees.


Check ins and Stand Ups
Have daily check ins and stand ups conducted on Webex? Use quick Zonka surveys to let all participants share their status during the meeting.
The possibilities are endless.
Benefits of Using Zonka for Webex in your Next Meeting
You can use Zonka for Webex in your next Webex Meetings to:
Break the ice
A fun quiz or a quick poll is a great meeting starter and helps break the ice. Let your imagination run wild and use quizzes and polls know your audiences better, break the ice and get them connected.
Increase engagement
Honestly meetings can be boring sometimes and with a lot of participants, it is always hard to keep everyone engaged. With live polls, you can ensure that all your participants are engaged and actually feel like they're contributing to the meeting.
Collect Ideas
Not everyone speaks up in meetings. Use quick surveys with open-ended questions and comment boxes to collect ideas and have all your audiences participate. This gives everyone a chance to share their ideas.
Interact with all participants
Meetings don't have to be a one-way street with only a few key people talking and sharing, while the rest are just listening. Quizzes, polls and surveys ensure that there is participation and interaction in your meetings.
Make decisions based on votes
Making decisions? Do it democratically. Use quick polls to let everyone in your meeting vote and make a decision together. Even non-business decisions like where to host the next get-together or the theme for the next party can be put up for voting.
Do all this and lots more — without leaving your Webex meetings!