The novel Coronavirus (COVID-19) has spread worldwide and WHO has declared it as a pandemic virus. It has undeniably put the whole world in an alarming situation, where everyone is scared of self-isolation and is quarantined. Clinical tests are still going, but no vaccine or antidote has been made to fight against this disease. The governments of different countries have implemented numerous protective measures like effectively closed their borders, imposed strict bans on domestic and international travel, and ordered people to stay indoors. As devoted citizens, we should abide by the rules and additionally need to follow some preventive measures to save human lives and put a halt on the spread of this lethal virus.
Measure Patient Feedback and Satisfaction👩‍⚕️
Create your healthcare surveys and questionnaires and gauge feedback from patients in real-time.
Here's what Zonka Feedback is doing to ensure safety of employees and business continuity in the light of Coronavirus
What is Coronavirus?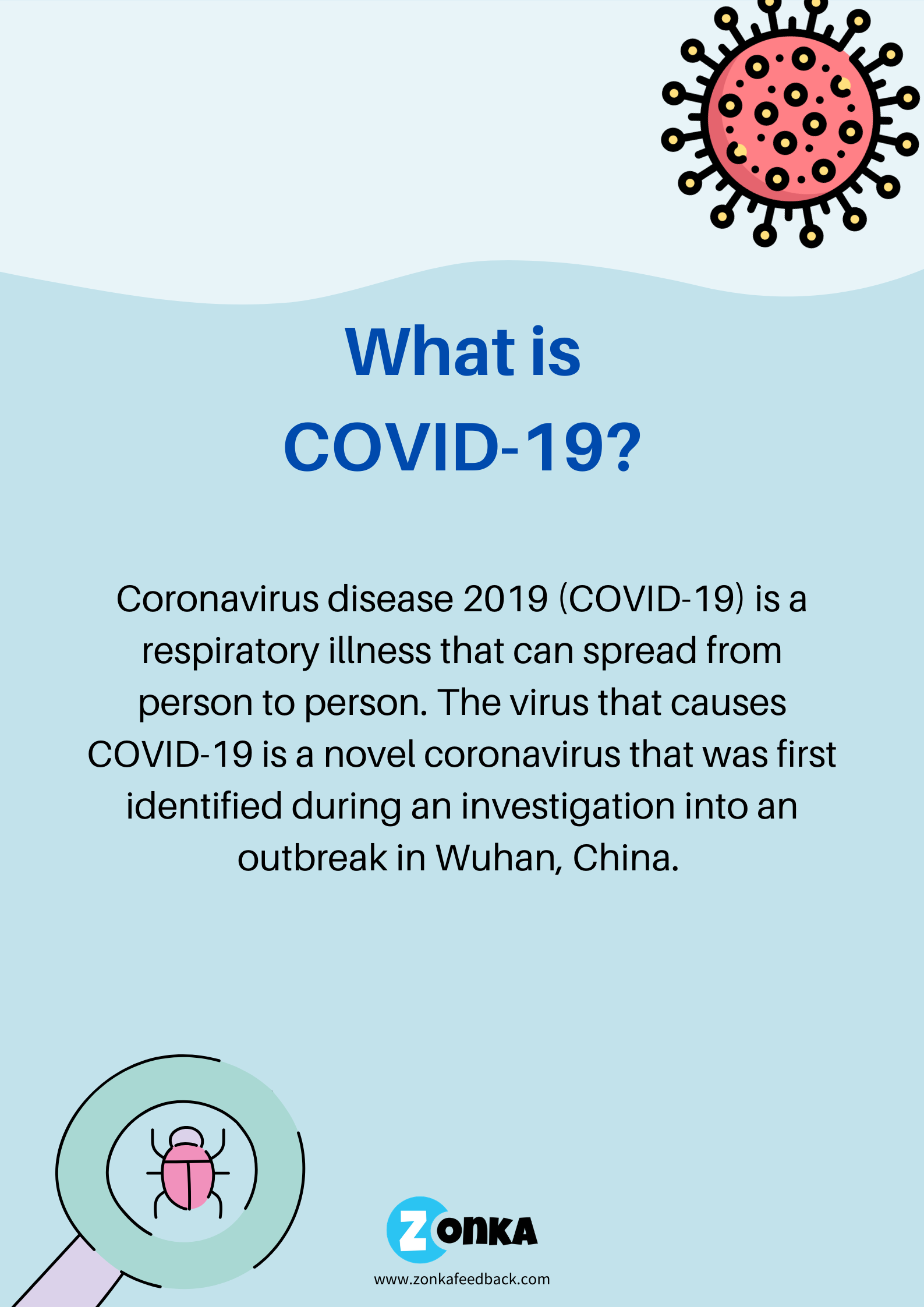 A Coronavirus is a fatal virus that causes cold-like illness in human beings and illness in certain animals like bats, cats, camels, and cattle. The disease can be transmitted from animals to humans and then can be spread from humans to humans.
It causes illness ranging from the common cold to more severe diseases such as MERS (Middle East Respiratory Syndrome) and SARS (Severe Acute Respiratory Syndrome).
Symptoms of Coronavirus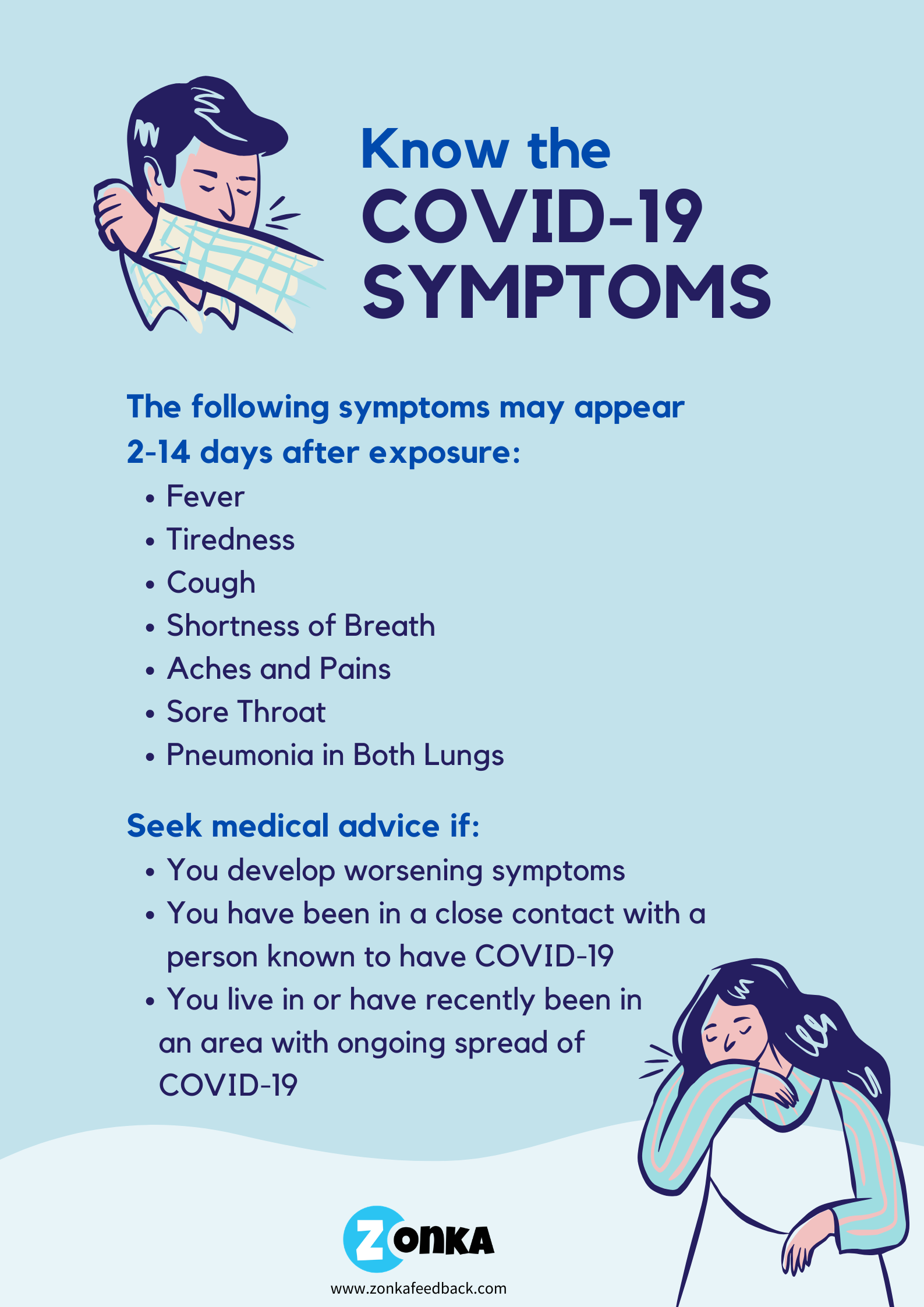 As per the data given by Worldometer, Coronavirus (COVID-19) has spread to 199 countries & territories and claimed more than 33,000 lives. It can take somewhere between 2-14 days for symptoms to appear. According to the World Health Organization (WHO), the incubation period lasts up to 14 days.
Older age people, and individuals with pre-existing medical conditions (such as asthma, diabetes, heart disease, high blood pressure), are more vulnerable to catch this virus. Some Common Symptoms of COVID-19 consist of:
Fever
Tiredness
Cough
Shortness of Breath
Aches and Pains
Sore Throat
Pneumonia in both lungs
If your body shows signs of something similar to the above-mentioned COVID-19 symptoms, then please seek medical assistance immediately.
10 Precautions to take in COVID-19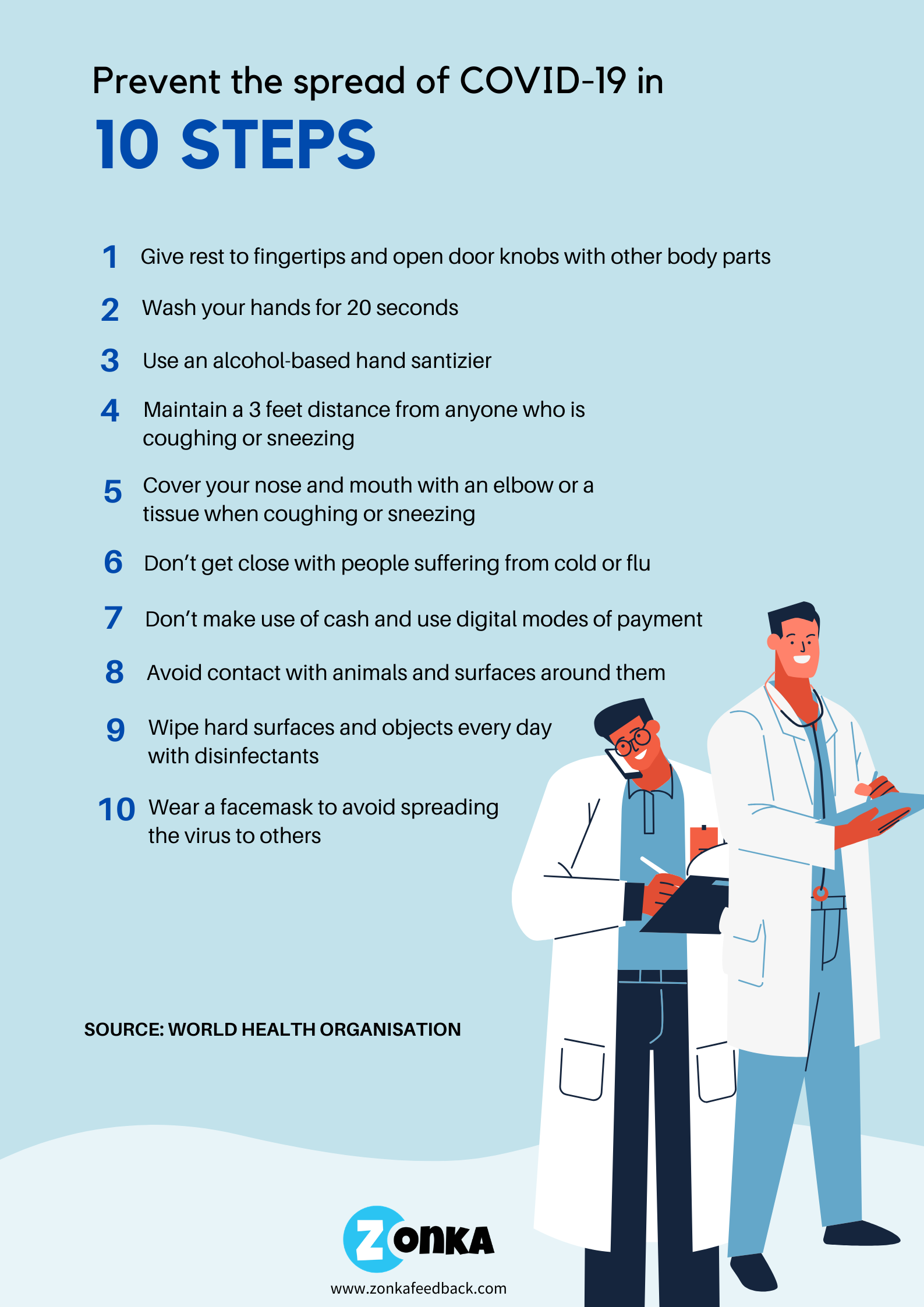 The WHO has advised countries to perform Coronavirus tests on their people to ensure they are not infected with the disease and so help curtail the spread of the virus. When we talk about safety, it not only involves you but the people around you. Let's explore 10 preventive measures to follow:
Give rest to your fingertips and open door with other body parts
Wash your hands for 20 seconds

After coughing or sneezing
Before preparing meals and eating
When hands are dirty
After handling animals or animal waste
When caring for sick people
Before getting in contact with your eyes, nose, and mouth
After using washroom

Use an alcohol-based hand sanitizer
Maintain a 3 feet distance from anyone who is coughing or sneezing
Cover your nose and mouth with an elbow or a tissue when coughing or sneezing. Throw away the tissue immediately
Don't get close with people suffering from cold or flu
Don't make use of cash and use digital modes of payment
Wipe hard surfaces and objects every day with disinfectants
Avoid contact with animals and surfaces around them
Use a digital pet management solution to track animals and their status.
Wear a face mask to avoid spreading the virus to others
Ways to Improve your Immune System to Fight against COVID-19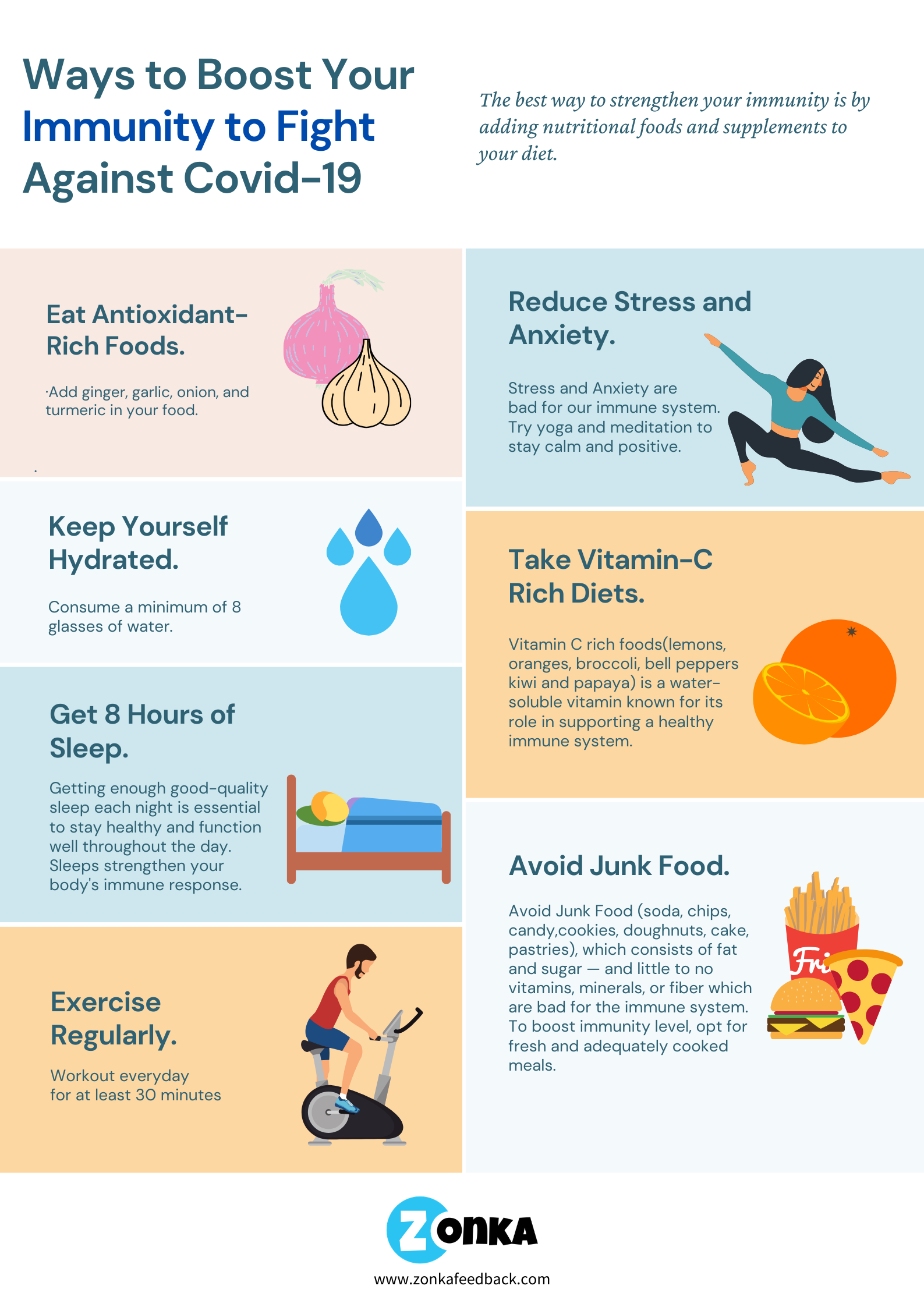 People with weak immunity are more vulnerable to catch the COVID-19 infection. Although there are no concrete factors that can reduce the risk of acute infections like COVID-19, following a healthy diet, reducing stress, getting proper sleep, and being physically active plays a vital role in keeping your immune system strong. The only way to boost your immunity is by adding nutritional foods and supplements to your diet.
Follow these simple tips to improve your immune system.
Add ginger, garlic, onion, and turmeric (known for detoxification, antioxidant, and antimicrobial properties) in your food.
Take Vitamin C rich foods (lemons, oranges, broccoli, bell peppers, kiwi and papaya) to keep your immunity intact
Vitamin B12 and D3 (Recommended by the Physician)
Avoid junk food and opt for adequately cooked meals
Get a good 8 hours of sleep
Workout everyday for at least 30 minutes
Keep yourself hydrated. Consume a minimum of 8 glasses of water
Reduce stress as its bad our immune system. Try yoga and meditation to stay calm and positive
Conclusion
The condition is critical all over the world, with millions of people are suffering from this disease. The infectious disease is spreading rapidly and having adverse effects on people is due to the lack of immunity and no availability of vaccine in the market that can cure the virus. In such tricky situations, it's our duty to act responsibly to fight against Coronavirus by taking preventive measures and following a healthy regime.