Zonka Feedback is proud to announce its mention in Capterra Value Report: A Price Comparison Guide for Survey Software, which features and compares the top Survey Software tools that have received high ratings from users regarding Value for Money and Functionality. Further, the report also breaks down the starting cost and relevant pricing details for each product.
Zonka Feedback is recognized as an outstanding product with a Value For Money rating of 4.9 out of 5 and a Functionality rating of 4.7 out of 5. We've always strived to deliver the most cost-effective survey software that acts as the best fit for businesses of all scales. With the starting price of just $49 per month per user, we've ensured that Zonka Feedback acts as the one-stop solution for every business' feedback collection requirements.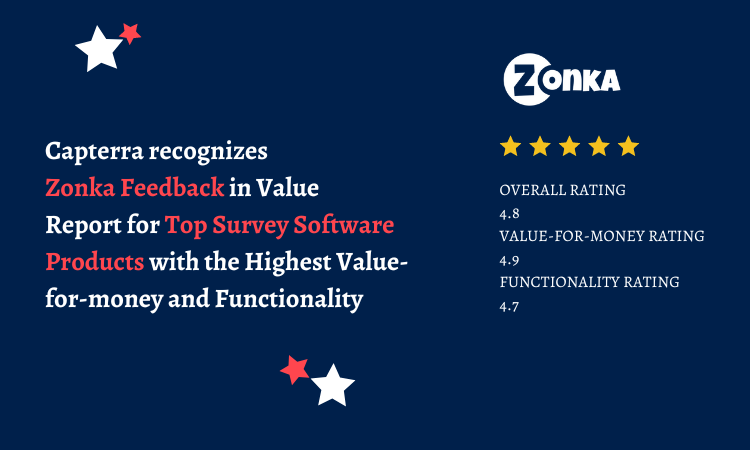 And grabbing the first spot in the Capterra Value Report for Survey Software isn't the only recognition bestowed on us this time. Zonka Feedback has also been recognized in Capterra's Flagship Shortlist report - Survey Software Shortlist.
Getting an overall rating of 4.8 out of 5, here's what several Capterra users have to say about Zonka Feedback:
"I like the ease with which you can develop a survey and distribute to customers. Overall, this product exceeds the ability to easily collate responses on surveys, giving us an edge to tailor our services to meet customer needs"
"It has many predefined feedback questions and templates, NPS, etc. So if that's what you want, you can get started quickly."



"It is very easy of use and It save me a lot of time to get feedbacks from employee and clients. Easy using not only for me and for my team who can send a lot of servey every day, every week for our team members and clients in order to make our company more better better."
Getting this recognition based on real customer reviews makes this mention even more rewarding.
We are thrilled to get this recognition from Capterra, one of the best online platforms for business software product directories. Here is a graphical representation published by Capterra, highlighting all the survey products that made it to this year's list of top survey software based on value for money and functionality.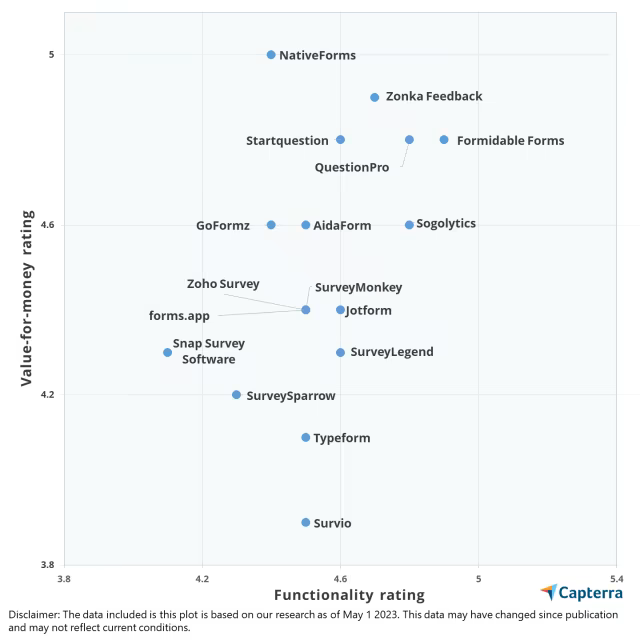 Zonka Feedback is extremely thankful to all its customer for bestowing us with positive reviews and appreciating the functionalities that we've worked so hard to offer. As an omnichannel experience management platform, some of the top offerings that are loved by Zonka Feedback users include:
CX Surveys for measuring NPS, CES, and CSAT scores
Offline & Kiosk Surveys
Website Surveys
Product Surveys
Email Surveys
SMS Surveys
The features and functionalities of Zonka Feedback don't end here. It also offers a plethora of features that make creating and distributing surveys more interesting and effective. It allows its users to collect feedback across different touchpoints in its customer journey. We've also invested a lot of our efforts into making Zonka Feedback the best CX management platform through CX automation, workflow designing, advanced analytics & reporting, and countless integrations. One can also collect feedback through multilingual surveys, location-based surveys, white-label survey domains, location insights, and much more with Zonka Feedback.
All of us at Team Zonka Feedback extend our heartiest Thank You to all our customers.❤️ Thank you for trusting us with your feedback and CX management requirements!
We promise to keep updating the survey software to add more functionalities and make it even more cost-effective for all of you.