If you run a company, are a manager, or a Human Resources professional, you use employee surveys to measure employee satisfaction and engagement. There are plenty of other types of employee surveys you can use to gain actionable insight into specific areas of employee satisfaction and engagement. Here are some interesting, creative employee surveys you can use to enhance the employee experience.
Real-Time Surveys
A number of organizations favor a real-time approach to employee surveys. You can use kiosk surveys to conduct real-time surveys to capture employee information. You can set up kiosks anywhere, and use them as a non-intrusive means of finding out what your employees think. Set up a kiosk with a survey app near the biometric to capture employee feedback as employees leave for the day, or around communal areas like cafeterias.
This creative employee survey can include a few well-chosen questions to capture specific feedback. It could include a simple, 'Did you feel valued at work today?'. Or, you could use a survey app to ask employees for real-time feedback on a team event as they leave: 'Did you find this event productive?', 'What do you feel was the purpose of this event?'
Pulse Surveys
Many organizations now prefer to use employee pulse surveys. Pulse surveys are usually shorter and have fewer questions than a typical survey. They are also aimed at fewer employees. They are often easier to manage and extract insight from.
Thanks to technological transformations within HR and business, employee surveys are no longer limited to annually or half-yearly frequencies. You can send out pulse surveys quarterly, and even monthly. These are usually effective for getting continuous information on employee engagement and satisfaction, i.e. the pulse of the organization.
Since you can send out pulse surveys relatively frequently, you can use the data collected to map out trends and patterns. Use pulse surveys before and after specific organizational changes to understand how those changes affected employee morale and satisfaction.
These short and frequent surveys can be used to get information on any workplace area of interest: engagement, satisfaction, work culture. Due to their narrow focus, they are specifically useful for understanding employee opinion on specific areas of interest.
These employee surveys can include questions like, 'Do you understand what constitutes for good performance at work?', 'Do you get support from your manager and team?', 'Have you been provided access to the proper resources and tools necessary for doing your job well?'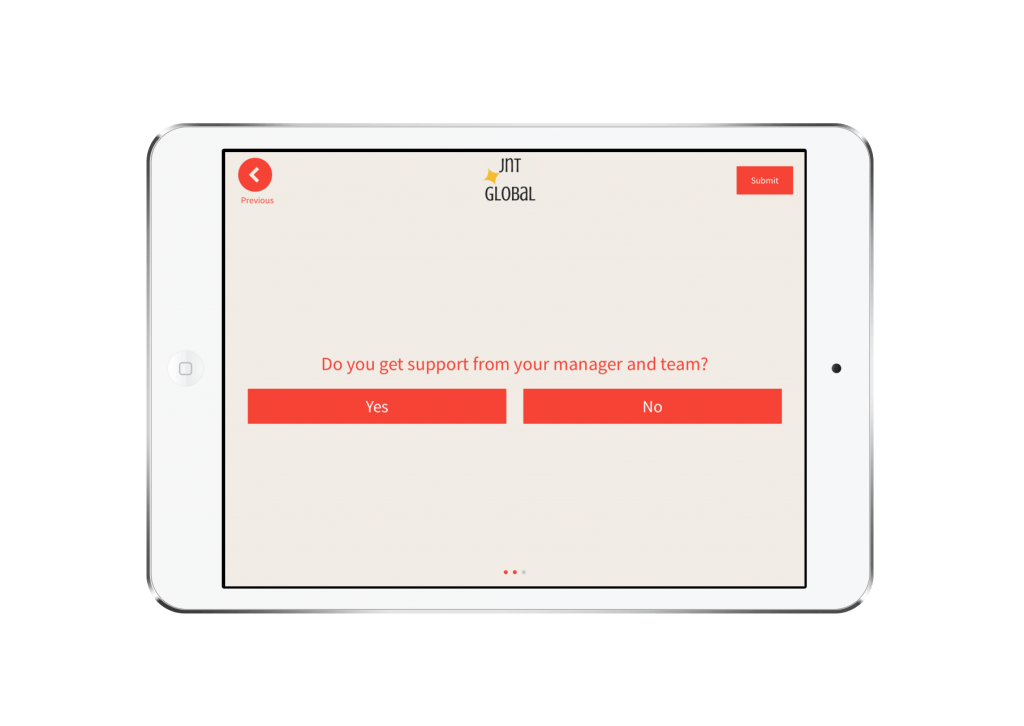 Mood Surveys
Mood surveys are a good way for you to capture overall employee sentiment. They are an especially great way for you to capture employee moods during periods of transition such as mergers, changes to leadership, and restructuring. You can use these surveys at survey kiosks, like real-time surveys, to ask employees a few simple questions during the workday.
Over time, you can compile the data from these surveys to analyze trends in moods that correspond to specific events in the organization. Since these surveys can be used to continuously capture employee feedback, they are a good way to gauge the general perception employees have of the organization, and, the impact of certain measures on employee morale. These creative employee surveys can include questions like, 'How happy are you at work?', 'How frustrated are you feeling at work?', and 'Tell us about the factors that make you frustrated at work'
Cafeteria Surveys
Food is the great connector, the source of bonding across cultures, communities – and for your employees. Your employees will perform better when they are taken care of and when their essential needs are met. This is the essence of employee satisfaction. Food is essential to your employees' health and productivity. Don't neglect a basic part of their workweek – where they eat lunch and take breaks.
All you need to do is set up a simple kiosk survey in the cafeteria. This will help you capture essential feedback on what your employees think of your cafeteria. Ask questions about the quality and taste of food, the variety in cuisines, the cleanliness, the arrangement of seating and more. You can include questions like, 'How would you rate cafeteria food in terms of taste?', 'Were a variety of options available to you?', and 'Was nutritional information readily available?'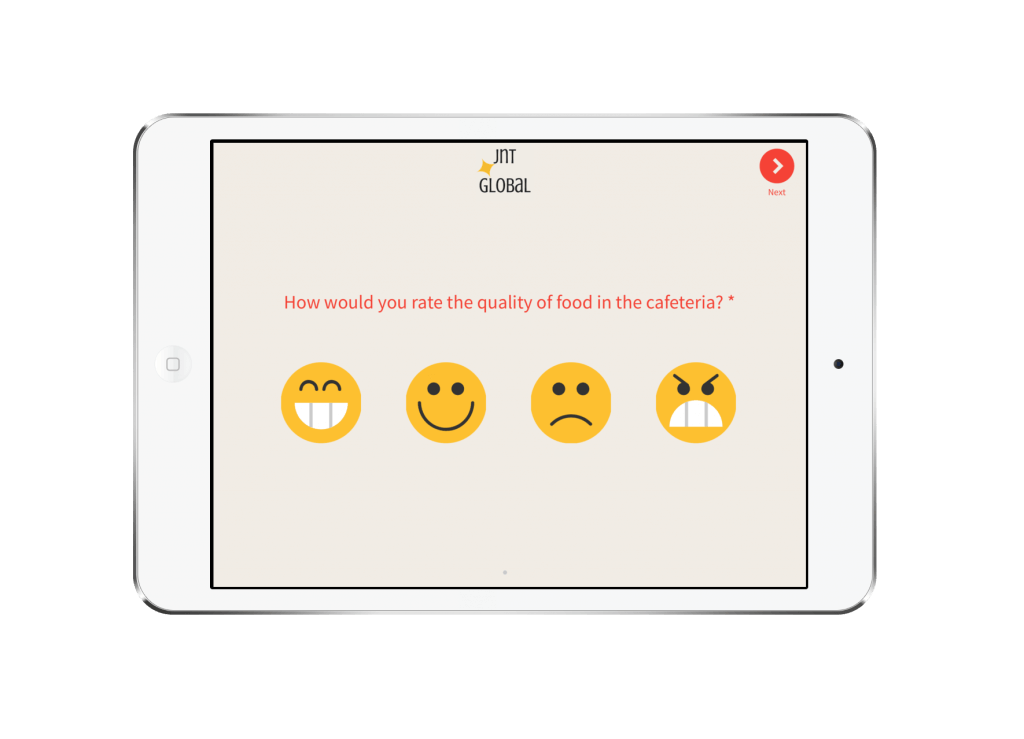 Amenities Surveys
Your cafeteria's service isn't the only one you should be asking for employee feedback on. Put the lens on other amenities. Conduct amenities surveys. These can help you find out what your employees think – whether the washrooms make your employees want to gag, or they like the layout of their cubicle or enjoy the gym. These employee surveys are important. Your employees spend a major part of their week at work. They expect and deserve good workplace amenities. In fact, ergonomically-modified workplaces are an important factor in increasing employee productivity and can even reduce employee sick days.
Set up simple survey tablets in washrooms, gyms and other facilities with simple rating scale questions to capture employee feedback on the go. Or, use email surveys to solicit employee opinion on any number of amenities, including what they think of the plan of the office, the size, location of their cubicle and more. You can also include a simple open-ended question to provide your employees with flexibility for answering.
Amenities surveys can be modified to ask questions that are relevant to your building and your workplace. They can include questions like, 'How clean did you find the washroom today?', 'How often do you find unsanitary objects in the washroom?'. Other questions related to workplace ergonomics can include, 'Do you experience discomfort as part of your day-to-day work activities?', 'Do you have any suggestions on what how your job can become less stressful?'
In Conclusion...
We've talked about creative employee surveys that aren't in the usual roster of employee surveys that HR or managers ask. However, these creative employee surveys are as important for improving the employee experience. These surveys measure less-easily quantifiable, but no less important factors that contribute to employee productivity and motivation at the workplace. A simple survey app or feedback management system can help you efficiently collect relevant feedback. It can then analyze the data to reveal information that you should use to make your employees' experience at work healthier and more productive. Check out Zonka's survey app for Android and iPad, and its easy-to-use feedback management system.
Learn more about the Employee Surveys
Boost Employee Engagement
Measure, analyze and improve employee feedback and reduce employee turnover with Zonka Feedback.