The most important goal of any business is to achieve more sales and thus more profits. However, there are plenty of activities that are not always targeted at achieving direct sales.
For example, when your company participates in a trade show or a similar event, the main aim is not to push sales at the event itself. It is more about creating brand awareness, building your company's reputation and customer relationships, and, most importantly, generating leads.
The more leads you have, the greater the likelihood is that you will have successful conversions in the future. And, the lead numbers can be exponential for such trade shows or events, since you are likely to come across more qualified leads (potential customers) who are particularly interested in your business and its products or services at such events.
Challenges for Capturing Leads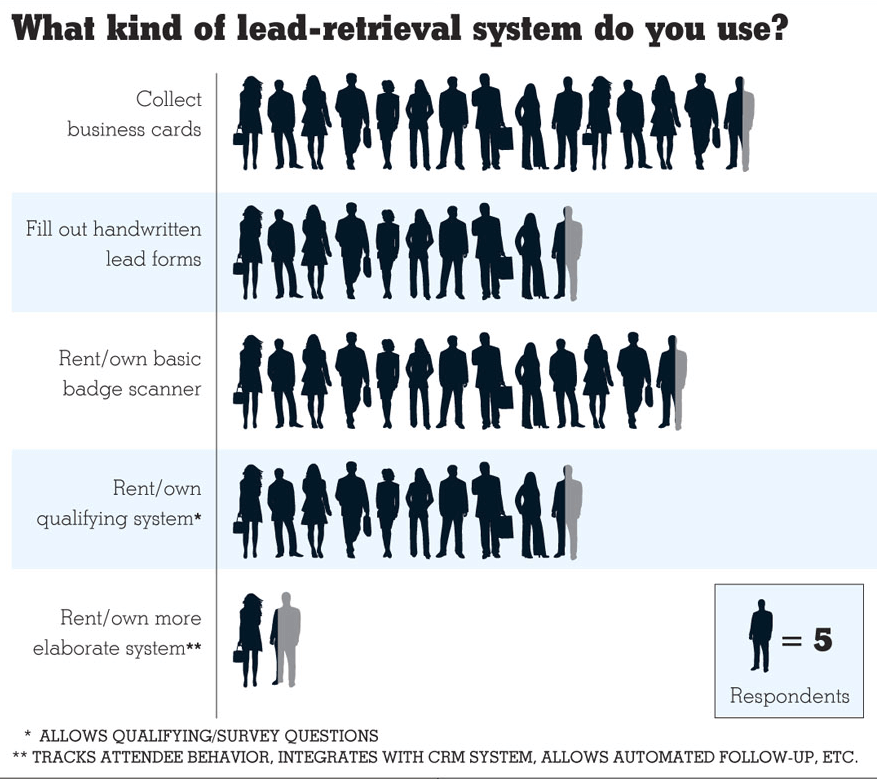 Source – Exhibtor Online
Trade shows and business exhibitions are generally extremely crowded and you can expect a lot of regular traffic to your company's stall or kiosk. This is precisely what happened with us when we started marketing our feedback management system, Zonka, at such events.
Our representatives used to strike a great rapport with the visitors and many of the visitors even dropped their business cards in a bowl that we used to keep to capture business leads.
However, it was tough to remember the more qualified leads from these business cards several days after the completion of such events.
Trying to capture qualified leads is similar to trying to digging for gold amidst sand and dirt. We knew that the need of the hour was to apply smart techniques with patience to remove the sand and dirt, which are of no value, to find the gold.
Ultimately, when we found the gold (the qualified leads in our case), we realized that it was all worth the effort! After all, qualified leads enable us to apply relevant sales and marketing strategies till successful conversion.
We also realized that we had to capture more relevant information for every lead. So, we started using online excel sheets to enter specific contact details and relevant information for kiosk visitors at such events.
However, this proved to be time consuming and was not a smart enough technique. It led to many leads being missed, as the visitors often left in frustrated after waiting for long at our overcrowded stall (during peak hours) to get their information filled in.
Also, many visitors were unwilling to spend time to answer our representative's queries, as part of the customer surveys to understand the market trends and new customer preferences.
To market Zonka, the trade shows and exhibitions were the biggest lead sources and we did not want to miss any opportunities. So, we realized that patience alone will not work and we needed to start identifying gaps for using "smart" techniques in our quest for qualified leads.
We thus put our thinking caps back on which eventually led to the discovery of a possible functionality that could be added to our feedback management system. This is how we planned to leverage more out of Zonka by extending its functionality to also serve as a lead capturing system.
The aim was to make Zonka an ideal tool for digitizing the activities of capturing leads and conducting market surveys during trade shows and events.
And, after several tweaks at the core of our feedback management system, we ensured the transition of Zonka from a single functionality tool to a multi-functionality tool in the form of a feedback and survey application for Android tablets and iPads.
For us, this was a classic case of getting the most out of our available resources and we continued to use Zonka as our comprehensive customer feedback management system. The added twist was that we could also customize it to be a "smart" survey and lead capture tool. We had finally found our gold and it was indeed worth all the effort!
Features that Enable Smart Capturing of Leads and Contact Information at Trade Shows
We immediately saw the differences, after using the Zonka tablet application at business events. The user-friendly web interface enabled our representatives to capture the visitor information quickly.
We were also able to set Zonka up as our digital kiosk at trade shows, which enabled visitors to give their feedback and even complete surveys quickly, without any manual intervention from our representatives.
This made sure that even when our stall was crowded; our visitors were able to feed in their information directly on the tablet by using the Zonka application.
Instead of having more representatives, who would crowd our stall even more, to attend to more visitors and potential customers, we started making more tablets available to capture the leads.
The best part is that such an application can easily by set up or configured to function in a manner that makes your task easier at trade shows.
It can even work offline to capture data. So, you need not worry whether your stall is located in such a zone where there is limited or no Wi-Fi connectivity.
And, the captured information is synced securely, whenever the tablet gets internet connectivity, allowing you to access it from any browser. This feature helped our teams to collaborate with each other, especially when we were participating at multiple business events on the same day.
However, while handing over the tablets to the visitors, we do not want to risk the possibility of them using other applications or accessing some other data.
So, we often switch to the "one app" mode that allows visitors to only use Zonka and no other application with the tablet in their hands.
Not only are we now able to capture more responses by using such a lead capturing tablet application, but we are also able to convert them into tasks and notes, according to our needs. This allows our different teams to gain valuable inputs from the visitors' responses and feedback.
It is even possible to tag responses and arrange to follow up with them by using this application.
This smart application also allows us to create highly customized surveys for our potential customers at the business events. Not only can they skip any questions that they do not wish to answer, but they can also answer these surveys in different languages.
And, the ability to score questions and responses by using Zonka allows us to get extremely detailed reports that help us identify highly qualified leads.
In a nutshell, this tablet application proved to be a real blessing for us and it could be for you too by enabling you to:
Conduct online and offline surveys
Record feedback
Sync data for instant access by multiple people,
Cater to different sectors, such as restaurants and hotels, airports, healthcare, and automobiles,
Protect data and manage user access on a permission basis, and
Encourage improved collaboration between the different teams of your company.
We have seen the difficulties faced in using the old school methods to capture leads at trade shows and compared them with the advantages of using a tablet application to do the same. We hope this information proves useful to you and your business.
Featured Image Credit: Flickr
Capture qualified leads at events
Effortlessly collect leads for your business and gather data with Zonka Feedback's Lead Capture Forms.