A designer's work impacts a business in several ways.
First and foremost, a good designer can help to create a brand that is both visually appealing and engaging to customers. This can lead to increased sales as well as more positive word-of-mouth advertising. In addition, good design can help businesses save money on production costs by creating products that are easier to manufacture. They increase your revenue multi-fold if they resonate with your customers and are easier to sell. And above all, they improve your customer satisfaction and overall experience, in turn increasing customer acquisition and retention.
Boost Employee Engagement with Employee Feedback 💪
Measure, analyze and improve employee feedback and reduce employee turnover with Zonka Feedback.
Finally, good design can also make businesses more efficient and organized, helping them run more efficiently. This can lead to increased profits.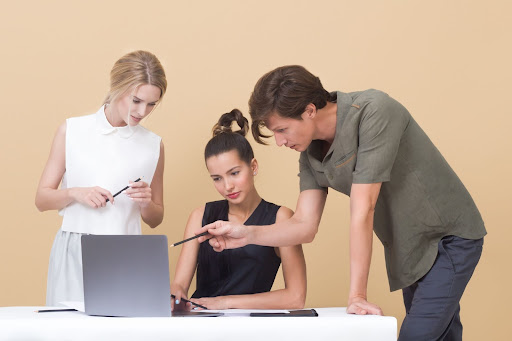 However, it is important to note that a designer's work is not always easy or simple to implement. Sometimes a business will need to change its entire approach to accommodate the needs of a good designer. This can be challenging, but it is ultimately worth it if the result is a successful business.
Staying in touch and providing feedback are critical to maintaining ongoing communication. A lot of the work a designer does will impact your bottom line directly.
There are numerous methods for providing feedback, including photos, text descriptions, and so on. But they are inefficient at best when it comes to being precise and waste lots of time for both parties. As there is a possibility that you would be stuck describing what you need, the designer could interpret it in a very different way than what you are expecting out of him.
One way we could overcome that is through video feedback. Video feedback is very effective in this case because it follows the adage, "show don't tell."

For those who are looking for an easy and affordable way to create video feedback, Videvo offers a wide range of Adobe Premiere Pro templates for use. From motion graphics to transitions, Videvo has a template for any type of project. Whether you need to create a dynamic video presentation, or just want to spruce up a simple tutorial or webinar, Videvo's templates are an effective way to get the job done.
By using a video, you can show and explain in minute detail what you need. This can not only be used by the designer to create their design work, but it also respects designers' time as they are at liberty to choose when they check their video feedback.
The same cannot be said for live video or zoom calls, as they require the designer to be present at the call at a specific time. Although, you can always give feedback via PPT, Doc file, and Google sheets.
Key Things to Keep in Mind While Giving Feedback to a Designer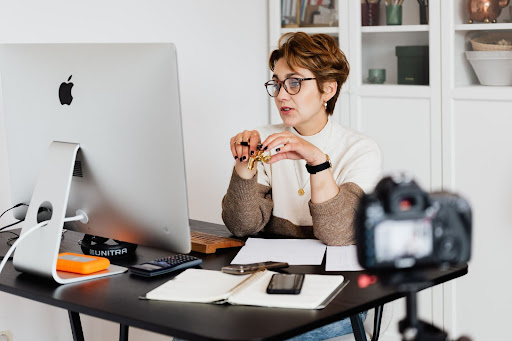 Always Be Considerate of Their Time and Efforts
Generally, always be respectful of the designer's time and work. This means being punctual for deadlines, not making last-minute changes, and being clear and concise in your communication.
It also means respecting their creative process, giving them the space to do their best work, and not micromanaging them. Trust that the web designers know what they're doing and give them the freedom to do it.
It's also important to be fair in your compensation and remember that designers are professionals like anyone else.
Treat them with the same respect you would expect in any other business relationship. This is the best way to ensure a successful, productive, and enjoyable working relationship.
When Providing Feedback, Be Clear and Concise
When giving feedback to a designer, be clear and concise. Try to avoid giving vague or unspecific feedback. Instead, be specific about what you think needs to be improved.
Additionally, avoid giving criticism that is subjective or opinion-based. When providing feedback, provide examples so the designer can better understand what you're suggesting.
Be Aware of the Different Types of Feedback That Designers May Want to Hear
Designers may want feedback on their design ideas, their work as a designer, and the overall product.

There are three main types of feedback that designers may want to hear: substantive, constructive, and positive. Designers must know the different kinds of feedback they may want to receive to better understand and respond to it.
Substantive feedback is important because it can help designers improve their ideas. It can also help the design team better understand their users' needs. This type of feedback helps to ensure that the design is valuable and meets the needs of its users. It is important to receive substantive feedback to improve the design.
Constructive feedback is the feedback that helps improve the design by pointing out specific problems and suggesting solutions. Constructive feedback can help designers improve their designs, but it is often less valuable than substantive feedback because it does not critique the design idea itself.
Positive feedback is often the most valuable type of feedback for designers because it shows that someone likes their work and has appreciated it. This type of positive response can help a designer feel good about their work and encourage them to continue working on their designs.
Make Sure You Offer Feedback Frequently Enough So That the Designer Can Continue Improving Their Skills
If you are working with a designer, you must offer feedback frequently enough so the designer can continue improving their skills. Feedback should be given openly and constructively and focus on the specific points you feel need improvement.
By providing product feedback regularly, you will help the designer to become better at their craft and ultimately produce a better product.
It is also essential to be patient with a designer, as, with any skill, improvement takes time. However, being supportive and understanding can help designers achieve their goals more quickly. This will result in a better, unique, user-friendly product and will ensure that your project is a success.
That is why it is essential to offer feedback frequently – it will make a big difference!
Take Into Account the Emotional State of the Designer
When providing feedback, it is important to consider the emotional state of the designer. If the designer is angry or frustrated, their words may come across as harsh or unhelpful. Try to provide feedback that is constructive and helpful instead.
For example, you could say: "I noticed that your button looks a bit too small on this page." I think it would look better if it were larger." It is also helpful to explain your reasoning behind your feedback. This will help the designer understand why you are making the suggestion and may lead to a better design solution.
That said, it is also important to be unbiased when providing feedback. Don't let your own emotions get in the way of giving constructive criticism. This will help the designer to be more objective and improve their work.
Make Sure You Understand What the Design Is Supposed to Do and Look Like Before Offering Criticism
This will help you avoid making assumptions or attacking the design directly instead of focusing on issues that may need clarification or improvement.
You can try asking questions about the design to help you understand what was intended. For example, what do you think the design is supposed to achieve? Is there a specific message or purpose that you consider the design is trying to communicate? How would you improve this aspect of the design?
Once you understand the design goals, you can begin to critique them based on those objectives. For example, if the design is meant to be informative, you might suggest ways to make the information more accessible or concise. If the goal is to create a visually appealing and user-friendly interface, you might recommend changes that would improve readability or usability.
Making Use of Appropriate Tools, Such as Sharpening Your Video Feedback
The feedback video must be clear, respectful, and appropriate. You can use traditional video editing tools to annotate, tag, apply stickers, etc. But it is easier said than done since those programs are meant for professional video editing. Those tools that exist are for making the professional video editing workflow fluid.
However, since we are using the pre-recorded videos to give feedback, there are online video maker tools with annotation tools like online collaboration, live stickers, text overlay, audio recording overlay, etc.
Avoid Using Words Like "Good" or "Bad" When Critiquing a Design
These words are often subjective and could lead to disagreements among team members about what is considered good or bad design work. Instead, use terms like "effective" or "inappropriate" when giving feedback about a design element.
Softening your feedback's tone will help avoid conflict and foster collaboration among team members. Effective communication is key to creating quality designs, products, and services.
Remember That Feedback Is a Two-Way Street
When giving feedback, it's important to remember that you may also be receiving feedback from the design you're critiquing – so be sure to consider that when offering critiques. Keeping an open mind and being supportive of one another go a long way in helping everyone improve their design skills.
While building a company, being better at personal criticism is a skill that will ensure all parties in the company thrive. This makes it easier for potential employees to select your company as one of the best places to work with.
Uphold High Standards When Providing Feedback
It is important to maintain high expectations while giving feedback.
Feedback should be given constructively to help the individual grow and improve. Setting high expectations will help the individual strive for excellence and make it easier for them to accept and learn from feedback. This will help them improve their skills and work together as a team.
It is also important to be clear and concise when giving feedback. It is helpful to provide specific examples so the individual can understand what you are talking about.
Conclusion
Feedback is very important for progress, but it should not come at the cost of inconvenience. Video feedback is a really powerful tool for designers. It helps them understand what the client wants and allows them to make better decisions. Remember the ten things discussed above and be consistent to get the best results since a good feedback system would only improve the quality of work.