Online marketing gets expensive fast. Brands need campaigns that are sustainable, scalable, and cost effective. User-generated content (UGC) is one of the best ways to get these. 
You'll find it in every corner of social media. Marketers can curate the content and present them on their brand's social, helping you build organic authenticity.
But if we want to fully utilize the power of UGC, we need to learn the basics.
Table of Contents
What is User-Generated Content(UGC)?
User-generated content is any social media post featuring your products or brand. This can be in photos, videos, reviews, and more.
According to studies, user-generated content is viewed as more authentic compared to paid advertising efforts resulting higher NPS. That's because UGC is one of the most effective forms of social proof.
To expound on this concept, let's explore what UGC can do for your social marketing.
The Power of UGC in Social Media
Studies suggest that implementing UGC in social media campaigns is cheaper and more effective than traditional paid efforts. MIT Sloan Management Review even urged businesses to redefine their goals to include UGC engagement as an ROI indicator.
The study identified the following as the primary reasons why customers post UGC on their social media:
When a brand's UGC campaign considers the factors above, customers can spread brand information across their social network. This makes it a central source of persuasion.
However, this depends on the likeability, credibility, and quality of the UGC. If your brand wants to ensure quality UGC, here's a list of best practices to explore.
10 Ways to Encourage UGC from Customers
Getting customers to post on your behalf should come organically. But there are strategies we can use to streamline the process such as the following:
Publishing Curated Customer Photos
Brands can feature creative photos from customers and fans on their social media. But because of how social media compresses images, photo quality might not be the greatest.
If you find great photos with poor quality, you can use free image upscaler tools.
To quickly find UGC photos on social media platforms like Instagram, you can try searching by location (if you have a brick-and-mortar store) or hashtags. Furthermore, for brands looking to grow Instagram followers organically,
tapping into user-generated content (UGC) remains a powerful strategy.
Creating Customer-Centric Hashtag Strategy
UGC is all about your customer's content. It's only natural to create campaigns focused on them. Think of how customers relate to your brand and your products.
Customers can always use #yourbrandname to get your attention. But it'll be more effective if you create an actionable hashtag strategy.
Take Uniqlo's #lifewear as an example. Fans can showcase the brand's LifeWear lineup in their everyday lives. This plays perfectly into their slogan of "clothing designed to make everyone's life better".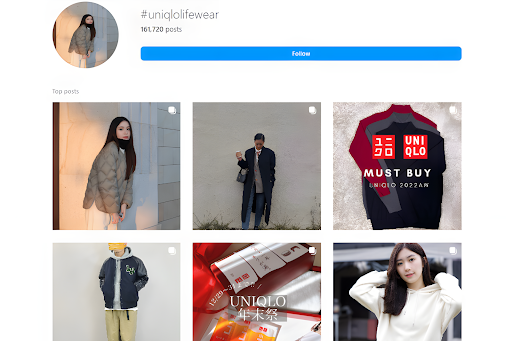 Partner with Influencers
Tapping influencers for partnerships is a great way to generate UGC. Influencers, especially niche ones, have active and engaging fans.
UGC campaigns spearheaded by an influencer can see participation from both your community and theirs. But before reaching out, consider their audience, online presence, and credibility.
Host Contests and Events
Hosting events and contests ensure that customers have an actionable goal in your campaign. Studies suggest that brands hosting contests acquire 34% more new customers on average.
It's also an underutilized marketing strategy. Statistics show us that only 0.56% of Instagram posts are contests. But Instagram accounts doing contests grow 70% faster. It is one of the best ways to get free followers on Instagram.
Build Hype for your Brand
Give customers a reason to talk about your brand. It's all about building anticipation and payoff. Use creative marketing hooks, teasers, or sneak peeks to draw your customers in.
When it's time for the payoff, make sure it's sharable. Center it around engaging elements which can result in fans creating content around your campaign.
Run Quizzes on your Social Media Pages
What type of coffee are you based on your personality? If you love coffee then you'll be sure to take the quiz and even share it with your fellow coffee lovers!
This can apply to any niche out there. Quizzes are engaging, shareable, and fun! According to studies, interactive content like quizzes boosts conversion rates by 70%.
Give our Rewards and Special Mentions
Showing appreciation to your brand's loyal customers promotes engagement, personalization, and encourages UGC.
A study suggested that 75% of customers are likely to make more purchases after receiving loyalty awards, which increases their average order value (AOV).
Even small gestures like sharing their content on your brand's socials can have huge benefits.
Ask for Feedback or Reviews
If you have a Facebook page for your brand, be sure to allow reviews. Statistics show that 92.4% of customers use reviews to guide their purchasing decisions.
Reviews, feedback, and testimonials are excellent forms of social proof and UGC. A study suggested that 79% of customers see reviews as equal to personal recommendations.
Build Social Spaces for Employees
Your employees keep your business running. They're also the ones you'd want as your brand's spokespeople.
You can do this by implementing a social hub for your employees where they can post content about their work life, experience with the company, and more.
According to studies, customers lose trust in businesses when employees are mistreated. So make sure that your employees are happy.
Cultivate Brand Ambassadors from Loyal Customers
Treating loyal customers like VIPs through an ambassador program can encourage user-generated content for your brand.
Brand ambassadors can post high-quality content about your products and services. As a reward, you can provide them with exclusive privileges, products, and more.
But don't confuse an ambassador with an influencer. The key differences between the two are:
Brand Ambassadors are customers with a well-established relationship with your brand who often promotes the use of your products.
Influencers have an established online audience. Brands can hire them for the short or long-term to promote their products.
Key Takeways
Implementing UGC in your online campaigns ensures your brand has a sustainable and cost-effective marketing vehicle. Here's a rundown of important details regarding UGC:
UGC is created organically but it can be encouraged through different strategies.
It can be a central source of persuasion on social media.
Customers trust other customers more than paid marketing.
Feedback and reviews carry as much weight as personal recommendations.
Loyalty rewards can lead to increased average order value (AOV).