Feedback through QR codes has become one of the most favorable ways to understand and improve people's experiences with brands. And especially during the COVID-19 pandemic, the number of interactions using QR codes increased by 94%. So, if you're considering putting a QR code feedback program in place, you're on the right track.
Brands today are increasingly using the QR code feedback mechanism as an addition and even alternative to their feedback methodologies. Let's take a few examples to understand why.
In the case of URL surveys, it takes too much effort to type links in the browser and too long to type them correctly, causing customers to lose interest in taking the survey.
In the case of SMS and email surveys, customers would often set the task aside for later and then forget to take the survey.
In the case of on-site surveys using mobile, tablet, and kiosk, different customers cannot take the survey simultaneously.
And when it comes to on-site surveys through the kiosk, mobile, and tablet stations, not being able to share feedback simultaneously requires participants to wait. Because of this, they may sometimes end up not sharing feedback.
These shortcomings prevent brands from optimizing their feedback collection strategy, leading to fewer responses than expected. Thankfully, this problem can be countered using QR code surveys.
Collect Instant Customer Feedback with QR Code Surveys 🔥
Leverage QR Code Surveys to collect in-moment Customer Feedback wherever your customers are.
A QR code survey brings together the benefits of digital surveys and traditional surveys, helping brands increase the number of responses and improve the quality of customer data.
Let's understand how QR code surveys work and how you can leverage this wonderful innovation.
What is QR code feedback?
The QR code feedback methodology allows businesses to generate a QR code, a type of matrix barcode, and embed a survey link into that code. The users can then scan it using their phone camera and take the survey. It features real-time feedback notification, which allows brands to improve their customer service efforts and customer experience.
Why QR Code Surveys?
QR codes offer several benefits, especially when you're aiming to collect feedback on the premises. Here are some of the reasons why you need a QR code feedback collection method for your business:
Ease-of-Use: Accessing a survey using a QR code is as easy as clicking a picture using your phone camera.
Easy Accessibility: A QR code allows you to take your survey to where your audience is through posters, packages, receipts, etc.
Convenience: Collecting feedback via QR code doesn't require a dedicated survey device or survey representative; just your customers and their own mobile phones.
Faster Data Collection: QR codes allow hundreds of customers to take your survey simultaneously using their own devices.
Cost-Effectiveness: With no need for a kiosk station or a device, QR code surveys cut down the cost of feedback collection significantly.
How to Leverage QR Code Feedback
The best thing about QR codes is that they can be printed anywhere and can also be embedded into digital mediums, allowing brands to perfectly time survey requests and improving response rates.
Let's understand how businesses can benefit from QR code survey feedback with some common use cases.
QR Code on Packaging
Taking feedback at the 'right' moment is key to getting more responses and quality information. So, when businesses deliver packages to customers, here's how they can go wrong:
The customer opens the package and forgets to leave feedback for the product.
The customer chooses not to write a review because though the product was satisfactory, it wasn't extraordinary enough to move the customer to write a review.
The customer isn't satisfied with the product and chooses to write a negative review about the brand on a review platform.
In these cases, the brand either doesn't receive feedback or ends up with only negative reviews on the web.
But, with a survey QR code on the packaging itself, the customer is reminded, even before they open the package, that their feedback is valuable to you. This increases the chances of your brand getting a better survey participation rate. Moreover, whether their experiences are good or bad, your customers would directly share feedback with you instead of your potential customers on review websites online.
Ideal For: A Dynamic QR code Generator on packaging for survey distribution is ideal for courier companies, food delivery restaurants & brands, and e-commerce brands.
QR Code on Banners and Standees
Be it in an event, an exhibition, or a retail store, owners and organizers often send customers and attendees survey requests after they have left the site to get feedback on how their experience was. They may also have physical survey booths on the premises. However, some respondents may not either care to share feedback because it's too much effort or may completely forget about the survey request once they leave the premises. Events like these significantly affect businesses' survey campaigns.

But with a QR code, you can get more responses simply because the entire process is super convenient. You can add your survey QR code to printed banners and standees and place them at not just one place but at several locations on the site where customer footfall is high. For example, in a retail store, a banner with a survey QR code placed in the billing area would encourage customers to share their feedback conveniently using their phone while they wait in the queue to get their items billed.
Ideal For: A QR code on banners and standees for survey distribution is ideal for use in events, conferences, and workshops.
QR Code on Manuals
A QR code on instruction, assembly, and warranty manuals is a great way for brands to not just receive customer feedback but also improve their experiences. Here's how:

Let's suppose that you receive an assembly manual from the manufacturer of your gym equipment. When you sit down to assemble the machine but find it difficult, you can scan the QR code on the assembly manual already in your hand to open the survey form and share your challenges. This will notify the brand, and someone from the support team would get in touch with you to help without you having to call them.
Ideal For: A QR code on manuals for survey distribution is ideal for electronic brands and manufacturers with products that require assembly and instructions for use.
QR Code on Menus
Waiters and servicepersons shoving a tablet in guests' hands for them to fill a survey can often go wrong. What if you caught them at the wrong time when they are in the middle of a conversation or rushing to leave? With a QR code printed on the menus, bills, and table tents, you offer your guests a chance to share their feedback at their convenience. Moreover, it will allow you to capture feedback at moments of truth. For example, if a guest doesn't like how a dish tastes, they can immediately scan the QR code on their menu or table tent to share the feedback. Also, a QR code on the bill or bill receipt will prompt guests to take the feedback survey and share their overall experience.
Ideal For: A QR code on menus for survey distribution is ideal for restaurants, bars, cafes, and hotels.
QR Code on Presenter Slides
Sending survey requests to attendees after a conference is an outdated practice that does no damage control. It certainly helps you avoid mistakes in your upcoming conferences. But what if I tell you that real-time feedback using QR code surveys can help you make your ongoing conference a huge success? That's right! QR scan codes can be printed easily on brochures, pamphlets, and presenter slides, encouraging participants to take the survey the moment they have a bad experience.

For example, if an attendee thinks that the presenter is taking too much time on each slide even when it isn't needed, they can instantly share the review. The organizers will receive a real-time notification each time an attendee takes a survey. This, in turn, will help the presenter understand the audience's views during the conference and make changes to be able to make the conference an overall success.
Ideal For: A QR code on presenter slides for survey distribution is ideal in conferences, events, and education workshops.
QR Code on Tickets
In movie theaters, travel agencies, exhibitions, concerts, etc., a QR code is an excellent tool for taking feedback in the most convenient way. That's because you can't go up to each passenger or each visitor and ask them to share feedback. Instead of feeling valued, people might feel bothered. But using a QR code survey, you can capture feedback from people who actually have something to say.

For example, a passenger in a flight can simply scan the QR code on their boarding pass and share their in-flight experience. And in exhibitions, visitors can share their feedback through the QR code printed on their physical or digital tickets.
Ideal For: A QR code on tickets for survey distribution is ideal for use in the airline industry, railways, travel firms, movie theatres, concerts, and shows.
QR Code on Websites
The e-commerce industry has understood the importance of customer feedback. They know how each positive review can contribute to enhancing the revenue stream. Unfortunately, they usually send survey requests through just emails or SMS that can easily get lost in the inbox. With a QR code on the website, e-commerce businesses and website owners can increase their rate of response. And the best part is that the users can review their browsing experience, ease of finding products, website support through live chat, etc., without leaving the website.
Ideal For: A QR code on websites for survey distribution is ideal for use on e-commerce websites, service websites, and other business websites that use customer feedback for innovation and improvisation.
QR Code on Products
Your customers may miss the email or SMS survey request, but with a feedback survey QR code on the product itself, they can share feedback with the brand any time they want. For example, a customer receives a washing machine they ordered. Now, the brand might send them a survey request via email or have a survey QR code printed on the packaging itself. But it might be too soon to request feedback since the consumer would most probably like to use the product first. And when it's the right time, chances are that the customer would go to the e-commerce website or a review platform to write a review.

However, with a QR code printed directly on the washing machine, the brand can encourage the consumer to share feedback directly with the manufacturer instead of going online to write a bad review in case of a poor experience or a faulty product.

With a QR code, the brands can directly receive feedback from consumers and get a chance to improve their experience.
Ideal For: A QR code on products for survey distribution can be printed on all products to collect feedback after use.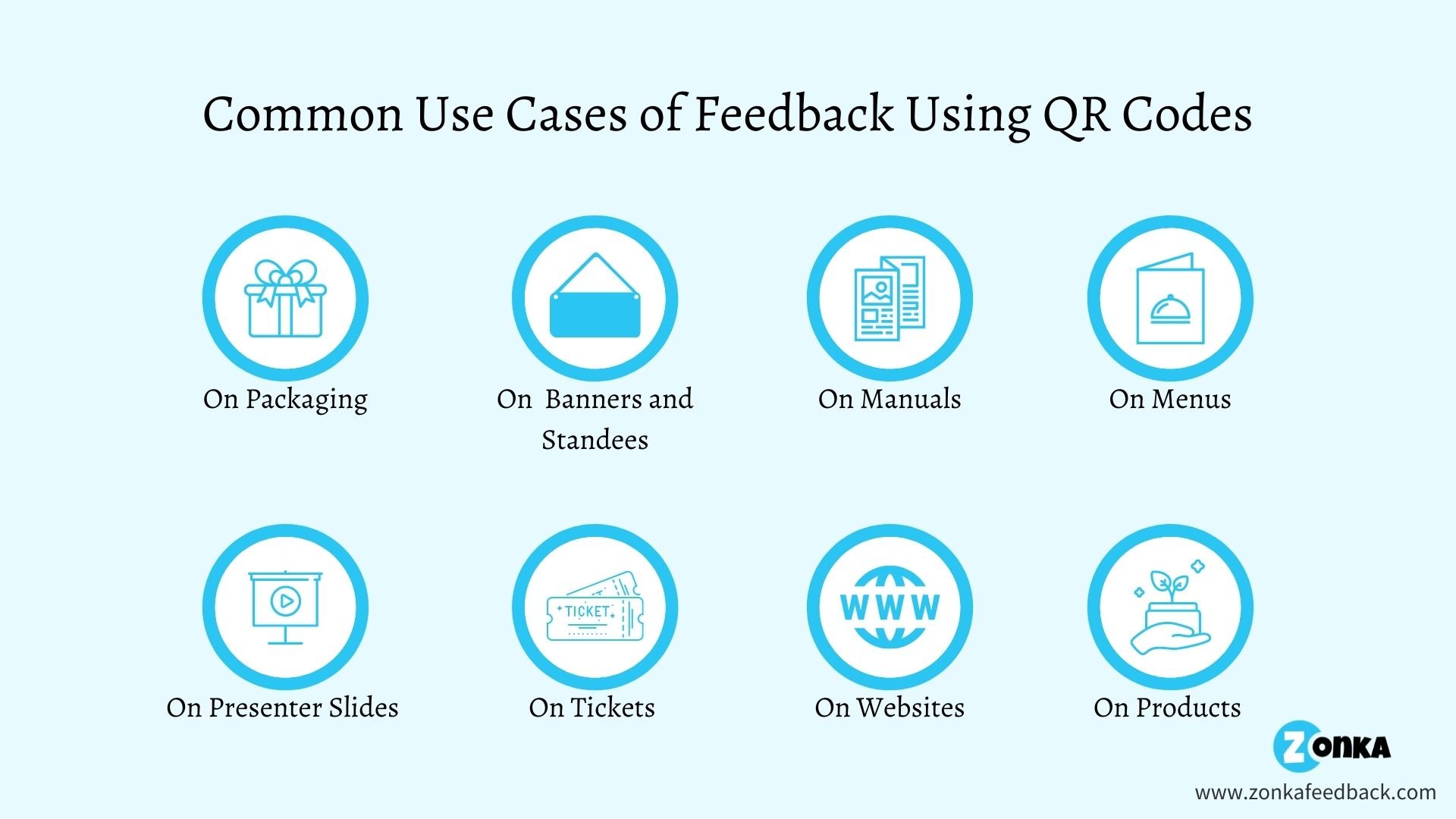 3 Main Benefits of Using QR Codes for Surveys and Taking Feedback
QR code feedback is an effective solution that also proves to be beneficial in several ways, such as:
No Need for an External Interface


All Android and iPhone devices can now scan QR codes, which means that you do not need an external interface, such as a phone, tablet, or kiosk, to collect feedback.
Cost-Effectiveness
With no need for an external device and a survey representative, you can significantly cut down your customer feedback costs.
Time-Saving
Most on-site survey programs require survey representatives to approach each customer and request feedback. This means that no two customers can share their feedback at the same time. But with QR codes printed on banners, signage, menus, etc., any number of customers can take the survey simultaneously using their own phones.
Zonka Feedback's QR Code Surveys
Zonka Feedback is one of the highest-rated customer feedback platforms in the industry that allows generating QR code surveys that you can use to collect customer feedback across all industries, including Hospitality, Travel, Hotel, Retail, Healthcare, Education, Finance, etc.

It consists of an easy-to-use survey builder that allows creating surveys using survey templates as well as from scratch. With a single survey tool, you can create NPS, CSAT, and CES surveys to measure customer satisfaction, loyalty, and overall experience. And that's not it; you can brand and personalize surveys, send requests via any digital medium, set up custom alerts, receive real-time notifications, and close the feedback loop quickly to improve experiences.

Further, the analysis and reporting tool generates meaningful insights that can help you transform customer experiences for good and build loyalty.