When the customers are unhappy with your products and services, they stop doing business with you. This process of customers leaving you due to dissatisfaction from your brand is known as Customer Churn.
Studies show that after one negative experience, 51% of the customers never do a business with that company again. Most companies gather Customer Feedback in order to know the feelings of the customers beforehand and we know that it is necessary for any organization to grow. But is it fruitful to invest your time and resources in collecting Customer Feedback when if you do not close the Customer Feedback Loop?
Take Action and Close the Feedback Loop👩‍💻
Analyze feedback, view insights, collaborate with you team and close the feedback loop to prevent churn with Zonka Feedback.
Everybody thinks that Closing the Feedback Loop means responding to Customer Feedback and thinking that it means only responding to the feedback, is unfortunately the biggest misconception one can ever have about this process.

To understand this better, let's first understand how not closing the feedback loop results in Customer Churn.
How not Closing the Loop Leads to Customer Churn?
Imagine you order a pair of speakers to enjoy music at the parties at your place and when you start using it, you notice that the sound quality is very poor. You give feedback to the company, and you just get an automated response, "Thank you for your feedback. We have received your complaint and assure better service next time."
How would you feel at this point? This robotic message will even add to your frustration, isn't it? And ultimately, you will avoid buying any product of that brand next time. This is how your customers churn. Maybe it's a few odd customers that churn from your business right now. Probably not enough to make you bat an eyelid. Or is it? According to research, acquiring a new customer is anywhere from five to 25 times more expensive than retaining an existing one.
So you cannot ignore the importance of Closing the Customer Feedback Loop if you want to see your customers staying with your business for long thus attracting more customers. Here is is what Closing the Feedback loop is not.
What Closing the Customer Feedback Loop is not?
Sending Automated 'Thank you for your Feedback' is not Closing the Feedback Loop

Customers are used to receiving automated messages and can easily differentiate between automated and personalized message. Sending these does not add any value to your conversation and does not assure your customers of any concrete action.

Sending Newsletters or Product Updates is not Closing the Feedback Loop

Sending newsletters and product updates is a good idea to keep customers in loop of what's new at your business and what more they can try, but they are largely impersonal and don't add any value to closing the feedback loop with customers or addressing individual issues.

Fixing major bugs or responding to customer queries is not Closing the Feedback Loop

If you have a bug or an issue, customers already expect it to be resolved and by reporting them, they're doing your business a favor.
While doing all the above is a great idea, it isn't what Closing the Customer Loop is. Instead, Closing the Customer Loop after you get Customer Feedback is taking personalized action for each feedback, whether negative or positive, and communicating to customers that you changed or improved something in the service and business based on their feedback.
What is Closing the Feedback Loop?
Closing the Customer Feedback Loop actually means connecting with your customers in response to their feedback not only to acknowledge their issues and concerns, but also to resolve them thereby improving your goods, services and processes and thus ensuring improved Customer Satisfaction.
Now, here is another misconception that this process deals with only negative feedback. But the truth is broader than this. Closing the Customer Feedback Loop is equally important for neutral and happy customers as well.
Let's dive into some sure shot ways to close the Customer Feedback loop that help in preventing Customer Churn.
Ways to Close the Customer Feedback Loop
Acknowledge the Feedback
Send Personalized Responses with an action plan
Set Expectations with Customers
Remove Internal Bottlenecks
Say No
Take Action and Inform the Customer
Address Positive Feedback
Consider Customers who haven't shared any Feedback
Keep the Conversation Going
1. Acknowledge the Feedback
One of the first things to do while closing the feedback loop is to acknowledge it and address it. Acknowledgement is necessary to let your customers know that you have received their feedback and you are taking it seriously. 50% of the customers give a brand a time of seven days before leaving it. So, make sure to be proactive and timely acknowledge their feedback before they churn.
2. Send Personalized Responses with an action plan
Different customers provide different feedback. Some customers may praise your product, or a particular product attribute, some may praise a certain service which they like the most, some may have issues with your website, whereas others may complain for not getting a good deal and so on.
If feedback is different from all the customers, how can the feedback loop be closed in the same way? So avoid sending same message in response to every feedback. You must address all feedback through personalized responses and required actions. And personalization works! 88% of U.S. marketers reported seeing measurable improvements due to personalization with more than half reporting an lift greater than 10%.
You may have the action plan for the resolution right away or you may not, but it is important to loop in the customer with a personal message, email or call so that they know that you've got the feedback and you're on it.
What to include in this message?
Acknowledgement of their feedback
Apology for their bad experience
Assurance to resolve the issue or make amends
A timeline of reaching out to them
An invitation to revisit your business or retry your services for them to experience the improvements
With Zonka Feedback, you can set up Custom Alerts for Respondents and Customers based on various conditions. Some easy ways to customize and personalize your responses include:
Setting up messages based on different filters and survey responses
Including placeholders in the message to personalize it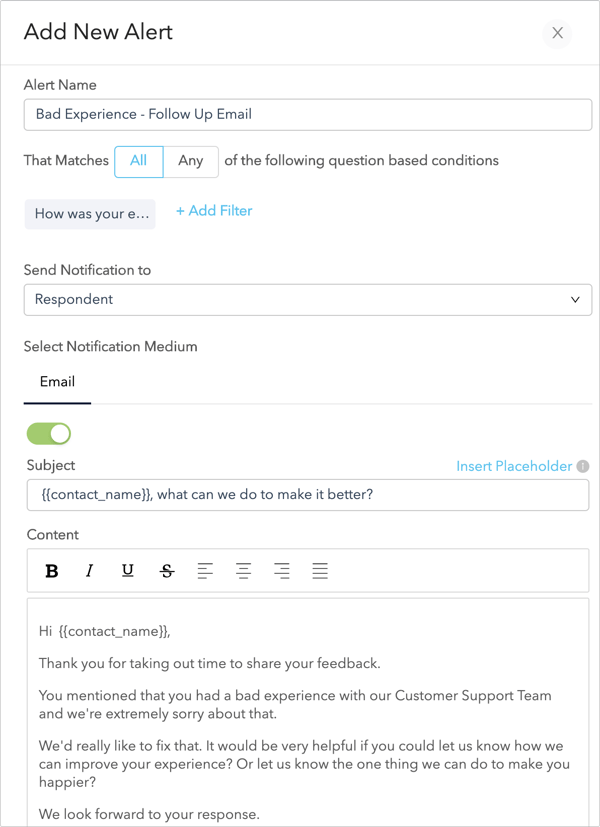 3. Set Expectations with Customers
As discussed above, you must send timeline for reaching them out. This means that you need to set the right expectations with the customers. Whether it is a query to answer, a request for a certain service, an issue to resolve or a complaint to take action on; you should always give customers a timeline to get their work done.
This will act as an assurance to them that their work is being done. In case of any issue or complain, this will calm them down and motivate them not to just churn away but wait with patience to get their issue resolved. Make sure you stick to those timelines and get their issues resolved on time in order to improve their experience and stop them from churning because researches found that 67% of Customer Churn can be reduced if companies succeed in solving customer issues during the first engagement.
4. Remove Internal Bottlenecks
Removing internal bottlenecks is important to deal with customers' issues and requests. This is possible by creating a great team for Closing the Feedback Loop. Moreover, the entire team must be empowered and encouraged to communicate with the customers so that when they approach for a concern or a query, everybody is able to answer. For this, follow a practice where everybody documents every customer conversation.
This will not only ensure that everybody is on the same page, but also help to ensure that your customer's don't receive any conflicting messages or duplicate messages.
5. Say No
Not every suggestion given by the customers can be good for everybody, and your customers also know it! So it is always okay to say 'No' for an idea or a suggestion that doesn't seem to be feasible for your business. And trust us, it is much better than not giving any reply to a customer's suggestion.
When you do not revert to a suggestion thinking that its impossible to follow and you can't say 'No', it will do more harm than good. Rather, politely say 'No' and in a way that the customers don't feel offended at all and explain them why you cannot go with the idea. This will not only make them feel heard and taken seriously but they will also understand your genuine point of view. In the revert, you should:
Thank the customers and appreciate them for providing them ideas.
Tell them that your suggestions have been taken seriously and given a thought.
Politely say 'No' and apologize for not being able to follow their suggestion.
Explain them the reason why you can't follow.
Tell them they are free to share more of their opinions and their suggestions are always welcome.
These things will help you build a good relationship with your customers that will motivate them to stay with you for a longer period of time.
6. Take Action and Inform the Customers
Negative feedback can be disheartening, especially if it comes often. But in the long run, what matters is how you deal with negative feedback. And you know what, 67% of the churn is avoidable if you effectively work on negative feedback and resolve the customers' issues. You should:
Take feedback proactively
Set up alerts for your team for negative feedback
Equip your team to address issues early on
Apologize and adapt
There are multiple ways to Close the Customer Feedback Loop, but no matter which one you apply, the important thing is to address the issue, find a solution and close the loop.
7. Address Positive Feedback
According to Kolsky's research, 50% of the business leaders face naturally occurring Customer churn. So if you feel your customers are satisfied with you, even then it is important to maintain a good relationship with them. Addressing positive feedback strengthens these relationships and leads to stronger brand loyalty.
Your happy customers can be brand vocalists. So even though they are already satisfied with the brand, it is important to constantly keep in touch with them and appreciate their loyalty with small gestures. These gestures don't always have to be monetary or discounts, but could also be:
A thank you note
Points for referral
Early Invite to try new products
Sneak peek into new releases
Early Invite to Sales and Discounts
Exclusive Access to certain features
Discount Coupons
8. Consider Customers who haven't shared any Feedback
Not all the customers give feedback. But that doesn't mean they don't feel anything about your product or services. Researches suggest that Only 1 out of 26 unhappy customers complain, whereas the rest churn. This indicates that you must not consider absence of feedback as a sign of satisfaction and you cannot afford to be indifferent about it.
For the customers who didn't give feedback, you should try to track their purchase history and relationship with your brand to know if they are the ones who are thinking to switch to another brand. Based on that, you can reach out to the customers, even send them feedback forms via Email Surveys or SMS Surveys, whichever they may have opted in for and try and get their views before they churn.
9. Keep the Conversation Going
As Closing the Feedback Loop is important, so as keeping the conversation going. After Closing the Feedback loop, you can follow up with your customers to know if everything's working well.
Learn more about Closing the Customer Feedback Loop