For the past couple of years, remote working has been rising and has become an essential part of the lives of most corporate professionals. While companies gained some benefits from the remote working culture, they face some challenges too while carrying out their work. One of them is to keep the employees engaged, and teams bonded.
Measure CX with Webex Surveys📝
Run live polls, quizzes, and surveys and measure customer satisfaction across all touchpoints in real-time right within Webex using Zonka Feedback.
To do this, the interaction between the teams and team members is essential. But ironically, interaction is one of the top things that decreases in the remote working setting. Although online meetings and video conferences have played a significant role in keeping the employees and teams connected, something is required to make these meetings more interactive and valuable.
In such a scenario, quizzes are a great way to boost interaction between the employees and keep them engaged. When your online meetings include quizzes, it increases interaction and engagement between the meeting attendees. For this, you need to use such web conferencing tools that are empowered with the ability to create and share quizzes during online meetings.
One such tool is Webex that has empowered itself with various embedded apps with which you can create and share quizzes while you are present in an ongoing meeting. This article will explore the top Quiz Apps for Webex that enable you to use quizzes in your online sessions and make them more interactive and valuable.
Top Quiz Apps for Webex
Zonka Feedback
Slido
Mentimeter
TriviaMaker
Pigeonhole Live
Quizzes
Vevox
Poll Everywhere
Let's learn more about these apps and how they work to empower your online meetings with interactive quizzes.
1. Zonka Feedback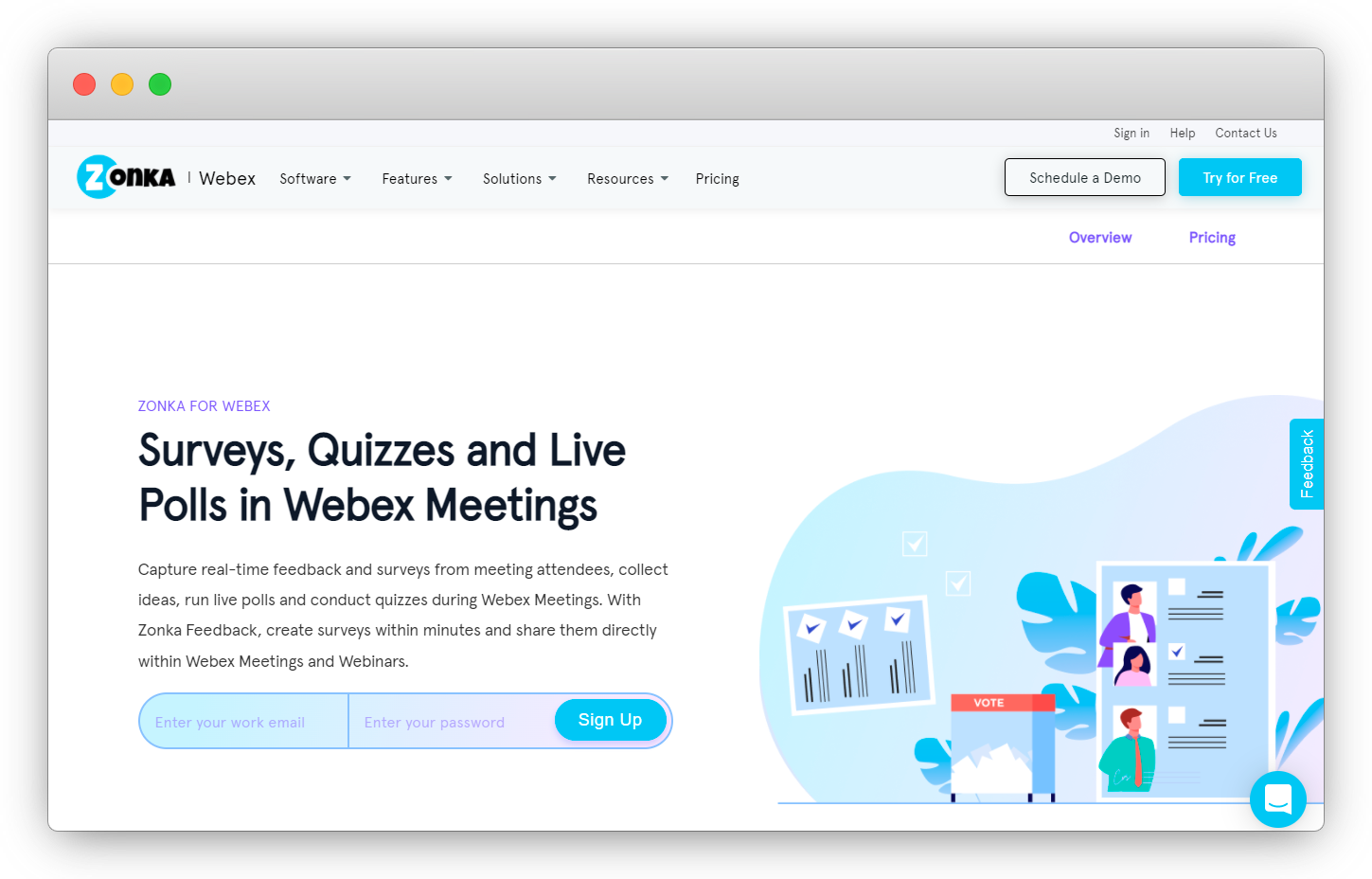 Zonka Feedback is a Customer Satisfaction Software and Survey App that businesses use to create beautiful and customized surveys, polls, and quizzes, and send them to their audience and collect responses through multiple channels. Being a launching partner of Webex, Zonka for Webex not only gives you the ability to create surveys, polls, and quizzes but also share them with your meeting attendees during an ongoing Webex meeting.
Key Features:
You can create interactive quizzes with Zonka for Webex within minutes while being present in a Webex online session.
You can share the quizzes with the meeting attendees during your Webex call and allow them to respond at the moment.
You get real-time responses from the attendees.
You can view the quiz scores instantly and share the results with your audience during the meeting itself.

You get real-time analysis of the results and responses and get visual data in colorful tables, charts, and graphs.

You can also create multilingual surveys and quizzes for your audience with different languages.
You get real-time notifications of the responses to take instant action.

The app can also be used to create and send live polls and surveys, gather feedback, and measure CX metrics like NPS, eNPS, CSAT, and CES.

The app also allows Zapier integrations and offers native integrations like Slack, Mailchimp, Google Sheets, Airtable, ActiveCampaign, and more.
Price:
The price of Zonka for Webex is $96/year per user. It also provides a free trial for 7 days.
2. Slido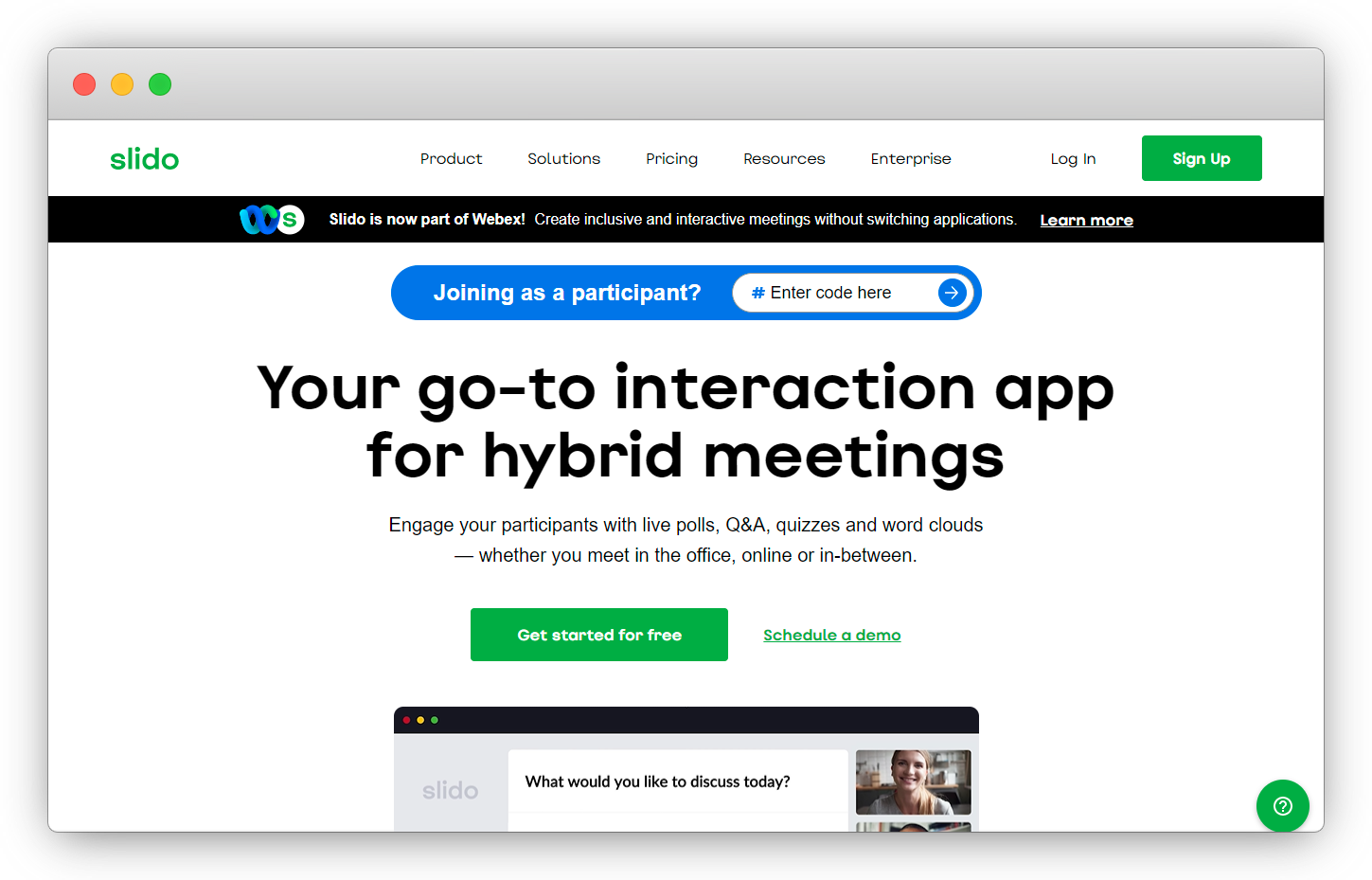 Slido is an interaction app specifically designed for hybrid meetings. It is used to create and share live polls, Q&A, word cloud, and quizzes with your audiences and gather their insights. With Slido, you can create live quizzes online and allow your participants to log in with any device through a link or QR code.
You can use Slido Live Quizzes for events and meetings, create interactive presentations, and check your trainees' knowledge after a training session
Key Features:
You can use Slido while being present in meetings, both online and offline.
You get the results while being present in your Webex meetings, and you can display the top players and scores.
You can also set a time limit to answer questions to create an element of pressure.
You can discover which questions in your quiz were the hardest to answer and you can reveal their success rate.

Your attendees can participate in Slido quizzes and Polls from any device with the help of links and QR codes without requiring any login.

It works well with Webex and also offers integrations like Google Slides, PowerPoint, and MicrosoftTeams.
Price:
It has different plans.
Basic Plan is free.
Engage plan costs $96/year.
Professional Plan costs $300/year.
Enterprise plan costs $1800/year.
3. Mentimeter
Mentimeter is an Audience Engagement Platform to create and run presentations, polls, quizzes, and word clouds. With Mentimeter, you can quiz your audience with interactive and enjoyable quizzes.
You can use Mentimeter to create and share quizzes during Webex meetings to test the knowledge of your team members or students, and for fun sessions in your office.
Key Features:
You can organize a quiz with a presentation.
The creation of quizzes is easy - you just need to enter your questions and mark the correct answer to create a quiz.

It has various quiz templates, Educational Quiz Templates, and Fun Quiz Templates like Memory Quiz, Music Quiz, Friends and Family Pub Quiz, and more.

You can add another dimension to your quizzes by combining them with Quick Slides for adding fun anecdotes or extra information.
Price:
It provides different plans.
Basic Plan costs $9.99/month.
Pro Plan costs 24.99/month.
Enterprise Plans are customized.
It also provides a free trial plan.
4. TriviaMaker
Triviamaker is a Quiz Creator tool used to create quizzes in the game form to add fun to your virtual meetings. With Triviamaker, you can create and run quiz games on your phone, computers, and tablets, and present them to your audience.
You can run live games in all virtual meetings, be it an online class with your students, a virtual meeting or get-together with your corporate colleagues, or a church or family gathering.
Key features:
You can create a wide variety of quiz games like Holiday Games, Festival Games, games for meetings, teachers, home schools, and virtual parties.

You can choose among four different game styles: Grid, List, Multiple Choice, and Wheel.

Creating and sharing quiz games is easy, just create your game within minutes, and share your screen.
Your audiences don't need to sign in or download anything or use any other device.
It offers hundreds of pre-built quiz games to choose from
You can fully customize the quiz games with your own colors, logo, content, music, team names, and the time you have for the quiz.
You get a 'Resource Central' dashboard where you can make things like themes, logos, and quiz games available to anyone for your organizational quiz games.
Pricing:
It has different plans currently available in discount pricing for COVID-19 crises for a limited time.
Basic Plan is for Free.
Premium Plan costs $19/year.
Enterprise Plans are customizable, and you get a discount for bulk orders.
5. Pigeonhole Live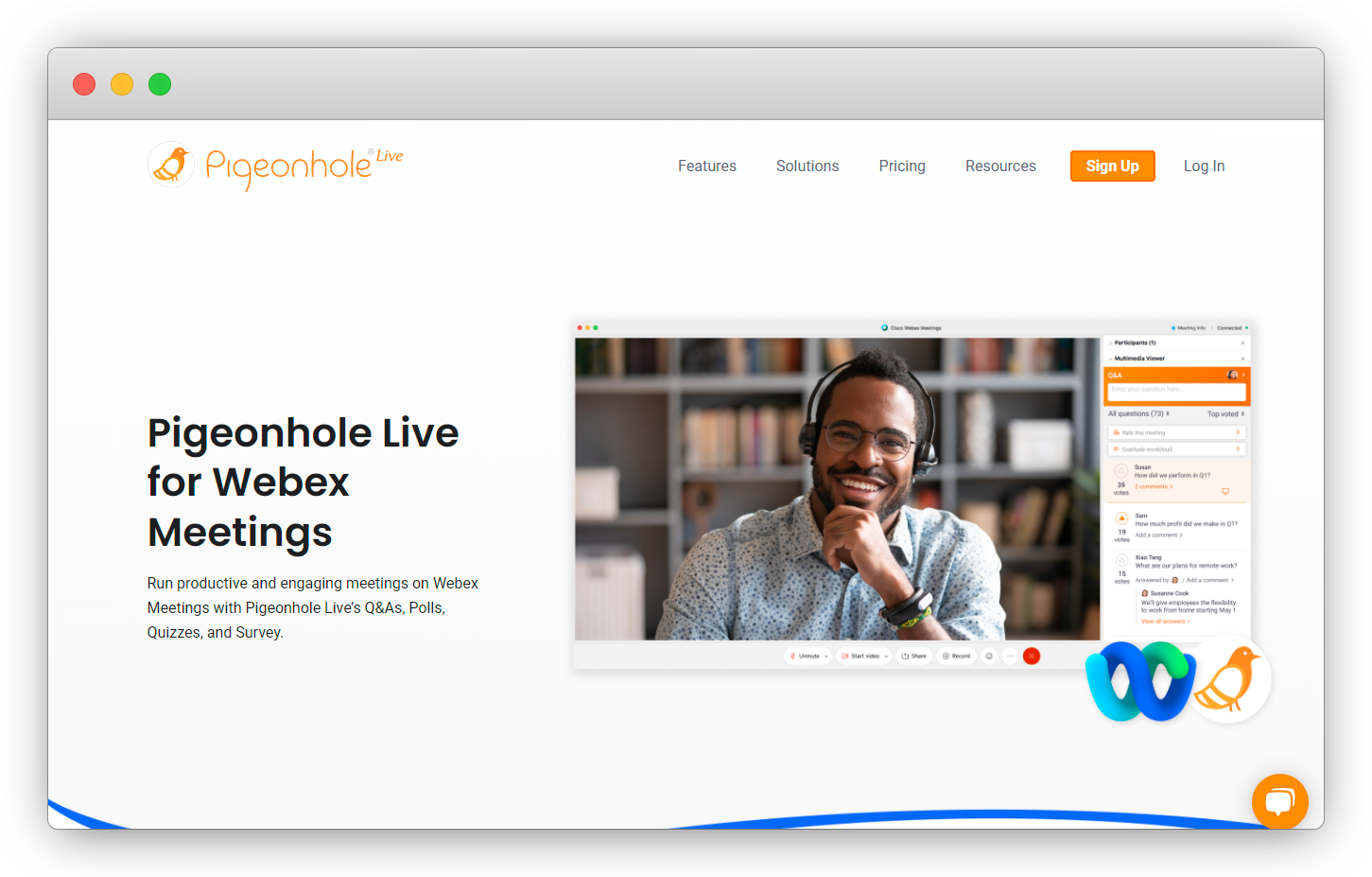 Pigeonhole Live is a solution to engage your audience, whether in-person or remote attendees. With Pigeonlive for Webex Meetings, you can make your meetings more productive and engaging with Q&As, Polls, Quizzes, and Surveys. You can run live quizzes in your ongoing Webex meetings and all-hands as an icebreaker, a team bonding activity, or as a quick assessment of your attendees.
Key Features:
You can easily share your screen in your online meetings to show a real-time quiz leaderboard in the Projectile Panel.
Meeting Attendees can access Pigeonhole Live using a link or just by joining the online meeting on Webex.
It also provides other interactive tools like rating scales, word clouds, and live polls to keep your attendees engaged and provide their views, feedback, and votes.
Along with Webex, it also provides integrations with popular tools like Microsoft Teams, PowerPoint, ON24, Splash, Youtube, Zoom, and more.
Pricing:
It has various One-time plans, Annual plans, and Enterprise plan options.
One-time Plan
Basic Pigeonhole Plan is free.
Manage Pigeonhole Plan costs $268.
Engage Pigeonhole Plan costs $338.
Captivate Pigeonhole Plan costs $928.
Annual Subscription:
Basic Account is Free.
Annual Manage costs $100/month.
Annual Engage costs $125/month.
Annual Captivate costs $225/month.
Enterprise Plans are Customized plans for every organization.
6. Quizizz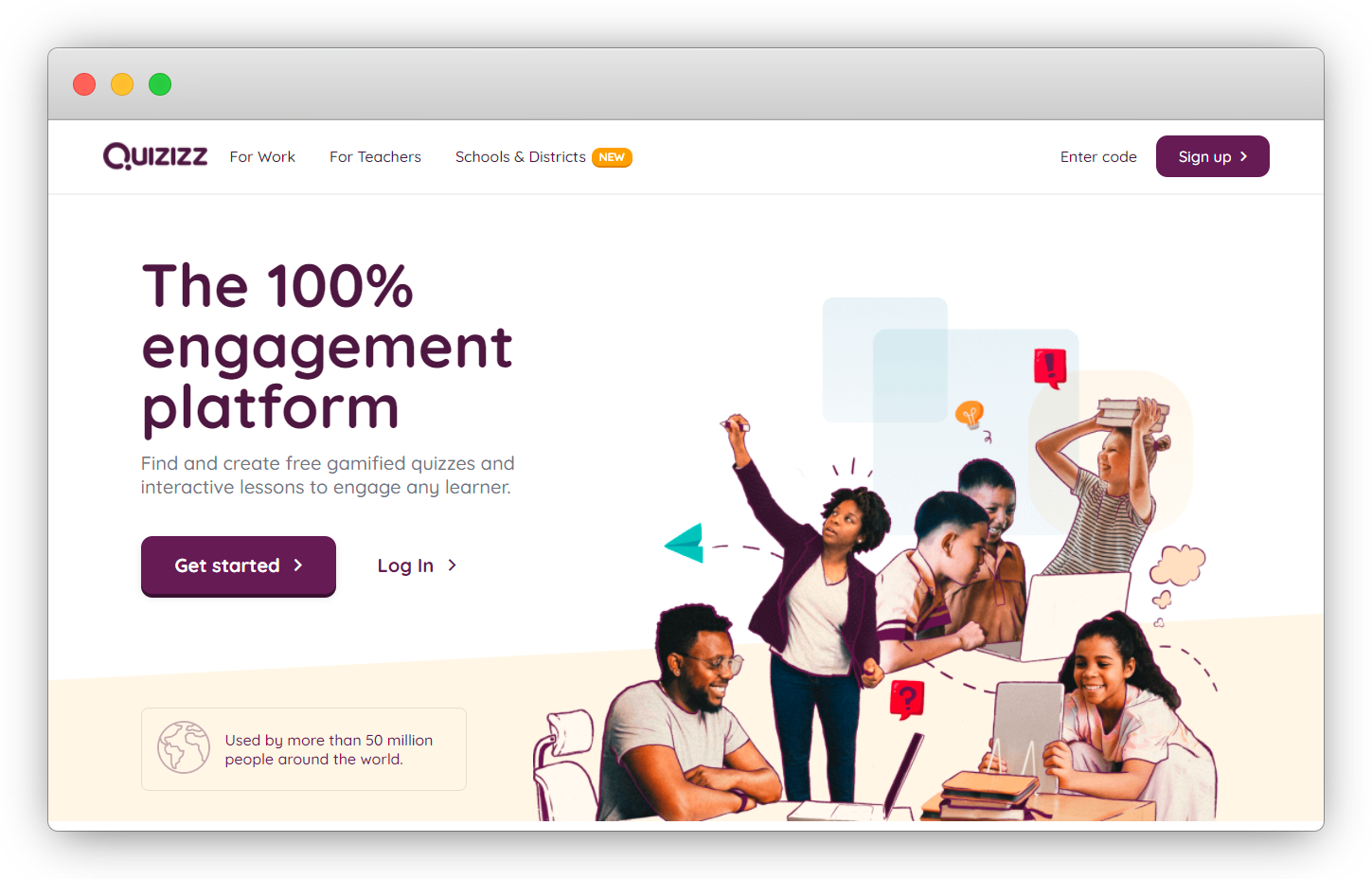 Quizizz is another engagement platform that is used to create gamifies quizzes and interactive lessons to engage your audience. The tool is used by both educational institutes as well as businesses. With Quizzes for Work, you can create quizzes, presentations, polls, and e-learning accessible on any device.
Key Features:
The app is a good option in remote working culture - meeting attendees can see quiz content on their own devices working remotely.
You have the options to choose presenter-led and self-paced live learning lessons.

You can use Quizzes both for creating fun quiz games for entertainment, as well as for educational and training purposes.

You can add your own logo and branding to the quizzes.
You can assign quizzes with a deadline to be completed.
You can save, access, and share reports at any time.
Pricing:
It offers three plans:
Premier Plan costs $48/month per host.
Standard Plan costs $19/month per host.
Intro Plan is a free trial plan.
7. Vevox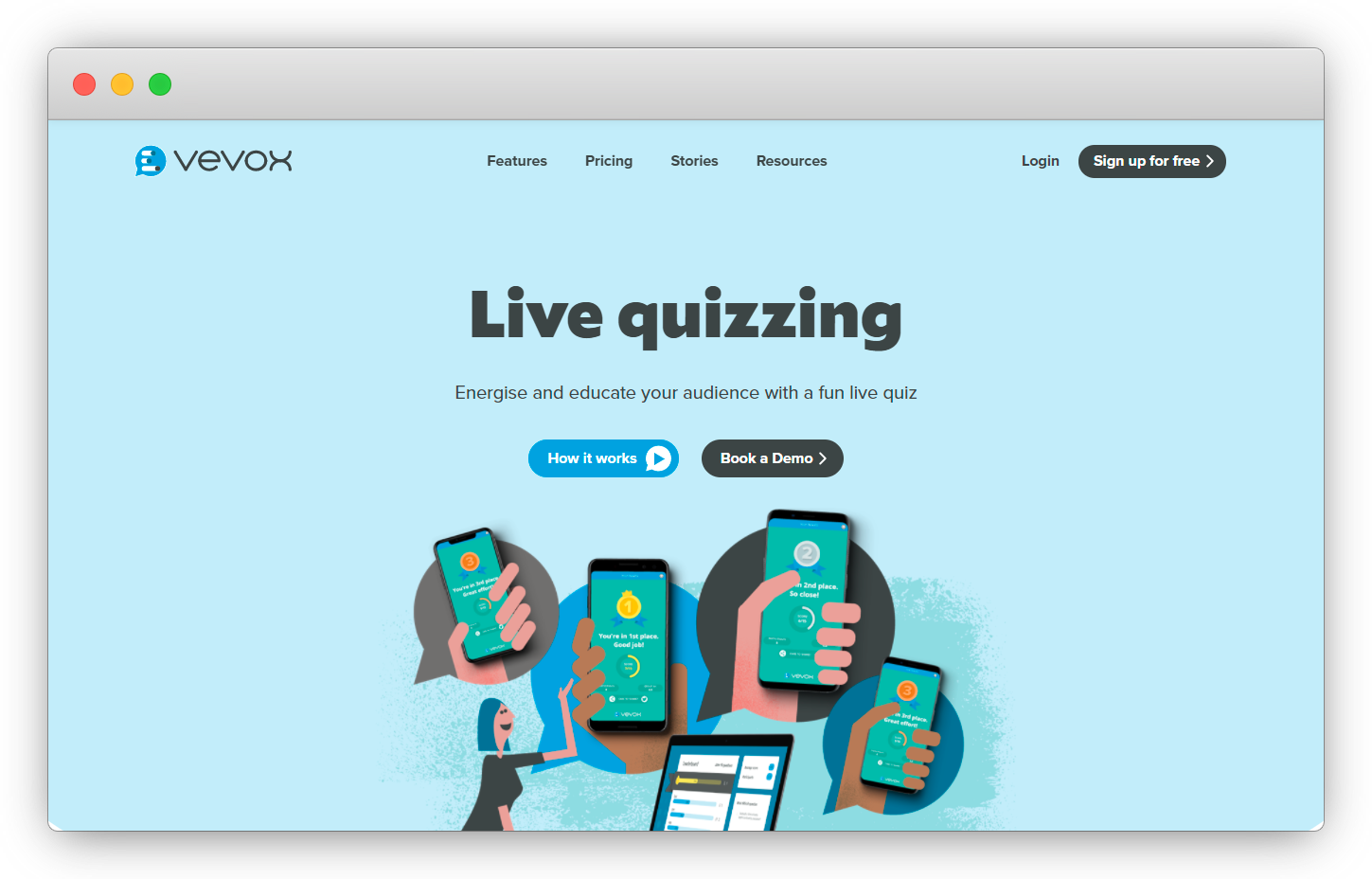 Vevox is an Interactive Quiz App and Polling platform that provides solutions for Live Polling, Q&A, Wordclouds, and Quizzing. With Vevox Quizzing, you can run live quizzes in your online meetings to educate your audience and create a fun learning atmosphere.
The app promotes friendly competition through quizzes, and it has a variety of in-built templates to create visual quizzes.
Key Features:
It makes live learning interactive and identifies knowledge gaps. Participants can know in real-time which questions they have answered wrong.
It provides live leaderboards to show the quiz ranking and scoring.
You also get the option to turn on anonymity that enables the participants to keep track of their own scores without revealing their scores to others.
You can ready-to-use visual templates and flexible question types to create quizzes.
Along with Webex, it offers integrations with various tools like Microsoft Teams, Zoom, Canvas, Blackboard, PowerPoint, Present View, and more.
Pricing:
It offers various plans for teachers, educational institutes, small businesses, and enterprises.
Business:
Base plan is free.
Individual plan costs $50/month for a single user.
Team plan costs $45/month per user for 2+ users.
Enterprise plan costs $30/month per user for 50+ users.
They also provide custom quotes for enterprises plans.
Education:
Base plan is free
Individual plan costs $6/month per user.
Department plan costs $9/month per user for 5+ users.
Institution plan costs $11/month per user for 25+ users.
8. Poll Everywhere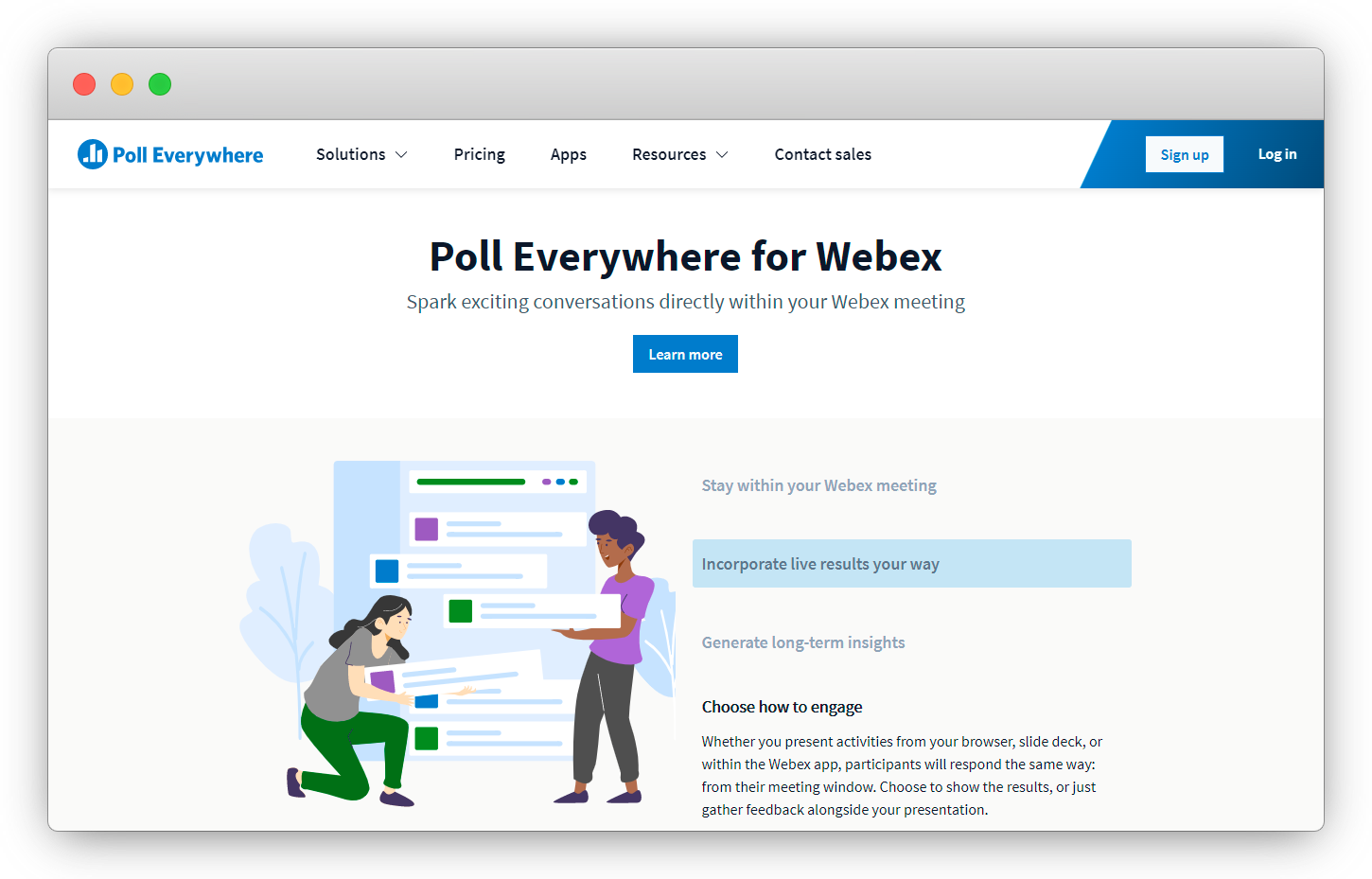 Poll Everywhere is another good software built to empower hybrid work and business conversations through live polling, surveys, Q&As, Quizzes, and word clouds. Poll Everywhere for Webex allows you to gather audience insights while being present in the Webex meetings and run detailed analysis reports.
With Poll Everywhere, you can create quizzes in minutes and share them with your Webex meeting attendees, take their responses in real-time, analyze and present the results in the form of animated charts and graphs.
Key Features:
You choose among various question styles - multiple-choice, open-ended, images, emoji, and more.

You get dedicated support from Poll Everywhere for all your queries and concerns.
You and all the participants can check the live results of the quiz during the ongoing meeting.
You can view, analyze and share results in the form of animated graphs and charts.

You can set one or more responses as correct answers and give grading to your participants based on their responses. You can also create a Gradebook report, which would summarize all responses.

You can also control how participants recognize their data in the reports by giving an option to add a screen name that would be visible in the results. Alternatively, you can also enable settings to allow registered participants only for which they would have to sign in to their Poll Everywhere account.
Pricing:
Intro Plan is free.
Present Plan costs $120/year.
Engage Plan costs $42/month.
Teams Plan costs $84/month.
Enterprise plan starts fro $9,999 and is customizable as per requirements.
Also Read:

Top Webex Apps for Employee Engagement