Do you know that 79% of people quit their jobs because of 'lack of appreciation'?
Employee Feedback is a key indicator of employee retention, productivity, and satisfaction. It helps you ensure enhanced production, efficiency, and happiness of employees. Further, it also assists you in improving the work culture.
The best practice to know employee perspectives is to conduct regular Employee Feedback Surveys and get direct insights from them. It gives you a solid idea about how employees are feeling and what they really think about work culture, opportunities, facilities and loyalty.
Most of the companies (including yours perhaps) are already using feedback forms to gauge employee satisfaction. Unfortunately, only few are able to get the most out of human capital even after using it at its best. Here's what usually goes wrong.
Lack of Variety of Questions

.

Different touchpoints and surveys include similar questions.

Lack of Connect with Employees

. Questions don't connect with employees at all. This leads to lack of engagement by employees.

Lack of Industry Standard Metrics. No or minimal use of industry metrics or standards make your reports meaningless and ineffective.
Lack of Focused Surveys

. You're not asking the right questions, at the right place and at the right intervals.
Read on to know the best practices to follow to create a great employee survey form-one that yields the right reports for your company.
Boost Employee Engagement
Measure, analyze and improve employee feedback and reduce employee turnover with Zonka Feedback.
5 best practices to create an Employee Feedback Form
1. Determine the objective of the employee survey clearly
Make sure to define the exact reasons and objectives of surveying your employees. Don't do it just because you know it's important and you should. Do it for the right reasons. This will help you put together simple and straightforward guidelines as well as instructions.
Why? It's simple—defining the objective beforehand makes it easy for both employees and managers to understand the exact meaning of the questions, know precisely what data to provide, and how to get the information they require.
How to define the objective for your employee survey? We're giving you a quick cheat sheet of questions to outline your objectives for the survey. This will help you put together the primary purpose and get started on the right foot.
Do you want to measure employee's happiness with their work and work culture?

Are you concerned about the rapport employees share with their subordinates and managers and their overall outlook about the management?

Do you want to measure their satisfaction with facilities like cafeteria, events, get-togethers, company retreats?

Do you simply want to gauge their stress level in the company?

Are you conducting surveys to let your employees share their grievances and reach out anonymously for their complaints and suggestions?
2. Use Rating Scales and Industry Metrics like Net Promoter Score
Use quantitative and measurable rating scales to get a good analysis. . This will ensure that your results are objective and easy to act upon.
(Pro Tip: While using Rating Scales, Images work wonders.)
Why? Rating scales and metrics like Net Promoter Score have one too many benefits—
Metrics and rating scales are

easy to understand

Rating scales give

identical meaning to all respondents

They are

more reliable than subjective answers

They're

quicker to answer

and quite effortless

Rating scales and NPS

reduce survey dropout rates
Scale point is in complete sync with the scale's underlying idea

Scale point provides a

detailed statistical breakdown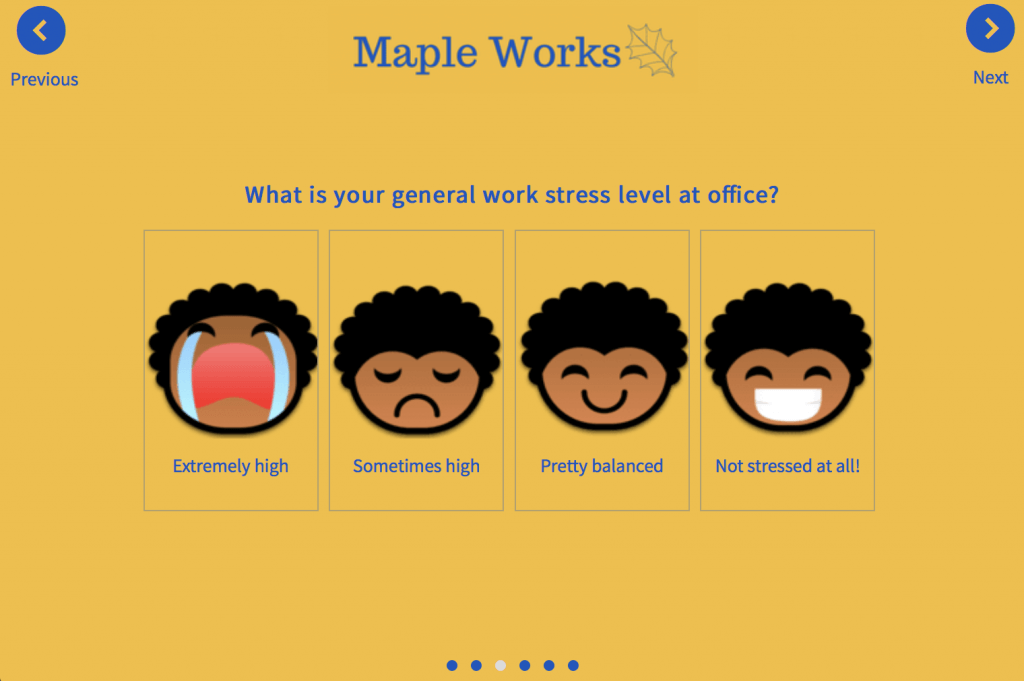 How to incorporate rating scales and metrics in your employee feedback survey?
Here's how:
Choose rating scale over dichotomous questions

(questions that have two answers like yes/no, true/false). For instance,to ask your employees whether they're happy, the best-suited option is 'How would you rate your happiness level in the company?' instead of 'Are you Happy?'. The former can have a 4-point or a 5-point rating scale, while the latter will just have Yes/No.

Making it visually appealing

Wherever you can, make your rating scales with images (don't over do it though). This connects more with employees and makes them more engaged in the survey.

Use Industry Standards Incorporate industry-standard metrics like Net Promoter Score in your

surveys

. These are easy to include, very standardized, and help you benchmark your employee satisfaction across various areas, platforms and other companies and industry standards in your country.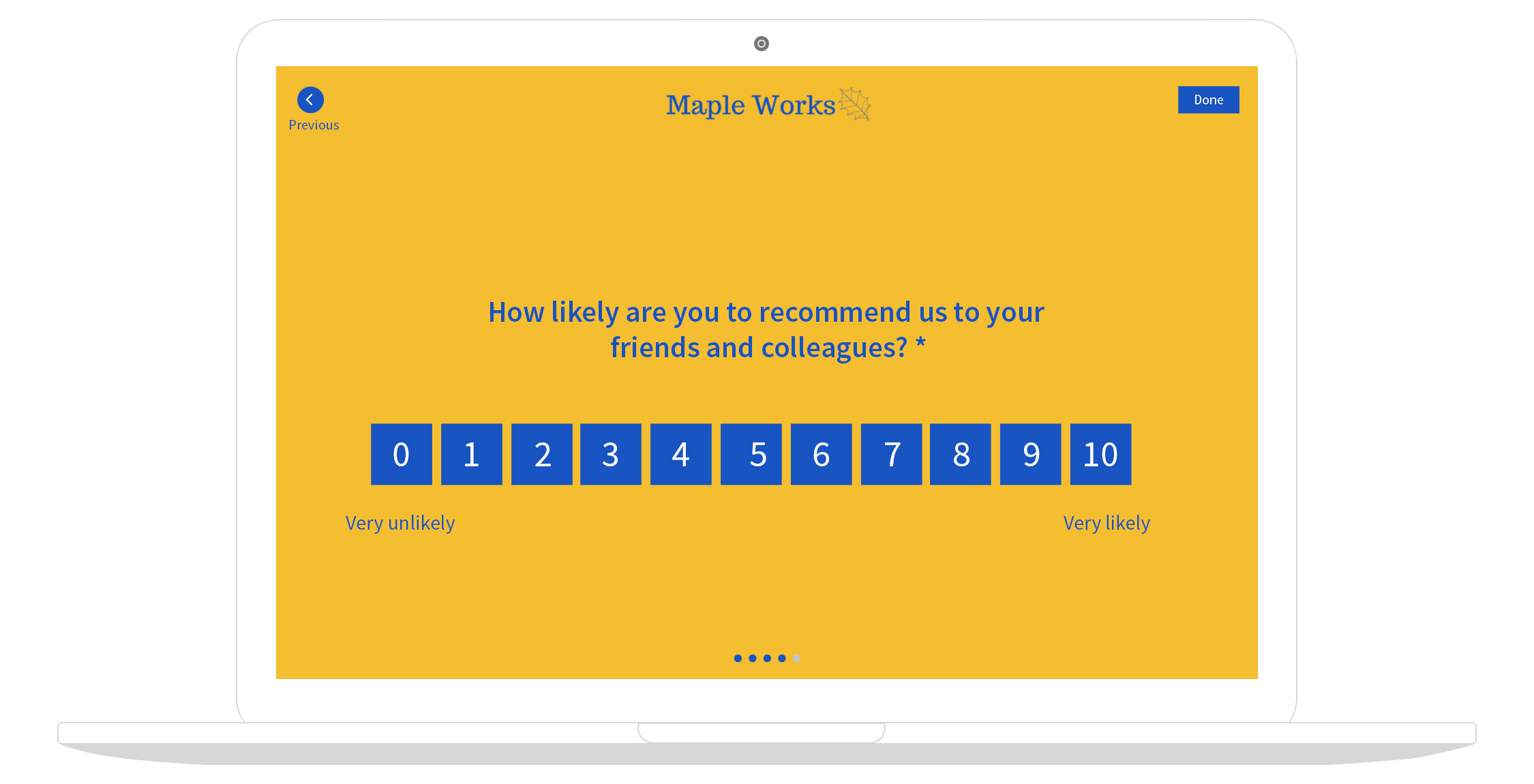 3. Create a clear and concise feedback form
Be crystal-clear on the fact that your survey is self-explanatory and easy-to-use for both the manager and employee. It makes them feel familiar. Also, make sure it provides useful insights for HR and executives to make strategic decisions.
Why? It helps you quickly define goals for both—employees and yourself.
How? Follow a holistic and pre-defined approach.
Practice a

logical and sequential order

in your questions

Ask

questions in simple language

- simple to understand and simple to answer

Use specific, measurable, achievable, and time-bound surveys
4. Allow enough space for detailed comments
It is a real game-changer. Space for additional information makes it easy for employees to voice their opinion and share grievances in their own words, and for managers to get an exact idea of employee viewpoint. Employees can easily report a particular problem and managers/management can efficiently solve the issue without any exertion.
Why? A space for comments and suggestions always helps.
Employees get a chance to give feedback in their own words

Managers can know the exact issue, problem or even things that are going right without having to follow up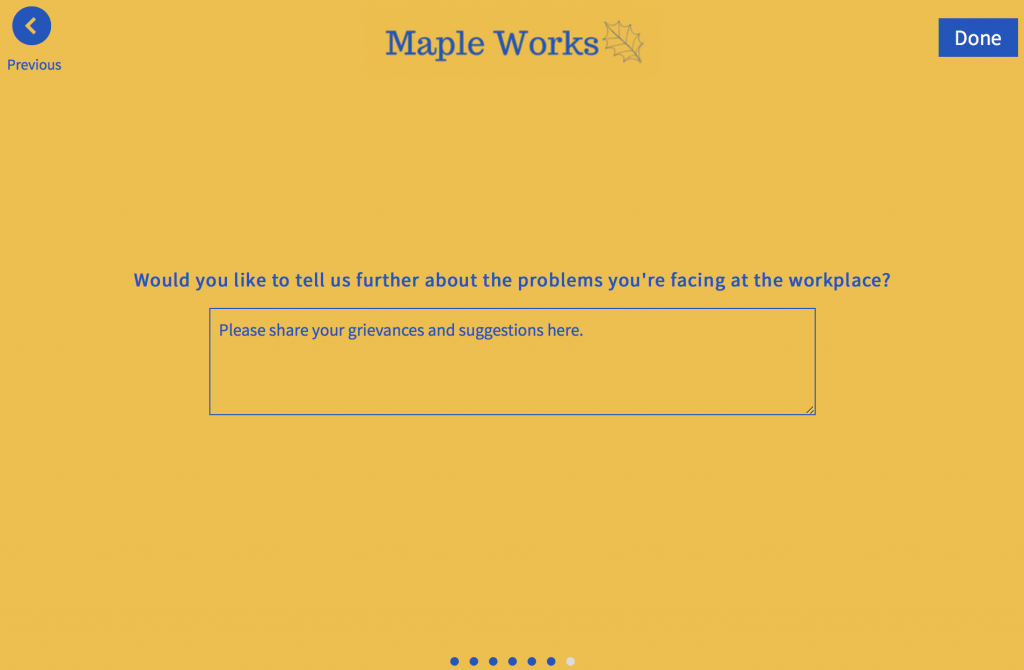 5. Create different feedback forms for different touch points
This one is really simple. Every feedback form doesn't work for every touch point. If you're looking to measure something about facilities in meeting room, placing a survey in the meeting room is a viable choice. You cannot measure it with the one placed in the cafeteria or through email survey that you usually share with employees at the end of the week.
A clear, appropriate, and relevant feedback form at a right place and at right time is a must to achieve desired results. Most importantly, it helps you get the quality and actionable insights with minimum effort.
Why? 'No two persons have the same mind or same body'. The same notion adheres to survey processes as well. Different form practices have different goals and trying to do excessive in a single process is purely futile. Neither, it can solve the purpose, nor it can provide any information.
Need more insights? Have a look at these HR Survey Templates. It is the best way to gain quality insights on evaluation forms. Just select one of these templates and customize them to suit your needs. Add your own company logo, add one or two performance metrics, and you're good to go.
Try Zonka's 7-days trial and build your own employee feedback forms.
Boost Employee Engagement
Measure, analyze and improve employee feedback and reduce employee turnover with Zonka Feedback.
Learn more about the Employee Surveys