Working from Home is not a trend anymore; it's going to remain and is the future of every business. Coronavirus pandemic has changed the way numerous organizations are operating nowadays. I am sure most of you're working remotely so that you can keep yourself safe and reduce the spread of COVID-19 disease.
Remote Working has its pros and cons. The primary benefits are that you can work at your convenience, save travel time, improve work-life balance, save money for office space, hire the best workforce, and many more. But what is the major drawback that most of us face while working remotely? To collaborate with the teams and ensure that everyone stays aligned.
Now the question comes how to communicate? Thanks to numerous communication tools that have made the whole process easy. At Zonka, we are using Slack and Skype for daily interactions and conducting meetings.
But do you think communicating is sufficient? Every employee wants to excel and wants to improve their performance. But in a remote setup where you're not meeting them every day, how it's possible to help them grow in their role? Giving and receiving feedback on frequent intervals is one of the best ways to tackle this issue and ensure that everyone is on the same page.
To build meaningful and long-lasting relationship with your employees, every organization must put its employees first. You can never grow with unhappy employees. You need to constantly ask them questions, listen to their preferences, and take appropriate action.
Here at Zonka Feedback, we use our own tool to take feedback and while it has always been quite helpful, during this time, while working remotely, it proved to be a great boon. The HR in our team set up different surveys to take informed decisions.
A Remote Working survey was sent to all team members to get their feedback on how they're doing, how they're managing work from home, what tools have been helpful and to know how many would come to office, if offices were to open up.
With another survey designed for Team Leads & Managers, the HR team dived deep into productivity related questions, collaborative tools, challenges faced by the team and more.
These two surveys together helped the company take a decision regarding continuing remote working and we introduced the policy of 'Work from Anywhere'. Findings from these surveys have also helped us bring in new tools for collaboration and set up training for existing tools to use them more effectively now.
This was a great way to use Employee Surveys and Feedback to engage employees in the decision making, make them know their voice counts, and to boost employee confidence.
Building an effective Employee Feedback strategy and working on it helps you collaborate with your remote teams, track their progress, and boost employee engagement.
Why you should take Employee Feedback?
What is the one thing that every business should strive? Build a healthy and friendly work environment. A positive atmosphere encourages employee growth and high performance, whereas a negative environment can stagnant employee growth.
One of the best ways to create a positive and happy workplace is with the help of a "Feedback Culture." Real-time feedback helps you stay connected with your employers even while staying apart physically.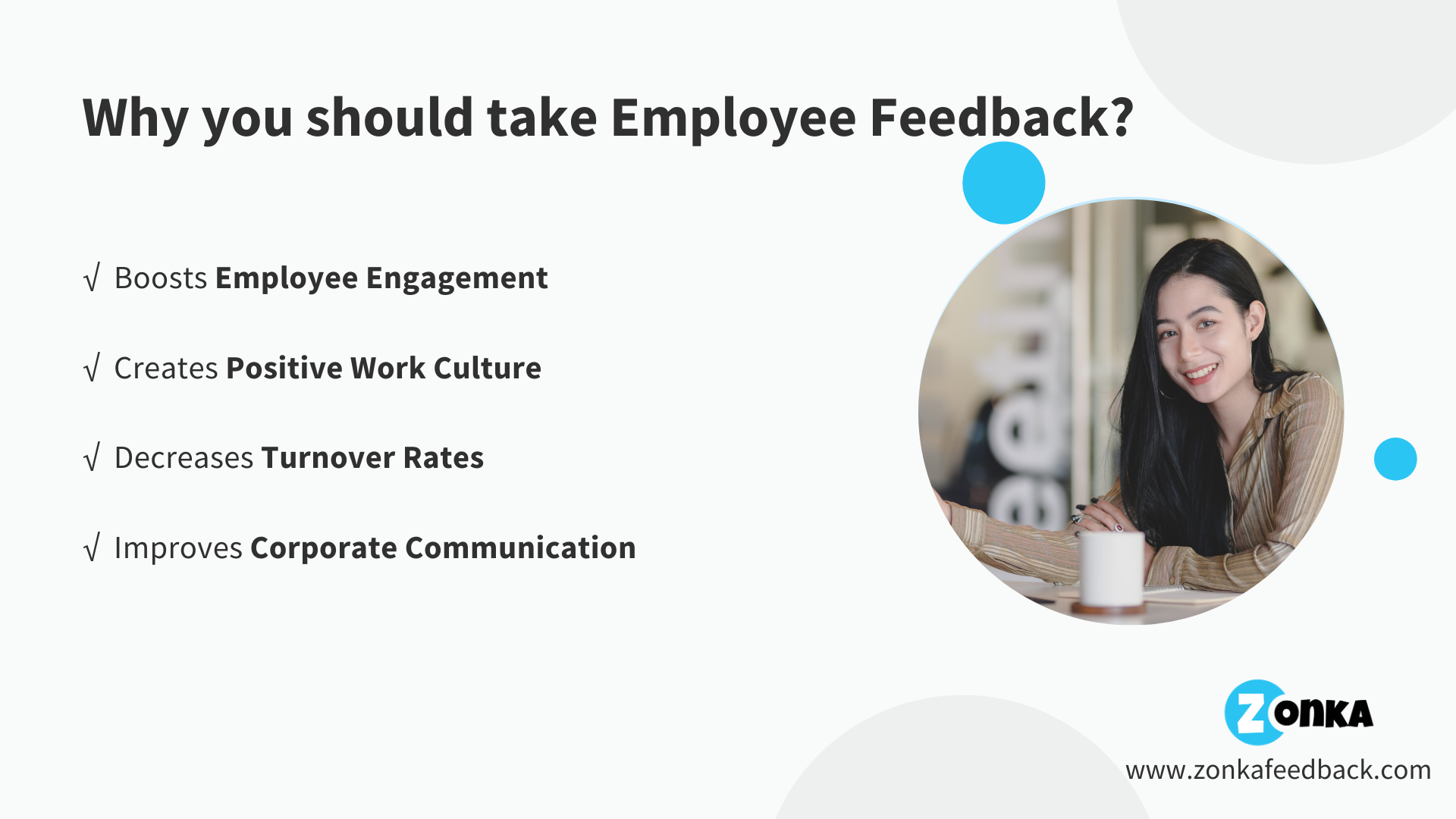 Boosts Employee Engagement
It helps in creating an atmosphere where employees are more engaged in their work. Engaged employees tend to be more productive and might even become your loyal employees. With effective feedback culture in place leads to increased employee performance.
Creates Positive Work Culture
Employees prefer to work in a positive and fun workplace that can affect their well-being in an encouraging way. A negative atmosphere with a lack of communication will demotivate employees that can affect their performance. For this reason, you can try coworking spaces, where your employees will work in a creative and flexible working environment. Many coworking spaces now use coworking space software, which automates processes, so desk or room booking won't take a lot of time for your employees.
It has been observed that companies with high employee turnover rates tend to be less effective and productive as compared to companies with lower employee turnover rates. Instilling feedback culture helps employees to share their issues openly, and you would be able to address them effectively.
Improves Corporate Communication
The feedback culture helps organizations to improve their communication levels with the employees. This way, it would be easier for them to communicate the goals that need to be achieved and areas of improvement. The feedback can be shared among teams or individuals. Adapting this strategy helps the company grow as a whole.
Importance of Employee Feedback Remotely
Working from home has become the new industry norm and collecting employee feedback is even more important while working in a remote setup. Why? How would you know what kind of problems your employees are facing when working remotely? It becomes difficult to understand your employee's concerns without interacting with them. But collecting employee feedback at frequent intervals not only helps in collaborating with your employees but also helps in truly understanding their behaviours and needs from you, which would not have been possible in a remote setting.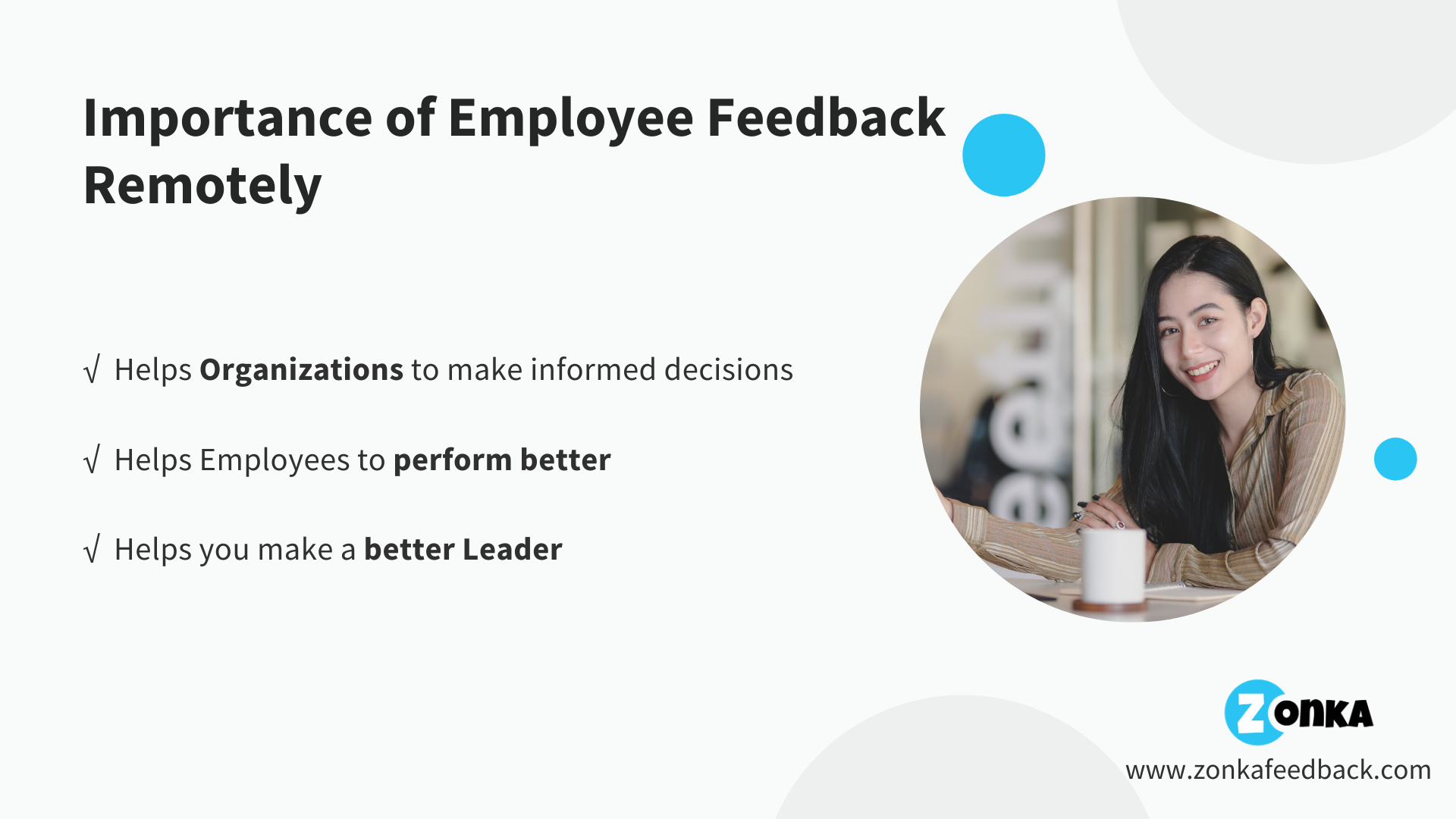 Helps organizations to make informed decisions
When you stop paying attention to your employee's voices, they will stop being productive and will not be able to achieve their goals. With collecting feedback, you will be able to uncover the maximum amount of insights and know what is happening in the company. It helps you make informed decisions by understanding what employees are talking about you and what all things you can do to create a better atmosphere.
Helps employees to perform better
Employees crave for honest and constructive feedback that can help them perform better. Every employee expects appreciation, but they also expect their managers to share professional tips that can boost their performance and aid in achieving organizational goals. Take the negative feedback as an opportunity to learn, grow, and work on the shortcomings.
Helps you make a better leader
Studies have shown that managers who share and receive honest feedback with their employees are more effective than those who do not. Sharing and receiving feedback is a two-way process. To become better leaders, managers need to improve by ensuring they work on the feedback received from the employees.
Using Employee Feedback Software to streamline the process
Identifying and retaining the top talent in your organization is a difficult task, but ensuring that they are satisfied is even more challenging. It's essential to streamline the whole process that can be possible by using Employee Feedback Software.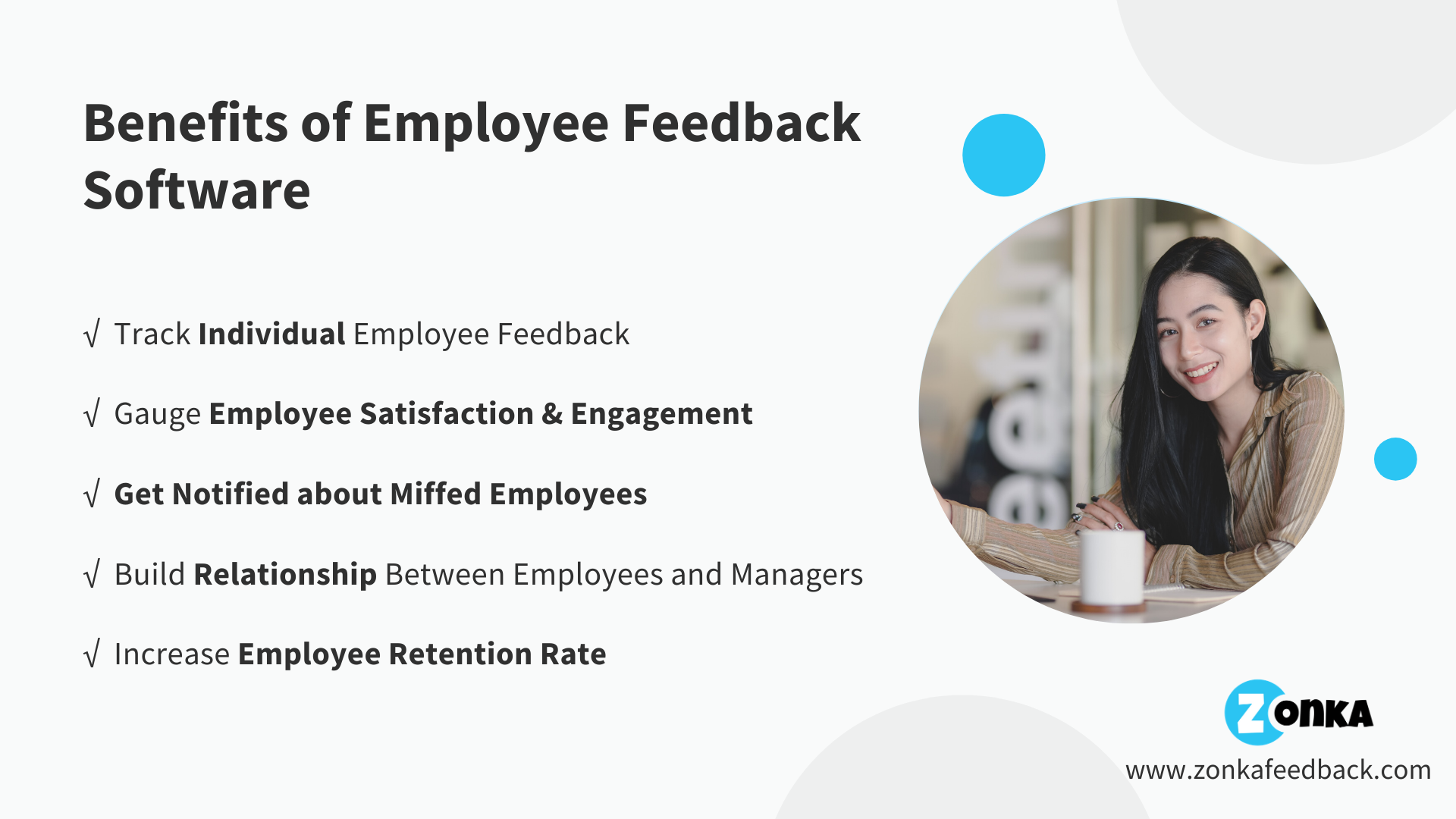 5 Effective Methods to Collect Employee Feedback Remotely
Most organizations often overlook the importance of sharing feedback with the workforce when working remotely. Lack of regular communication can lead to confusion. In such scenarios, giving and receiving feedback and discussing it with team members is critical in keeping your teams motivated and making them work in the right direction.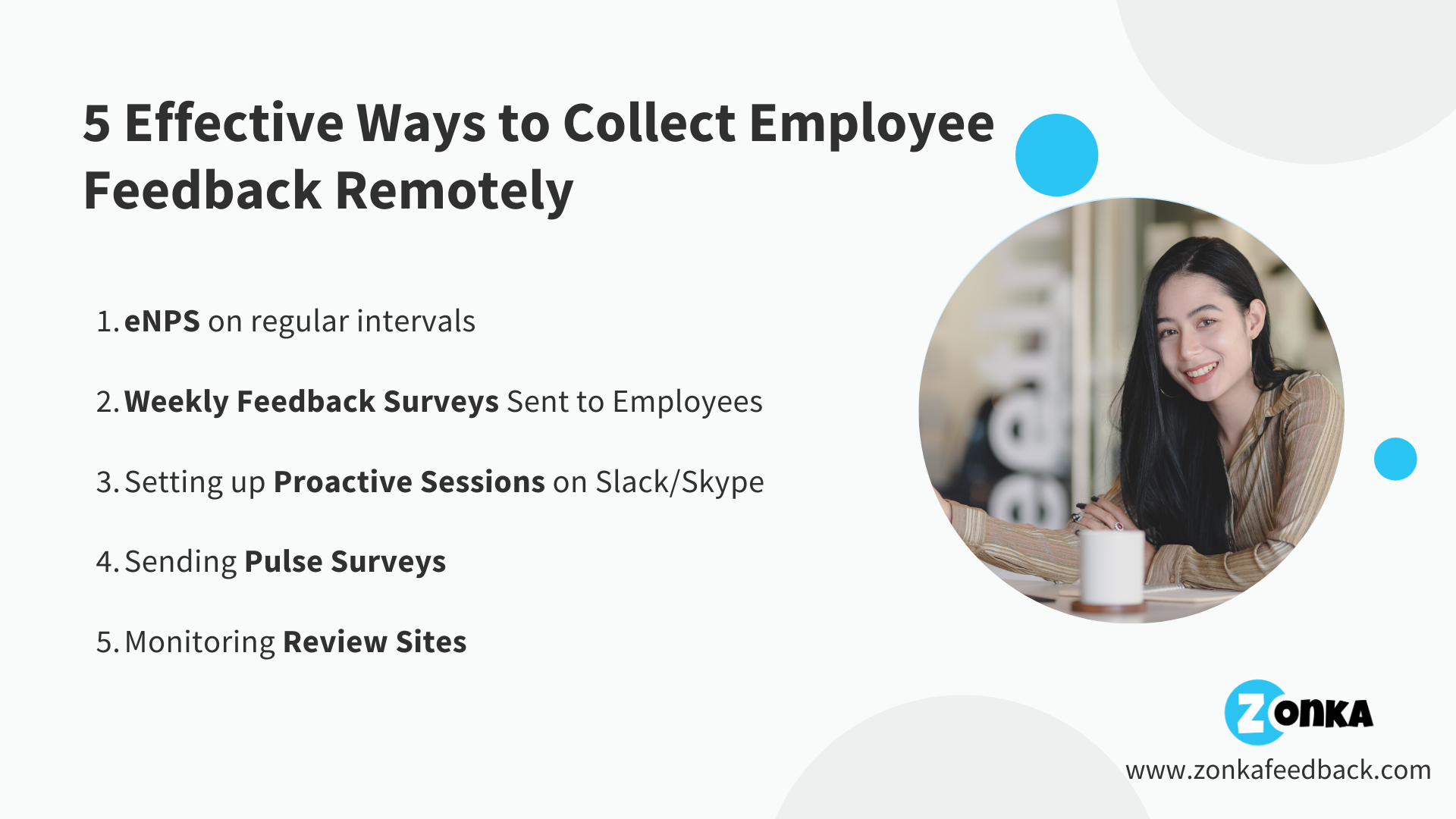 1. eNPS on regular intervals
Employees are the asset of any company.
But how would you know whether they are satisfied or dissatisfied with you? Measuring eNPS (Employee Net Promoter Score) metric helps you understand the health of your employees. Conducting eNPS Survey on monthly or quarterly intervals helps you measure employee satisfaction and loyalty.
2. Weekly feedback surveys sent to Employees
Working remotely has changed the way of doing things differently.
A few decades ago, companies used to conduct surveys yearly. This is now considered an outdated way. Sharing feedback surveys over email or SMS weekly with your employees helps you understand what has the biggest impact on employee's general mental health and well being. You need to know how your employees feel and ensure to focus on the right things.
3. Setting up Proactive Feedback Sessions on Slack/Skype
Do you think conducting annual review meeting is sufficient to capture feedback? Its high-time organizations need to modify their processes and start collecting them more frequently.
Conducting direct one on one session on communication channels like Slack or Skype is a great way to connect with your employees and collect feedback. It will not give them a chance to think much and provide honest feedback. Make sure to take proper action on collected feedback to make your employees feel valued.
4. Sending Pulse Surveys
Do you want to keep a check on the health of your employees? Go for Pulse Surveys.
Pulse surveys are short surveys as compared to employee satisfaction or engagement surveys. They generally consist of 1-3 questions to know the pulse or quick insights of your employees. They are also important in keeping track of the progress of certain initiatives. For instance, if you want to collect employee's feedback about a lack of career advancement, then pulse surveys helps you understand whether the initiatives taken by you are helping you achieve your objective or not.
5. Monitoring Review Sites
How many of you feel comfortable sharing your honest opinion with the employers?
It happens mostly in the case of negative feedback or when their feedback is not taken seriously. In such scenarios, employees often rely on online review sites to vent out their frustration. Apart from conducting regular surveys, they also need to review sites like Glassdoor, Indeed, CareerBliss, and many more. You should not miss out on any single avenue to capture insights that can be valuable for your organization.
Conclusion
Working from a distance might create conflicts between teams and individuals. Lay out a proper structure and guidelines that can help you overcome any kind of conflicts. Moreover, it's the responsibility of organizations to make use of the right tool to help bridge the gap and work as a team towards achieving the business goal.
Zonka's Employee Feedback Software helps you listen to every voice of your employee and measure Employee Feedback at all touchpoints to track employee engagement and deliver an incredible employee experience that can boost retention rates. It would be a perfect platform to have open communication where you can appreciate your employees and share suggestions that can lead to a great workplace.
Boost Employee Engagement
Measure, analyze and improve employee feedback and reduce employee turnover with Zonka Feedback.
Learn more about the Employee Surveys