Customer retention and encouraging brand advocacy are both critical to any SaaS company's growth. Why? Because most SaaS companies rely on recurring subscriptions and referrals to get more clients. However, the two cannot be achieved without exemplary customer experience.
The customer experience your SaaS company provides is the impression your clients have of your brand at every stage of their customer journey. This includes when they use products they've purchased or signed up for or even when they interact with your teams.
Elevate your SaaS Customer Experience⭐
Measure User Feedback at various touchpoints in your product and use the User Insights to delight your customers.
Thus, keeping your customer experience at the highest level should be the top priority for any SaaS business model company. But how do you ensure this?
Here are six ways SaaS companies can improve the customer experience:
1. Analyze User Behavior
To provide a fantastic customer experience, SaaS companies should start by analyzing customer behavior patterns within their product. In other words, you need to learn why users take certain actions, analyze them and improve where necessary. There are multiple ways to analyze user behavior within your product.
First, you can use website analytics to learn how visitors are scrolling your website. Try to identify trends and patterns to improve the CX. Use user flow reports, like the one from Google Analytics shown below, to see how people navigate through different pages of a website.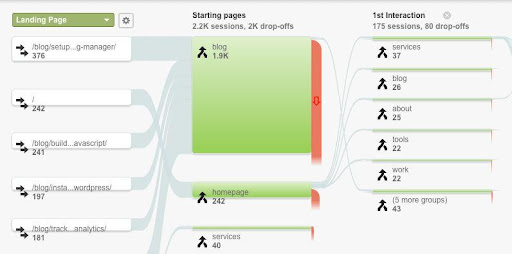 During your analysis, focus on finding out what makes people leave your website or drop subscriptions. The reason could be anything from your prices, and the way the features are displayed to a broken form filed at checkout. Fixing the issues will improve CX and increase customer satisfaction and conversions.
Even with an amazing product that will attract users, it's the outstanding user experience that will keep them coming back.
2. Create Effective Onboarding Program
Once your SaaS product has been purchased, your onboarding program will set the tone for your customer experience. Your onboarding program should provide effective and comprehensive training including streamlined SAAS billing processes.
Clients with a positive experience of an onboarding process are less likely to drop off in the first 21 days of their subscription. But how do you ensure a positive onboarding process?
Once you've gathered and analyzed what your customers need to succeed with your service, guide your customers, so they complete the introductory process and enjoy using your service. You can do this by creating easily accessible training materials, guidelines, FAQs, and tutorials they may need to succeed with your product or service.
Dropbox, for instance, issues easy-to-follow courses that users can take at their pace. You can do this, too. Just use the best platforms for online courses that fulfill your customer expectations.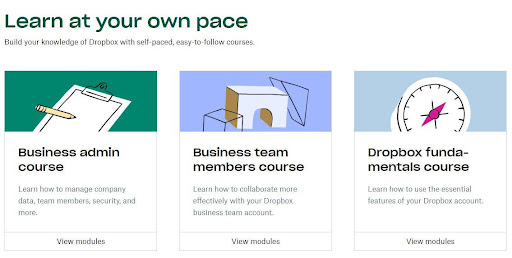 Ensure constant communication with your customers. Send emails or share social media posts with additional resources. There is a big variety of email marketing services that could help you to automate the process. Assuring your clients that your team is available in case of any questions will improve CX.
An occasional personalized email to check how a new client is finding your product is also a good idea. They will feel looked after which can result in turning into loyal customers that trust your brand.
3. Break Down Silos to Understand CX
Every dedicated development team within your organization plays a role in potential customer satisfaction. This includes marketing, sales, support, and product design, to name a few. But if the teams don't work collaboratively each one approaches the client with different goals, viewpoints, and information. This frustrates your customers.
So, to break down the silos and coordinate your company's CX efforts, your first step should be appointing a head of customer experience. They could manage your customer experience efforts ensuring all teams are working in harmony.
Next, invest in a task management tool or a customer data management system that centralizes customer data and makes it accessible to all departments. This keeps everyone in sync ensuring the customer gets uniform and relevant information and feedback, which improves their experience.
Monday's CRM system is an example of basic software oriented around team productivity. The tool combines client database functionality and an easy-to-use platform, to manage leads.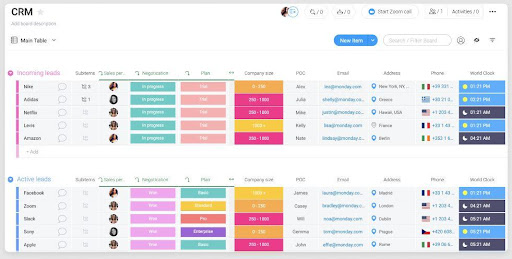 Also, conducting cross-training sessions can help your teams to help your staff understand what everyone does. Such training provides tips on how departments can work collaboratively to make each other's roles easier, which ultimately improves customer experience KPIs for your SaaS business. If you are looking for similar software, there are other choices to Monday.com available too, so check this Monday alternative too.
4. Improve Customer Support Experience
Your customer support team will probably interact with your customers more than other teams. That's the reason why any SaaS company should aim to enhance the customer support experience.
The best way to improve your customer support experience is to create integrated processes for your customer support representatives. Centralize all customer support knowledge in one management platform like HappyFox:
Make it easy for your staff to find answers to customer questions quickly. This can reduce customer frustrations and increase trust in your SaaS company.
Using customer experience automation tools, like chatbots can help improve the customer support experience. Such tools are used for prompt communication, speeding up response times, and answering routine questions for your agents to free up their time.
5. Ask for Customer Feedback
Collecting customer feedback is one of the best ways to provide a fantastic customer experience. Research shows that 70% of businesses with excellent customer experience take advantage of customer feedback.
By gathering customer insights, you're more likely to understand how your users think and act. How do they feel about your product, your website, what's missing, and what can be improved? Once you know what's bugging your clients, you can act on it by updating your product, your website, the payment process, etc.
You can collect customer feedback through customer surveys. Use your product, emails, social media or your website to gather opinions. You can use Zonka to create popups and exit surveys, for example. You can also include a feedback button anywhere in your website so your visitors can easily click on it and answer your survey questions.

Speaking with your users helps build relationships. When they feel like their opinions matter, they will be more likely to renew with your company and recommend your business to others.
6. Build a Product Community
Communities offer the perfect venue for customers to discuss their insights about your SaaS tool. In these communities, customers can also ask their own product-related questions. These are questions you or fellow users already familiar with the tool can answer.
You can benefit from building a product community, too. You can improve the customer experience based on feedback you get from members of your community. For instance, if you hear complaints about a product feature or your customer support, you can make the necessary changes to improve those.
Simply put, a community is critical, not just to the customer experience, but to your SaaS business' success.
But how do you build a product community in the first place?
Don't worry because it isn't as hard as it sounds. As with anything else, it starts with knowing who your customers are. Go back to your research on your users' behavior. What platforms do they frequent? What tools do they use? What are their interests?
The answers to your questions will determine where and how you should build your community. For instance, if you find many of your users are active on Facebook, then creating a Facebook group like Ahrefs is your best option.
Otherwise, you can use an online community platform, such as Circle to build the product community on your own website.
When creating online groups, it's best to make them exclusive. People tend to want something they can't have right away. You can invite people to the group via your email newsletter or admin notifications.
Communities can help users build long-term relationships with fellow users and your brand. Leverage them and your users will love you for it.
7. Measure Key Performance Indicators
Your customer experience KPIs should help you measure the level of customer interactions with your business. The right KPIs will also help you determine the performance of your customer experience. When you know how you're doing, you can make the necessary adjustments to improve.
Here are some important CX metrics you should consider:
Average Resolution Time
The average resolution time is the length of time it takes for your customer support agents to resolve clients' complaints. To receive this, divide the time taken to resolve all tickets by the number of tickets resolved in that time.
The lower the score, the more effective your customer service team is, which results in keeping your customers happy. A high number means poor response times, which leads to frustrated customers and poor CX.
Customer Lifetime Value
Customer lifetime value (CLV) is the average income your business gets from a customer throughout their business relationship. It correlates directly with customer retention. The CLV score is a predictive metric that helps your SaaS business to make informed financial decisions.
CLV can be calculated by dividing the average revenue generated per account by your present churn rate.
Customer Health Score
The Customer Health Score is a measure that can help to determine if a customer is likely to grow, remain loyal, or churn. Monitoring this KPI can help you understand issues related to specific customers and take action before losing them.
Your customer health score is the sum of all the actions you consider relevant to your business goals. This can be different for every company. For example, you can sum up the number of unresolved tickets, the number of features customers are using, and how many users your product has.
Calculating the customer health score is a lengthy process, but it's worth monitoring. You can learn about customer success and failure trends. It helps to discover your SaaS product's power users and notice expansion opportunities.
Customer Churn Rate
Customer churn rate measures how quickly your customers leave your business. Knowing this KPI is important.
You calculate this metric by dividing the number of customers who stopped using your product in a given period by the number of customers you had at the start of the period.
So, for example, if you had 1,000 clients at the beginning of the month and lost 150 before the end of the month, your customer churn rate for that month is: (150/1,000 * 100) = 15%
A low churn score is what you should aim for. It indicates you can keep a long-term relationship with your users.
In Closing
By improving customer experience, SaaS companies can gain customer loyalty and boost the number of renewals. This will lead to growing your SaaS business and generating higher income.
To provide an excellent customer experience, SaaS companies should analyze customer behavior within their product. They should offer an effective onboarding program and break down silos to understand CX. Working on improving the customer support experience and listening to the voice of the customers are a must, too. SaaS businesses should also prioritize and measure the right KPIs. Leveraging product communities is a must, too.
Now, it's time to start improving your CX.