You do everything to satisfy your customers and work on various aspects to please them be it product, its price, its features, and everything that caters to the needs of the customers. But all this hard work goes in vain if you fail to provide your customers with a great overall experience.
A great customer experience is not only focused on a quality product with competitive prices, but also on how you deal with your customers. It also includes aspects like customer interactions at various touchpoints, after-sales services, and of course providing tailored experiences with a personal connection with your customers. At initial levels, it may be possible in small businesses, but when your business grows, it becomes hard to achieve this and make your customers happy with personalized interactions and experiences. Here comes the need for Customer Experience Automation.
Elevate CX with Customer Feedback🔥
Collect real-time, in-moment feedback at all touchpoints in customer journey and leverage feedback insights to transform customer experience.
In this article, we will explore what Customer Experience Automation is, and how you can automate customer service and experience.
What is Customer Experience Automation?
Customer Experience Automation is the practice of providing support to your customers where human interaction is needed, but doing this without actually deploying humans for the purpose, and rather using AI-powered technology for the same.
The purpose is to boost customer engagement and provide personalized experiences to customers with the help of AI-powered automation and satisfy them to the best extent. The workflow of Automated Customer Experience is based on the logic that is customized as per the specific events. Activities are set up using logic and happen automatically when a specific event occurs. It is preset what will happen when your customers act in specific ways.
Automated chatbots and emails are the most common examples of Customer Experience Automation. These automated emails and chatbots help you automate various customer interactions and help you utilize employees' time for other productive tasks. When you identify the customer issues through these channels, you can take them to the next level where employees can work to resolve the issues and satisfy the customers. And, if for example, you run an IT consultancy in London, it can be extremely valuable for your internal workflow.
Now, let's move to how you can automate Customer Experience management at various touchpoints.
How to Automate Customer Experience?
For Automating Customer Experience, you need to develop such processes that work smoothly and give a human touch to experiences without any human intervention. Here are the steps to creating Automated Customer Experience (ACX).
1. Connect the Right Tools with Customer Data
The first step is to connect your customer data to the right tools. For instance, if you want to provide an automated chat experience to your customers, connect your customer data with the automated chat platform. Similarly, if you want to send automated emails, connect with an appropriate emailing tool. If you want to send automatic surveys to your customers, connect to the right survey tool which can be further connected to emailing tools to automate sending emails on the customers' email IDs.
2. Track Customer Preferences and Set Logic Accordingly
To provide amazing experiences to your customers, it is necessary to track what your customers like and what their choices and preferences are. Customer lifecycle data can help you with this. On the basis of this information, you can add logic to your automation so that it offers what your customers usually choose, and what they need at the moment.
For instance, if you run an online shopping platform, and one of your customers chooses a particular range of products, display and offer them the latest trends and varieties of products of that particular category.
3. Personalize Your Communications
Personalization has immense power to please your customers and develop long-lasting relationships.
Researches suggest that 80% of customers are more likely to make purchases from a brand that provides bespoke experiences.
When we talk about messaging, 72% of the customers only engage with personalized messages. So, if you are looking to provide Automated Customer Experiences, you need to induce personalization in your communications and customer interactions.
Inducing personalization is not just including the first names of your customers in your emails and messages. Along with this, you also need to offer personalized schemes, products, discounts, and more to personalize customers' experiences. For instance, if a customer is repeatedly looking for a product, but doesn't make the purchase, offer them better deals on that product like a free complementary product, a discount coupon, a cashback, or anything that has value for the customer.
4. Provide Automated CX at Different Touchpoints
When you are all set with the right tools, the right information about the customers, and the right things to offer, the next step is to ensure that automation is not limited to only one touchpoint like a chatbot or just email communication. Rather, you should use automation wherever it's needed, and wherever it can make CX better. Automated Customer Experiences can be helpful in various areas like Sales, Marketing, and most importantly providing Customer Service.
Use ACX to deal better with customers' complaints and issues and offer them better products, complementary services as per recent purchases, better deals and subscription plans as per their budgets, and much more.
5. Assign Tasks Automatically
Providing automated customer experiences to your customers includes automating your tasks. This requires you to assign the relevant tasks to the relevant team and employees to serve the customers in the best possible way. Set automated assignment of tasks as per customers' requirements and needs. For instance, if a customer enquires about a particular product or service, set the automatic assignment of the tasks to your marketing and sales teams to connect with the customer and explain everything the customer wants and needs to know about it.
Similarly, if a customer raises a concern or complaint, assign tasks to your customer service teams to look into the customer's issues in a defined SLA and get in touch with the customer to resolve the issue.
6. Close the Loop Through Automation
Closing the Loop is a major component of providing your customers with automated services. Whether a customer wants to make a purchase, enter into a subscription, raise a complaint, make a return or exchange, or do anything; set logic and automation to respond to them accordingly and provide the necessary information to help them complete their task.
With AI-powered technology, set automation that talks to them, provide them with the required information that helps them carry out their tasks till the end, and close the feedback loop to make their lives easier.
Let's explore how you can automate customer service by using Zonka Feedback.
How to Automate Customer Service with Zonka Feedback?
Zonka Feedback Survey Software not only helps you create surveys for your customers and collect customer feedback but also helps you provide better customer service through automated workflows. Here are some amazing features of Zonka Feedback that help you provide Automated Customer Experiences and satisfy your customers to the best extent.
1. Automatic Survey Triggering
With Zonka Feedback, you can trigger surveys automatically at various touchpoints to ask the customers about how they perceive the experience they received, and collect their feedback regarding it. For instance, if you are running a hotel business, you can trigger surveys at various touchpoints to collect guest check-in feedback, restaurant dine-in feedback, gym feedback, spa feedback, etc., and after guest check-out.
2. Automatic Survey Throttling
Oversurveying of customers can lead to survey fatigue and ultimately stops you from receiving valuable insights from the customers. To avoid this, Zonka Feedback provides the feature of Survey Throttling that controls the frequency of sending surveys to the customers in order to avoid survey fatigue.
With this feature, you can limit the number of your surveys in a defined time period like a month, about a particular aspect, or in a part of the customer journey. This helps you ensure that your surveys are valued and enables you to capture real customer insights with good accuracy and response rate.
3. Automatic Feedback Management
One of the most important components of providing a great service to your customers is taking action on their feedback at the right time and improving their experience. While providing an automated customer experience, it is crucial to automate the process of not only collecting but also managing customer feedback to ensure customer satisfaction.
With Zonka Feedback, you can automate this whole process. It sends you automated feedback notifications based on the criteria set by you like a low CSAT rating, low NPS score, or negative feedback. This enables you to take actions in real-time to fix things up and improve the customer experience before it's too late.

4. Auto-Tagging Survey Responses
Customer Experience Automation also allows tagging relevant teams and employees with survey responses. With Zonka Feedback, you can set up automation to assign tasks to the relevant teams based on the feedback received so that appropriate action can be taken on time to improve customer experience and prevent churn.
For instance, a customer has rated high effort in a CES score and the reason is difficulty in billing. In that case, your billing or Finance team would be tagged automatically so that they can look into the matter and make tasks easier for the customers.
Set Automated Workflows
Customer Experience Automation is not limited to a particular aspect of the business. Rather, it works throughout the entire workflow and includes setting automated workflows to carry on with various tasks smoothly without much human intervention needed. Here are some Customer Experience Automation and smart workflows that become automated.
1. Automatic Ticket Creation
Providing automated Customer Experience includes creating and assigning tickets automatically as the customer journey goes on. For instance, when customers' subscription is going to end, a ticket would be created for the relevant team to contact them and ask them to renew their membership. Similarly, with Zonka Feedback, you can set automation to create tickets automatically based on customer feedback for the relevant teams to follow up with the customers.
2. Automatic Follow-Up Surveys
With Zonka Feedback, you can send set automation to send automatic follow-up surveys to your customers. You can set criteria to send different follow-up surveys based on the customers' responses like negative feedback, low rating, positive feedback, high NPS, or simply a follow-up survey because of no response on the previous one.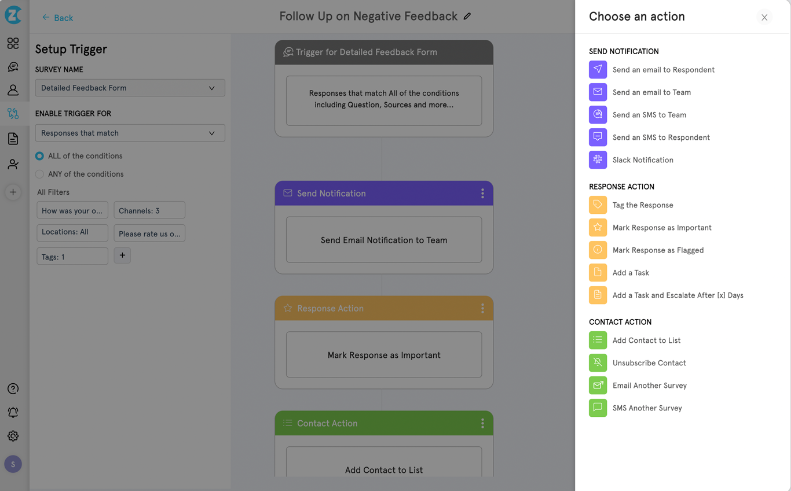 3. Survey Auto-responder
Zonka Feedback also lets you use auto-responder on customers' responses to your surveys. For example, if positive feedback or a good NPS rating is received, you can automate sending a Thank You email. For lousy feedback, you can set automation to send automatic follow-up surveys asking the customer what went wrong.
Now, let's explore some powerful integrations with Zonka Feedback that enable you to automate Customer Experiences.
Automation with Integrations
Zonka Feedback facilitates Automation through integrations with various types of useful tools for facilitating Customer Experience Automation:
1. CRMs
By integrating with CRMs like Salesforce, Hubspot, and Pipedrive, you can sync feedback data with customer data to enable your teams to get a 360-degree view of your customers, contact organizer, automate workflows, send automated email and SMS surveys, and add new leads and deals.
2. Customer Support
By integrating Zonka Feedback with Customer Support tools like Zendesk, Front, Freshdesk, Intercom, and Help Scout; you can know how your customer support teams are working to satisfy the customers. You can easily automate surveys just after an interaction, an issue resolution, or a ticket closure to collect customer feedback regarding the support provided to them.
3. Communication Tools
You can also integrate Zonka Feedback with your popular communication tools like Zoom, Webex, and Slack to run live polls, quizzes, and surveys during your virtual meetings, and measure employee and customer satisfaction. You can also automate surveys in your messenger, during a meeting, or just after a meeting to collect feedback or opinions of your team members based on the discussions in the meetings.
4. Productivity Tools
You can integrate Zonka Feedback with Productivity tools and email sequencing tools like Mailchimp, Google Sheets, Freshcaller, and Webhooks to align all your contacts, create tickets, add new leads, analyze survey responses, and create reports.
5. Workflow and Automation tools
You can also integrate Zonka Feedback with Workflow and Automation tools like Zapier and Integrately to integrate with thousands of other apps to create automated workflows and provide an automated customer experience. With tools like Airtable and Make, you can create attractive databases and visual workflows easily to automate repetitive tasks.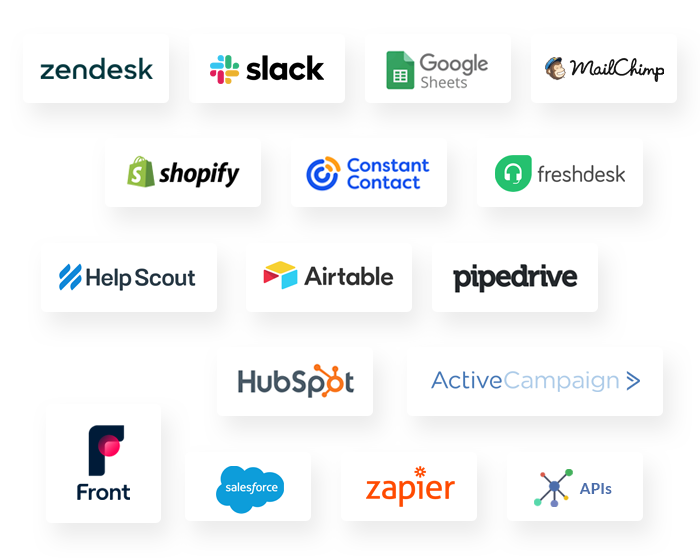 Conclusion
Customer Experience Automation is one of the best ways to provide personalized experiences to your customers without needing human intervention. With Zonka Feedback, you can easily set up automated workflows and tasks to manage and improve the overall customer experience.