Disengaged employees are bad for any business, especially retail, where customer service and customer experience are crucial for success. The biggest reason for this is that disengaged employees are typically unproductive employees.
According to the 2021 Gallup U.S. Employee Engagement Data, only 36% of US employees are work-engaged. This number drops to 20% for employees globally. As you can notice, there's definitely room for improvement.
So, let's jump right in and see how disengaged employees can damage your retail business and five things you can do to prevent this.
The Effects of Disengaged Employees on Your Retail Business
Disengaged employees can negatively affect retail businesses. The consequences range from low-impact ones like higher employee turnover to high-impact ones like a destroyed brand reputation. Let's see them all:
Lower Productivity and Profitability
Low employee engagement equals low productivity. And low productivity equals low profitability.
The link between productivity and engagement vs. profitability of an employee is visible in every industry, but especially retail – where customer satisfaction is of utmost importance.
If you look at recent Gallup insights, you'll find that engaged employees are, on average, 18% more productive in terms of sales, and increase profitability by 23%.
Higher Absenteeism Rates
There's a strong link between absenteeism rates and employee engagement. Calling in sick and getting sick days more often is among the first red flags you'll notice in employees that are losing enthusiasm.
So, if you notice higher absenteeism rates in some of your employees, they're probably lacking engagement and are there "just for the paycheck". These employees are also likely to quit sooner or without giving it too much thought as soon as they come across a more lucrative offer.
Poor Customer Service
Engaged employees typically provide much better customer service. As a result, you reduce the number of customers leaving empty-handed and boost your revenue and profitability. On the other hand, disengaged staff won't care much about making your customers happy and might even drive them away.
Higher Staffing and Acquisition Costs
Disengaged staff means higher employee turnover rates. Naturally, retaining an employee costs less than hiring a new one. So, as a result, higher turnover rates will result in higher talent acquisition expenses.
A Damaged Brand
In retail, satisfied employees double as brand advocates. Unfortunately, unsatisfied employees can do the opposite.
Ultimately, disengaged employees can permanently damage your brand and leave an image that's difficult to erase. Once you gain a reputation as being "untrustworthy", "impolite", or worse, it's hard to change people's minds.
5 Tips to Prevent Disengaged Employees in Retail
Now that you know the cost of disengaged employees for a retail business, let's see what you can do to prevent it:
1. Better shift scheduling
Shift working is a common practice in retail. According to a 2022 Pew research, the lack of flexibility to choose working hours was one of the top three reasons for employees quitting their jobs in 2021.
What's more, many retailers still schedule shifts manually, which results in inadequate work hours distribution, overlaps, missed shifts, and last-minute shift changes. All of this can be solved with technology.
For instance, good retail scheduling software can be of great help for bringing some structure into your retail workers' shifts. You can use such an app to automate shift scheduling, generate timesheets, ensure proper compensations, save time and money, and ultimately - keep your employees satisfied.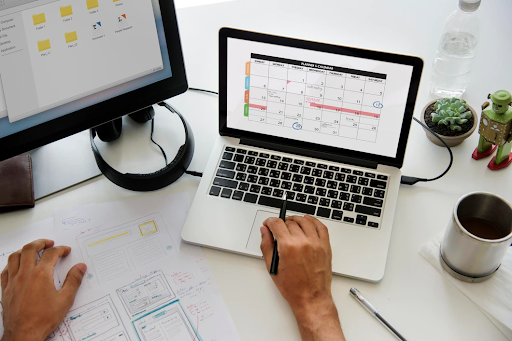 2. Implementing a customer feedback system
Implementing retail customer feedback software can help you understand people's experience with your brand and frontline staff. As a result, you'll be able to find areas that are lacking and act right away to fill the gaps.
This type of software can be especially useful for retail or eCommerce stores with multiple customer service agents in direct contact with buyers. It can help you understand which of your support agents provide a better service and which ones lack engagement.
You can create and send customer service surveys to gauge how your staff is behaving in the store. Even general retail survey questions can be asked to capture feedback about other aspects of your store directly from the shoppers.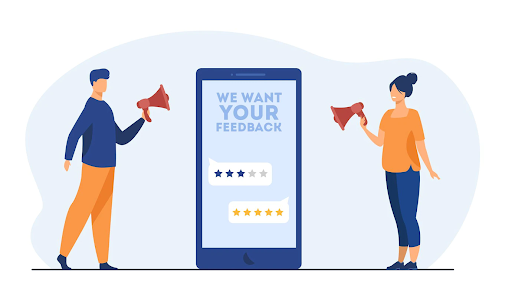 Listening to your customers is essential for success in retail. And, what better way to do that than consciously asking for retail feedback on every interaction.
3. Using technology for engagement
The next tip we have for you is to take full advantage of the latest technology and tools for staff engagement and retention in retail.
Here, we're talking about software and tools that directly engage your employees as well as tools that use data and analytics to help you track your staff's engagement rates.
For example:
Survey tools to collect your employees' feedback
Employee recognition tools to reward achievements
Goal tracking and performance monitoring tools
Onboarding tools to help new recruits
Communication software for internal use such as team building or meetings
A mobile-friendly shift scheduling app to allow instant notifications (in cases of last-minute changes)
Gamified solutions and friendly competitions for entertainment and engagement
Learning and development retail software for continuous education and career advancement
4. Timely recognition and praise
Give timely spot recognition to your top-performing employees. In fact, give kudos right then and there - on the spot.
Timely recognition, whether private or public, will greatly increase your employees' morale and give a boost to their ego, making them try even harder. Positive reinforcement works much better to create a feeling of a team and ensure people feel like a part of your company culture.
Here are some rewards and recognition ideas you can try:
A verbal praise
Monetary rewards (bonus, raise, etc.)
Goal or target-related contests (employee of the month or similar)
Other rewards (gift cards, event tickets, a weekend away reservation, extra vacation days, free courses, etc.)
5. Two-way communication
Last but not least, ensure that you have open, two-way communication with your retail staff. Your employees need to feel seen and heard, they need to know that their opinions matter.
Open communication is essential to transparency, staying informed, and getting retail feedback. According to recent Gallup data, solid company-wide communication is one of the four major drivers of employee engagement.
So, allow vertical communication where anyone can give feedback to a C-level executive. This will promote an inclusive and open company culture where everyone feels heard.

Wrapping Up
Working in retail means working with people. In this industry, employee experience and customer experience are closely related and impact each other. And it all starts with the employee. Unhappy employees equal unhappy customers; unhappy customers equal less profit.
Hopefully, this short guide will help you boost engagement and productivity, and prevent disengaged employees from killing your retail business.