In total, I've lived and worked in Delhi-NCR for around five years. And for my daily commute to Gurgaon, instead of getting stuck in traffic for hours, I generally use metro to reach office.
Presently, my travel time includes 1 interchange from Red Line to Yellow and usually, I am glued to my iPad's screen checking out the numbers we were able to achieve yesterday or the week before, and how can we improve them while listening to 'Pantera', 'Lamb of God', or some other (as people like to call it) noisy music blasting through my earbuds in the noise cancellation mode. And there are stations like 'Qutub Minar' when I actually turn them to transparency mode to save myself from the embarrassment of not listening to the announcement about the train terminating earlier than the last station.
As I did the same on August 26th, there was something about the announcements in the metro that was not a usual announcement. I heard that DMRC is running a Customer Satisfaction Survey and urging the commuters to fill the feedback form, and that the last date of submission will be August 28, 2022. And being a firm advocate of Customer Satisfaction Surveys, I just couldn't help myself but take that survey and pen down my thoughts about it.
Measure Customer Satisfaction and Improve Customer Experience🔥
Create customized surveys and feedback forms and take real-time feedback from your customers at all touchpoints.
So, I dug deeper into DMRC's overall initiative; its survey creation, respondents' accessibility, survey questions efficiency, what they did great, and how can it be made better. So, here' my detailed feedback on the DMRC Customer Satisfaction Survey 2022.
History of DMRC Customer Satisfaction Survey
DMRC's first week-long customer satisfaction survey dates back to almost a decade, in July 2013. And the idea behind it was very clear - to address and resolve the problems and inconveniences faced by the commuters.

The drive was conducted at 22 high-footfall stations, including Rajiv Chowk, New Delhi, Karol Bagh, Laxmi Nagar, Noida City Centre, Huda City Centre, and others. As per Mr. Anuj Dayal, the then Chief Public Relations Officer and current Executive Director of DMRC, the survey included seven aspects (accessibility, availability, information, quality of service, customer care, security, and comfort), all pertaining to the Delhi Metro services.

DMRC has conducted similar CSAT surveys every year since, to find out the relationship between the attributes of service quality (including tangibility, reliability, assurance, responsiveness, and empathy) and the overall customer satisfaction of Delhi Metro commuters.
The customer satisfaction survey conducted by DMRC this year is no different, and there are few things about it that are truly remarkable!
DMRC Customer Satisfaction Survey - Things I Liked!
DRMC, undoubtedly, has all the resources to incorporate positive changes in its services. The annual budget of INR 19,130 crore ($2.3 Billion), announced by the Finance Minister, Nirmala Sitharaman, is aimed at just that - to serve more than a million daily commuters taking 3.3 million trips.
Now that the Covid-19 curbs have been lifted and metro is back running at its 100% capacity, even if we consider a very conservative response rate of 10%, we should expect the total survey responses to be anywhere between 800,000 and 1 million in 28 days (August 1, 2022 - August 28, 2022).
Moreover, as a good brand awareness activity, I really liked the positive PR from many online news outlets to the likes of LiveMint, the Print, Indian Express, and other which had only good things to say about this initiative.
But that's just one side of the coin...
Being the Devil's Advocate - What Needs to be Improved?
1. Lack of Communication details just makes the process more Manual & one-way feedback
Although the DMRC survey can be expected to capture around a million feedback, it fails to capture crucial details of customers. Just asking the name and age bracket of the customer, although is a good way to run anonymous surveys but in this case where anonymity is not issue, it would be great to collect some contact details of the survey respondent.
With the current survey questions, DMRC will not be able to create user-specific feedback automations, and the entire feedback loop ceases to exist.
Without an active feedback loop where the users are notified how their feedback have resulted in a change, the survey data are merely numbers. This doesn't mean that the entire data collection is pointless but the survey efficiency takes a serious hit!
Possible Improvements:
Capturing contact information like Mobile numbers, email addresses, along with the name and age of the survey respondent that can help DMRC create better user personas. This also enables them to automate their feedback loop process, assign tasks to relevant team members for specific feedback, and most importantly, keep the respondents informed about the direct effect of their feedback.
Wouldn't that be something a taxpayer would be proud of?
And with a proper feedback tool in place, DMRC can, in fact, automate the entire process and close the feedback loop faster.
2. The Feedback Form is Barely Accessible to an Average Commuter
This one actually was something that DMRC could've done better!

While I was writing this article, the CSAT survey form was still available only on DMRC's official website, and that too in a sub-directory - www.delhimetrorail.com/corporate. Now, in order to access the form, the respondents first have to search and open the PR which are ranking higher, and then website and then move to the 5th section on that web-page too get a link of the DMRC CSAT survey form.

The good thing is they have a prominent section on their webpage after 4 sections. At first, even I was feeling like "Dora the Explorer" asking myself - "Where is the Survey?"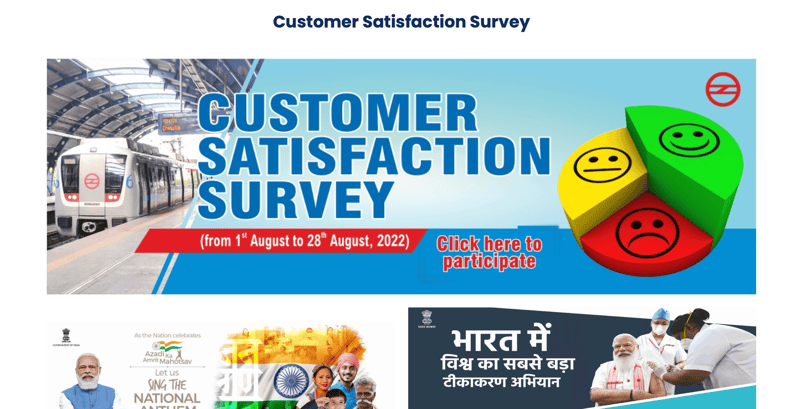 Honestly, in a metro, the commuter would rather continue watching that episode of their favourite Netflix series on their mobile phone than get into the fuss of searching and then filling out a feedback form.
Possible Improvements:
If you are running a month-long campaign, it'd be great to make it the highlight of your website in the root domain (the main DMRC home page). Maybe put a banner on top so that it's visible as soon as someone comes to your website.

This can also be improved by announcing the complete website link so that users can ensure that they are on the right page without wasting any time.

The most effective way to do this is by putting a QR code which I'll be discussing further in this article.
3. "Dear DMRC, You can have a Better Survey Design, Seriously!"
The survey form itself looks very dull. The UX of the form makes it appear like you're filling out a government job application, which in itself is a weird analogy, unfortunate but true!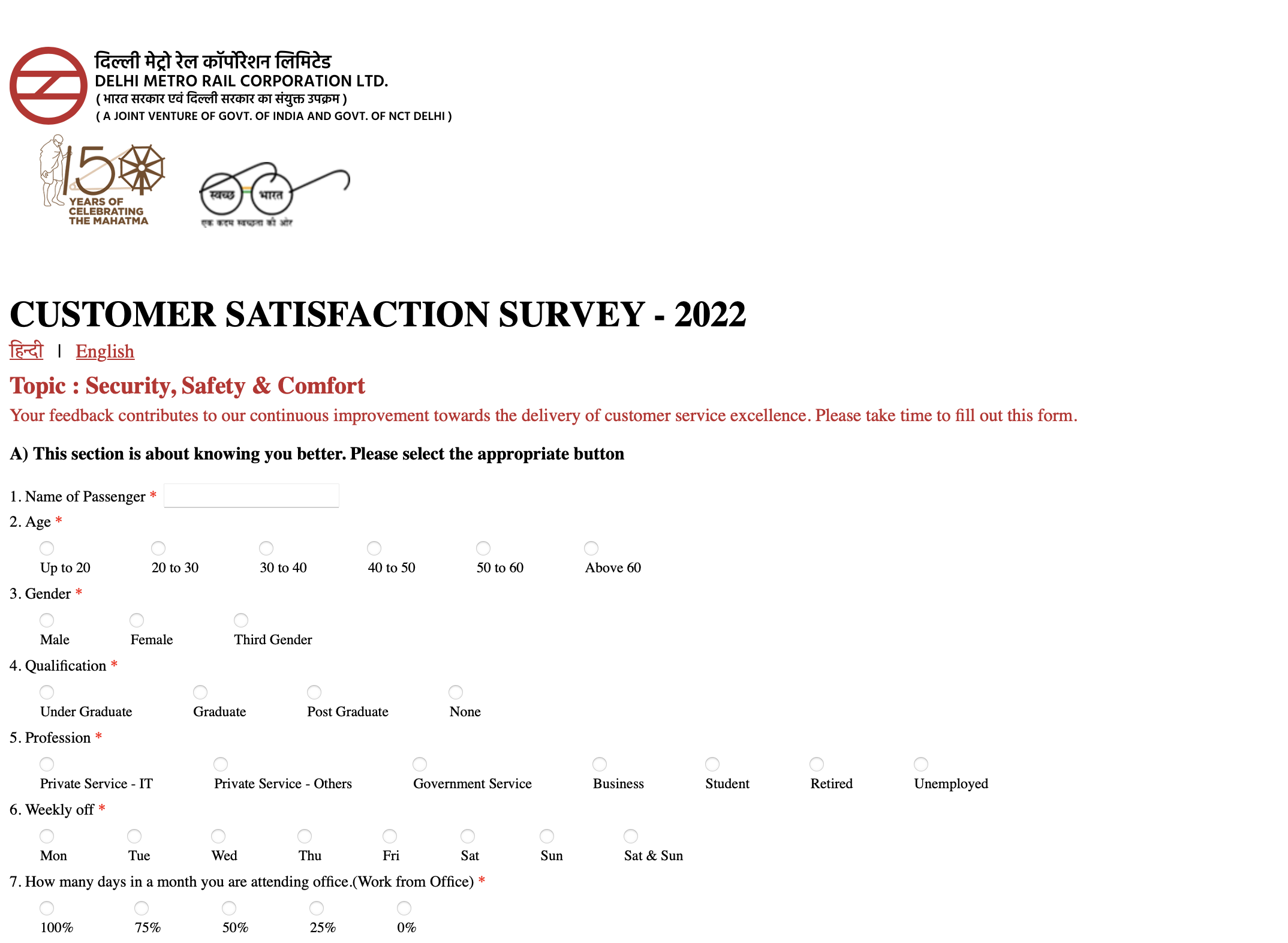 Another important factor to be noted here is that almost 100% of the commuters will be using their mobile devices to fill up the survey.

So, giving them a link to a webpage where the options they want to choose are too small to read will only attract a thumbs-down to the survey design.
Possible Improvements:
A survey with a good Survey design can do wonders in engaging the customers and seriously, it's not hard to make one.
4. Too Many Validations Lead to Survey Abandonment
Literally, no one wants to be compelled to answer a question they don't want to. Over 27% of survey respondents abandon surveys if they can not skip a question. The rate of such questions in the DMRC CSAT survey is way too high.

One of the examples would be of working days. While it's okay to ask about the working days of commuters, there are no data to evaluate the hybrid culture. The form further complicates things by giving only 'radio-button' options.


So, if someone wants to choose more than one option, they definitely can't. This makes the data invalid or incomplete, leading to ineffective response analysis.
There's another thing to note is that there are too many repetitions of similar questions, which only made the survey too long.
Possible Improvements:
For starters, replacing radio options with multiple-choice options can be a great way to get precise commuter data.

Another thing that can be improved is the removal of unwanted validations in every single survey question, instead letting the respondents decide what they want to answer.

To reduce the survey time which is a huge contributing factor in survey abandonment, a few questions could be avoided. One of the examples of repetitive questions in the survey form is -

- How much money per month are you spending on traveling?
- How much money per month are you spending on Metro Train Journey?

Here, keeping the option that is only related to the metro train journey can be more useful than the former. The money of people in Delhi metro is paid through postpaid and advance tax payment as well.
5. Lack of Smart Questions Related to Specific Routes Taken by Commuters
Expecting diverse feedback from diverse commuters traveling via diverse routes? So, why are there limited choices in the form? If DMRC wants to improve the customer experience on specific routes, it must offer the commuters a choice to select it.

The current format limits the data segmentation to just interchange routes with Airport Line at Dwarka -21, New Delhi & Durgabai Deshmukh South Campus Station, and makes it hard to get insights into the commuters' pain points on other routes.

Possible Improvements:
By introducing smart questions about specific routes that the survey respondents take, DMRC can collect more useful data that can be used for better user and route-specific survey data segmentation and give valuable insights into the experience at interchange routes and stations with high footfall.
6. The Survey Lacks Auto-Redirection After End of Survey
After completing the survey, the respondents are greeted with a 'Thank You' message with a black background, and....
"really Nothing".
This is how the 'Thank You' screen looks like: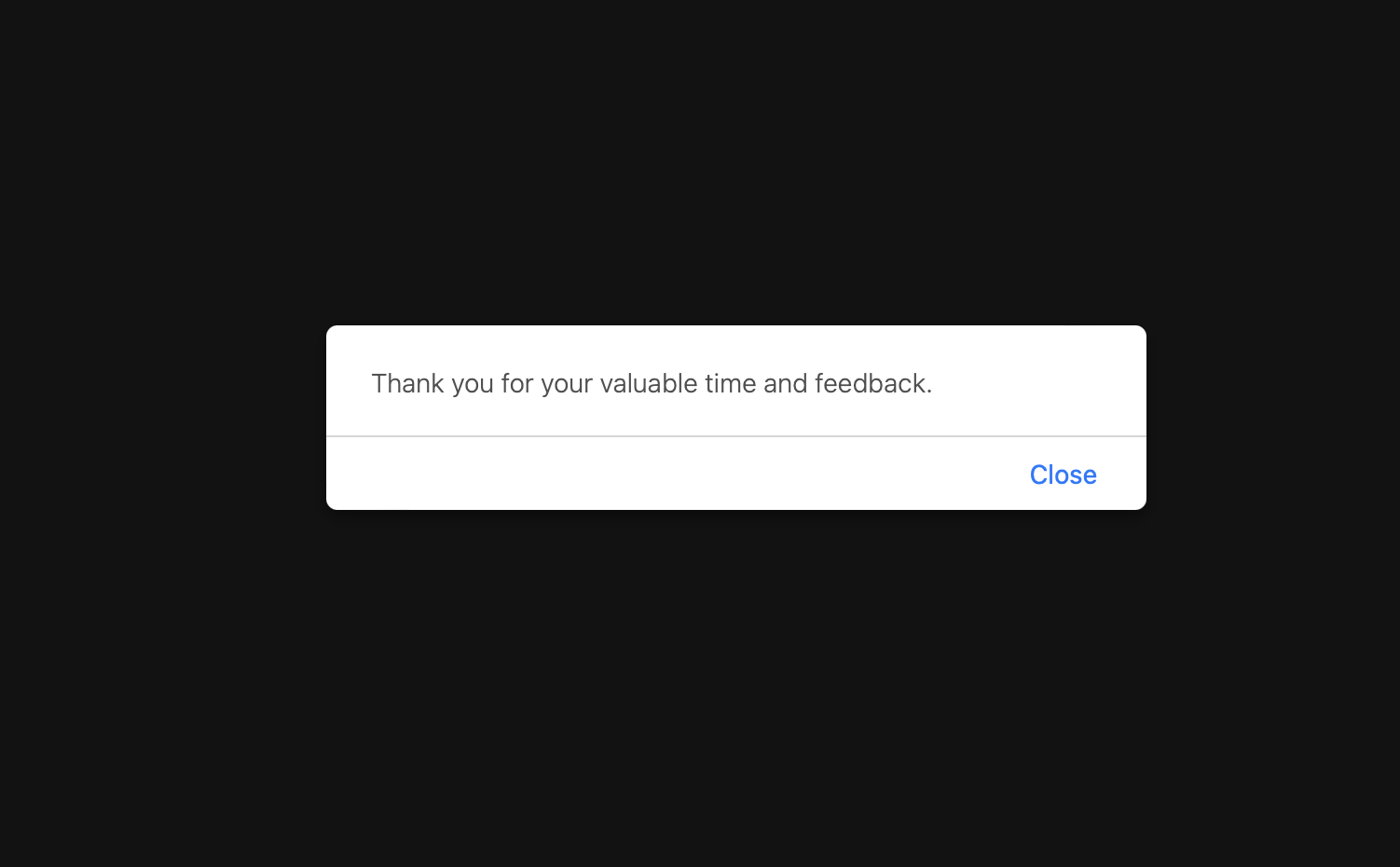 Once you click the 'Close' button, it takes you back to the feedback form. This flow completely takes away the feeling of fulfilment one might expect after doing something that already takes more time than the optimum survey time.
Possible Improvements:
The current process may work if it's a kiosk survey where you'd want to instantly open another survey form once someone has completed it.

But it's on the website, so it makes more sense to redirect the survey respondents to a page where they can get more information or any other thing apart from the black screen. Smart Survey Logics and Conditional redirection, in this case, can work great if you want to personalize your 'Thank You' message by expressing gratitude to the positive reviews or by apologizing for a bad one. And maybe, you can then redirect them to a relevant portal or a notice board wherein the users are guided or encouraged to take further steps.

For example, if a respondent has given an overall positive response, they can be redirected to the DMRC app store where they can download the app. And if they leave a bad response, they can be redirected to another URL where they are greeted with a message that says, "Thank you for your valuable feedback. Our aim is to give you a great experience and this feedback will really help us improve our services."
7. No Multi-Lingual Option Limits the Survey Responses
DMRC is one of the gems of Incredible India. It's a service available for literally everyone who is in Delhi. So, it goes without saying that Delhi Metro is taken by not just Indians but international users as well.
The average daily International Travellers in Delhi is 28,000 and has only grown since May 2022 whereas domestic travelers numbered somewhere around 151,000. DMRC's Customer Satisfaction Survey fails to acknowledge these numbers and is only available in English and Hindi.
Another thing to notice here is that there are many travelers who come from remote areas or different regions who might not call Hindi or English their first or even second language. So, this limits the responses to a very particular demographic, leaving DMRC with yet more limited data.


Possible Improvements:
Adding multiple language options for the respondents will not only promote inclusivity but also lead to a higher response rate. A multilingual survey will enable DMRC to target a wider demographic which can be good for efficient segmentation.
8. With Great Surveys Come Great Responsibility - Need for Real-time Survey Reports
No, this is not a reference to a Spiderman Movie but it does have a reference to the responsibility that DMRC might have to carry on their shoulders. Although a commuter is being asked to fill out the survey, there's no place where they can see the results or at least track live statistics.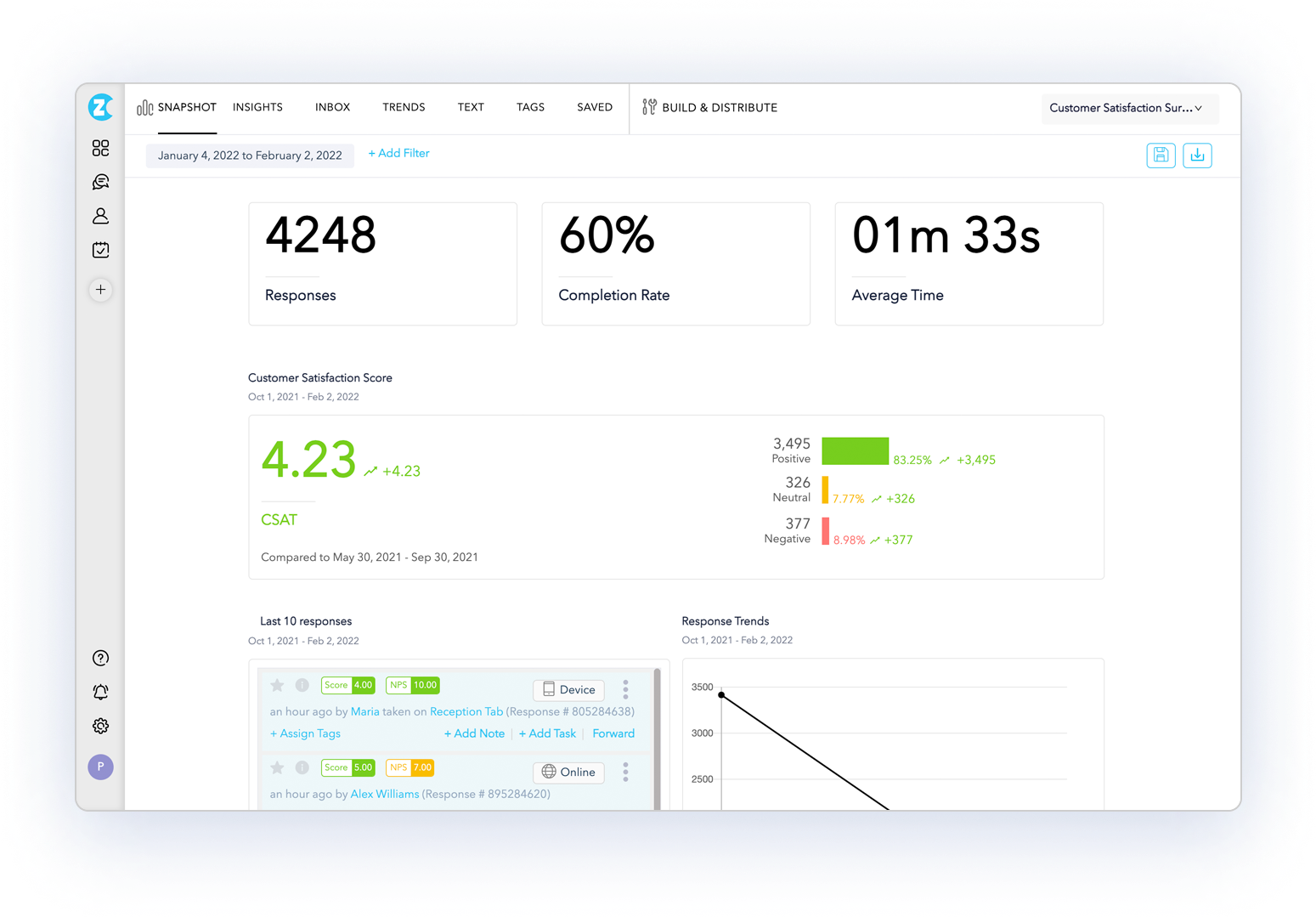 Delhi metro is a service for the people, paid by the people and a lot of tax payer's money is involved in it. There's an entire PR section on their official website where they keep updating the commuters about developments in the service.

Not adding survey reports such as 'how many people took the survey', 'number of positive and negative feedback', etc. takes away the joy or motivation from the people who'd think twice before putting their time into something that they might think is not worth it.
Possible Improvements:
As we said above, adding live stats around the survey can motivate the commuters to fill out the survey and also help in showing accountability towards the taxpayer's money. This could be a great practice when doing something on a scale like this.
What Could Have Been Different About the DMRC CSAT Survey?
Proper Use of QR Code Channels (QR Code)
DMRC already knows how to utilize its resources. They have a Himmat Plus QR code that is aimed at helping female travelers to report any kind of harassment, inconvenience, or abuse.

It's a good initiative but the problem is that upon scanning the code, one is redirected to the play store to download the Himmat Plus mobile app, and at this point, I believe we all know the current status of public Wifi in Delhi metro. Consequently, the usability issue actually defeats the whole purpose of Himmat Plus' instant help objective!

But on the other hand, DMRC, from next time onwards, can use QR code surveys to get feedback from the commuters. This can actually increase the accessibility and the response rate of the Customer Satisfaction Surveys multi-fold!
Other Use Case of QR code - Curbing Non-mask wearers
Although we may move into a little different segment altogether apart but I must put this one out too. Because another use case of a QR code could be curbing the problem of the "Covid is over" mentality. Many CISF officials and even a senior DMRC official have highlighted this issue. Although a mask mandate is there in place, it can be hard to keep track of commuters, let alone stop them from traveling if they are moving through high footfall stations without wearing a mask.

DMRC and its security personnel can benefit greatly from the QR codes as a channel for commuters to file complaints. As soon as someone scans the QR code and a complaint is registered, that complaint can be sent to the CISF personnel who can use the feedback time stamp and the in-metro cameras for faster and with-proof actions.
For non-smartphone users, helpline number, although not as fast or efficient, is an option that can still be considered.
Proper Placement of QR Code
Good part of the QR code Surveys is - it's a low-investment survey channel, however, it's placement is crucial! Currently, you can find the Himmat Plus QR code on top of the seats. Whether you want the commuters to report a wrong-doing or give you feedback, one cannot do that without looking weird.
Scanning a QR code while leaning over someone's head is actually really awkward (Yes, I actually tried it), especially when someone is traveling during peak hours and wants to report something without drawing a lot of attention. Instead, putting the QR code stickers on the seats makes more sense as most of the users point their phone cameras in that direction organically, making it more accessible.
Coming Back to the Point!
CSAT survey conducted by DMRC is and always will be a great initiative and shows accountability towards the commuters.
As rightly put by Lehtinen (1991) and Sasser, Olsen, and Wyckoff (1978), "various factors like security, consistency, attitude, completeness, condition, availability, and training of service providers are necessary to determine the service quality, also including physical quality, interactive quality, and corporate quality affect the level of service."

Another thing that could be changed about the survey is its frequency. Currently, DMRC is running it on a seasonal basis. Changing this frequency of the survey and doing it maybe after every quarter or in-fact keeping it live all the time can benefit both DMRC and all its loyal commuters like me.

With that being said, DMRC is still going to be my go-to mode of transportation as long as I live in this city as it is a huge time-saver, clean, organized, and more reliable than any other mode of transport.
If DMRC incorporates some, if not all, changes into their surveys like enhancing the survey accessibility, improving their survey design, personalizing their auto-responses and survey questions, automating their feedback operations, and increasing the transparency of survey reports and accountability towards commuters, we are not far from calling it the best metro in the world!