"We don't care what our customers feel about us," — said no business owner ever.
Modern businesses thrive on seamless customer experiences (CX). To deliver this hassle-free experience and maximize customer satisfaction, you need to be constantly aware of their preferences, pain points, and more.
Surveys are one of the most effective and easiest ways to take the pulse of your clients. A good survey can reveal gaps in your CX framework and outline opportunities for growth.
But here's the catch: your surveys can go unanswered if you don't design them strategically.
Elevate CX with Customer Feedback🔥
Collect real-time, in-moment feedback at all touchpoints in customer journey and leverage feedback insights to transform customer experience.
This guide will give you seven proven tactics to create surveys with high response rates. You'll find the best tips to increase audience participation from design to delivery.
How to calculate your survey response rate?
The survey response rate refers to the percentage of people who have completed a survey. This rate is calculated based on the total number of survey participants. Here's how you can measure your survey response rate:
Number of people completing the survey / Total number of people you shared it with x 100 = Survey response rate
Multiple factors can impact your response rate. Let's look at a few critical reasons that can make or break your survey participation:
Number of questions asked and division of open-ended and closed-ended questions
Information shared with the respondents regarding the subject and use of the survey
Incentives or rewards offered to the audience to encourage their participation
Ease of responding to the survey, including the clarity of instructions, type of questions, etc.
Now that you know these factors can impact your survey results, let's see how to use them to make your surveys more airtight.
7 best practices to maximize survey response rates
The most successful brands leverage customer advocacy to expand their clientele and accelerate growth. They pay close attention to their customer's expectations to fulfill these needs and turn them into brand advocates.
While surveys offer a great way to identify and understand customer expectations, here's the kicker: the average online survey response rate is 44.1%.
We've curated this list of seven best practices to help you break past low response rates and learn how to get people to take a survey. Let's dive in.
1. Use reciprocity to maximize responses
It's scientifically proven that people feel motivated or obliged to act when they receive something in exchange for it—known as the rule of reciprocation in psychology.
Businesses can use this principle to give respondents solid reasons for participating. If you're trying to optimize the customer experience for your B2B brand, here are a few ways to leverage reciprocity in your surveys:
Share a survey after onboarding new clients to identify any scope for improvement
Send an email survey after your support team resolves a query or troubleshoots an issue
Create anonymous surveys to collect customer feedback periodically after they renew their subscription
The idea is to attach a survey with every action where you help customers, like onboarding or answering questions. They'll feel encouraged to respond to your survey.
2. Create a strategy for incentivizing participation
Another best practice to increase the survey response rate is offering incentives. Good rewards motivate participants to take the survey and bring you enough responses—creating a win-win situation for both parties.
However, incentives can be a double-edged sword if you don't plan them well. You might spend too much on these incentives or miss the mark entirely and get less-than-expected responses. Besides, there's always a chance people will rush through the survey only to get the reward.
Here's some research-backed insight on incentivizing survey responses: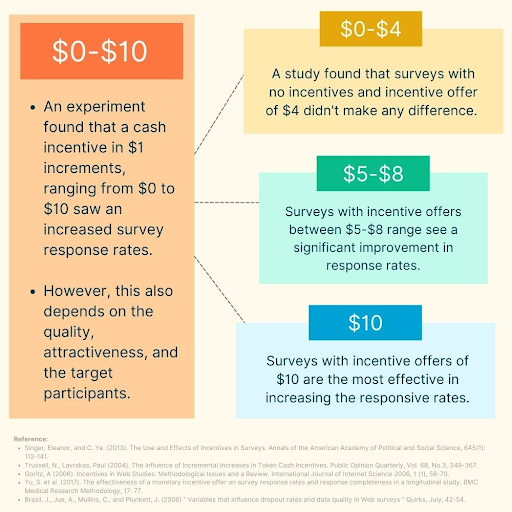 Here are a few tips to remember when strategizing your survey incentives:
Add a small incentive for every participant instead of creating a big raffle reward sent to just one participant
Choose the timing for your survey to decide whether you want to offer rewards before or after they fill out the survey
Determine the type of rewards you want to offer—monetary or non-monetary—based on your budget and target audience
Remember: you don't always need incentives to get enough responses for a survey. Go for incentives only when you want to reach a big audience.
3. Keep questions short and less open-ended
Let's face it, most people don't have the patience to read long, complicated questions and write their subjective views. These questions can make your surveys feel like a chore and discourage participants from completing the entire survey.
The overall length of your survey and the type of questions you ask can greatly affect your response rates. Make sure you keep the survey short. Avoid taking too much of your respondents' time since they'll naturally lose focus and leave their responses mid-way.
Besides, keep a majority of questions closed-ended with multiple choice answers. Add quick and easy choices instead of long and confusing options.
The goal is to make it a cakewalk for people to take the survey. So, design your questions and options strategically to keep things light and avoid pressuring your audience.
4. Test and select the best timing for your survey
Timing matters when you're sending surveys. If you want customers to take the survey, you have to narrow down the best chances of getting a response from them.
Research suggests that Monday is the best day to share a survey and hit high response rates, followed by Tuesday. On the other hand, Fridays have the lowest response rates of all days.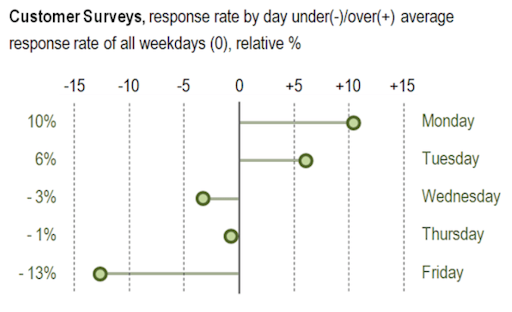 Based on this research, you can conduct tests with your audience and send surveys at different time slots on these two days. This will reveal what works best for your customers, setting a benchmark for all future surveys.
Besides, remember to send follow-up emails when you don't get a response from customers. These reminders can increase your odds of getting a response.
5. Design a multichannel survey journey
Creating a multichannel experience is a surefire way to maximize your survey response rates. Delivering your survey through multiple channels allows respondents to share their responses in any format.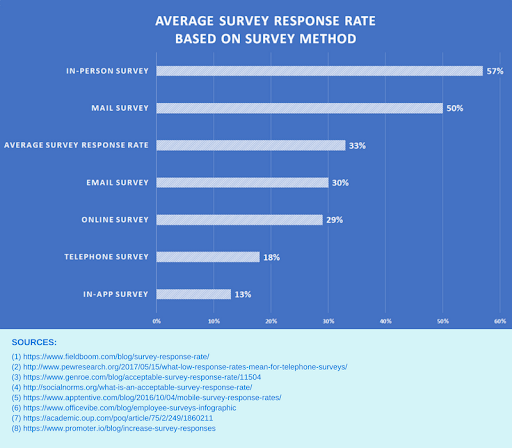 Here are a few survey collection channels to consider:
SMS: This is ideal for short surveys where you can directly ask a few questions via SMS texts or redirect them to the survey link
Emails: This is one of the most preferred channels where you can integrate surveys into your email marketing framework and set up auto-responders to engage your respondents
Website: Collect feedback from website visitors to map the scope of improvement via a short survey on the site
Mobile app: Send in-app surveys to get real-time feedback for specific features or gather customer queries
Landing page: Design landing pages dedicated to collect customer feedback
Offline and kiosks: Set up kiosks in public places to gather insights from customers in an interview format
With a feature-packed tool like Zonka Feedback, you can effortlessly collect survey responses from any channel.
You can design online surveys in multiple formats, like embeddable links, feedback buttons, slide-outs, and more. Alternatively, you can create offline surveys using Zonka Feedback's survey app and collect responses via kiosks, smartphones, tablets, and more.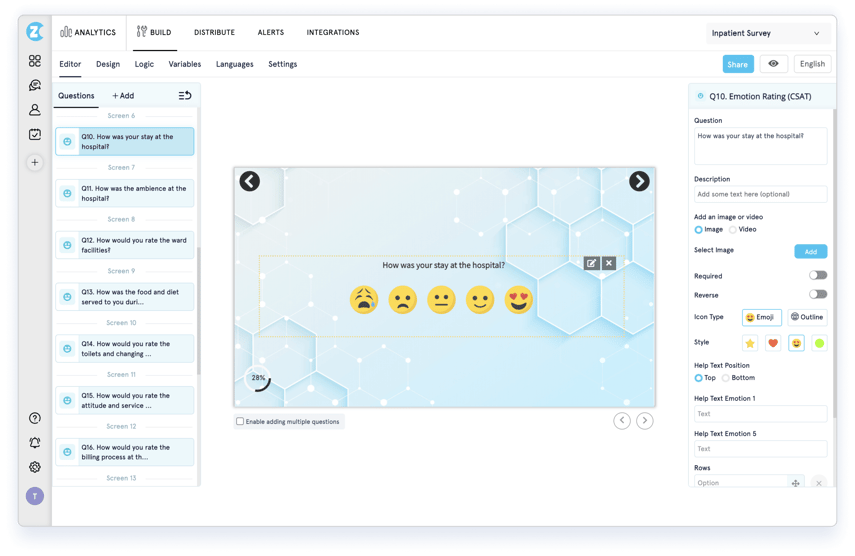 Before you decide which channels to use, research your target audience to see where they hang out the most. Their preferences will simplify the choice and set you up for more success. No matter which channels you choose, focus on retargeting respondents to enhance participation.
6. Go multilingual to widen the scope of participation
Language can be a limiting factor for surveys. By allowing your respondents to take the survey in their preferred languages, you can offer more convenience and incentivize participation.
Use customer segmentation to divide your customers into different language groups and create dynamic multilingual surveys with Zonka Feedback.
Zonka Feedback's multilingual surveys are easy to design and user-friendly. You can add a language screen or a button to let participants choose which language they want to respond in. The tool's built-in translator will seamlessly translate all the content to any chosen language, retaining the essence of your survey.
Zonka Feedback currently supports over 50 languages from across the world. You can also contact the support team to request a new language.
7. Share follow-up messages with respondents
We've already seen how surveys bring you closer to your customer's expectations and create opportunities to maximize the customer lifetime value. You need to collect and store all the data in a sales dashboard to leverage it for the right goals.
This is where you need a CRM like HubSpot or alternatives to track all responses and map them to the right customers.
Remember to send follow-up messages to all respondents via a report, email, or message. This is to thank them for taking the survey and show them how their input will make a difference for your brand.
Boost your survey response rates and gain better insights
If you're running a business, surveys are your best bet for getting ahead of your competition and fulfilling your customers' expectations. When done right, surveys can build a solid sales funnel by collecting new leads, qualifying prospects, and more.

More than that, quality surveys can become a huge differentiator for your brand. They set up the foundation to become a customer-centric brand. This quick guide is all you need to learn how to get people to take a survey.
With a powerful survey tool like Zonka Feedback to do all the heavy lifting on your behalf, you can design engaging surveys, deliver them through various platforms, and track results seamlessly. Try now to see the difference it can make!