With a large pool of SaaS companies and platforms appearing in the market, the SaaS industry has become more competitive than ever before in recent years. This has given more power in the hands of the customers to choose among the various alternatives available in the marketplace. And this choice is often based on the Customer Experience they receive.
When you are in the SaaS industry, it is vital for you to consider the most important aspect of your products and services, which is Customer Experience. If you ignore this aspect, it directly affects your business in an adverse way and ultimately makes it difficult for your brand to survive in the market, forget about growing your business and attaining great success.
So if you want your business to grow, you have to engage with your customers, collect SaaS Feedback, and follow strategies to improve your product, and do everything you can to create amazing customer experiences. In this article, we will learn some great ways to improve SaaS Customer Experience and take your business to the next level. Let's start by defining SaaS Customer Experience and exploring its importance.
Elevate your SaaS Customer Experience⭐
Measure User Feedback at various touchpoints in your product and use the User Insights to delight your customers.
What is SaaS Customer Experience?
SaaS Customer Experience is the sum total of every interaction your customers go through with your products and services, customer success teams, and the overall brand. It involves your customers' perceptions about what they go through at each touchpoint of their customer journey with your business.
SaaS Customer Experience includes customers' free trial experience, buying experience, onboarding experience, website experience, experience of encountering issues and their resolutions provided by your support agents, and everything that your customers go through while dealing with your business.
Let's explore why it is necessary to focus on building great customer experiences.
Why is SaaS Customer Experience Important?
Providing good Customer Experiences are vital for the growth of your business. If an amazing product brings in new customers, brilliant Customer Experiences are essential to make them stay with your business. Nowadays, customers consider CX to be the key factor that makes them stay with a business, even more than the product and price.
Studies suggest that 42% of the customers are willing to pay more for a great customer experience.
To understand the importance of Customer Experience, you first need to understand that the whole purpose of the existence of a SaaS business is to provide easy and convenient experiences to the users. Doing a SaaS business means you are selling Software as a Service, and there is no point in such a business where customers are not happy with that service. Using the help of SaaS development services, focus on creating a smooth and effective onboarding process, offering proper product knowledge and training, accessible self-help resources, and responsive support. Therefore, investing in top-notch SaaS app development is crucial to ensure a seamless user experience and customer satisfaction.
Building better customer experiences helps you achieve your business goals like:
Better Customer Loyalty and long-lasting customer relationships
Competitive advantage in the market
Reduced cost of acquiring new customers (as it is costlier than retaining the existing customers)
Better products and services, which eventually brings in more business and higher revenue
So it is not just an added advantage, but a necessity to provide your customers with brilliant Customer Experiences.
Let's learn some great ways to improve CX for your customers.
Top Ways to Improve your SaaS Customer Experience
Focus on building great Onboarding Experience
Provide Omnichannel Support to your customers
Collect SaaS Feedback from the customers
Leverage Feedback to improve your products
Measure and Improve Customer Support Experience
Provide Great Website Experiences
Measure Customer Success Metrics and work on them
Exceed Customers' Expectations to delight them
Let's learn more about these effective tips to improve your SaaS Customer Experience.
1. Focus on building great Onboarding Experience
'You never get a second chance to make the first impression.' - The quote by British writer Andrew Grant applies perfectly when we talk about customer Onboarding Experience. An Onboarding Experience can make or break a business because onboarding has a large impact on the overall Customer Experience.
So always focus on making your onboarding process smooth and effective for your customers. A good Onboarding process creates a lasting impression on the customers and they become more loyal towards your brand. You can take some simple steps to make your onboarding effective.
Always be welcoming for the customers as soon as they buy your product's subscription.
Provide proper product knowledge and training to your customers to make product usage experience smoother for them.
Provide knowledge sharing documents and make self-help easily accessible to the customers.
Provide good and adequate support wherever they need it to use the product.
Always collect Onboarding Feedback to ensure that they received a great onboarding experience, and make improvements whenever required.
Providing a great Onboarding Experience is essential to make sure that your customers should never feel that they have made a wrong choice by choosing your product or paying for its subscription.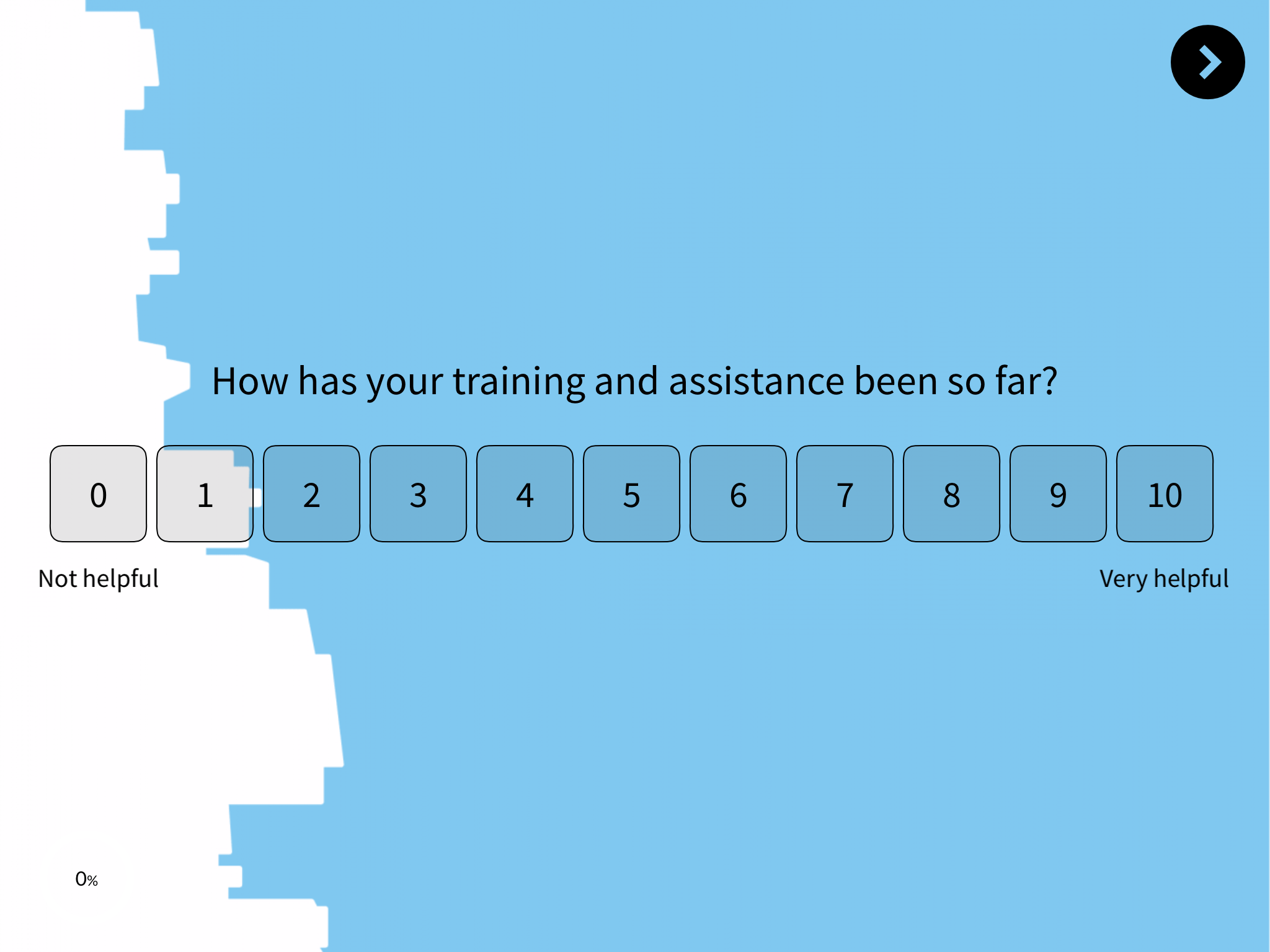 2. Provide Omnichannel Support to your customers
Many companies emphasize on marketing their products through websites and other channels and providing easy buying experiences to the customers. However, the market has risen a step ahead and now customers expect easy and quick support whenever they need and through the channel of their own choice.
This raises the need of providing Omnichannel support to the customers which means being available for the customers on almost all the available channels to resolve their queries and concerns. Already many companies are adopting an omnichannel approach and if you don't do so, it would be hard to withstand the competition.
Here are some common channels where you should make support available for the customers.
Self-service Knowledge Base - It helps the customers to resolve their issues on their own with the help of knowledge material like help articles, blogs, and details of your product on your website.
Email Support - Ensure that every customer email should be responded in the specified TAT (Turn Around Time). You can also automate email responses to acknowledge your customers that you have received their email and your team is working on their concerns.
Social Media - Do have a social media official handle on popular social media platforms like Facebook, Instagram, and Twitter. Respond to every query or concern that comes in the form of comments and mentions on social media.
Live Chat - Provide Live Chat support where your chat agents are present to do live chatting with your customers and provide them the support they need.
Chatbots - AI powered Chatbots or Virtual Assistant are also great and one of the latest ways to support the customers 24/7 on their common issues and queries.
Helpdesk - Provide a Helpdesk number to your customers where they can call and talk to your customer service executives to seek support in case of technical difficulties.
3. Collect SaaS Feedback from the customers
When you are done with Onboarding and the product users have finally started using your full-fledged product, making interaction, seeking support, getting queries, and concerns resolved, you should then focus on collecting SaaS Feedback from your customers. You can collect Customer Feedback at various touchpoints to know how the customers are feeling about the experiences they are having with your products and services.
Customer Feedback in SaaS is vital to improve Customer Experience because feedback is the only way to know how your customers perceive their experience with your products, services, and the overall brand. If you are not able to know whether your customers liked their experience or not, how will you improve it? Collecting real customer insights through feedback is any day better than doing guesswork and taking actions based on hit and trial methods. When you collect feedback, you get to know whether and how satisfied your customers are with your product and services. When you get this meaningful information, only then you can work in the direction of improving SaaS Customer Experience.
With the help of an effective SaaS Feedback tool, you can create effective surveys and collect feedback through multiple channels and survey types like,
Email Surveys
SMS Surveys
In-Product or In-App Surveys
Email Signature Surveys
You can send surveys both as Transactional Surveys which are triggered based on events and transactions done by the customers, as well as Relationship Surveys, which are sent periodically like monthly, quarterly, or annual surveys to track the ongoing customer relationships.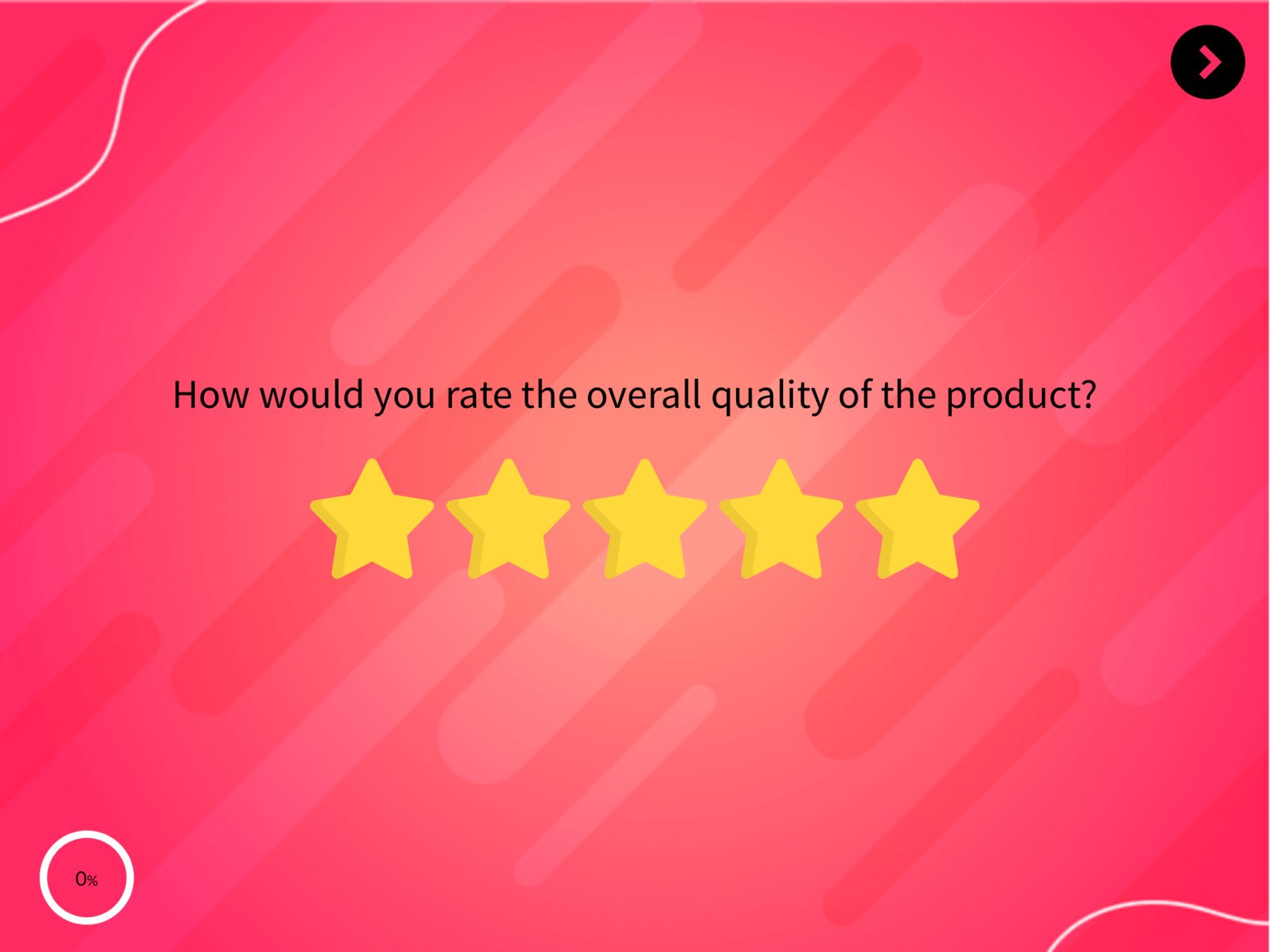 4. Leverage Feedback to improve your products
Now when you have collected Customer Feedback to improve Customer Experience, the next step is to take action on feedback.
Respond to Customer Feedback - Respond to every feedback you have received so that customers get to know that you are listening to them and taking them seriously. Thank the customers who shared positive feedback, ask for suggestions from the customers who shared neutral feedback, and ask them what you can do to improve their experience, and apologize to the customers who shared negative feedback. Ask them where things went wrong and take appropriate actions instantly to improve Customer Experience.
Identify Areas of Improvement - Analyze all feedback data and identify the key areas of improvements in your product. Look for the common issues that most of your customers are facing. Set your priorities and categorize those issues into 'easy to be done actions' and 'actions requiring more effort and time'. Then work accordingly as per priority and ease of taking action.
Look for Customers' Suggestions - Look for valuable suggestions you may have received in the feedback data. Although, you cannot follow every suggestion, you can politely deny where you can't do it. However, look for suggestions that you can follow and which can actually help you improve your products and services for the customers.
Keep Your Customers Informed - Always keep your customers informed about the progress on their feedback and the actions you are taking. Focus on closing the feedback loop effectively. If you are following some good suggestions, and making changes to your product for betterment, do inform personally to those customers who shared those suggestions. This will make them feel really good!
5. Measure and Improve Customer Support Experience
When we talk about SaaS Customer Experience, it is not confined to your product only. It also includes the Customer Experience with your Support Team. So don't forget to collect Customer Feedback about every customer interaction with your support team. Also, don't forget to collect the data in the support ticket. There may be some executives who are rude to the customers, or some who couldn't help the customers due to lack of process knowledge. Maybe your customers had to wait for long to reach your executives and directly have a word with them, which would have added to the frustration of your customers.
Customer Support Feedback will help you find such issues and track the overall performance of your support team and service executives. Identify such issues and loopholes in your support process and take action like better training of employees and easy IVR options to seek human support in order to make your support services better for the customers.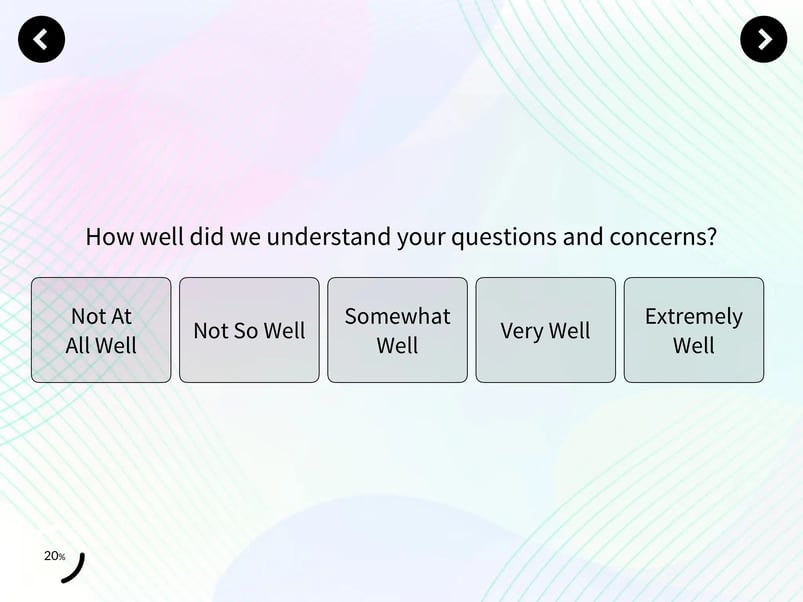 6. Provide Great Website Experiences
Website Experience is one of the core experiences of your SaaS users. Whenever your customers explore your product, your website is the first thing most of them look for. It is the basic source of information to educate the customers about the product. So it is essential to focus on the website experience as well.
The design of the website must be attractive enough to engage your website visitors. Make sure that your website is not overloaded with unnecessary pop ups and advertisements that hamper your visitors from getting the information they need. Also make all the information easily available to the customers so they find what they are looking for.
With the help of an effective and multichannel Feedback Software, you can also collect Website Feedback to gauge and improve Website Experience of the visitors.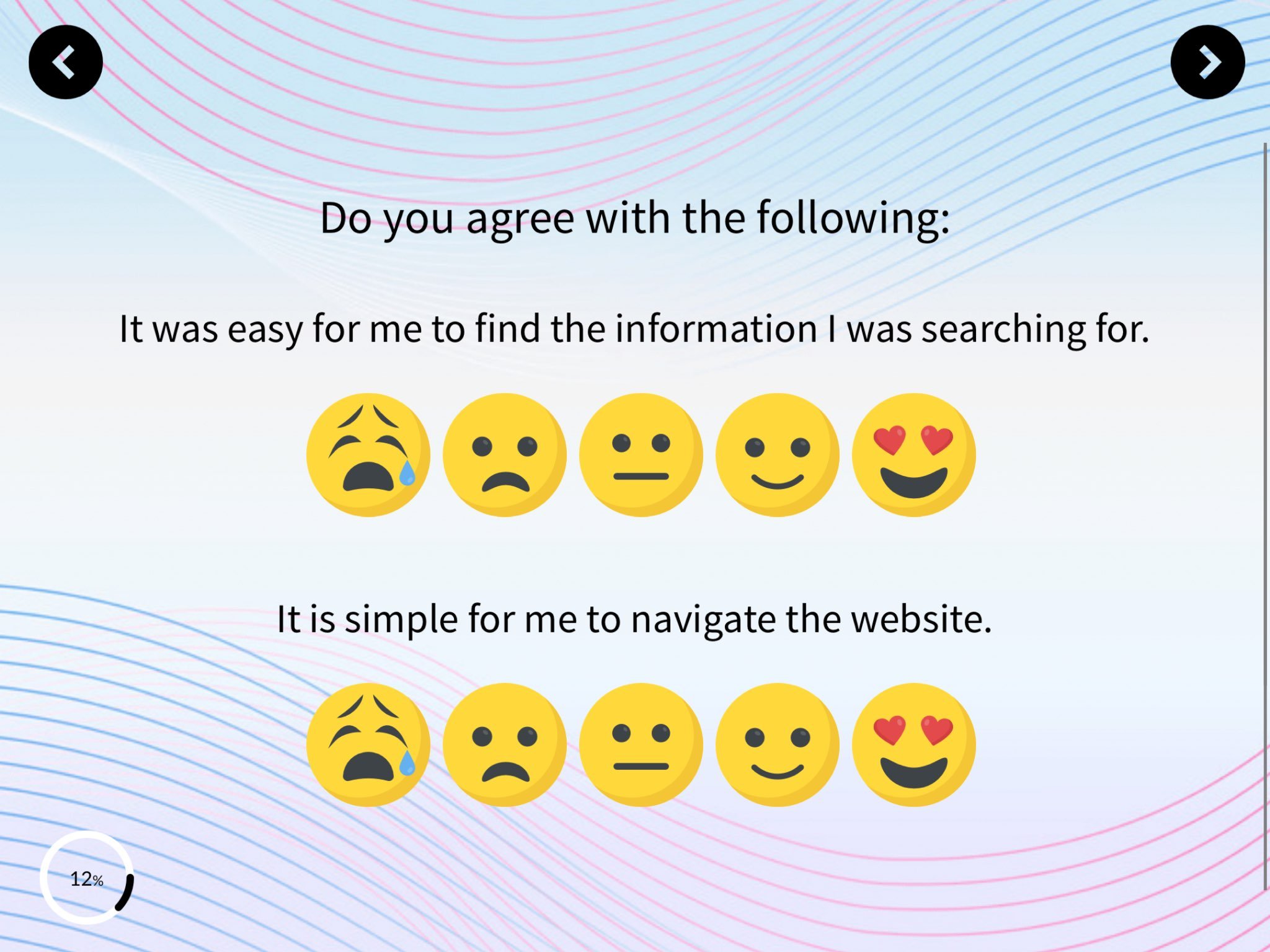 7. Measure Customer Success Metrics and work on them
Customer Success Metrics are a great way to gauge Customer Experience. With the help of powerful CX metrics like NPS, CSAT, and CES; you can easily measure Customer Loyalty, satisfaction, and customers' perceived efforts to get a job done.
Net Promoter Score (NPS) - NPS or Net Promoter Score is one of the most common metrics that help you gauge Customer Loyalty by simply asking your customers to rate their experience on the basis of their likeliness to recommend your product or business to their friends and known ones on a scale of 0 to 10.
Customer Satisfaction (CSAT) Score - Customer Satisfaction (CSAT) score helps you measure customers' satisfaction levels with respect to your product and services, and their various aspects by asking them to rate their experience on a five-point rating scale.
Customer Effort Score (CES) - CES or Customer Effort Score helps you measure customers' perceived efforts to get their job done and issues resolved while using your products and services. In a CES survey, customers are asked how much they agree that your company helped them enough to handle their issues.
8. Exceed Customers' Expectations to delight them
Customer Satisfaction is necessary to survive and grow in the market, but when you want to create amazing experiences in a competitive market, you have to rise above mere necessity and provide more to the customers. Here comes the need of ensuring Customer Delight. When you do more than expected to exceed customers' expectations, it makes them delighted.
This feeling of being delighted induces loyalty among the customers towards your business and creates long-lasting relationships with them. You can adopt simple techniques to reach customer delight.
Provide discounts and small free bees like an extended validity, latest feature for free for some days, discount on subscriptions.
Reward your loyal customers with discounted membership prices, and small coupons.
Provide extraordinary support and services to the customers. Train your support team to be more polite and serving for the customers.
Provide extremely user-friendly website experience to the customers so that they can easily get the information they need and help themselves from your website.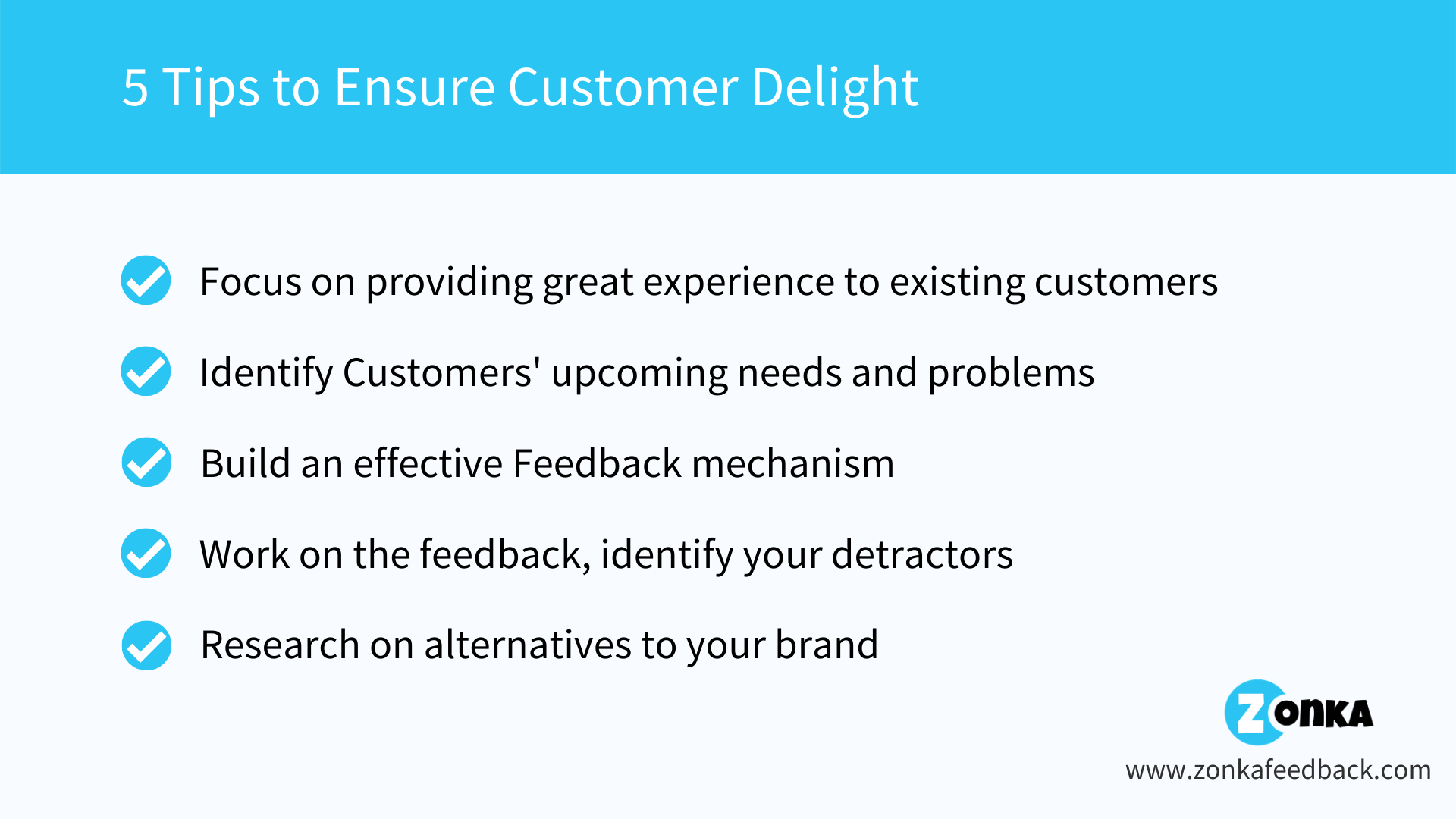 Conclusion
Customer Experience is the core of your SaaS business. If you want to grow your business, you have to keep making efforts to improve your customers' experiences continuously. To know how they perceive their experience, it is a prerequisite to collect Customer Feedback.
You should use an effective SaaS Survey Software like Zonka Feedback to collect Customer Feedback. It helps you easily create powerful feedback surveys for all touchpoints in the customer journey, and share them to your customers across multiple channels. It also helps you take action on feedback and close the feedback loop effectively to improve Customer Experience.
It also offers a free trial for 7 days. You can try Zonka Feedback for free and see how it works for your business.