Ensuring a great User Experience is essential to be successful when you are into SaaS business. To ensure an awesome User Experience, there is one essential thing that is common in most successful companies. What is that? You'll say it's a great product. Of course, it is! But great products are not developed in isolation. So how will you develop products that your customers love? The answer is, by collecting Customer Feedback and developing your product in line with feedback.
So the most successful companies always listen to the voice of the customers by collecting SaaS Feedback. Feedback helps you to know your customers' needs and expectations and how well your products are able to meet them. By working on the feedback, you can make improvements and develop better versions of your product. This improves the overall User Experience with your product and you reach the heights of success.
In this article, we will learn how you can leverage Customer Feedback to improve the experience of your product users and make your product more lovable among your customers and thus more successful. Let's start with exploring why Customer Feedback is necessary for your business.
Elevate your SaaS Customer Experience⭐
Measure User Feedback at various touchpoints in your product and use the User Insights to delight your customers.
Why is SaaS Feedback Essential to collect?
Customer Feedback in SaaS is necessary to understand user experiences. But it is not all about just understanding customer experiences, but also what they actually want from your product. Here are some more reasons to know why SaaS Feedback is essential to collect.
Reasons to Collect SaaS Feedback
Identify the issues faced by the users
To convey that you care for customers
To understand about customers' needs
To create amazing user experiences
1. To Identify the Issues Faced by the Users
Customer Feedback helps you know how your product is working for the users. With feedback,you are able to identify the customers' concerns and the issues they face while using your product. There can be a bug or any other problem that's troubling most of your customers. It's important to identify such problems and resolve them before they entirely ruin your customers' experience and provoke them to switch to your competitors.
2. To Convey that you Care for Customers
Asking for Customer Feedback is a medium to convey to your customers that you care for them. When you collect feedback and take action on it, it shows them that you listen to the voice of the customers and their opinion matters to you.
3. To Understand Better about Customers' Needs
Customer Feedback is not only a way to know customers' problems, but it also helps you understand better about their needs and expectations with your product. With feedback, you get to understand what their idea of an ideal product is and how you can fulfill their expectations.
4. To Create Amazing User Experiences
When you collect feedback and take action to resolve customers' issues, it improves their user experiences. Moreover, when you get to know their expectations and understand what they actually want, you can work in the right direction to improve your product and create amazing experiences for your product users
Let's explore what type of User Feedback you should collect to improve User Experience.
Types of User Feedback you should Collect
Product Review Feedback
New Feature Feedback
Customer Support Feedback
Bug Reports
Feature Requests
1. Product Review Feedback
Product Review Feedback involves the experience that you customers have with different aspects of your product. In a Product Feedback Survey, you can ask the customers to rate your product on several parameters like speed, ease of use, features, value for money, and more.
2. New Feature Feedback
Whenever you add a new feature to your product, you should collect New Feature Feedback from your customers. It will help you track the performance of the newly added feature and whether and how much is the new feature able to satisfy your customers.
3. Customer Support Feedback
Customer Interactions with your support team are a great way to know what your customers feel about your product. If a customer has some issues or concerns, they should be resolved immediately to improve Customer Experience.
And when an issue gets resolved or a ticket is closed, you should collect customers' feedback about their experiences with your customer success teams and how well your team was able to help the customers. Maybe one of your executives is rude to customers, maybe one of them can be incompetent to solve their problems. Customer Support Feedback. Helps to track and control all such issues, and improve your customer support process.
4. Bug Reports
Bug Reports provide you a clear insight of the problems that customers face while using your product and create a hindrance in their product usage. Bug reports help your product developers know about the product issues, resolve them, and create better versions of your product.
5. Feature Requests
Feature Requests are the requests made by the customers for product features. Feature Requests help you know what exactly your customers want from your product, and which features they like. But you cannot implement all the feature suggestions from your customers. You need to analyze every Feature Request and then see which feature suggestions you can follow.
Let's explore the ways to collect Customer Feedback to improve your product.
Ways to Collect SaaS Feedback
Email Surveys
SMS Surveys
In-Product Surveys
Product Usage Data
Product Reviews and Ratings
Social Media Engagement
1. Email Surveys
Email is a commonly accepted and the most popular method of digital communication. So why not use this medium to send your SaaS Feedback Surveys! Send email surveys to your customers to collect feedback about your products and services. You can easily create and send email surveys with the help of an effective SaaS Survey Software. You can send email surveys in two ways, viz., Embedded Email Surveys and Email Surveys with Hyperlink.
In an embedded email survey, the first question of the email is embedded in the email body itself and is visible to the customers when they open the email.
In an email survey with hyperlink, a survey invitation message is written in the email body followed by a survey link which redirects the customers to the survey when they click the link to take the survey.
2. SMS Surveys
SMS is another medium that has a stunning open and read rate of 98%. With the help of a good survey software or app, you can trigger both email and SMS surveys based on criteria set by you. You can use Transactional as well as Relationship Surveys.
Transactional surveys are sent as and when your customers perform a certain action or transaction on your product or at a particular touchpoint like after completion of free trial or onboarding process. Relationship surveys are sent periodically like weekly, monthly, quarterly, or annual surveys to track your relationships with your customers. These surveys help you know customers' issues and concerns and resolve them on time to maintain good customer relationships.
3. In-Product Surveys
When you are collecting feedback about your product, what can be better than in-product surveys. In-product surveys are those that are shared with customers while they are using your product. In-product surveys can be shared in the form of survey popups, feedback buttons, and slide outs on your website, product or app.
Survey Pop ups appear on the screen automatically while your customers are scrolling on your website or web pages in your product or app. The customers can choose to click them and take the survey, or just close them and continue their work.
Feedback Buttons are applied on your web pages at a certain place where they are easily visible to the customers without hampering their work or product usage. These buttons are usually represented with a one-word name like 'Feedback'. You customers can click these buttons and a feedback popover survey will open where they can share their feedback and submit the survey responses.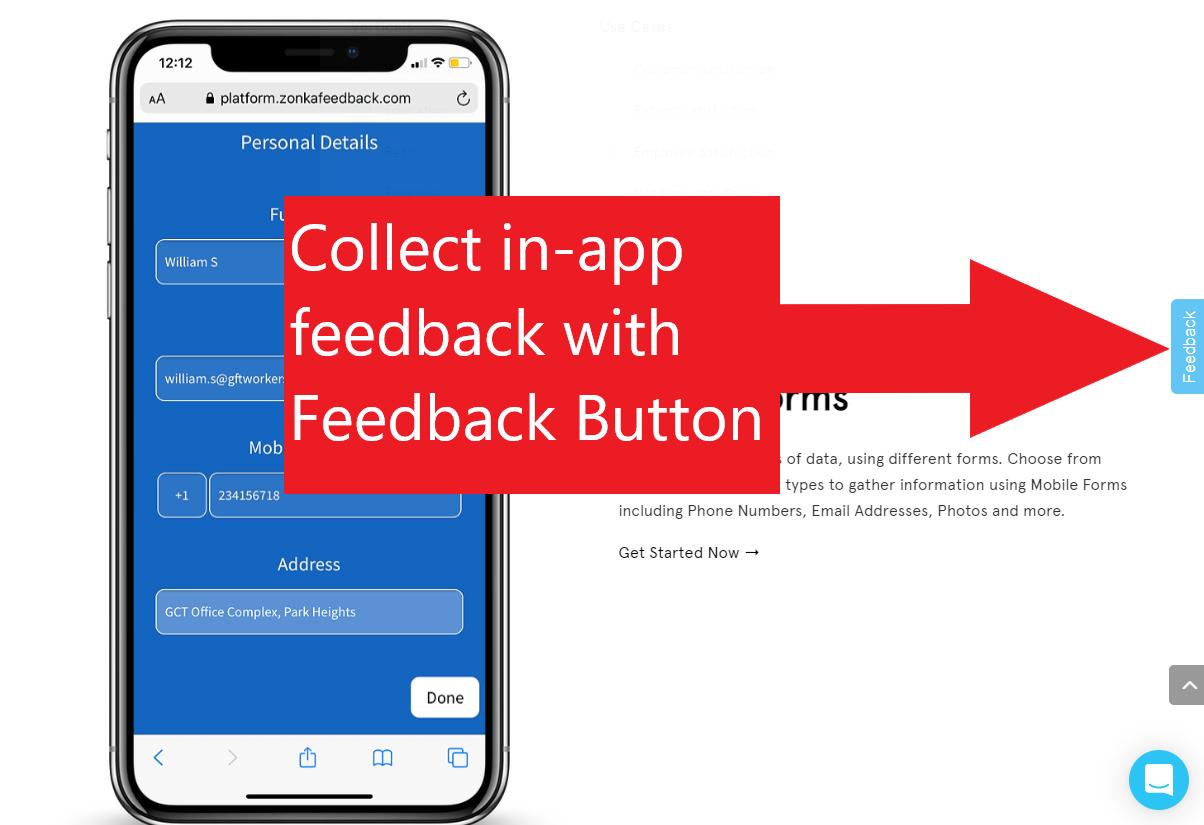 Slide Outs are also represented like survey buttons at the side of your webs pages visible to your customers. When the customers click them, a survey slides in the web page where your customers can share feedback and submit their responses.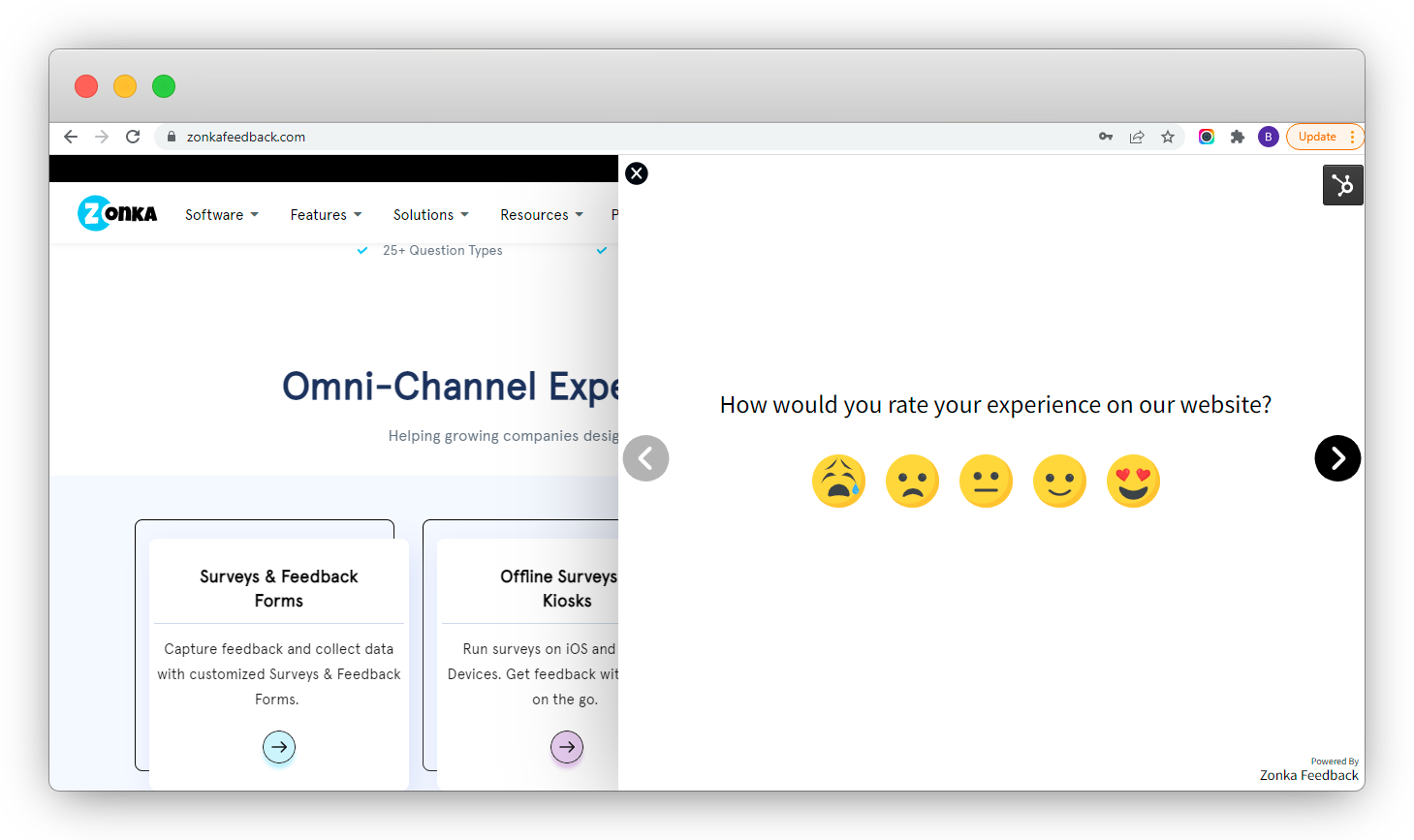 4. Product Usage Data
You can also use Product Usage data to collect Customer Feedback. Sometimes customers themselves don't know exactly what they want from your product. And sometimes, they get dissatisfied with the experience and churn without sharing feedback. In such situations, you can use Product Usage data and customer interaction data to understand what they need from your product.
5. Product Reviews and Ratings
Product Reviews and ratings on popular aggregator platforms are an important source of Customer Feedback of your product. So you should have a look at the user reviews shared by your customers on those platforms to collect Customer Feedback. You can also respond to the comments and feedback shared on these platforms to show more engagement and responsiveness to your customers. Ensuring you get the right help from the experts is also a smart move especially if you are running a new software. Opting for Toptal alternatives to ensure excellent customer satisfaction in using your product software is one way to elevate customer experience.
6. Social Media Engagement
Social Media has become a common medium for customers to vent out their feelings about products and services they use. So it is important to be present on social media. Create social media handles on popular platforms like Twitter and Facebook to see what your customers share about their experiences with your product. Although, following every suggestion is not possible but try reverting back on every comment and resolve your customers' issues.
What to do with SaaS Feedback?
So you collect Customer Feedback using the above methods. Now the question arises how to utilize that feedback to improve User Experiences. The answer is by taking action on the Feedback and Closing the Feedback Loop effectively. Closing the Feedback Loop involves responding to feedback, taking actions if required, and informing the customers about what you have done for them.
Thank the customers who share positive Feedback with you. Show gratitude to them for spending their valuable time in sharing feedback and appreciating your product.
To the customers who share neutral feedback, ask them what more you can do or how you can improve your product to make their experience more delightful. Always be open to suggestions and follow which seem feasible to you. For those suggestions that are not feasible, politely deny and if possible explain the reason why you can't follow it.
Apologize to the customers who share negative feedback and ask them what they didn't like about your product and their experience with it. Do everything you can do to resolve their issues and improve their experience.
When you have taken appropriate actions to improve User Experiences, do tell them about this. Either you resolve an issue, or follow a suggestion and make changes to your product, always communicate personally to the customers who shared their concern or suggestion regarding that. This gives them a great feeling and drives customer loyalty towards you and your product.
Some Common Challenges that Businesses Face while Collecting SaaS Feedback
Obtaining accurate feedback with a high response rate to your feedback surveys is challenging. Here are some common challenges that companies face while collecting SaaS Feedback.
1. Convincing Customers to Share Feedback
Convincing customers to spend time on filling up survey forms and sharing feedback is a challenge for almost all companies. So always make your surveys short and simple that do not consume much of your customers' time. You can also use metric surveys like NPS, CSAT, and CES surveys. These are couple-question surveys which just ask the customers to rate your product and the reason for that rating.
To ensure maximum responses to your surveys, write completing messages to invite the customers to take the survey. Always mention the approximate time taken to complete the survey (which should be as short as 1 to 4 minutes) so that the customers already have a perception of the time to complete the survey and they don't leave the survey in between. You can also share a progress bar so that your customers can know how many surveys they have completed.
2. Centralizing and Analyzing all Feedback
Another challenge is to centralize and analyze the whole lot of feedback data to find meaningful information and feedback trends.
To overcome this challenge, you should use an effective SaaS Feedback Tool like Zonka Feedback that is powered with advanced analytical and reporting capabilities to help you centralize all data, view it in one dashboard and in the form of various reports like Trends Report, NPS Report, Snapshot Report, and more.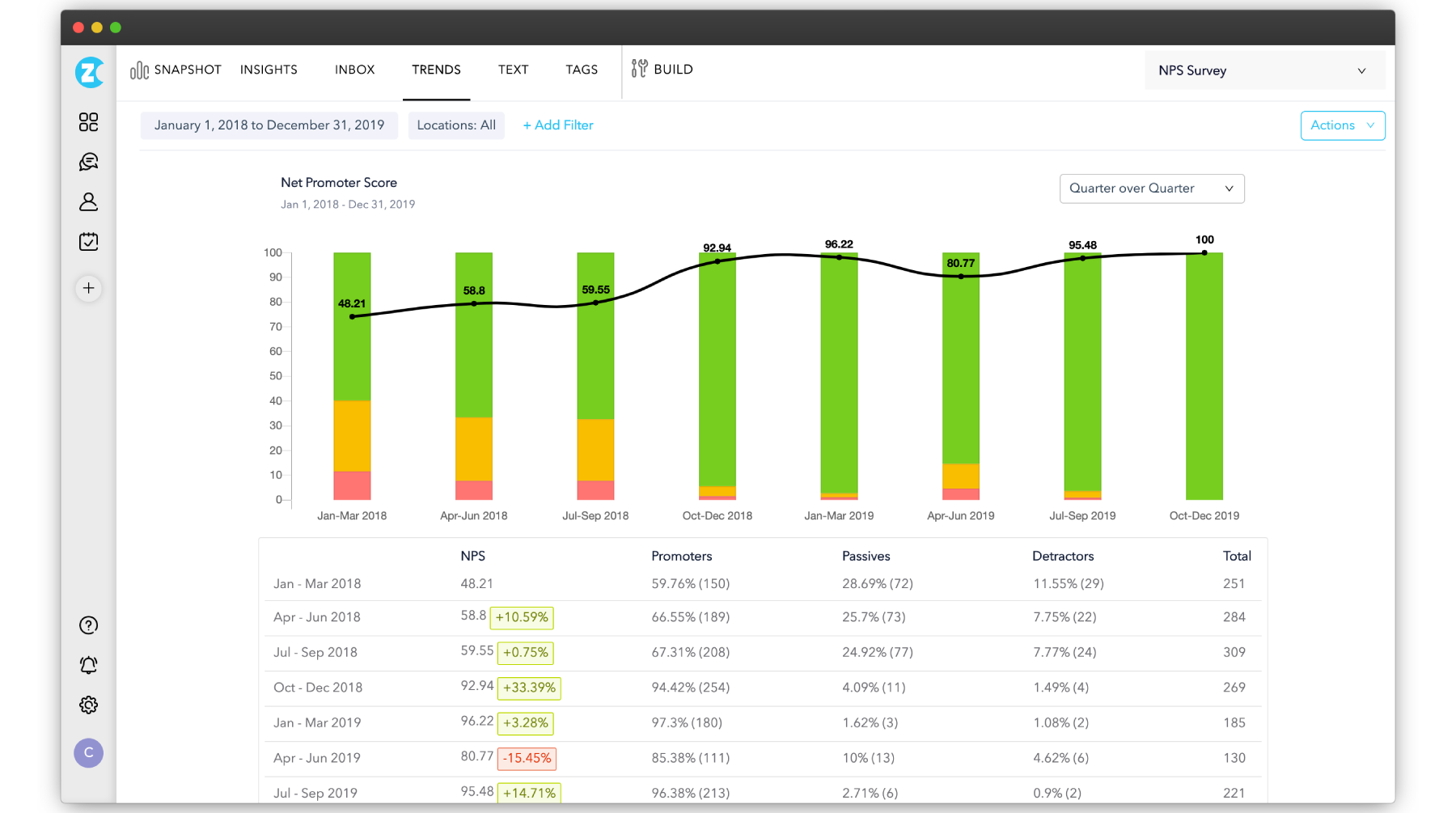 3. Understanding Unclear Feedback
Sometimes the feedback that the customers share is vague and not clear to understand. Understanding exactly what your customers mean can be a challenge in such survey responses. The key is to include maximum close-ended questions in your feedback surveys so that customers can respond simply by choosing one of the available options. However, one open ended space is also necessary in your surveys to let customers share their feelings in their own words.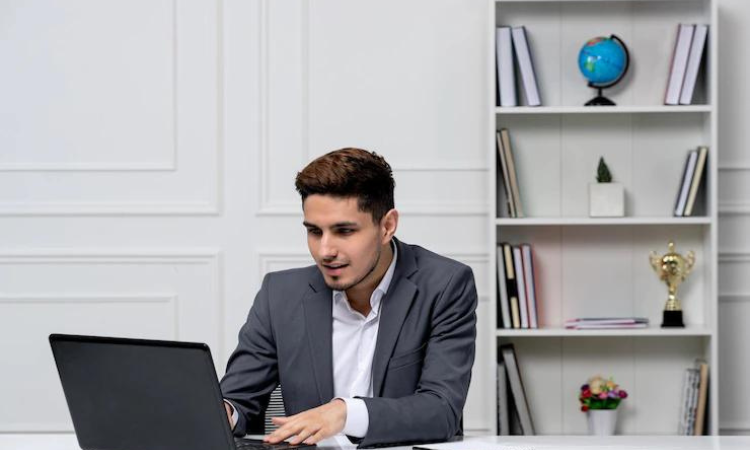 4. Implementing Customers' Suggestions
You can receive N number of customers' suggestions when you ask for Customer Feedback of your product. Implementing every suggestion is impossible, so you can't truly satisfy all customers with suggestions. The key is to acknowledge all the suggestions shared by the customers, whether you are going for them or not. If you are going for it, it will create delightful experiences for your customers who shared them. However, if you are unable to follow their suggestions, politely deny them and explain to them valid points why you cannot work on their suggestions.
Leverage SaaS Feedback with Zonka Feedback
Zonka Feedback is a comprehensive, easy-to-use, yet effective SaaS Software tool that can help you overcome the above mentioned challenges and leverage Customer Feedback to improve User Experience. With this tool, you can not only easily create and send powerful surveys to collect feedback but also work on the feedback so collected to take action and close the feedback loop effectively thus creating amazing user experiences.
With Zonka Feedback, you can create short surveys like metric surveys that don't consume much of customers' time. So it becomes easy to convince them to respond to the surveys. It is multichannel software that works through various channels like email, SMS, website, Android tablets, and smartphones.
You can also Try Zonka Feedback for Free for 7 Days and see how it works for your product.