How often have you created a feedback survey with an "other" option in your multiple-choice questionnaire? This option is for when your respondents may have an answer other than what's already in the questionnaire. However, it may create ambiguity since there is no definite way to know what it is that customers mean when they choose the "other" option. This is where the role of an Open-Ended Question comes into play. Let's understand in detail what an Open-Ended Question is.
Build and send a survey today 🔥
Choose from over 30+ question types, add your own themes and create amazing surveys that people love answering.
What is an Open-Ended Question?
Open-Ended Questions allow respondents to write an answer in their own words instead of sharing a fixed response to a multiple-choice or Yes/No question. It enables them to share feedback in the form of stories, sentences, or pointers, elaborating on their experience with the brand.

Detailed answers through Qpen-Ended Questions allow brands to uncover critical information beyond a fixed set of answers and help in understanding customers' perspectives.

Some examples of an Open-Ended Question are:
Please share the reason for the rating you have given us.
Please tell us what we can do better to improve your experience with our brand.
Please tell us what you liked the most while shopping with us.
Advantages of Using Open-Ended Questions
In a feedback survey, an Open-Ended Question gives respondents the freedom to talk about their experiences with your brand without being restricted to select only from a set of options. It helps brands see responses in a different light. For example, if you ask somebody to select their preferred mode of shopping from two different options (online and offline), you will get quantitative data that can be easily analyzed. But, if you ask the same question in an open-ended format, you can get answers you may not have anticipated, for example, "usually online, but in-store during festive seasons".
To put it in simple words, Open-Ended Questions improve the quality of responses and help brands get a piece of their customers' minds.
These are just a couple of all noteworthy advantages of Open-Ended Questions, which is why it is recommended to use at least one in your feedback survey. Let's understand in a little more detail.
Why Use Open-Ended Questions in Your Survey?
Here are some of the reasons you might want to include an Open-Ended Question in your feedback surveys:
1. Get Detailed Information
Sometimes, your respondents' answers may not be enough to help you reach a conclusion. For example, if a customer gives your brand a poor rating, you cannot tell the reason for the same unless you ask them directly. This problem can be solved with an Open-Ended Question, such as: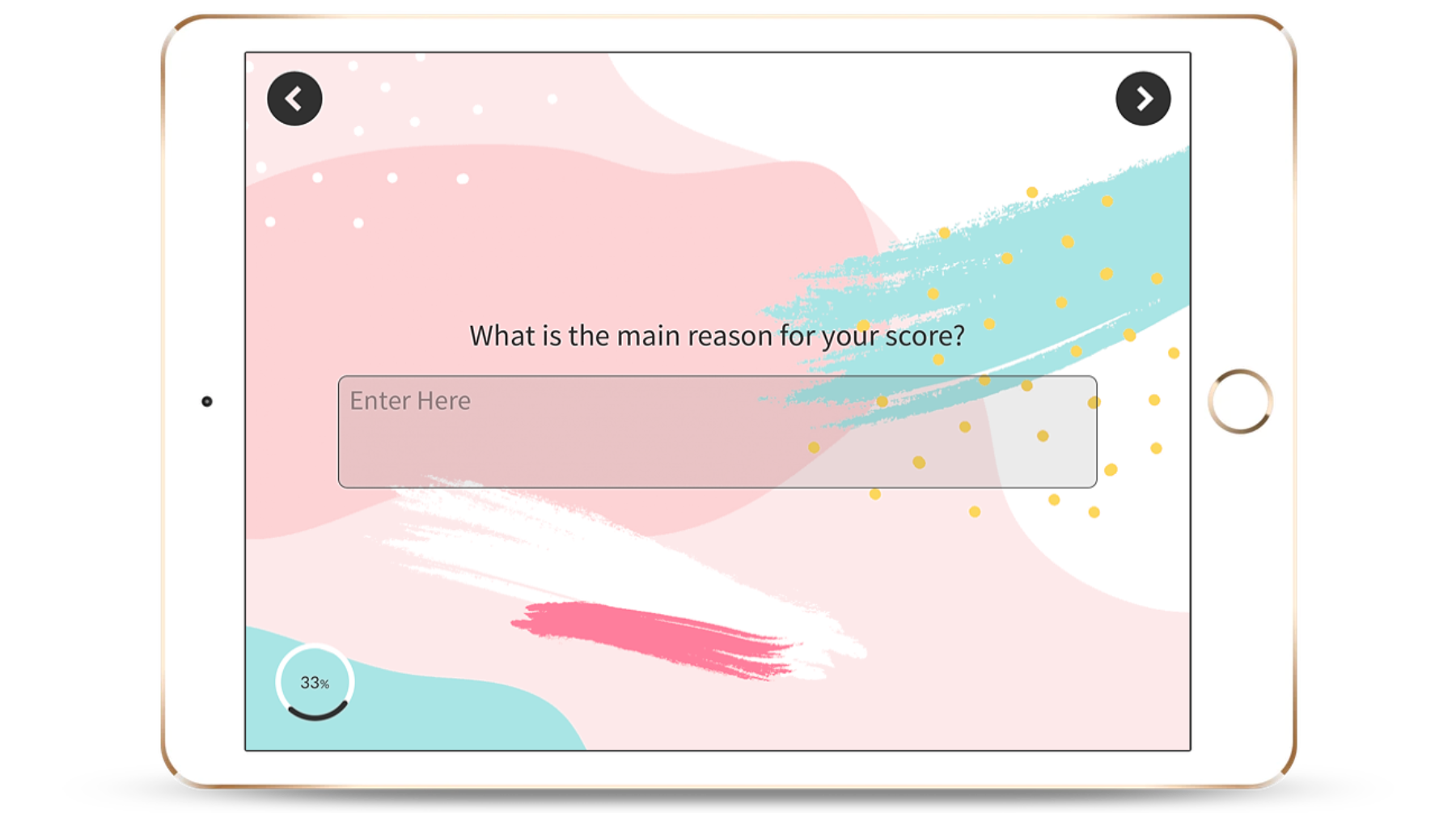 Moreover, an Open-Ended Question allows you to get detailed answers on certain aspects, for example, your customers' experience with your new product or service.
2. Empower Respondents
As a product or service provider, you may only be interested in quantitative data to draw analysis. But, you may not be able to convey that your customers' opinions matter. An Open-Ended Question will help customers freely express their opinion, putting emphasis on their experiences instead of just data. And this can really empower them and make them feel heard.
3. Obtain Qualitative Data
Surveys with just closed-ended questions offer quantitative results, whereas Open-Ended Questions allow for collecting qualitative data. This means that you can not only measure your respondents' satisfaction or loyalty to your brand, but you can also capture their viewpoints, varied perceptions, and honest opinions. And this can help you uncover truths to make bigger positive changes.

For example, a patient who is satisfied with the care offered at a hospital but was not able to make an appointment online can share this problem through an Open-Ended Question. As a result, the healthcare facility may develop a website to increase patients' ease of booking appointments.
4. Capture Infinite Range of Answers
Unlike closed-ended questions, Open-Ended Questions do not put a limit on answers. This means your customers or respondents may surprise you with answers you did not expect. For example, a retail store survey may capture customers' sentiments around the quality of products, customer service, and return policy. But with one Open-Ended Question, customers can highlight issues that may usually go unnoticed, for example, poor parking or unavailability of self-service.
5. Improve Customer Satisfaction
Sometimes, quantitative data may not be fully effective in helping you make important decisions. But with the help of Open-Ended Questions, you can understand what your customers like, need, and prefer. And this can allow you to innovate and improve to be directly aligned with their expectations. If used correctly, Open-Ended Questions can help in improving customer satisfaction dramatically.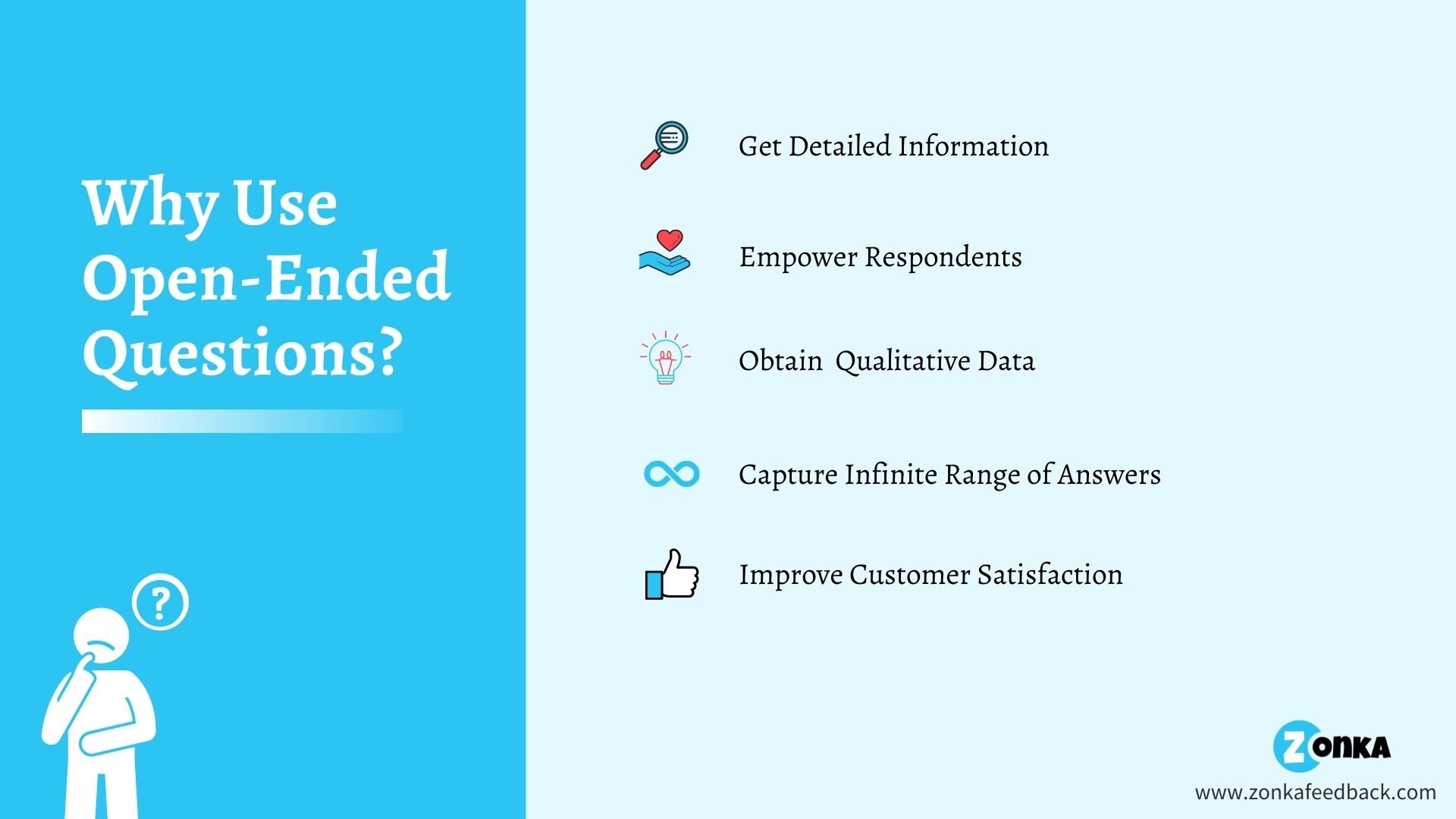 What to Remember When Using Open-Ended Questions?
Though Open-Ended Questions can increase the value of responses, there are a few things you must keep in mind:
Open-Ended Questions can make taking the survey a time-consuming process. So, do not go overboard with them.
Open-Ended Questions provide rich data, but it can be challenging to interpret it and make meaningful reports.
Too many Open-Ended Questions can decrease your survey response rate.
Sometimes, you may capture irrelevant data through Open-Ended Questions.
How to Use Open-Ended Questions?
Believe it or not, asking only Open-Ended Questions can negatively affect your survey response rates. What you need to do is make taking the survey easier for your respondents while also focusing on the quality of responses. And the best way to do that is by combining closed-ended questions and Open-Ended Questions.

Try to segregate all the possible answers into categories that respondents can select from. And to let them talk particularly about their experiences with your brand, add an Open-Ended Question towards the end of the survey.
Conclusion
The point of conducting surveys is to gather data that can be analyzed. And Open-Ended Questions can make it easier to understand your customers' or audiences' sentiments for your brand. The trick is to use them mindfully and have a good mix of both open and closed-ended questions.