Product Feedback is a crucial element of business and one of the key drivers of the success of a product. It is the way to get what's inside your users' minds and know what they exactly think about your product.
Whether you ask for Product Feedback or not, you will anyhow receive it in the form of requests, complaints, issues, ratings, and reviews on aggregator platforms, and likes, dislikes, and comments on social media platforms. Many companies have an abundance of feedback stored in their systems and servers but they fail to make full advantage of it. The reason is the lack of a proper action plan to act on feedback.
Here comes the need for a proper Product Feedback Strategy. In this article, we will learn how you can create and work through a proper Product Feedback Strategy to collect, analyze, and make the best use of Product Feedback to improve your product and thus, grow your business. Let's start with defining Product Feedback and why it is important to collect it.
Measure Product Feedback & User Insights 💻
With Product Feedback Surveys, understand what users need and learn ways to delight your customers.
What is Product Feedback and Why it is important?
Product Feedback is any opinion, positive or negative shared by your product users about their experience with your product. It can be any expression, comment, or suggestion about your product, or anything they feel and share regarding your product and its usage.
Product Feedback is essential to know what your product users need and expect from your product and how well your product is able to meet those needs and expectations. The importance of Product Feedback lies in the various benefits it provides like improvement in product, an increase in customer satisfaction and loyalty, and more.
But how can you gain these benefits? By taking appropriate action on feedback. And how will you decide on these actions? The answer is, by having an effective Product Feedback Strategy in place. Let's learn more about Product Feedback Strategy and how you can create and use it.
Product Feedback Strategy
A Product Feedback Strategy is the process that defines the goal of collecting Product Feedback and how to analyze and use feedback to achieve those goals and ultimately benefit your business.
The process of planning a Product Feedback Strategy starts as soon as you receive or plan to receive feedback and you create a Product Feedback Loop. When you receive feedback, you plan your strategy to take action on it and close the feedback loop. Let's explore how you can collect feedback.
1. Collecting Product Feedback
Feedback is primarily of two types, viz., Solicited Feedback and Unsolicited Feedback. Solicited Feedback is when you ask for feedback from your customers or provide them an opportunity to share feedback.
For collecting Solicited Feedback, you create and share surveys through various channels like email, SMS, website options like feedback buttons and popups, social media handles, or live chat.
Whereas, you get Unsolicited Feedback through various channels without even asking for it. You get unsolicited feedback from social media websites, customer complaints, aggregator platforms like review websites, various communities, and forums.
Tip
The strategy or tip your should follow in this step is to be omnipresent for collecting solicited feedback, so that your product users have multiple options to share feedback directly with you and they can choose the channel they are comfortable with.
The best way is to use a good Product Feedback Tool to create Product Feedback Surveys and share them with your customers through multiple channels. You should select the channels wisely. You can do A/B testing in order to select one among the available alternatives.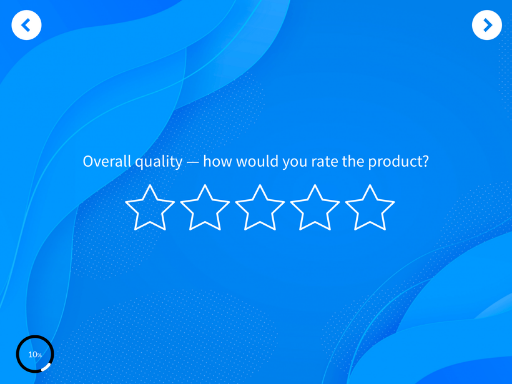 2. Making a Product Feedback Strategy
When you are done with collecting feedback from various sources, the next and main part of the process is to make a proper Product Feedback Strategy. If you already have a feedback strategy in place, it's necessary to improve it as a Product Feedback Strategy is something that can require continuous improvement.
You have collected all feedback by following an Omnichannel approach and have gathered all feedback in one place. Now the time is to follow a proper Product Feedback Loop process to take action on your feedback.
Respond to every feedback you receive. Whether it's positive feedback, negative feedback, or neutral, follow up with all customers who have spent time providing you with the valuable information regarding their insights about your product.
Thank the customers who have given positive feedback. If you have a bunch of loyal customers among them, try to reward their loyalty with small gifts like an additional discount, added days in the validity of their subscription, or an added feature that is only available in upper plans, for some days.
To the customers who have given neutral ratings or reviews, show gratitude to share feedback and ask them what you can do better to improve their user experience. Take ideas and suggestions from them which will help you a lot in planning future product improvement and development.
To the customers who shared negative feedback or low rating, apologize them for their bad experience, and try to resolve their issues. Take instant action on their feedback and do whatever it takes to resolve their issues and improve their experience. If there is something you can't do, refuse it politely and focus on what you can offer them which can fix up things for them and avoid any bad experiences in the future.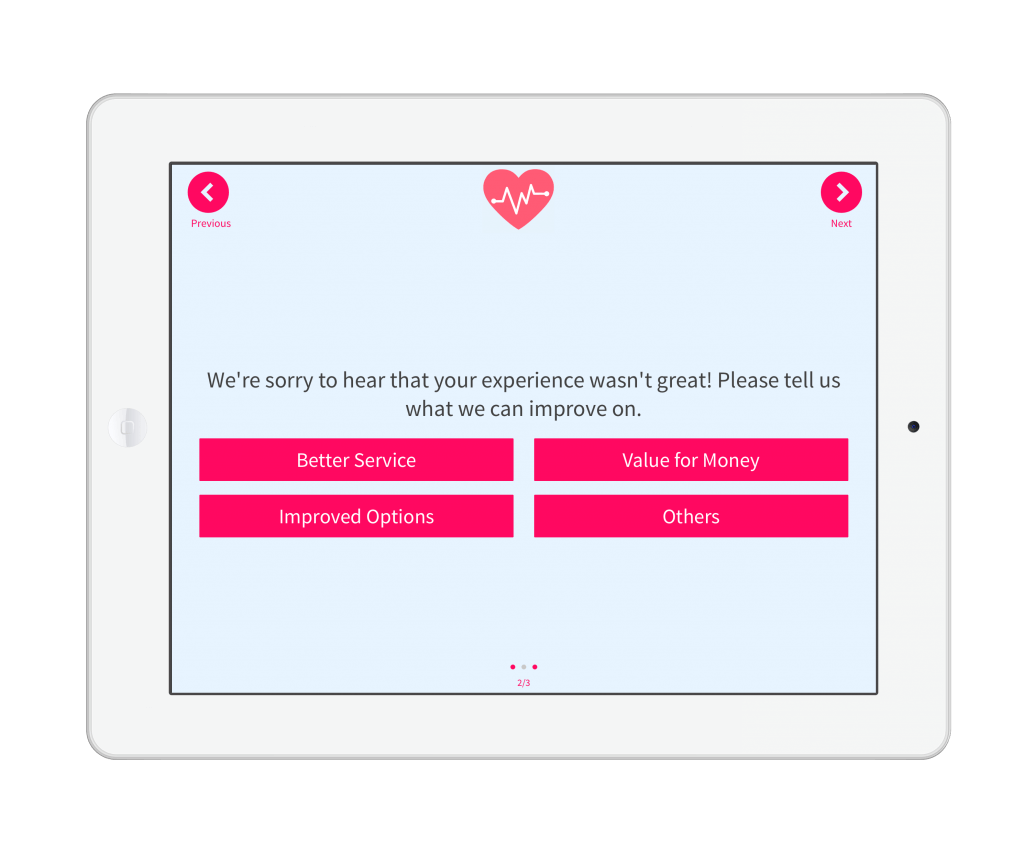 Select Your Feedback Tool Wisely
While choosing your feedback tool, keep your Product Feedback Strategy in mind. When exploring Product Feedback Software and apps, consider that you don't just need to collect feedback, but also have to take action on it and have to close the feedback loop as per your entire Product Feedback Strategy. So always choose your tool wisely.
Ensure that the tool you select doesn't only helps you to create feedback surveys and collect feedback with them, but also enables you to take instant action on feedback to improve user experience. The tool you use must-have features like Real-time Feedback Alerts and notifications, the creation and assignment of tasks based on feedback so that your team can work instantly on feedback and improve the customer experience before it's too late and your customer churns.
Zonka Feedback is equipped with these features along with many other powerful features that help you run an effective Product Feedback Strategy and close the feedback loop effectively to satisfy your customers and prevent churn.
Close the Product Feedback Loop
We talked about responding to every feedback and taking action on it. But one of the most important parts of the process of Product Feedback Loop is to close the feedback loop effectively after you have taken action on feedback. Whatever action you take on feedback and whatever changes you make in your product considering the opinion of your customers, do inform them of what you have done to improve their experience. This boosts their loyalty toward your product and brand.
Inform them about all the actions you have taken, show gratitude for sharing their opinions or suggestions, and welcome them for sharing feedback in the future to close the feedback loop effectively.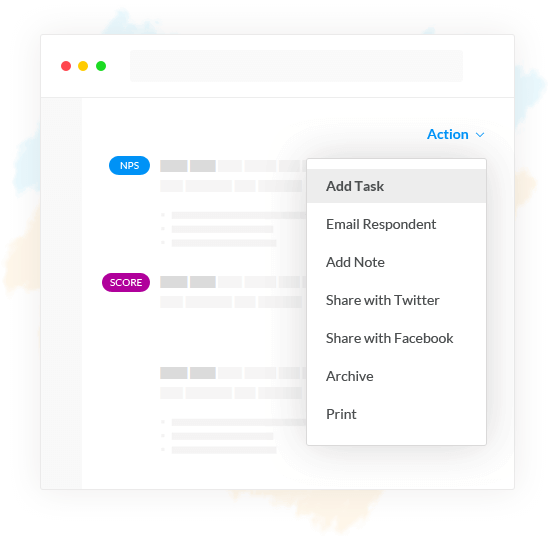 Tip
The strategy you should follow in this process is to take instant action on feedback. Respond to the feedback instantly and keep the customers updated about all the levels of action you take on their feedback. This keeps your customers engaged and connected, and builds patience and trust among them that their voice is being heard and that their feedback matters to you and is being taken care of.
While using your Product Feedback Tool you should set criteria for receiving real-time notifications and alerts so that you can set your priorities right and work instantly where urgent actions are needed from your end to retain your users and prevent churn. For instance - with Zonka Feedback, you can set up negative feedback alerts, low NPS rating alerts, high customer effort alert, so that you can take timely actions on such feedback and bring back your miffed customers.
3. Analyzing Product Feedback
Analyzing Product Feedback is a crucial part of the process when we talk about Product Feedback Strategy. While you collect feedback data and work on it to close the feedback loop, you also need an in-depth analysis of the feedback data so collected in order to make effective product development and improvement decisions in the future.
Properly analyzed data and reporting can help you take better business decisions and develop the products that customers love. Feedback can be vague and unorganized when received. But you can organize it and prepare actionable data from it.
Convert Feedback into Actionable Data
Feedback can be both qualitative and quantitative. But when you use a good Product Feedback Software you can collect the feedback data in an organized way and convert every feedback into actionable data. Use powerful metric surveys like NPS, CES, and CES to get actionable quantitative data and take action accordingly.
However, only quantitative data will not help you win the game. Ask follow-up questions to know the reason behind the ratings that customers give. Give them open-ended space to vent out their feelings and share rich qualitative feedback data. To organize that data, use an AI-powered tool having features like Sentiment Analysis and advanced reporting and dashboard facilities.
Divide Feedback data into Segments
To have a better analysis of Product Feedback, divide the feedback data into various segments. With the help of powerful Product Feedback Software like Zonka Feedback, you can easily apply advanced filters to see the feedback from various segments of your product users. You also get reports of survey responses, and responses are divided into categories based on customer ratings. For instance, NPS survey responses are divided into three categories, viz., Promoters (9-10), Passives (7-8), and Detractors (0-6).
Visualize the Data
You can manage your feedback and view actionable and presentable reports like Snapshot Reports, Survey Insights Reports, Trends Reports, Location Insights Reports, and Text Analysis Reports to analyze customers' responses and see the trend of your feedback to ensure you are on the right track and make product decisions accordingly.
With these advanced reports, you can visualize your feedback data as presentable quantitative data and share it with your different teams to discuss and make feedback-driven product decisions.
4. Leverage Product Feedback Data
When you have done the analysis and visualization of your Product Feedback data and have worked on it to improve customer experiences and enhance satisfaction, the next step is to leverage the data so collected to make permanent improvements in your product and service, so that you can improve the overall user experience and grow your product
Analyze the different segments of data and find out common issues that most users face. Analyze feedback trends over a period of time and with every new change that happens. Discover new ideas from your customers' opinions and suggestions and try to implement the ones that most customers suggest
In this way, you can create and implement an effective Product Feedback Strategy to improve your product and align with the evolving needs and expectations of your product users.
Conclusion
Product Feedback is only useful when you take action on it and to take the right actions, the best way is to create and implement a well-organized Product Feedback Strategy. By having a proper strategy in place, you can effectively collect, analyze, fetch actionable data, and product managers can make the best use of it to develop and improve products as per the customers evolving needs and expectations.
All this can be easily done with the help of an effective Product Feedback Tool. So you should choose your feedback tool wisely.
Zonka Feedback is one of the best Product Feedback Tools that not only help you create surveys and collect feedback, but also enables you to analyze it, work on it, take action on it to close the feedback loop, and discover actionable insights with its advanced reporting facilities and features like Sentiment Analysis, to make better product decisions.
You can also Try it for Free for 7 days and see how it works for your product.