The success of a product depends on how well it is able to serve your target customers and how much they love it. Whether you make changes to your existing product or develop altogether a new product, it is crucial to listen to the customers' opinions and better understand what they actually need.
Here comes the need for Product Feedback. If you are able to get a clear idea about why customers need your product, and how they want to use it, you have already won half the battle. Product Feedback is collected to get this idea and gain valuable insights into users' expectations and develop exactly what they require.
In this article, we will learn why Product Feeback is essential for your business and how collecting it can take your business several steps closer to success. Let's get started with defining Product Feedback.
Measure Product Feedback & User Insights 💻
With Product Feedback Surveys, understand what users need and learn ways to delight your customers.
What is Product Feedback?
Product Feedback is any piece of information that your product users share regarding their experience with your product and how satisfied they are with that experience. Product Feedback can include onboarding experience, free trial experience, and positive or negative feedback about a product feature, price, functioning, or any aspect of the product.
Product Feedback can both be solicited as well as unsolicited. When you give the opportunity to the users, generally with the help of a Product Feedback tool to share feedback through surveys, feedback buttons, or QR codes, it is solicited feedback.
Whereas, when users share feedback themselves on other platforms like social media, review platforms, or even through word of mouth, that is unsolicited feedback.
Know more about What is Product Feedback?
Let's learn why Product Feedback is essentially important to collect in order to develop great products.
Why Product Feedback is Important?
Product Feedback is the only way to get into customer insights and know what exactly they want from your product. It is the way to listen to the voice of the customers rather than assuming what they want, and take a customer-centric approach to run your business.
Here are some valid reasons why Product Feedback is crucial to collect.
Importance of Product Feedback
To improve User Experience
To know customer insights
To measure customer satisfaction
To know about product issues
To track team performance
To stay updated with market demand
To be aware of what competitors are doing
To make better marketing and sales strategies
To know product strengths and weaknesses
To win customers' trust
Let's learn more about these reasons to collect Product Feedback to understand its importance.
1. To improve User Experience
The success of a product feeds on User Experience. But without feedback, there's no way to know about it. And when you don't know about users' experiences with your product, you can't think of improving them. Collecting Product Feedback not only helps you gauge User Experience but also helps you find ways to improve it.
Product Feedback tells you about what changes your customers desire in your product so that you can make those changes in your product and bring up updated and better versions of your product. This improves User Experience and thus helps in retaining your customers.
2. To know customer insights
Product Feedback is essential to get valuable customer insights about how their experience was with the product, and what they exactly expect. When it comes to customer expectations and experience, you can't just rely on your assumptions about them. You need some reliable source of information to know exactly what's there in their mind and what they went through while using your product.
Product Feedback is the only source of this information. Sharing a Product Feedback Survey is like giving a voice to your customers. This helps you save your time and resources by bringing your and your product development teams' focus in the right direction and invest best efforts in fulfilling customers' demands.
3. To measure Customer Satisfaction
Product Feedback not only tells you what customers want but also provides you a measure of their satisfaction with what you offer them. With Product Feedback Surveys, you can ask customers to rate their satisfaction with every aspect of your product, be it the overall product, product features, pricing, service, or any other aspect.
With the CSAT Surveys to collect Product Feedback, you can fetch quantitative measure of your customers' satisfaction with any aspect and take data-driven actions to increase it and take it to the maximum.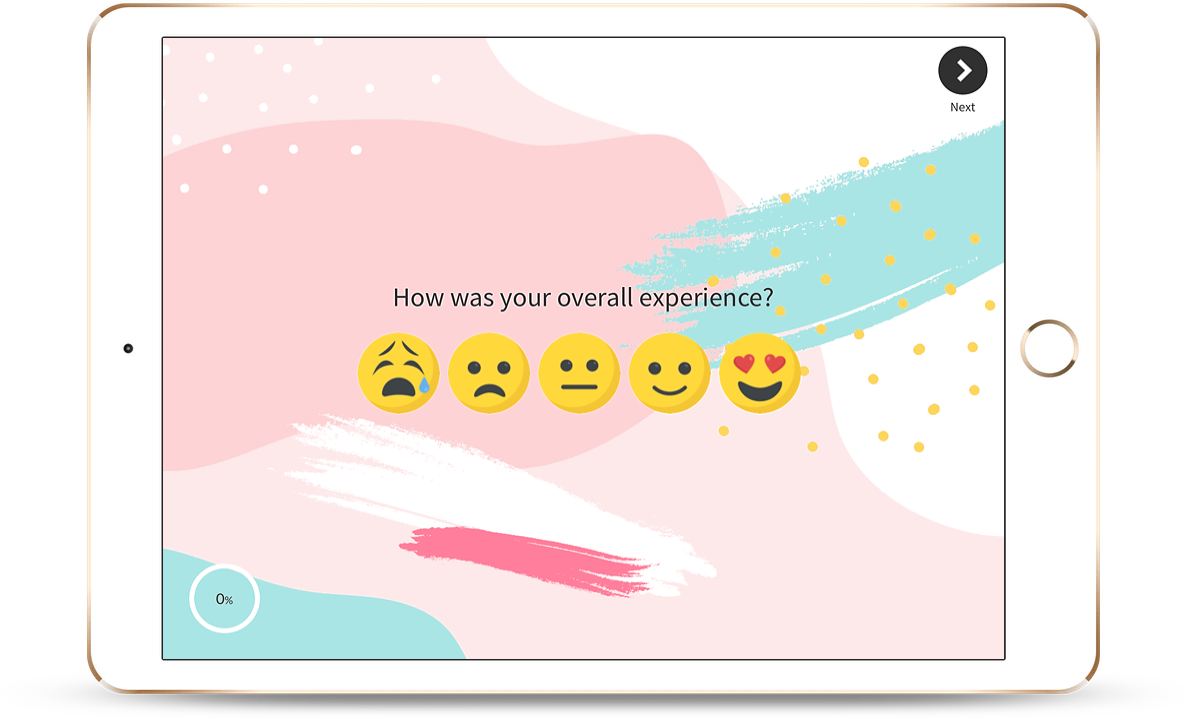 4. To know about product issues
You may have put in your best efforts to develop an unbeatable product, however, there can be several types of issues that may occur only when the product is used for a period of time. With time, users may face issues like bugs, technical glitches, slow speed, or any issue that may affect products' functioning which will directly affect customer experience.
With Product Feedback, you get valuable information about these issues and work in the direction of minimizing or eliminating them. This further improves your product and thus customers' experiences.
5. To track team performance
Product Feedback is also an effective means to track your teams' performances. It helps you evaluate how your employees and customer service teams perform. Your customer service teams have direct interaction with your customers and it is essential that they serve them well. But how do you ensure this?
Maybe your customers perceive some employees as being rude to them, whereas they perceive some other employees as being very helpful and supportive while resolving their queries and concerns. Product Feedback helps you get ratings of your employees' work from your customers, and thus evaluate their performances. With this information, you can track your employees' performance and take action to improve it.
6. To stay updated with market demand
Customers' demands keep on changing. So you can't stick to a particular set of features in your product. You need to keep your product updated and upgraded. Product Feeback helps you understand trends and demands prevailing in the market and keep your product updated accordingly.
With Product Feedback, you set the right priorities with respect to product features and develop or upgrade your product in a way that meets the most important customer demands in the product.
7. To be aware of what competitors are doing
Product Feedback also fetches useful information about your competitors. In your Product Feedback Survey, you can ask questions to know the best alternative of your product in your market. Moreover, you can ask your churning customers about the brands they are switching to, and what those brands are offering that you couldn't do.
You can also allow open-ended space for the customers to share their views and suggestions. In such spaces also, customers sometimes share about what competitors are giving better and what they feel they should get in your product.
7. To make better marketing and sales strategies
Product Feedback helps you understand your target customers better. With regular feedback, you can have a good insight into your customers' choices, preferences, and how often they change. This enables you to make better marketing and sales strategies for the present as well as for the near future to grow your businesses.
8. To know product strengths and weaknesses
Product Feedback lets you know about every aspect of your product from customers' perspectives. With this information, you get to know which features work best for most of your customers, and which features most of them don't like.
Apart from features, you get to know all the strengths and weaknesses of your products. Customers can tell you better where your product is perfect for their needs, and where it lacks. For instance, your product speed may be a strong characteristic of your product, and at the same time, the price may be not competitive enough and become a reason for many customers to not invest in your product.
10. To win customers' trust
Asking customers for feedback conveys that you care for them. And when customers share Product Feedback, and you take action accordingly, it wins their trust. Whether it is a suggestion from your customers' end, or an issue or complaint; when you take instant actions on it to improve customer experience, it gives a great feeling of being heard, which boosts their trust in your brand.
This eventually leads to long-term loyal relationships with your customers giving you more subscriptions and repurchases.
Let's explore some outcomes of Product Feedback to understand better how it is beneficial for your business.
Outcomes of Collecting Product Feedback
World-class products
Enhanced Customer Satisfaction
Better business decisions
Improved User Experience
Low customer churn and better retention
Better reputation in the market
More loyal customers
More sales and profit
Let's learn more about these positive outcomes of gathering Product Feedback.
1. World-class products
As Product Feedback gives you information about your product's strengths and weaknesses, it enables you to utilize customer-provided data to make your products better and eventually develop world-class products.
2. Enhanced Customer Satisfaction
When you collect and work on customer feedback data, and take customers' opinions into consideration, you improve their experience to a large extent, which eventually drives customer satisfaction.
3. Better business decisions
With the information collected through Product Feedback, you get to know what your product users like and what they don't like. This enables you to take user-friendly decisions which are better for your business.
4. Improved User Experience
When you use user feedback to develop your products in a way that satisfies your product users, it improves user experience.
5. Low customer churn and better retention
When you leverage Product Feedback to resolve customers' issues and eliminate their pain points, it brings a good response from the customers too in the form of long-term relationships and renewed subscriptions. This results in better customer retention and decreases churn.
6. Better reputation in the market
When customers start trusting you as a result of collecting and working on Product Feedback, they share their feelings with others too in the form of good word-of-mouth, better online ratings, and positive reviews. All this builds a good reputation for your product and brand in the B2B marketplace. This increases your goodwill and attracts more customers.
7. More loyal customers
If you leverage product Feedback properly, it becomes a key driver of customer loyalty. Users become loyal to your product and talk about it with others which spread positive word-of-mouth about your product.
8. More sales and profit
Good reputation and good word-of-mouth in the market attract new users of your product which leads to more sales in the form of more subscriptions. This increases your revenue and ultimately leads to more business success.
Researches suggest that 90% of the purchases are somewhat influenced by word-of-mouth.
Conclusion
Product Feedback is essential to know how your product is working, Moreover, it helps to track the performance of your Product and Customer Support teams. Working on the feedback helps you improve user experiences which automatically drives customer loyalty and satisfaction leading to the growth of your business.
You can easily collect Product Feedback with the help of an effective Product Feedback tool which enables you to create powerful Product Feedback Surveys, share them through multiple channels, and work on the feedback so collected to improve your product and thus enhance customer satisfaction.