According to a study by the University of Glasgow, 75% of students said that student feedback in terms of understanding, problem areas, and course material significantly improved lectures.
Educational institutes across the world are now increasingly using student feedback software to be able to understand students' voice and improve learning. From complaint portals and polls to traditional and digital surveys, they are using different feedback methodologies to capture students' feedback on teachers' teaching styles, class structures, technology, curriculum, student-teacher interaction, etc.

And while there are different ways to collect student feedback, students' willingness to share feedback can make or break your feedback program. It's the responsibility of the management to engage students and encourage them to share feedback. But how?

Let's understand.
Transform Academic Experience with Student Feedback👩‍🎓

Build student-centric surveys to get real-time feedback and enhance knowledge influx and student engagement with data-driven teaching.

1. Clearly State the Objective
When you're collecting student feedback, you're asking students to take time out of their schedule to help you out, especially when there's no incentive for them. So, you have to be convincing when requesting feedback. For example, if you're conducting a student feedback survey, you must communicate the purpose and expected time to take the survey.

Similarly, no matter how you collect student feedback, always let students know:
How long it would take to share the feedback.
What you would do with the information.
How sharing feedback would benefit them.
2. Ask Open-Ended Questions
Yes, MCQs are great and make it easy and convenient to share feedback. But students must get an opportunity to share their views and suggestions in their own words. Therefore, make sure to include open-ended questions in your surveys or student feedback portal. Open-ended questions help in collecting qualitative student feedback and can also help you retrieve useful feedback that you may not have anticipated. Here are some examples of open-ended questions:
What are the challenges that you have experienced in this campus?
How can we make learning more engaging and impactful for you?
How satisfied are you with the study material and classes? Please share the reason for your score?
is there anything else we should know?
3. Make Sharing Feedback Easier
Students are less likely to share feedback if they see it as a task that would take up a lot of their time. Therefore, make sure to make the entire process of feedback collection easier for them.

For example, if you're looking to collect feedback on the campus, you can install a touchscreen kiosk where students can instantly share feedback when they pass by. Or you can print QR codes on standees around the campus to let students take QR code surveys on their phone with a simple scan. Digital feedback – whether it's through feedback poll, online survey, or student portal – can make student data collection quick and easy. So, make sure to leverage technology to collect reliable feedback.
4. Build Trust
Anyone who has collected feedback a fair amount of time now knows how feedback requests can go ignored simply because the recipient couldn't recognize to identify the sender. For example, feedback request emails through a third-party email tool would go via the manufacturer's email address. This can confuse students and can discourage them to open the email. On the other hand, 90% of students say that they are more likely to open an email from an organization they belong to.

So, make sure to keep branding and personalization in mind. Here are some branding tips:
Make sure to send feedback request emails via your institute's official email address.
Brand your SMS, email, and weblink surveys with your official domain and sender address.
Do not shorten feedback portal links; make sure the web link has your official domain in it.
5. Ask for Feedback Frequently
Student feedback shouldn't be just a one-time activity; it should be a part of your culture where students are given control of their own learning. Students must know that their experience and suggestions matter. Therefore, make it a point to collect student feedback frequently to check if your academic infrastructure caters to students' performance and growth. This would make students more familiar with the feedback process, encouraging them to share honest reviews.
6. Make Feedback Anonymous
A study states that people are more likely to engage with anonymous surveys and disclose information honestly. So, make sure that your surveys are anonymous if you're looking for critical feedback. Also, communicate to students that their feedback is anonymous. It will certainly encourage them to share feedback honestly and without any hesitation.
7. Think About Design
In a study, it was observed that participants engaged with the content online based on the aesthetic appeal of the user interface. So, whether you're creating a poll, a student feedback portal, or student feedback surveys, make sure that the design is clean, pleasant, and engaging. Here are a few things to keep in mind:
Feedback instructions must be clearly stated at the beginning.
The font size and colors should be consistent throughout the design.
There should be a clear segmentation of headings, body text, questions, etc.
The interface must be branded with your institute's logo and color theme.
8. Use SMS Surveys
90% of people read their SMS or texts within the first three minutes. So, to increase the chances of students seeing the feedback request, collect responses through SMS surveys. Moreover, moreover, make sure to send SMS surveys via your educational institute's official domain so that students can recognize it and are encouraged to take the survey.
9. Send Reminders
How often does it happen that we receive a feedback request and set the task aside for later? Procrastination can be a common reason for fewer feedback responses. But if you stay on top of students and remind them to share their feedback, you can get a better response rate. According to a study, 66% of students are more likely to complete a survey if they receive a reminder. So, here's what you can do:
Send feedback reminders with the last date to share responses.
Reinforce the importance of their feedback.
Send multiple reminders to stay top of the mind.
10. Close the Feedback Loop
Students would only be willing to share feedback when they know that it is capable of bringing positive changes. They must know that they are a part of an organization that thrives on feedback. So, invest time and effort in resolving challenges that students come across. Here are a few things you can do to communicate that you're acting on the feedback received:
Communicate to students when reported problems are resolved.
Offer alternatives when a certain demand can't be mad.
Apologize if a certain challenge is causing a lot of disruption in classes or learning.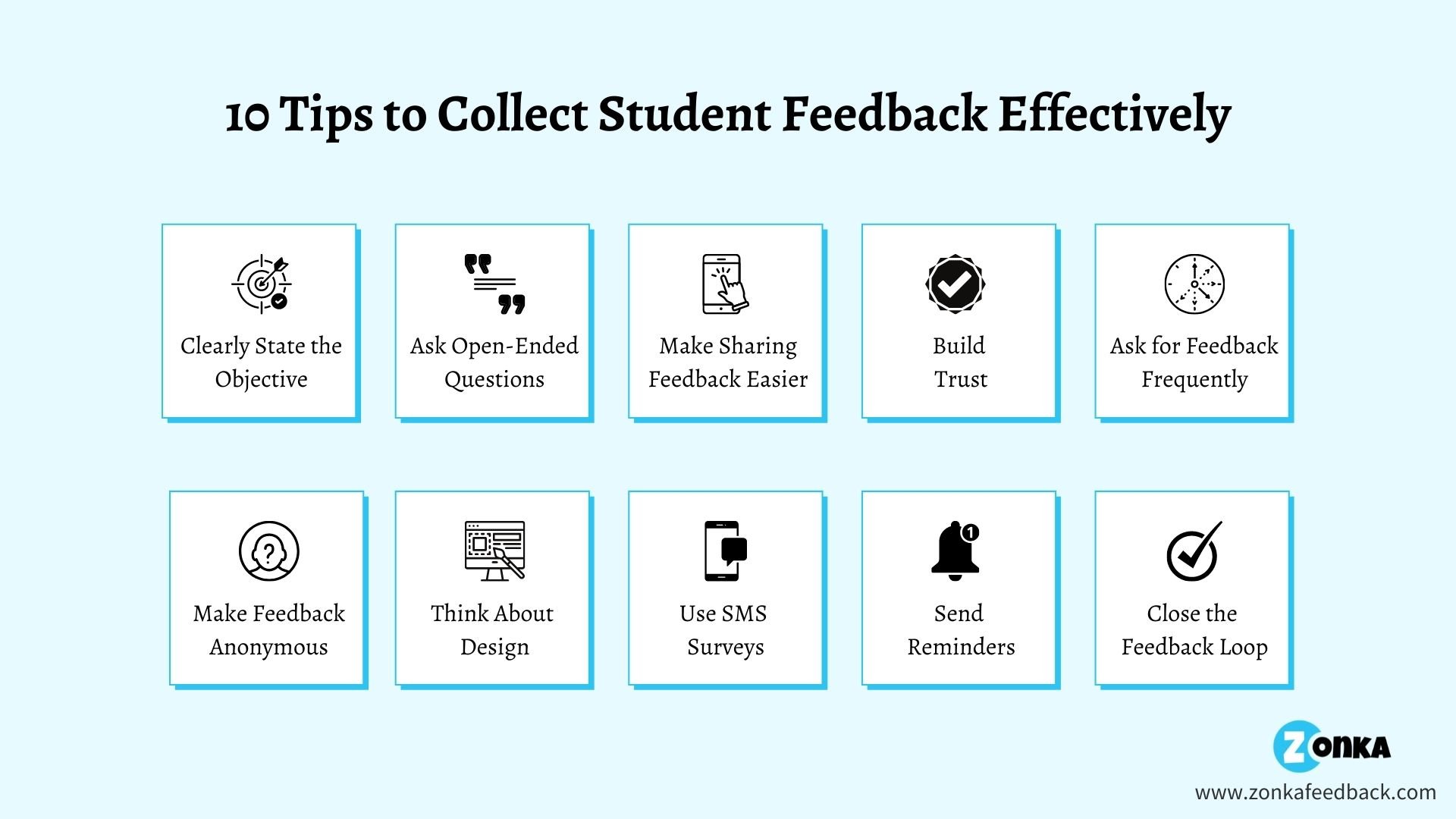 The whole point of collecting student feedback is getting a significant amount of data to act fairly on genuine challenges and complaint patterns. So, to get students to participate actively in your feedback program, make sure there is a reason for students to share feedback.

Use the tips shared above to make your feedback program more engaging and inviting. You can work with a particular feedback methodology or a combination of different methodologies; what's probably needed is to change the way students see sharing feedback.