As the novel coronavirus (#covid19) outbreak continues to spread, so, in the wake of its prevention, the big tech companies and MNCs including Google, Amazon, Facebook, Twitter, etc. have strictly recommended all their employees across the globe to do Work From Home.
In the wake of this predicament, Zonka Feedback has shifted to the Work From Home culture and made working from home mandatory for all our employees. We have implemented various tools and virtual working models for our managers to manage the work from home swiftly.
Elevate CX with Customer Feedback🔥
Collect real-time, in-moment feedback at all touchpoints in customer journey and leverage feedback insights to transform customer experience.
So, here we are sharing 9 tips that help the managers to manage the remote team.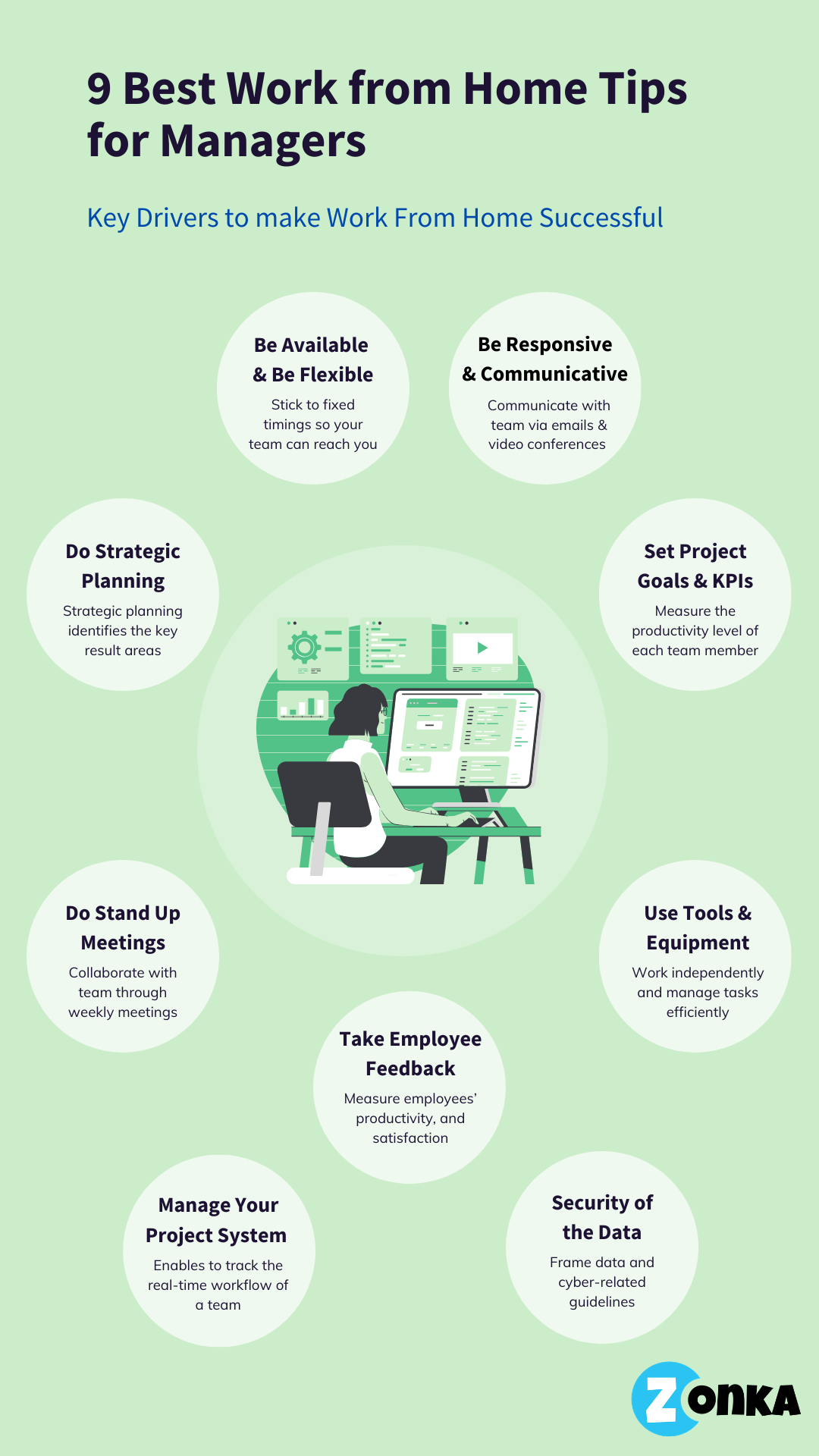 1. Be Available & Be Flexible
Availability and flexibility are the two most important considerations for effective managers when it comes to managing a remote team. There is no proper routine in work from home like in the office, thus establishing a proper routine is a must during work from home. Nowadays, even real estate agents are working remotely and managing time effectively.
The changeover from the comfort zone to the work zone can be harsh for employees but if they have a well-established routine, they can quickly resume to the work and manage their tasks efficiently without losing productivity.
Managers play a crucial role in establishing the proper work routine. They should stick to fixed timings so that their team can reach them easily. In addition to this, at the beginning of the day, managers should provide to-do lists to their employees that clearly defines all the work managers want to take up for that specific day. This helps the manager as well as team members to streamline their work smartly. To achieve that you can use a time tracking tool, which goal is to boost your team's productivity.
To manage your personal To-Do list, find any suitable app on your phone (comes really hand). Apps like Evernote, Trello, Monday, Teamwork are great for task management.
2. Be Responsive & Communicate Better
Communication plays a crucial role in a team's right from project development to its implementation. The biggest disadvantage of WFH is the gap in communication. But if we reach out to our coworkers and respond to them regularly, we can embrace this challenge as well. Being transparent in communication like sending daily email updates can help you increase your team's productivity as well. Keep yourself updated and give the update of your work to your manager after a specific interval of time.
Managers can also communicate with their team regularly through emails, communication websites, calendar invites, UCaaS Providers, chat or call. They can also use video conferencing tools to interact with their team members. We at Zonka Feedback have different internal collaboration and communication tools like Zoom and Slack.
Instant messaging platforms like Slack can come very handy to ensure smooth communication. Skype is also great for chats, voice calls, video calls, and screen sharing between team members.
3. Do Strategic Planning
Proper planning helps you to drive cost savings, flexibility and increase team collaboration & productivity in work from home mode as well. Managers can use any project timeline template to strategize project goals. When the manager and the teamwork as per pre-defined project goals, it helps them to identify the key result areas quickly and enables them to start getting things done.
With reference to strategic planning, managers can also set a deadline for a project. This deadline force helps the individual to work effectively and deliver work on time. "If you do not have enough time to manage all the processes, you can hire a virtual assistant to help you with better time management and proceed with all the tasks.
Manage your To-Do Lists and Project Planning with Task Management Software. At Zonka Feedback, we use Jira by Atlassian to plan and run our projects.
4. Manage your Project System Swiftly
To manage a project system swiftly, managers can deploy smart project management tools that enable them to track the real-time workflow of a team. A project management system tool like HubSpot, Zoom, and monday.com can help the managers to manage projects easily. There are also project management solutions for accounting firms such as Financial Cents and Asana.
Whether it is collaborating with project managers, managing sales and marketing activities or tracking content management systems, Zonka Feedback deploys various Project Management Tools like HubSpot, Zoom, Intercom, and Jira to track the real-time workflow of the team.
Like mentioned above, Jira is where we do our project planning and do all the Sprint Planning. For Sales and Content Marketing related activities, we use HubSpot.
5. Set Project Goals or Key Performance Indicators | KPIs For a Day
Working from home for a long interval of time can sometimes make your team members a little sluggish. So, here in this scenario, it is important for you to set a project goal or Key Performance Indicator (KPIs) for an individual team member. This helps the manager of the team to measure the productivity level of each team member and take corrective actions to improve productivity if required. Set a time criterion for your team members to deliver a task. This, in turn, reduces the numbers of pan out and amplifies individual productivity during WFH.
Managers of Zonka Feedback set project goals and KPIs for every team member. This helps the manager to monitor the performance of every employee closely and identify the dynamics that are bringing the productivity level down. Based on it, our managers take corrective actions to boost the morale of their team members and ensure positive results.
We have recently started using WebWork Tracker to log our working hours and track activities.
6. Do Stand Up Meetings & Daily, Weekly Reporting
Regular team interactions and collaboration in the workplace can help you to track the workflow of your team. It is the responsibility of the manager to take daily updates about the work. To achieve this, managers can do standup meetings, ask their team members to share their weekly reports and conduct video conferences among team members to collaborate with team members. At Zonka Feedback, we have a daily virtual check-in & check-out process.
Any tool where you can communicate is good for Daily Stand Ups and meetings. For text based meetings, Slack is used extensively, while for video conferencing, we connect on Skype.
7. Take Employee Feedback Regularly
You can also use Employee Feedback as a key indicator of employees' productivity, and satisfaction. It helps you ensure enhanced production, efficiency, and happiness of employees. Further, it also assists you in improving the work culture.
The best practice to know employee perspective is to conduct regular Employee Feedback Surveys using Employee Feedback Software and get direct insights into the perceptions of employees about work culture, opportunities, facilities, and loyalty. You can also reward them with certificates to boost their well-being.
Use Zonka Feedback's Employee Survey Software to measure employee feedback at all touchpoints at your company, increase communication, reduce employee turnover and create a great workplace culture!
8. Use the Right Tools & Equipment
It is very important for the organizations to check the availability of accurate tools and equipment required in work from home mode. The right Work from Home Remote Productivity Tools will help the team members to work independently and manage their tasks efficiently. This, in turn, helps to increase productivity and encourage team members to deliver positive results. If you have a Lorex camera offline, you should follow the guidelines to fix it.
Before choosing any tools and equipment, take a free trial first.
9. Consider the Security of the Data
Data Security is one of the biggest concerns when it comes to managing work from home. Along with your safety from #coronavirus, you need to protect your company's data and documents from the hack attack.
To achieve the ultimate data security, companies should frame data and cyber-related guidelines and rules. Whereas, employees who are doing WFH should follow every WFH culture code and avoid using insecure, public networks for working. Starting with MFA for remote access.
When it comes to securing data, Zonka Feedback deploys various security software for the protection of data, for prevention of any hack attacks, and to manage the vulnerabilities and other risk factors related to data security. Our IT management team strives to provide the ultimate security for other confidential data, cloud data, internal communication data, and backup data. In addition, we recommend a secure VPN connection, this will completely hides the identity and encrypts data to save your business from any attack. With so many options online, even the most affordable VPN will guarantee good internet security.
In the context of ensuring data security for remote work, it's crucial for companies to implement robust measures. Utilizing a secure VPN connection, such as remote access VPN, adds an extra layer of protection against potential cyber threats. This ensures encrypted data transmission and enhances overall cybersecurity, aligning with the imperative of safeguarding sensitive information during the work-from-home transition.
Data security is an essential aspect when you do work from home. To avoid, you should avoid random clicking on URLs received in any email. Moreover, always check the secured padlock and HTTPS when you open a website. SSL certificates like RapidSSL certificates, comodo SSL certificates, DigiCert certificates, or any other reputed SSL certs can be found when you click on a padlock in the browser.
Use AirWatch, Keeper, SolarWinds RMM to manage your data security.
Using these tips can help managers easily manage their work and team remotely. We do and they really work!