Polls are an excellent way to know the opinions of other persons, especially when you have a large pool audience. When we talk about online meetings and web conferences, it becomes an even more effective way to establish good communication and engagement during online sessions.
Popular web conferencing tools like Webex are on the rise since companies have shifted to remote working culture, as corporate professionals connect and collaborate through such tools only. And when you use a good Polling App along with an effective web conferencing tool like Webex, it makes your communication and collaboration easier and more effective!
Measure CX with Webex Surveys📝
Run live polls, quizzes, and surveys and measure customer satisfaction across all touchpoints in real-time right within Webex using Zonka Feedback.
Polls give an opportunity to your attendees to share their opinions during a Webex meeting. This article will explore some effective Polling Apps for Webex that you can use during your Webex meetings to collect your attendees' views and make your conferences more communicative, effective, and valuable.
Best Poll Apps for Webex
Zonka Feedback
Vevox
Poll Everywhere
Slido
MeetingPulse
Sesh
Let's learn more about them.
1. Zonka Feedback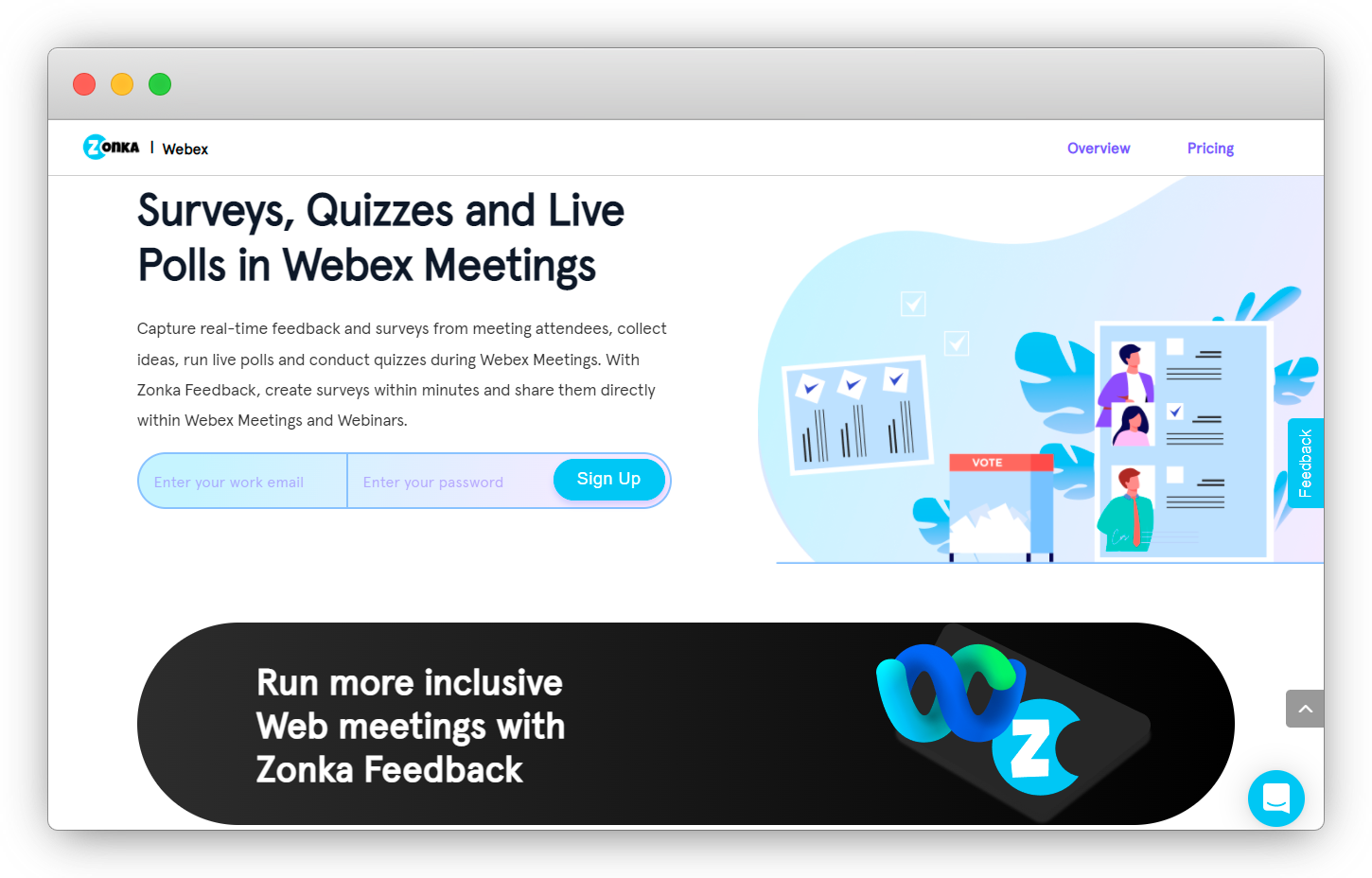 Zonka Feedback is an effective Survey Software and Polling App that businesses use to collect views and feedback from customers and employees. Being one of the launching partners of Webex, Zonka for Webex is used to conduct live surveys, polls, and quizzes during Webex meetings.
With Zonka for Webex, you can create Polls during your ongoing Webex sessions, share them with your meeting attendees, and get the Poll results and reports in real-time in the form of graphs and charts.
Key Features:
You can conduct live polls, surveys, quizzes, and check-ins during your Webex meetings.
You get real-time notifications for the responses received.
You can view Poll results in real-time.
You can choose to show or not to show the poll results to your audiences.

You can also keep the polls anonymous to make your attendees more comfortable sharing their opinions.

The app can also be used to measure metrics like NPS, CSAT, CES, and eNPS.
The app also allows Zapier integrations and offers other powerful integrations like Slack, Google Sheets, Mailchimp, Shopify, Airtable, and more.
Pricing
The price of Zonka for Webex is $96/year per user. It also provides a free trial for 7 days.
2. Vevox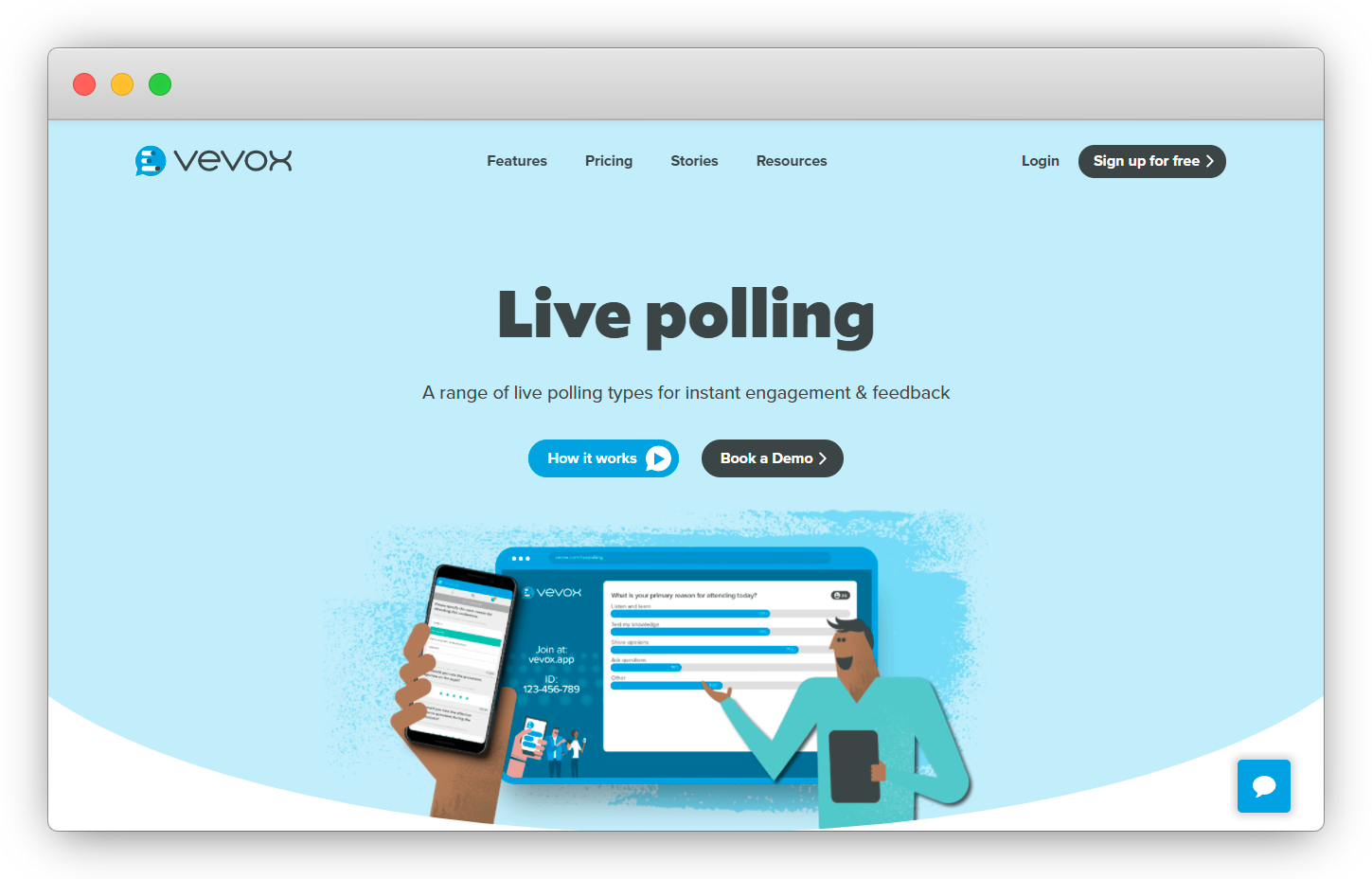 Vevox is a Polling and Q&A platform that businesses use to conduct polls and hybrid meetings and classes. With Vevox Polling, you can do Live Polling, Q&A, Wordcloud, and Quizzing. With Vevox's Webex integration, you can conduct voting through live polls directly in Webex calls to engage with your attendees.
Key Features:
It provides you with a good range of live polling types for instant engagement and feedback.

It is quick and easy to use; you can create polls within seconds.

It has versatile live voting options like multiple choice questions, Wordcloud poll, text, star rating, and more.
You can share your live polls with your meeting attendees on a live screen.

You can download excel reports of polling data and results and see live analytics in the dashboard.

You can choose to keep the voting anonymous or identifiable with your chosen level of identification that suits your needs.
Pricing:
It offers various plans for teachers, educational institutes, small businesses, and enterprises.
Business:
Base plan is free.
Individual plan costs $50/month for a single user.
Team plan costs $45/month per user for 2+ users.
Enterprise plan costs $30/month per user for 50+ users.

It also provides custom quotes for enterprises plans

.
Education:
Base plan is free
Individual plan costs $6/month per user.
Department plan costs $9/month per user for 5+ users.
Institution plan costs $11/month per user for 25+ users.
3. Poll Everywhere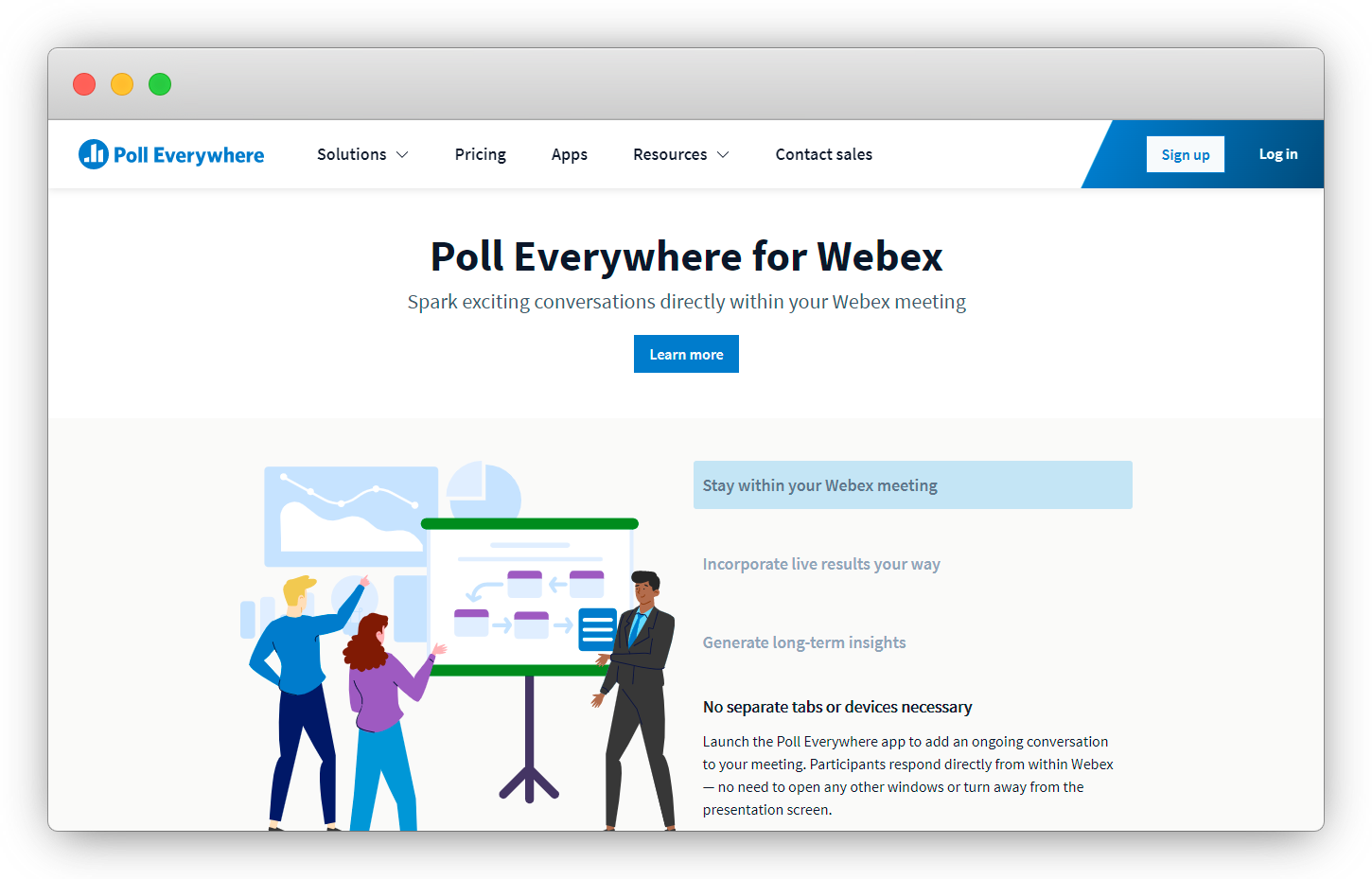 Poll Everywhere is another good app built to empower hybrid work and business conversations through live polling, surveys, Q&As, Quizzes, and Wordclouds. Poll Everywhere for Webex allows you to gather your attendees' views and opinions through live polling while staying within your Webex meeting.
Key Features:
It offers advanced-level customization of polls; you can change colors, use heat map, pick graph type, add images, logos, and set a default template.

It can work with Powerpoint, Keynote, Google Slides and add polls to your existing presentation decks in a matter of a few clicks.
You can visualize poll results in real-time, watch results filling the screen as your audience respond.

It is a secured platform that meets security needs through ISO certifications, SOC 2 Type 2 Compliance, and PCI DSS compliance.

If you are an organization that supports the fight against racism, the tool has free Premium plans for you.
Pricing:
Intro Plan is free.
Present Plan costs $120/year.
Engage Plan costs $42/month.
Teams Plan costs $84/month.
Enterprise plan starts fro $9,999 and is customizable as per requirements.
4. Slido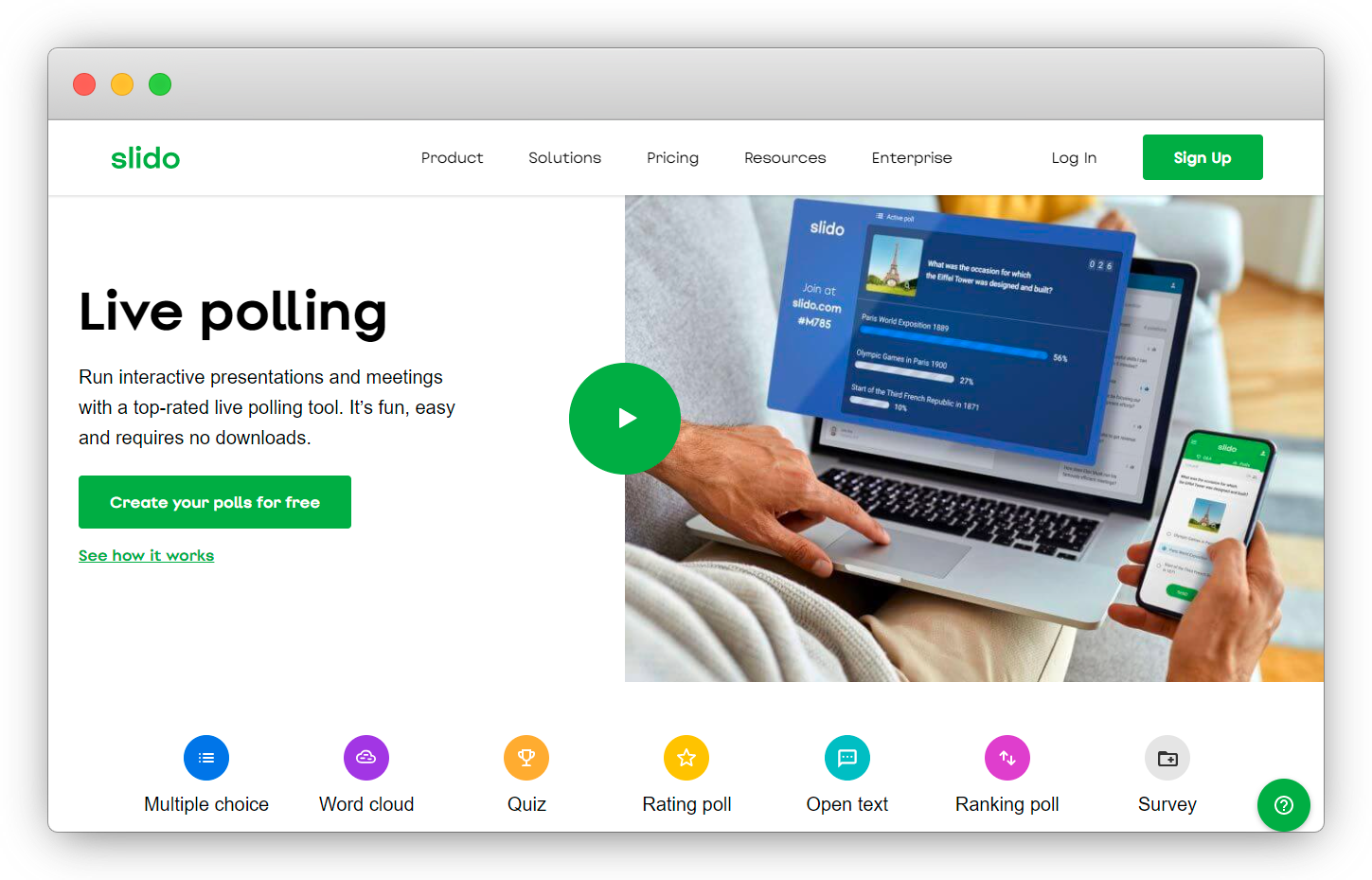 Slido is another good solution to engage your meeting attendees with live polls, Q&As, quizzes, and word clouds during your online meetings. With Slido Webex Polling, you can conduct live polls during your Webex meetings, collect votes, and share results within an ongoing discussion itself.
Key Features:
You can create six different types of polls - multiple choice, word cloud, quiz, rating poll, open text, and ranking polling.
You can let your participants vote using a link or a QR code.
You can view and display the results during Webex call in real-time.
You can review the voting results through Slido Analytics and export them to Excel, Google Sheets for further reference.
You can also encourage responses through anonymous participation of the meeting attendees.
Pricing:
It offers different plans.
Basic Plan is free.
Engage plan costs $8/month.
Professional Plan costs $25/month.
Enterprise plan costs $150/month.
5. MeetingPulse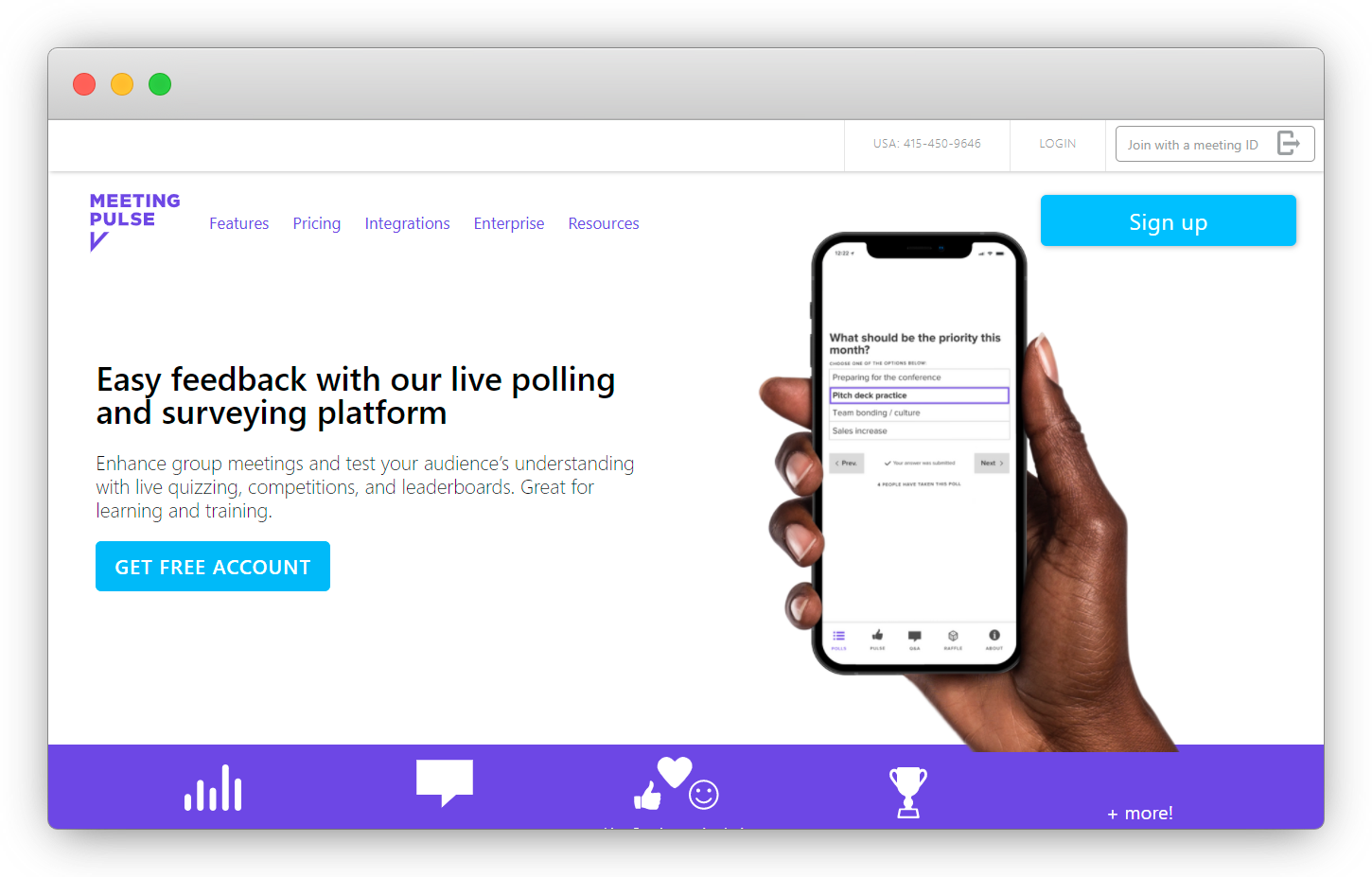 MeetingPulse is a Live Polling and Surveying platform that you can use to enhance your meeting experiences and establish better communication through live polls, quizzes, competitions, and leaderboards. It is an excellent app for learning and training purposes.
You can use this app with your Webex meetings to ask opinions and views of your meeting attendees during an ongoing Webex session.
Key Features:
It is an easy-to-go solution; you can set it up within minutes and integrate it with Webex meetings within seconds.

Your meeting attendees can join with a short link, no need to download the app separately for everybody.
Its cloud infrastructure supports tens of thousands of active attendees.
You can add your own branding and style to the polls.
Its Sentiment Analysis feature helps you track the sentiments of your audience during the meeting.
It automatically creates reports at the end of the meeting. You can choose among various reports like a Summary report, Participant Activity, Poll report, and more, and can download in different formats like PDF and CSV.
It has good security features and ID management, has a dedicated server, prompts for name, and sets meeting passwords.
Along with Webex, it offers other integrations like Microsft Team, Zoom, and more.
Pricing:
It offers different plans.
It has a Free basic plan.
Starter Plan costs $10/month.
Premium plan costs$192/month.
Enterprise plan is a customized plan.
6. Sesh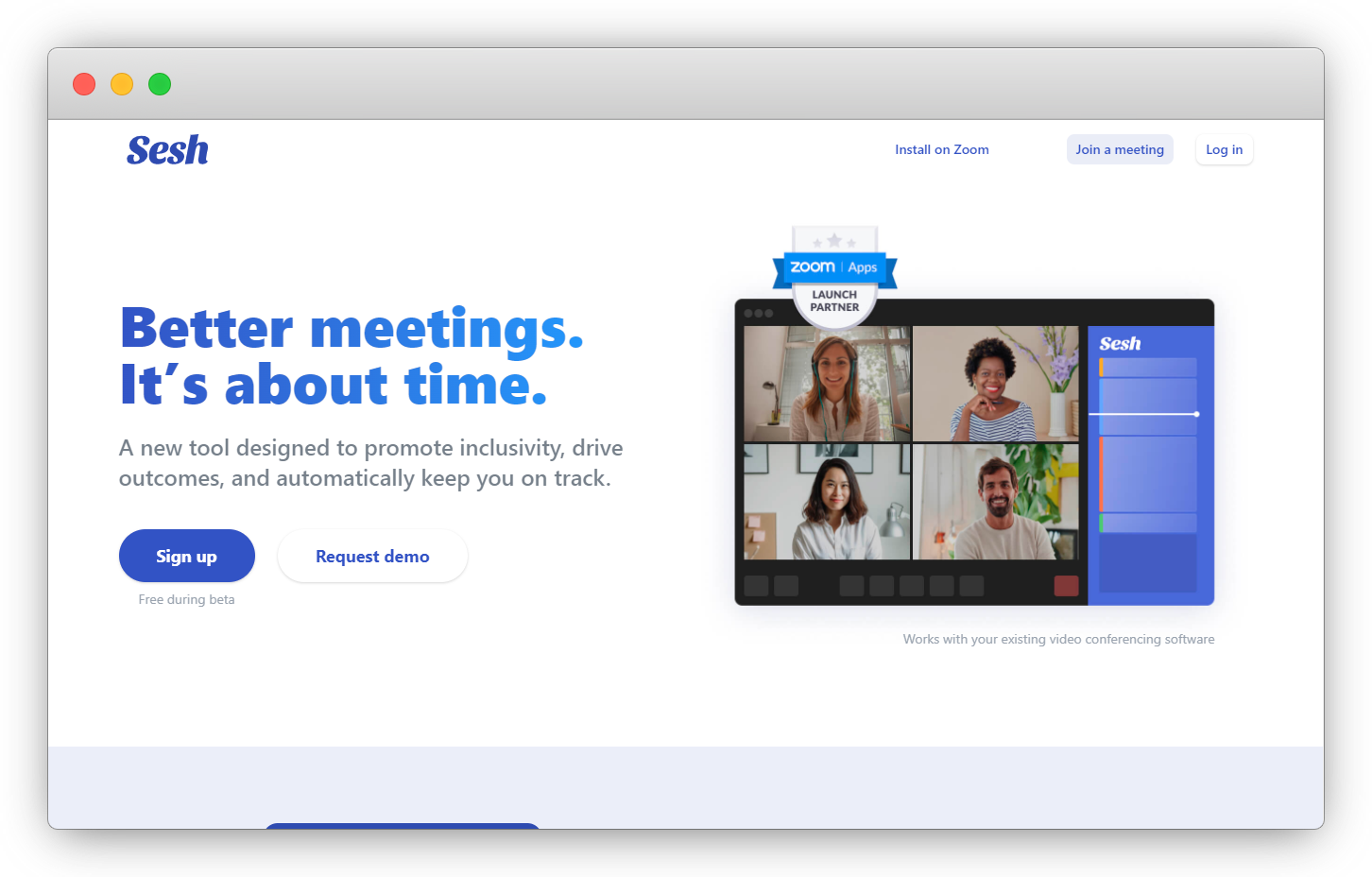 Sesh is a tool designed to include all your team members with more engagement and keep all on track with the already set agendas. With Sesh, you can collect your meeting attendees' opinions through live polls during the online meetings.
Key features:
It allows you to collect everybody's ideas during the online meeting and then send a Poll asking which idea seems the best.

It tracks the meeting time and assists in finishing them early and sticking to the agendas.

To track and increase engagement, it also tracks the speaking time of each attendee and presents in visual graphs so that no single voice dominates, gives alerts when someone goes over time.
Sesh helps to excite your conversations through fun icebreaker polls.

It promotes open-ended conversation too, and its Rounds feature gives everybody their turn to speak.

Along with Webex integration, it is also a launching partner of Zoom.
Pricing:
It offers only one plan, i.e. Membership plan that costs $60/month. It also offers a free trial of 14 days.
Read More:

Top Webex Apps for Employee Engagement