Employees are the greatest asset for any organization, and to fully utilize these assets, it's necessary to keep them motivated and engaged. While companies and corporate professionals have switched to remote working cultures, one of the biggest challenges they face is to bring the teams together and keep them engaged, but if they use the right tools and technology, it can increase employee engagement even for remote employees.
Researches suggest that with the use of the right technology and equipment, You can boost productivity and increase engagement for around 77% of the remote and hybrid working employees. If you are one of those corporate leaders or HR professionals looking for a solution to engage your employees and teams, this article is for you!
While tools like Webex are used to establish effective communication with your teams and clients through online meetings and web conferencing, if an additional tool is used with Webex, it can take the online Webex meetings to the next level. In this article, we will explore some super useful apps that you can use with Webex to boost your meetings and increase Employee engagement, interaction, and collaboration.
Best Webex Apps for Employee Engagement
Zonka Feedback
Funtivity by Hermis
Conferences io
Miro
Huddl.ai
Read Dashboard
Vevox
MeetingPulse
Let's know more about these apps.
1. Zonka Feedback - conduct live surveys, polls, and quizzes during Webex meetings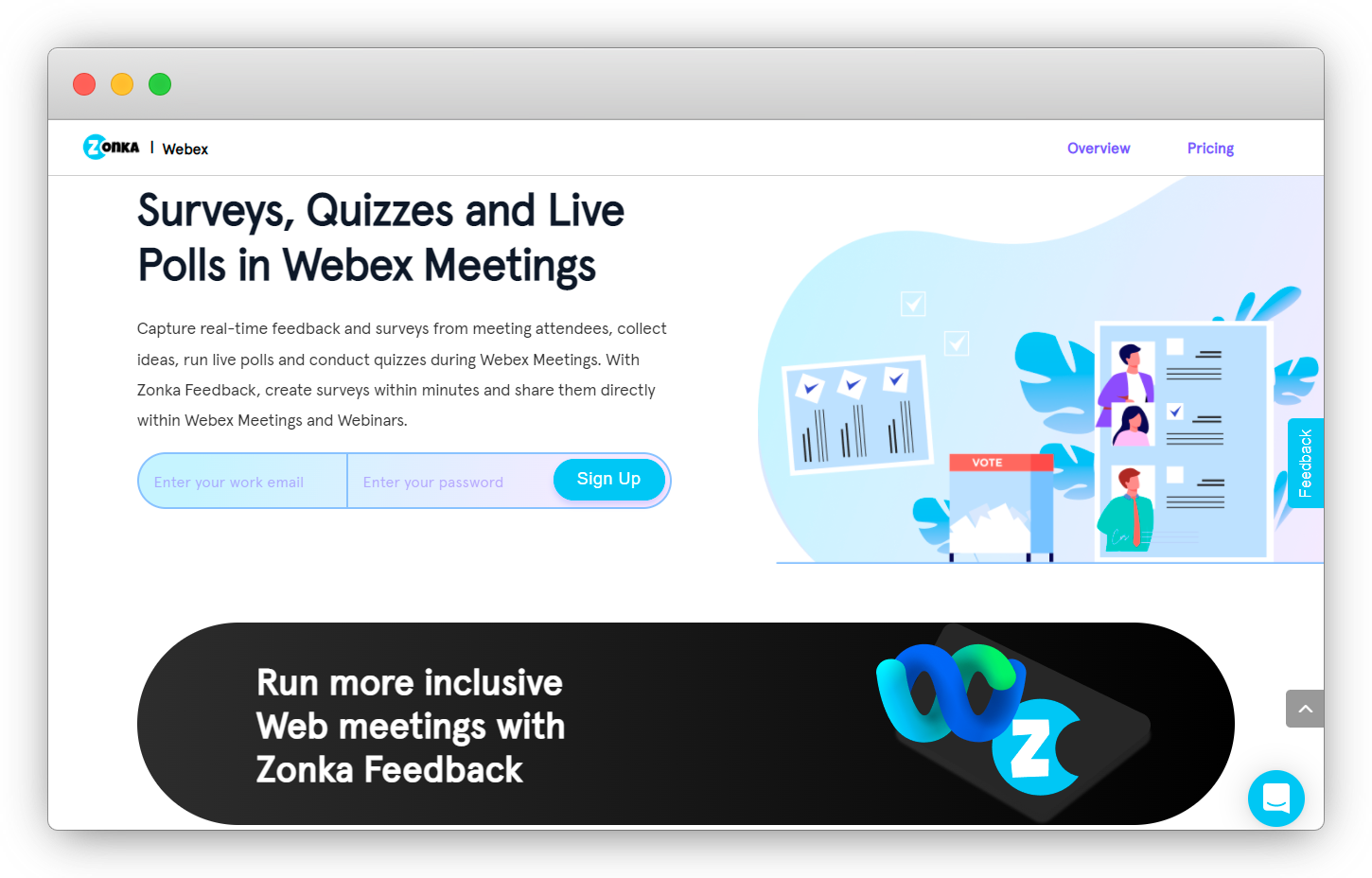 Zonka Feedback is an effective Customer and Employee Feedback Software and App that businesses use to collect feedback, measure satisfaction, and improve the experience and engagement of their customers and employees. Being one of the launching partners of Webex, Zonka for Webex is used to conduct live surveys, polls, and quizzes during corporate Webex meetings and make them more interactive and engaging.
With Zonka for Webex, you can easily create polls, surveys, and quizzes in an ongoing Webex session, and share them with your employees to collect their insights. You can collect employee feedback with effective surveys, gather employees' opinions with live polls, and make your meetings engaging and interesting through live quizzes to enhance Employee Engagement with Quizzes in Webex.
Key Features
Create and share live surveys, polls, quizzes, and check-ins during your ongoing Webex meetings.
Receive responses and get analytical reports during the same meeting without breaking the flow.
Get real-time notifications for the responses received, view live scoring and results of the quizzes and polls, get visual reports of survey responses.
Ready-to-use templates and various question types to use including CX metrics, comment boxes, button choice, picture choice, and more.
Customize the surveys and add your own branding, colors, and style.
Collect in-meeting feedback from your employees to measure satisfaction and engagement and gather their thoughts in their own words through comment boxes.
Conduct Anonymous Surveys and Polls to engage everybody in your decisions and ensure everybody's voice is heard.
Get all the reports in the form of visual graphs and charts in real-time.
Along with Webex, it supports Zapier Integrations and offers powerful integrations like Google Sheets, Slack, Mailchimp, Shopify, Zendesk, and more.
Price
Zonka Feedback offers simple pricing. The price for Zonka for Webex(Webex edition) is $96/year per user. It also offers a free trial for 7 days.
2. Funtivity by Hermis - conduct fun games, activities, team play, & themed events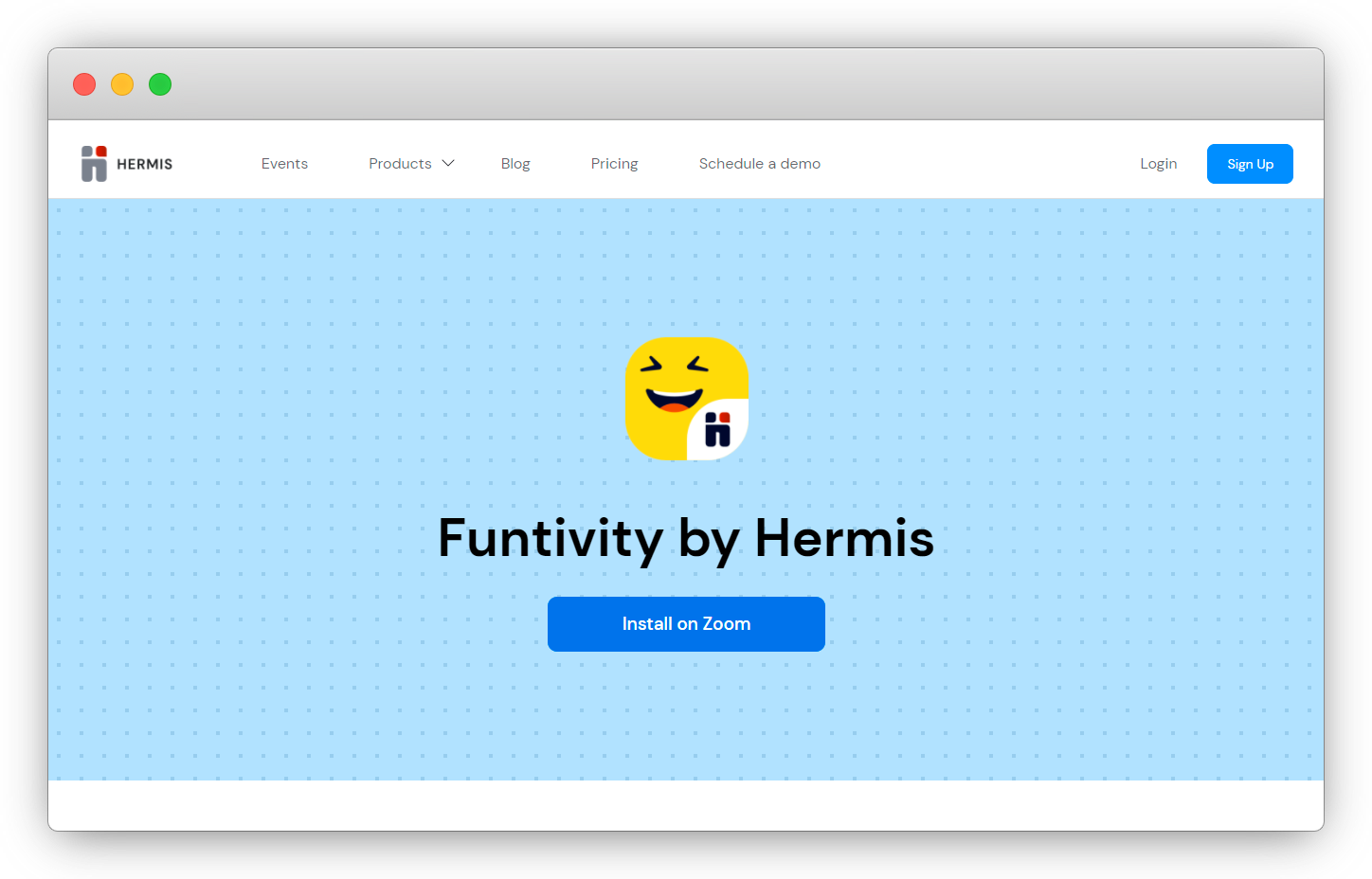 Funtivity by Hermis is a fun app for increasing engagement in your team. It is a one-step platform businesses use to host team activities and virtual gameplay. It is useful to organize virtual events and get-togethers.

It is easy to set up and use and

is good for both small gatherings and large groups.
Key Features
It offers a wide variety of themed events.
Personalize the events and games as your like.
Mingle Mode feature allows you to create multiple groups of people when you have a large pool audience. The participants join another group easily with a single movement of the tile.
Play as individuals or as members of a team.
Advanced scoring and leaderboard feature keeps the track of scores of all the teams, and the winning team gets a special mention at the end of the activity.
Along with being available for Webex, it is also a launching partner of Zoom.
Price
Funtivity by Hermis costs:
$4.99 per user/month for up to 10 participants.
$9.99 per user/month for up to 25 participants.
$19.99 per user/month for unlimited participants.
It also gives a free trial for the first 30 days.
3. Conferences io - organizing live and virtual events, webcasts, polls, Q&As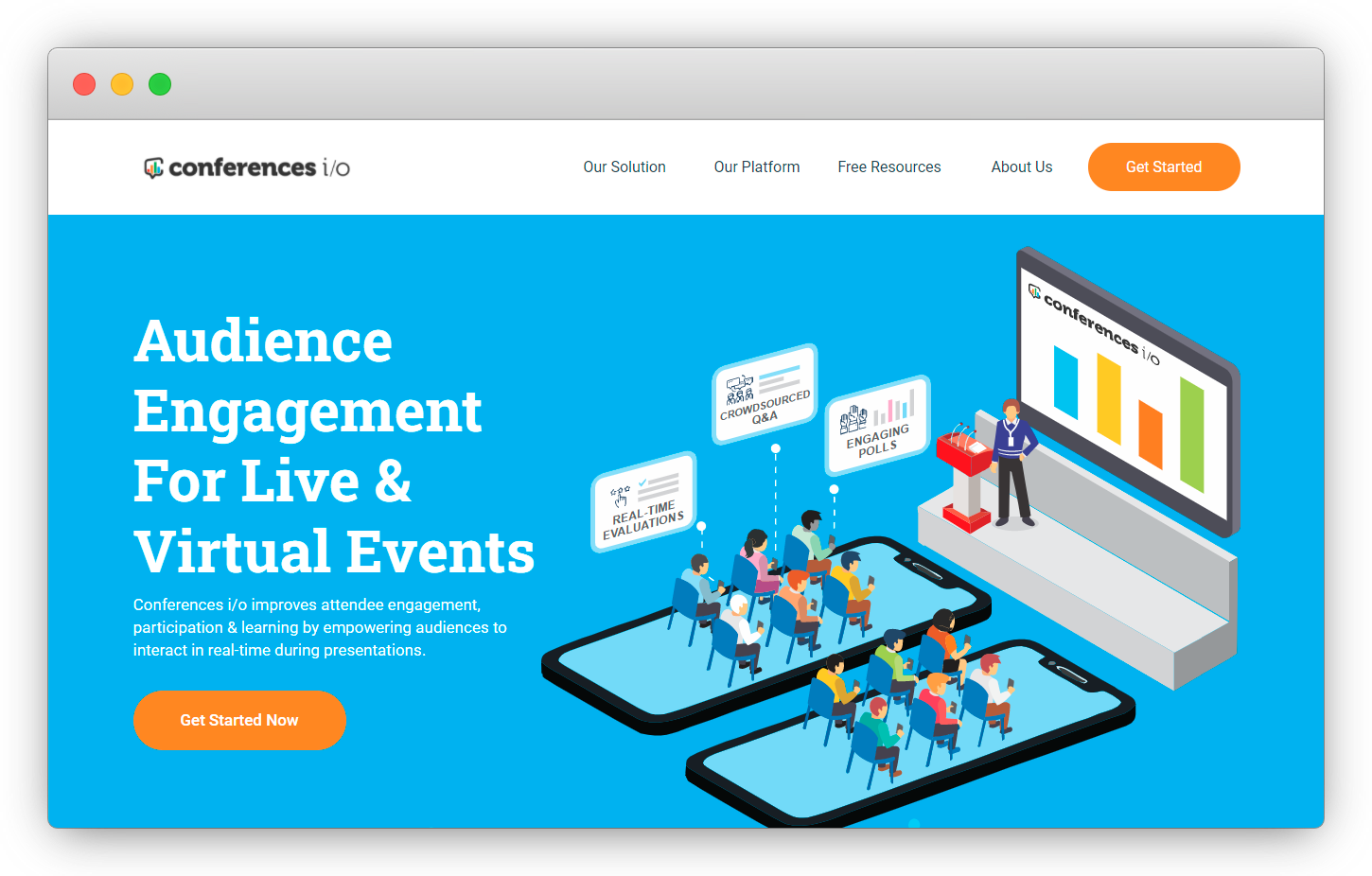 Conferences io is an Audience Engagement App for live and virtual events that can keep your employees engaged with Webex meetings. The app helps to improve employee engagement, participation, and learning by increasing audience interaction in real-time during Webex meetings.
Key Features
It works on various devices - tablets, smartphones, laptops, and more.
Real-time polling enables you to create polls within seconds and share them with your employees.
Team Battles features encourage friendly competition to engage your employees through quiz-style game breaks.
Evaluate Webex sessions by asking for feedback about it from your employees.
Social Q&A feature that allows your employees to vote for the questions they want to be answered first, and the list of questions automatically sorts up with popularity.
Track attendance to check employee engagement and increase it.
Get a dedicated person assigned to provide you with training, answer your queries, and ensure that your event goes successfully.
Get dedicated places for inserting your sponsor's logos and earn extra income.
Along with Webex, it is integrable with mobile event apps, webcast platforms, and A/V company presentation management systems.
Price
The pricing of Conference io starts at $1000 per user/month. It also offers a free trial but doesn't have a free version.
4. Miro - collaborative whiteboard tool to create text, diagrams, files, icons, and visual assets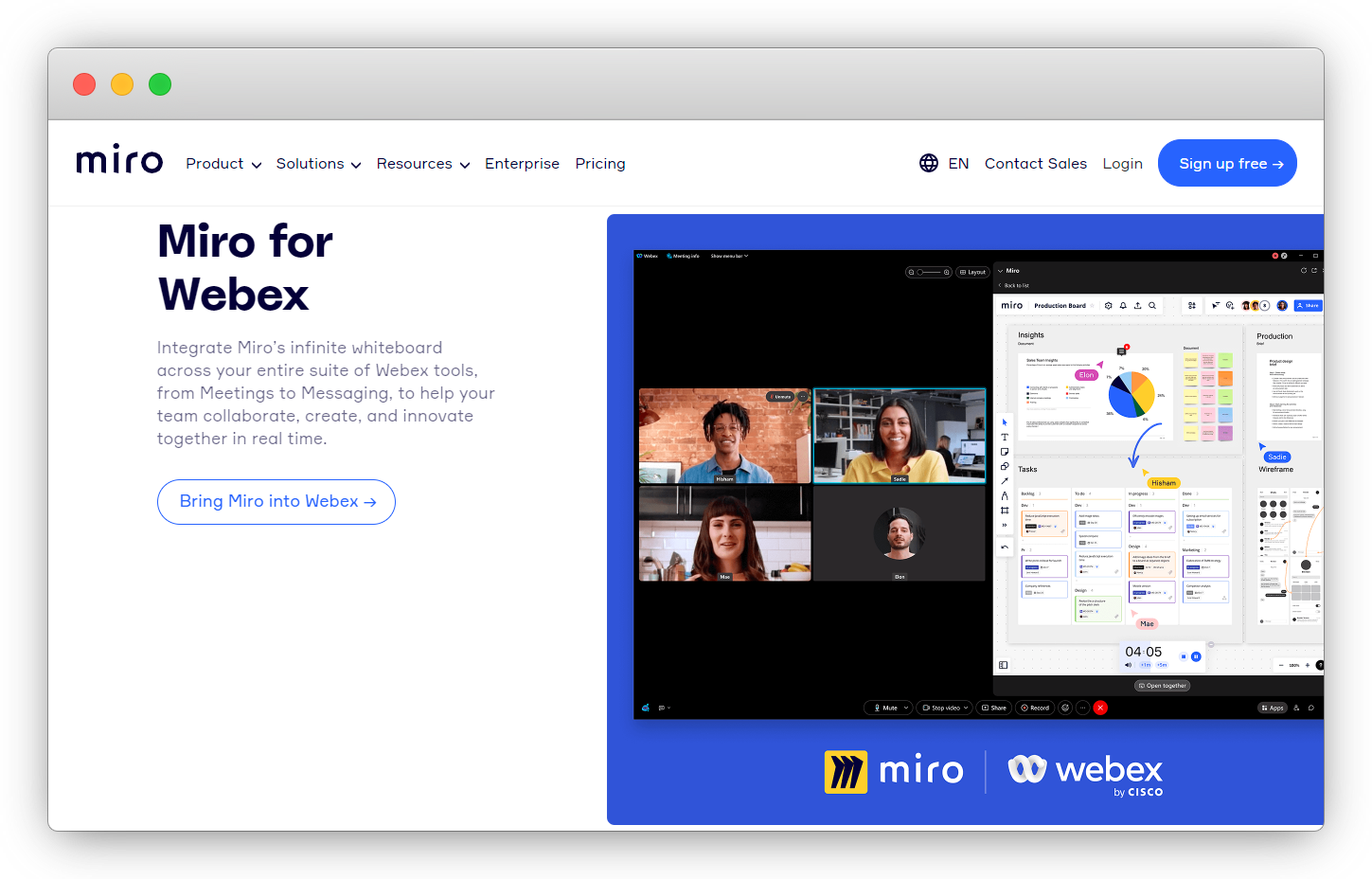 Miro is an online collaborative whiteboard platform. You can use Miro for Webex to bring your teams and employees together, anytime, anywhere during your Webex meetings. It improves employee engagement in your Webex meetings.
With this app, you can create brainstorm ideas, take notes, and visualize concepts with your employees in real-time during your ongoing Webex meetings.
Key Features
Access all your Miro boards and work during Webex meetings and in your own time, without needing to leave the Webex space.
Co-create text, diagrams, files, icons, and visual assets online from your Webex device.
Get engaging features like voting, timer, and sticky notes. You can enable your employees and all team members to comment.
You get over 100+ templates.
Flexible user management allows you to activate or deactivate access of your employees anytime as per your requirements.
It integrates with 70+ apps to enhance simplified workflows.
Price
Team plan costs $8 per member/month.
Business plan costs $16 per member/month.
Consultant plan costs $12 per member/month.
Enterprise plan is customized plan as per your company requirements.
It also offers a Free plan.
5. Huddl.ai - capture meeting moments, audio and video interactions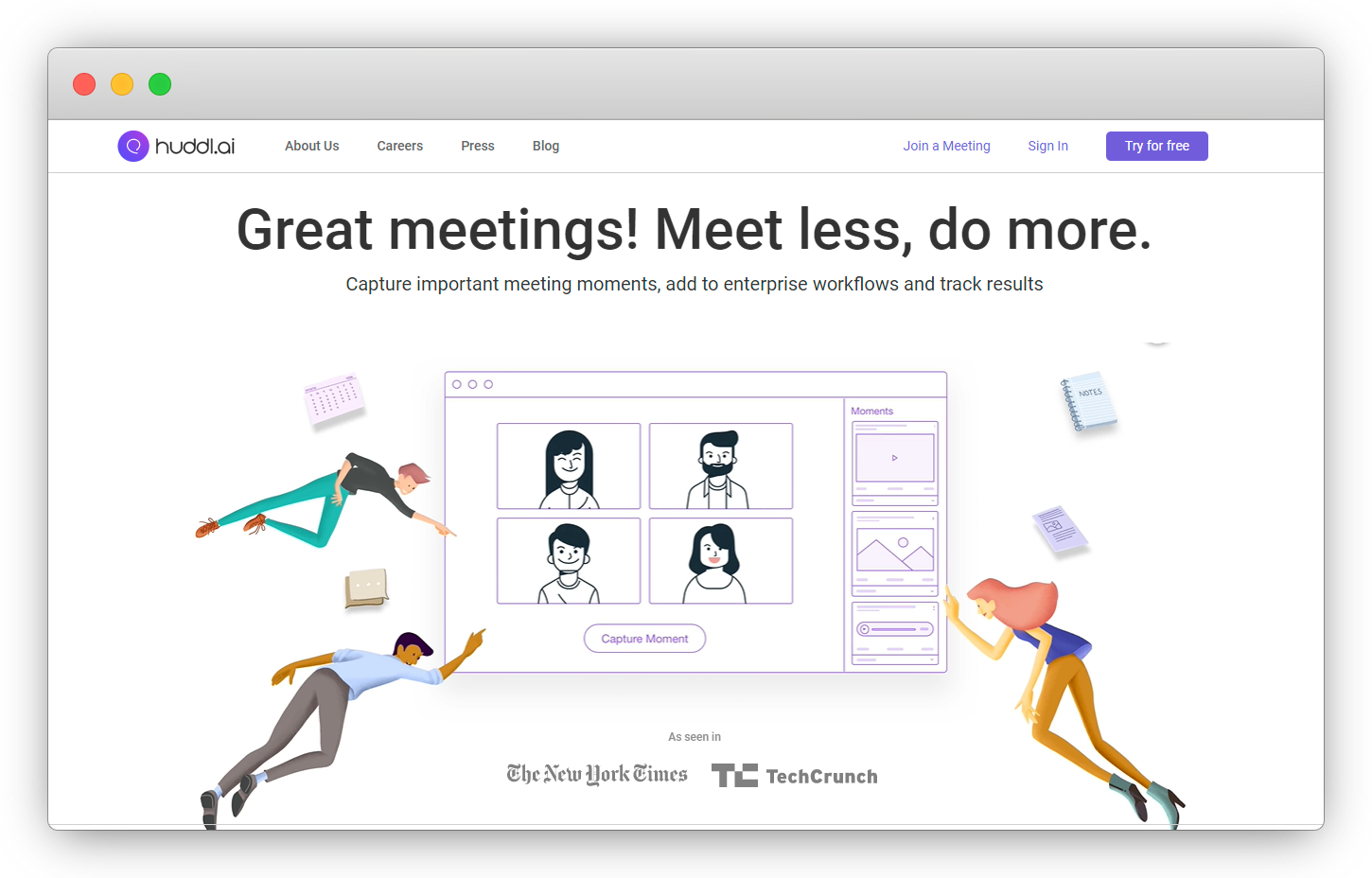 Huddl.ai is an Online Collaboration Tool that businesses use to bring the right people, information, and tools together to get work done. The use of this app is to capture meeting moments, important information, meeting outcomes and integrate them with existing workflows.
With Huddl.ai, you can record the audio and video interaction you have on Webex and ensure that you and your employees don't miss anything. This establishes better communication and engagement between you and your employees, and among your employees.
Key Features
Manage all the meeting content of your Webex meetings so that you can track, search, and complete it whenever you need.
Capture and save important moments of meeting in real-time with one click, and save yourself and your employees from manual documentation of things.
Integrates Moments, Action items, and notes with Enterprise systems, and saves your time and efforts.
Co-authored, co-editing, note-making, and action items that promote employee engagement by turning taking meetings into collaborative working sessions.
Feature of automatically eliminating the background noises like public area noise, barking dogs, and keystrokes, etc. from the recordings of your Webex meetings.
Price
The price of Huddle starts from $10/month per feature. It has three plans - Huddle Starter, Huddle, and Huddle Plus. You can get the details of these plans only by contacting them. It also offers a free trial.
6. Read Dashboard - track sentiments and engagement in the meetings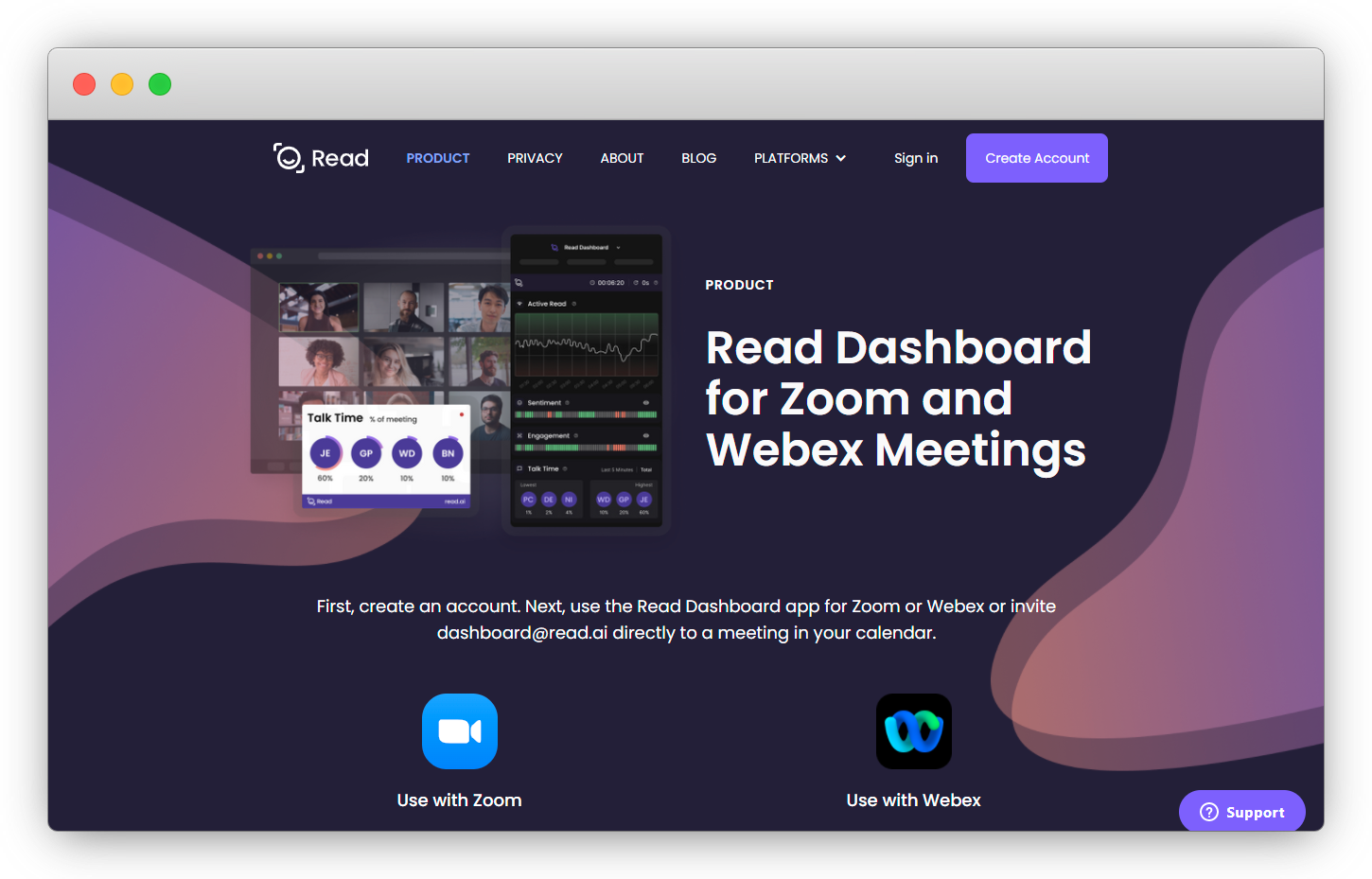 Read Dashboard is an app that provides a real-time read of your conversations in your Webex meetings based on sentiment and engagement. With Read Dashboard, you get answers to the questions, 'How the meeting is going?'. It analysis the sentiments of your employees and measures employee engagement.
With the analysis of this app, you can work in the direction of increasing employee engagement and improving sentiments.
Key Features
Monitor Talktime of every employee to ensure that everyone's voice is heard, and make your conversations more inclusive.
Measure Employee Engagement to improve it.
Analyze the sentiments of the employees and work in the direction of making them more positive.
Measure metrics to be double sure of the engagement and sentiment analysis of the app.
Along with Webex, the app is also available with Zoom.
Pricing
Read Dashboard is Free on Zoom and Webex.
7. Vevox - conduct live polls, Q&A, word clouds, and quizzes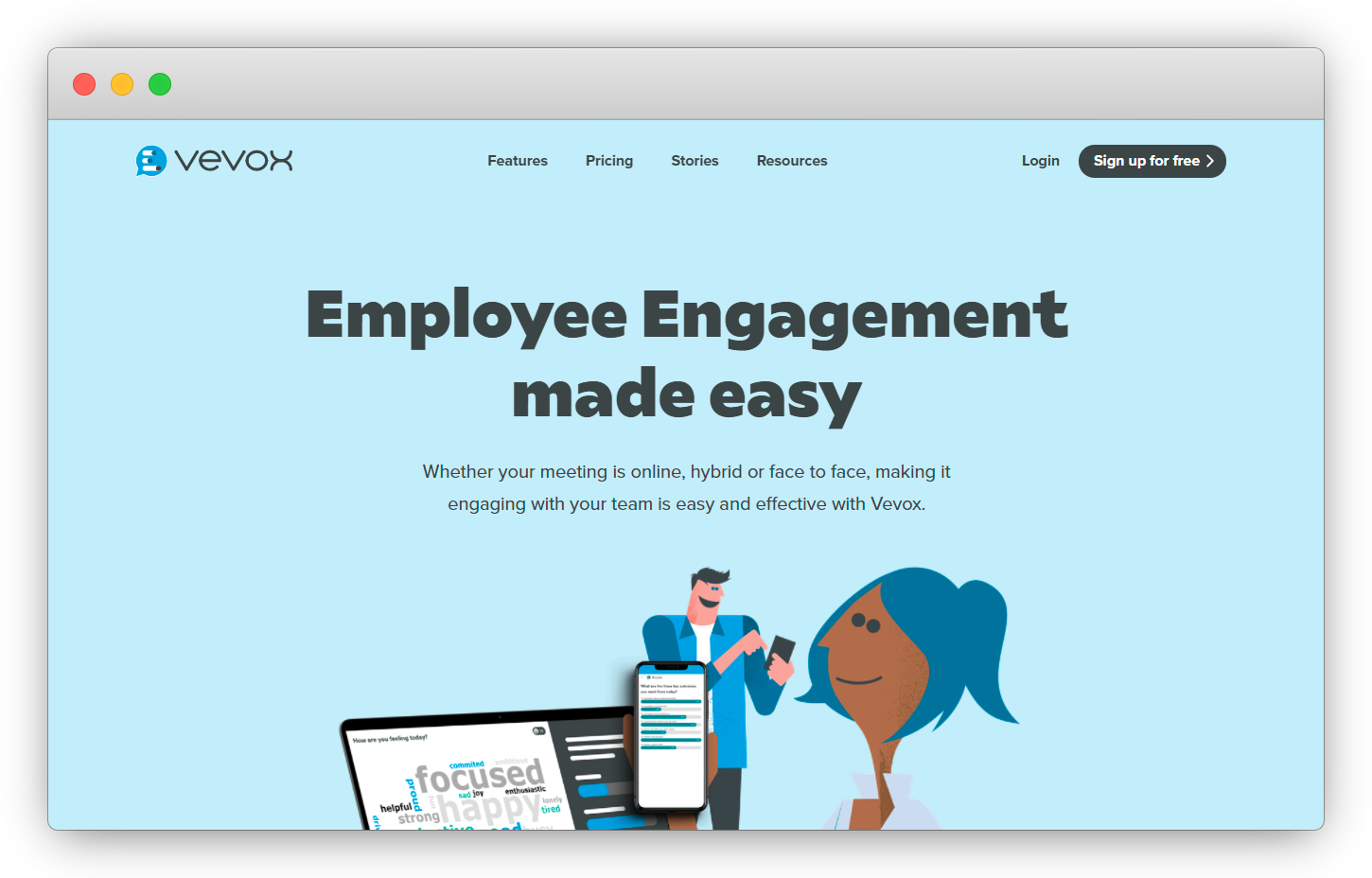 Vevox is another polling and Q&A platform that you can use to increase employee engagement in your Webex meetings. It is a quick and easy-to-use platform. With Vevox, you can engage your employees with anonymous polls, Q&A, and Quizzes in Webex meetings.
Key Features
Create live polls, Q&As, quizzes, and word clouds to make your Webex meetings more engaging and interesting.
Run live polls and surveys to collect your employees' opinions and views during your Webex meetings, without breaking the flow.
Run Anonymous surveys to know what is important to your employees and get more accurate data.
Choose your preferred identification settings for your employees so that they themselves can recognize whether the message is for them, and do not fear judgment.
Along with Webex, it also works with tools like Zoom, Canvas, Blackboard, and more.
Pricing
Base plan is free.
Individual plan costs $50/month for single user.
Team plan costs $45/month per user for 2+ users.
Enterprise plan costs $30/month per user for 50+ users. They also provide custom quotes for enterprises plans
8. MeetingPulse - conduct live polls, Q&As, Quizzes, Sentiment Analysis, raffles, brainstorm, and leaderboards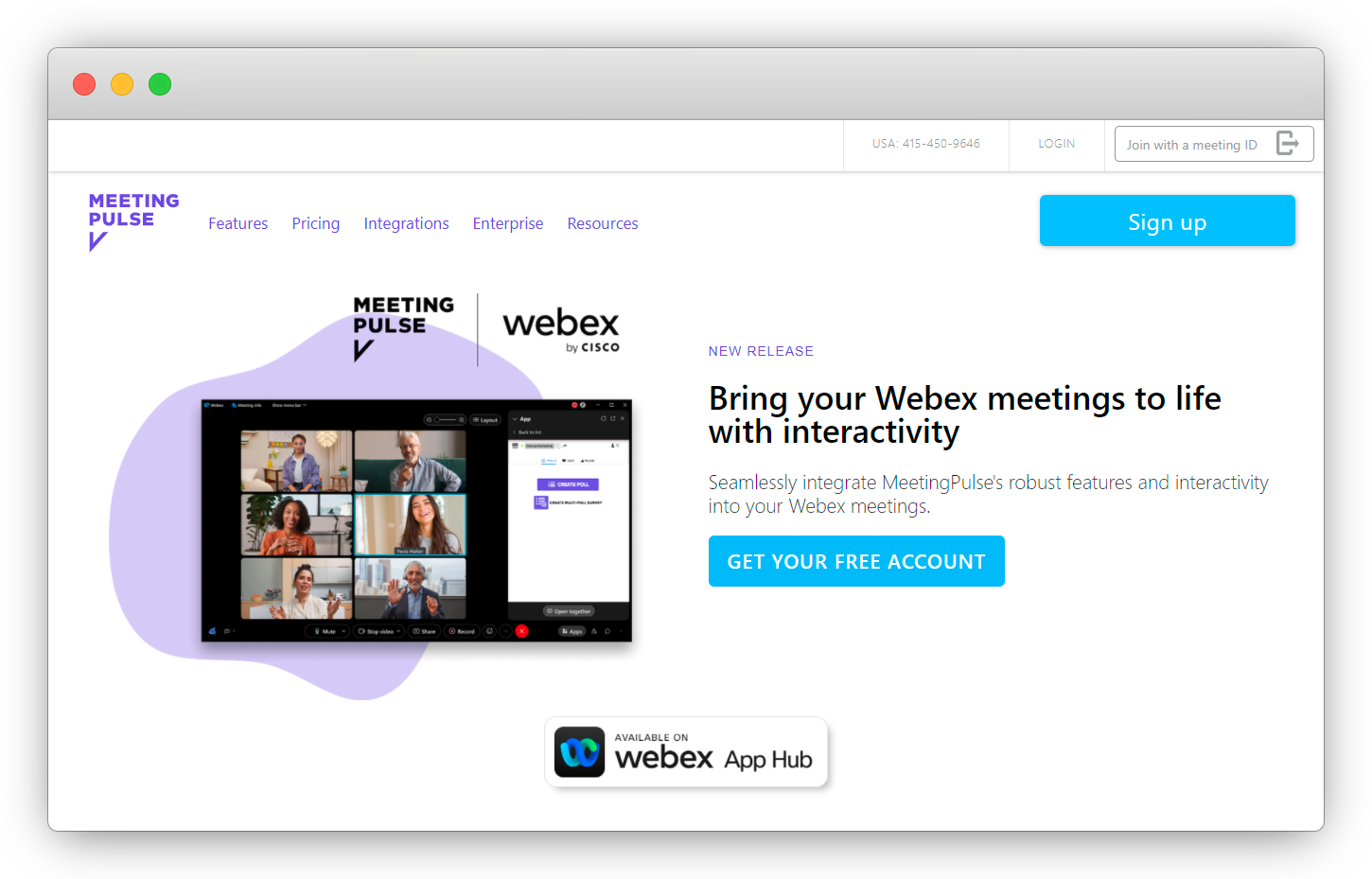 Meeting Pulse is a live surveying and polling platform that works well with Webex to bring your Webex meetings to life with interactivity. With this app, you can engage with your employees and understand them.
With MeeingPulse, you can establish better communication and engagement with the help of its live polls, quizzes, competitions, and leaderboards, and add life to your Webex meetings.
Key Features
Create live polls, quizzes, competitions, and leaderboards to know how your employees feel and add life to your meetings.
Take in-meeting feedback from your employees to measure satisfaction and engagement.
Host moderated Q&A sessions in real-time where employees can ask questions during Webex meetings, and also vote for the questions they want to get answered for on priority.
Boost interest and engagement among your employees through Raffles and Quizzes. You can use them as icebreakers to increase engagement in your meetings.
Along with Webex, it can also be integrated with apps like Zoom, Microsoft Teams, and Google Meet.
Pricing
It offers different plans:
It has a Free basic plan.
Starter Plan costs $10/month.
Premium plan costs$192/month.
Enterprise plan is a customized plan.
Also Read: