There are lots of ways to improve the customer experience, one among them is by reducing customers' efforts to interact with your business. Think about it - wouldn't you be happier to deal with a company where the processes are easy and you don't have to really make a lot of effort to get something done? That's exactly what CEB, now Gartner, also thought. While introducing Customer Effort Score, a metrics to measure customer effort, CEB mentioned how low customer effort is a stronger driver to customer loyalty.
To determine whether you are high or low in terms of customers' efforts, CEB created this action-driven customer experience survey metric called Customer Effort Score.
Measure & Improve Customer Effort

👩‍💻
With CES Survey insights, design low-effort experiences for your customers and improve loyalty.
What is Customer Effort Score?
Customer Effort Score (CES) is a customer service metric that measures the levels of effort your customers have to put into a certain interaction with you to achieve their goals. CES is calculated by asking a simple question.
The Customer Effort Score Question
The CES question is - To what extent do you agree with the following statement: The company made it easy for me to handle my issue.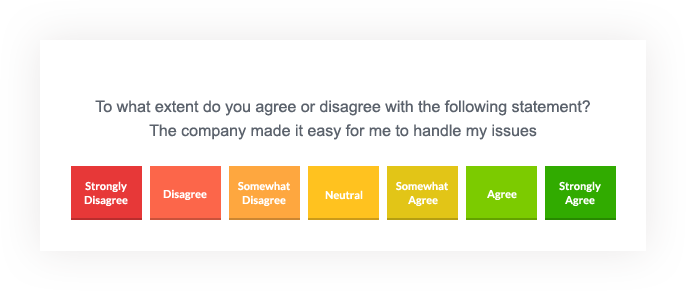 How Customer Effort Score developed?
In 2010 research, CEB, now Gartner has determined a correlation between the amount of effort required by a customer to resolve a problem and customer loyalty. Less the effort more likely customer was to become loyal. Therefore in 2010, CEB introduced the Customer Effort Score as a new paradigm in customer satisfaction and feedback.
Customer Effort Score has gained immense popularity in 2010 when the Harvard Business Review published an article titled 'Stop Trying to Delight Your Customers' in which they emphasized that reducing efforts is much more important than delighting your customers.
Why do you need Customer Effort Score?
The Customer Effort Score Survey helps the businesses to gauge the level of effort their customers put to achieve their goals. This helps them to identify the weak areas and improve it to deliver higher-quality interactions.
Apart from improving fidelity towards the brand, here are some noticeable statistics that can help you to realize very well that why you need Customer Effort Score for your business:
Ensure Effortless Experience - 88% of the customer going through an effortless experience are likely to spend more.
Improves Repurchase Rate - 94% of customers who experienced low-effort service interaction are intended to repurchase.
Reduces Cost - CES has phenomenally declined 40% of repeat calls, 50% of escalations and 54% of channel switching. This has lowered the effort experiences and reduced costs by 37%.
So, Customer Effort Score is the one-stop solution that offers unique insights on your customer experience and helps you to increase customer loyalty without spending extra services and support expenses.
How to Calculate Customer Effort Score?
Zonka Feedback's default CES Survey Template takes a general approach and can be customized to fit business needs. You can calculate the overall CES by finding the average of all your customers' scores:
Customer Effort Score Formula
Customer Effort Score
=
Addition of all customer effort scores ÷ Total number of respondents.
For example:
Say, if you get 12 responses: 3, 7, 5, 3, 7, 7, 6, 5, 7,7, 7, 7
So, your customer effort score = Addition of all customer effort scores ÷ Total number of respondents.
CES = (3+7+5+3+7+7+6+5+7+7+7+7) ÷ (12)
(71) ÷ (12)
Therefore, your Customer Effort Score = 5.9
Learn more about the Customer Effort Score (CES)