Whether you're measuring customer satisfaction and feedback, taking employee feedback, capturing a lead at an event or doing market research - the first step is always to create an effective survey. To create an effective survey, it is important to know some survey science and the best practices used for creating an online survey that gives you responses and the right data that you need for your survey.
Basically, the success of any survey lies on its response rate and the response rate depends majorly on how effective your survey is. It would not be wrong to say that the effectiveness of a survey depends on the questions we ask and the way we create them. Have you ever thought how can we make our surveys more effective in a way that it motivates the respondents to respond? Here is a guide to create an effective online survey.
Getting Started with Creating Online Surveys
In order to create an effective online survey, it is important to make a right mindset to design the survey the right way. When we start creating a survey, the first thing we began to do is to think of the questions we should ask. But, there is another way to think which would be more helpful for you to decide the right questions. Instead of concentrating on thinking of the questions, you should think of the answers you want.
For instance, at an event, the crowd is quick-moving and while your objective is to capture as many details from a lead as you can, the lead doesn't necessarily want to spend so much time on your booth. In this case, you can keep the most important questions in your survey like Name, Email, Mobile Number and which product they're interested in. Make the last question a multiple choice question so your potential customers don't spend a lot of time writing and can just pick one of the choices.
Similarly, post a home delivery, you want to ask questions like 'How was the delivery time?' or 'How was your experience of the home delivery service?' or 'Please rate the quality of the food just delivered at your in your doorstep' online survey.
Survey Strategies and Best Practices
While creating a survey, it is good to follow these strategies in order to make it more effective. Moreover, it is always recommended to follow the best practices which definitely helps to increase your response rate and provides you helpful data.
Survey Strategies and Best Practices
Let us review these survey strategies and best practices.
1. Keeping Surveys Short and Simple
Let's be honest, nobody, including you and I, has the time to respond to long and time consuming surveys. So when you create an online survey, it is advised to make it short. The questions should be clear and simple so that the respondents can give to-the-point answers. Creating crisp survey questions and keeping it short would not only help the respondents to save their time, but will also save your time by giving you more clear and meaningful data. Some important things you can ensure:
Keep the survey questions to the minimum possible

Add only required number of survey pages

Avoid repetitive questions

Ensure that the online survey link doesn't take a lot of time to load
It is a common tendency of the respondents to leave a survey in between if it is consuming more of their time. This decreases the response rate of the survey. So, try to create short and simple surveys so that respondents complete the full survey and you get a good response rate.
2. Using a Combination of the Right Type of Questions
Questions are the core part of a survey. It is justified to say that the success of a survey mainly depends on the questions asked in that survey. To make an online survey effective, you need to put together a variety of questions so that you can obtain a clear picture of the perception of the respondents regarding different aspects of your business.
Use a combination of both open-ended questions and closed-ended questions in your survey so that where you need clear choices among a few options, you can have the exact answers and where you cannot cover all possible alternatives in the options, the

respondents

can freely share their views and opinions.
Use a good survey structure in putting the questions. You can use Funnel Technique, in which you can structure your questionnaire in such a way that you start your survey with simple questions of general interest that are easy for the customer to answer. These questions help to create an environment for the customer so that he gets involved in the survey.


In the middle, the most difficult questions are placed which are of less general interest and need time to think while answering. At the end, again questions of broad interest are put so that the customer answers them easily and complete the survey. This strategy helps in making the survey more effective.

End the survey with gratitude and thank the respondent for their time.
3. Using Easy Language - the Language of your Customer
When you are creating an online survey, always keep in mind that the language you use in your questions is reader-friendly and your customers can easily understand it. Avoid using difficult and complex words which your customers may misinterpret. This can lead to a totally wrong results of the survey which will certainly not help you obtain a good data to be used to make business decisions.
Use simple and easy language in your survey questions

Make sure your questions are easy to understand

Create survey questions in different languages for different customers. A multilingual survey is likely to get more responses if you have an audience that communicates in multiple languages.
4. Giving a Clear Estimation of Time to complete the Survey
Giving a clear estimation of time at the beginning of the survey is one of the best practice to be followed while creating a survey. This conveys a message that you value the time of your respondents.
Whereas, if you do not mention any estimated time to complete the survey and the survey is taking a longer time than expected, most of the respondents will leave the survey in between which will eventually decrease the response rate of your surveys. So, always follow this practice of mentioning the estimated time for completing the survey or the number of questions they have to answer to set the right expectations in the minds of the customer.
5. Motivating the Respondents to Complete the Survey
When you create a survey, you should motivate the respondents to take the survey. The ideal time to do it is in the beginning of the online survey itself.
Introduce the purpose of your survey - Use introduction messages in your surveys like "We're conducting this survey to understand your requirements better"
Establish the importance of filling out the survey - Let your respondents know the importance of them filling out the survey, for instance, "Your feedback helps us do better"
This will motivate the respondents to provide their feedback through surveys. Moreover, this will showcase that you value the relationship with your customers and their feedback matters.
6. Avoiding Biased and Leading Questions
When you are creating an online survey, avoid using any leading words or sentences in your question which can affect the answer from the respondents. When you put your opinion in the question, it can make the survey biased and you don't get the accurate response from the customers.
For instance, instead of asking "How satisfied are you with your meal today?", you can ask "Please rate your level of satisfaction with the meal today". The former is a leading question as it assumes that the diner was satisfied with the meal.
7. Previewing and Testing your Surveys before Sending
Imagine you just distributed a survey and you realize that you forgot adding some important questions or the answer options. In order to avoid such situations, it is always better to preview your online survey before distributing it to anyone.
Moreover, make sure that you test your survey before the final distribution to your respondents. Before sending, share it with some of your friends or workmates to do a practice run. In this way, you can ensure that your questions are well structured, skip logics are working fine and your survey is up to the mark.
8. Avoiding double-barreled Questions
When you ask feedback about two different things within a single question, that question becomes a double-barreled question. These type of questions not only create confusion for the respondents while answering, but also can lead to the respondents leaving the survey in between. For instance, you are running a hotel business and you ask a question like this - How would you rate our food and room service at the hotel?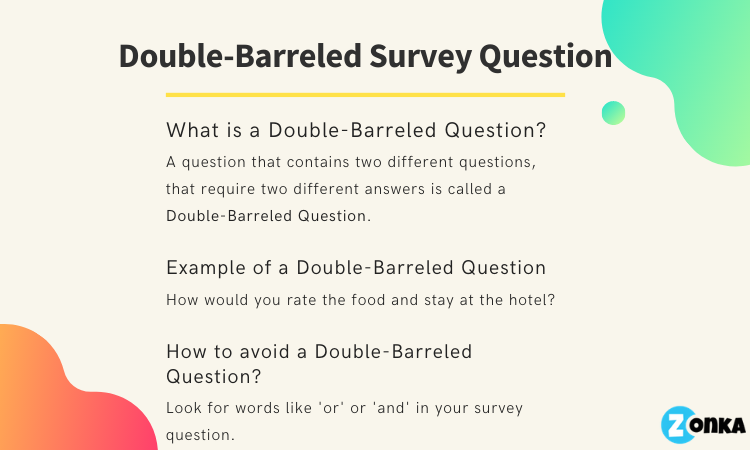 Now, food and room service are two totally different things. How can a customer provide same feedback for them if he is happy with one service and unhappy with the other? Because of these type of questions, many people tend to leave the survey in between which affects the response rate to a large extent. And in cases when they don't leave, you're likely to be left with a data that doesn't give you a clear view of your customers' feedback.
9. Keeping Balanced Answer Choices
When you are creating a survey, take care to keep the answer choices balanced. Balanced answer choices mean that the number of answer choices for positive should be same as for negative.
For instance, if you put up a question in your survey,
How was your experience with our after-sales services?
The unbalanced answer choices would be:
Excellent

Very Good

Good

Neither good nor bad
Whereas, you should put the balanced answer choices so that the customer can provide real feedback, whether good or bad. Such answer choices would be:
Excellent

Good

Neither Good nor bad

Bad

Pathetic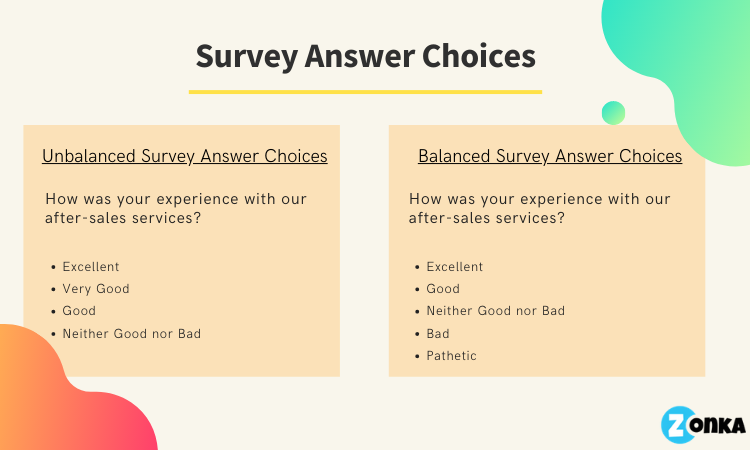 Here, we can clearly see that the unbalanced answer choices are covering only the good and average feedback options and are not actually allowing the customers give a bad feedback. In such case, if the customers are not satisfied with the experience, they will definitely leave the survey in between.
Whereas, the balanced answer choices range from Excellent to Pathetic and the customer is free to give good as well as bad feedback.
10. Choosing the Right Online Survey Tool
Conducting surveys manually is tedious and a thing of the past. A great way now to effectively conduct surveys and get feedback is by using a Online Survey Tool.
A Customer Survey App will help you fully customize your surveys, choose from multiple survey questions, create your surveys in different languages, preview and test your surveys and send them out using various channels. With an Online Survey App, you can easily track survey responses and get a complete survey data analysis without having to do it yourself manually.
Some things to consider while choosing your Online Survey Tool are:
Does this Online Survey Tool allow you to customize your surveys?
Does this tool allow you to add your company's branding and logo to personalize the experience for the respondents?
Does this tool allow you to integrate to other software?
Does this online survey software give you real-time reports and analytics?
Does this online survey app seem easy to implement and easy for you to train your staff?
Does this online survey software give you option to create multi-lingual surveys?
Does this online survey tool enables you to use survey skip logic and branching?
How to distribute Online Surveys?
When you have created your online survey with a good structure and right type of questions, the next thing you need to do is to send the surveys to your customers. You know who are your target audience to whom you want to ask questions. But what will be the right mode of reaching them online? Well, you need to take care that you should use such a channel with which you can reach more of your target audience so that you get maximum response from your customers. Here are some popular ways through which you can reach your customers and send them surveys online.
1. Email Survey
Email is one of the most popular means of online communication which comes to the mind when we talk about taking a survey online.
As it is a direct mode of communication between you and your customer, Email Surveys enables you to decide how broad you want to go in your efforts to distribute your surveys. You can decide whether you want to include only the customers in your target group, or you also want to include the prospective customers who have visited your workplace, marketing executives of different companies or all those persons who have expressed their interest from any channel about your products and services.
You can send two types of email surveys - Batch emails and Transactional emails.
Batch Emails - Batch emails are those where you can target a particular group of audience. It is a very good and a common way to target a group of people. You can simply create an email distribution list and send emails instantly to that distribution list. The greatest benefit you have of sending batch emails is that there are more chances of getting responses as you have already sent the survey invitation emails to a selected group of people having a higher probability to answer.
Transactional Emails - There are instances when your customer requires some support from you or a there is a particular work which is done by you for the customers at their requests. Or a customer has recently completed a work with you and you want to have feedback about the experience. Here is where Transactional emails are used for. When a user completes a certain action, it gives you a good opportunity to ask for a feedback and work on improvement if needed.
2. Website Surveys
You make good websites to attract more and more customers to your brand. So why not use these websites to conduct surveys and capture Customer Feedback data? Your website is a great platform to invite people for taking online surveys. Most of the visitors on your website would be relevant people whom you can convert into your survey respondents. You can take feedback from those visitors regarding their perception about your organization, brand, products and services.
All you need to do is to provide clearly visible links on relevant pages on your website and motivate the visitors to give feedback through those surveys. The survey links must be easily accessible and should open quickly so that the visitors do not get irritated while seeing the loading page for long as it can lead them to close it even before starting the survey. You can use your website for surveys as follows:
You can use pop-up survey links on your website.
You can also embed a survey on your website at a permanent location at relevant pages of your website.
You can make a survey follow-up page whenever a person does a transaction from your website or opts for any product or service through your website.
3. Embedded Surveys
You can embed your surveys on your websites and blog posts. You can also write a blog or an article to specifically tell your audience why you are conducting a survey and how can it benefit your customers. You can explain in such blogs how a feedback survey will help you to serve them better in future and should build trust in them that their feedback will be paid heed. In such blogs, you can embed your survey and can receive a great response. You can also:
Use text links in the body of your blog posts which take the readers to the survey.
Embed survey in the article or blog directly.
4. Surveys on Social Media
Over the recent years, social media websites have become a great platform for everything. Be it marketing your product, promoting your brand, or giving you latest updates about the market; social media plays a major role nowadays in the world of online marketing and advertising. You create social media pages of your brand for various purposes, so why not use it to take a survey.
You should promote your surveys on social media by creating an environment on the social media page where you respond to every feedback in the form of comments from the customers. In these conversations, you can give survey links and motivate them to fill the survey to provide you real insights. You can also provide direct link of the surveys in your social media pages and promote the surveys there.
5. SMS Surveys
SMS is also a great medium to send your online surveys. It is one of the most effective, convenient and cheap source of sending surveys to the customers having a read rate and response rate even greater than emails.
SMS have an open rate of about 98% and response rate around 40% which are much higher than that of emails. (Source:SMSGlobal)
In the SMS survey invitation, you just need to introduce your brand, write a short message inviting and motivating the customer to take the survey followed by a survey link which should open quickly in a single click. You can send bulk SMS survey invitations in a few clicks with the help of a good Survey tool.
How to Analyze a Survey?
You have sent the survey and your survey was a success! You received a lot of responses on your surveys. Now what's the next step? You have a lot of data and to extract the useful findings, you need to make sure that the data you have is reliable and accurate. For this, you need to analyze certain things.
Whether all your surveys were completed or was there a high number of those which were left in between? If completed, were they completed actually with accurate answers or the respondents just selected any easy option just for the sake of completing the survey? You need to look for these things and then you will be able to obtain meaningful data out of it.
You should now try to find that data which you were actually looking for when you started to create the survey. You can divide the data as per demographic groups according to the demographic details of gender, age group or any other demographic detail as per requirement of your survey.
Next, you can do a text analysis of the answers of the open-ended questions you had in your survey to take them to a conclusion. You can create reports from the data so received which will help you to make your business decisions.
Getting started with Zonka Feedback
Zonka Feedback is a powerful feedback software and survey app which helps you to create beautiful customizable online surveys and present it with your brand and beautiful designs. With Zonka, you can create surveys in multiple languages and prepare actionable reports and metrics like NPS, CSAT and CES.