There are many aspects to building an amazing guest experience at a hotel. Customer Feedback can provide you with a valuable outline for building a customer experience your guests enjoy. Asking the right questions, and getting the right feedback from your guests is crucial for your hotel. For one luxury hotel, acting on guests' complaints about laundry was the beginning of a successful transition to customer-centric service improvements throughout the hotel.
Listening to your guests and understanding their perspectives can help you increase guest satisfaction and improve the guest experience. Customer feedback is where it starts. It's a safe bet that you have an ultra long list of questions to ask your guests in your hotel feedback form. However, in the hope of knowing every detail of your guest's visit to your hotel, don't create a feedback form that is so unimpressively long that they opt-out of it.
Measure Hotel Feedback and Satisfaction
Gauge feedback from guests and visitors at various touchpoints in your hotel.
We understand you want to ask your guests their opinion about every service that you provide at the hotel, but you really shouldn't. That's why we have come up with five simple questions that will get you the most valuable feedback from your guests while also keeping the feedback form short and crisp.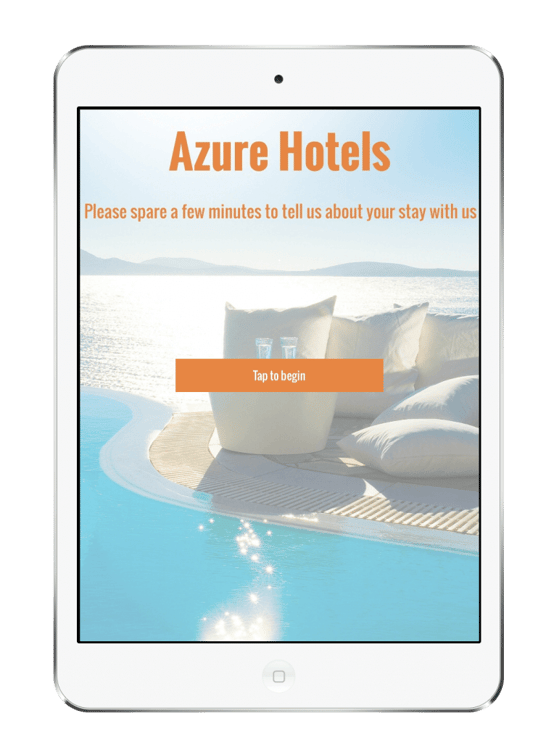 1. The Rating Question
You can configure your feedback app or online survey to ask rating questions. Present your guests with a multi-row rating scale question. Include all the main aspects of the stay you'd like your guests to provide feedback on, that affects their guest experience. You can ask for their feedback on service, staff behavior, food quality, room quality, etc. You will make it easier for your guests to respond. You'll also get the information you need in less time by using a rating question.
Include rating scale questions in your survey to measure your respondents' attitude and satisfaction towards specific service items.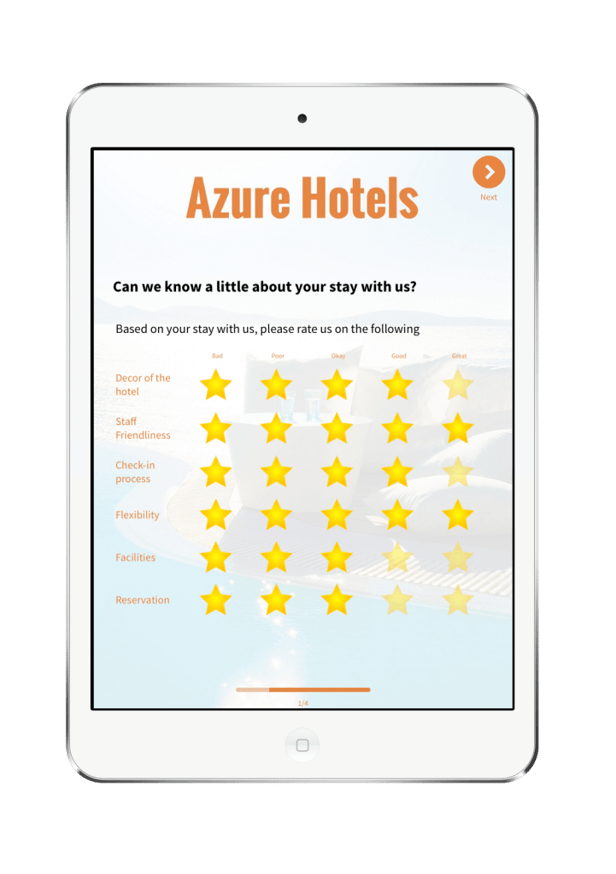 2. The NPS Question
Make it a point to always include a Net Promoter Score® survey question in your hotel surveys. The NPS® is an industry-wide metric that helps you calculate how satisfied your guests are. An NPS survey shows how likely your guests are to recommend you to their friends and family. It is calculated on a scale of 0-10.
Include an NPS question along the lines of, "Based on your stay, how likely are you to recommend us to your friends and family?"
You can categorize your guests as promoters (those that score you from 9-10), passives (guests who give you scores between 7-8 ) and detractors( guests who score you between 0-6). Once you've categorized your guests, and calculated your NPS score, you can begin working on formulating follow-up strategies accordingly.
Include a follow-up question with the NPS question. Create a customized open-ended question in your feedback app or survey software, or include a pre-existing question along the lines of, "What's the main reason behind your score?"
Include this open-ended question to get quality customer feedback, share brand voice, and obtain more useful information. Act on this customer feedback to increase customer loyalty by providing a stellar guest experience.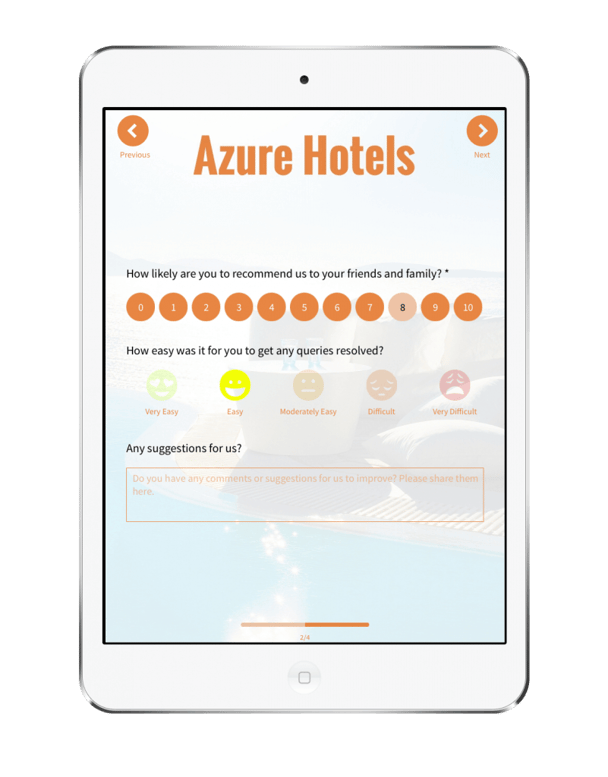 3. Open-Ended questions - Comments Question
Words can say a lot more than scores ever can. Include open-ended questions in you hotel feedback form so that your guests can leave comments. This is a great way to gain more context from guest feedback. Also, open-ended questions enrich the quality of feedback data you will receive. This type of customer feedback will also provide you with clear ideas on how to tackle a specific problem.
Open-ended questions elicit more information than multiple choice or other closed-ended questions can. Open-ended questions give your guests the freedom to answer your question in their own words. They also offer you a chance to gain information you hadn't considered before.
It's great to add multiple-choice questions, radio buttons, and other close-ended questions in your hotel survey form to collect specific data. But don't forget to add an open-ended question in order to see the data in a different light.
4. CSAT question
Customer satisfaction surveys (CSAT) provide quantitative data which is easy to understand and can be used to quickly identify trends and possible solutions. Since CSAT scores are easily benchmarked, they are a useful measure of customer feedback. Use the guest satisfaction surveys to compare your hotel's scores with competitors throughout the industry. Evaluate the customer feedback received to improve the guest experience.
The CSAT question asks the customer a simple question, "How would you rate your overall satisfaction with the service you received?"
Guests rate their satisfaction on a scale of 1 to 5 as follows:
1- Very unsatisfied
2- Unsatisfied
3- Neutral
4- Satisfied
5- Very satisfied
5. Personal Details
When capturing customer feedback, you can also add a question asking users for their contact information. This is easily achieved whether you are using a feedback app or an online survey software. You can customize a screen asking for your guests' details. Choose from various details that you require, such as name, mailing address, phone number, and email address.
Asking guests for their personal details is important. You will be able to maintain a guest database. You can use this information to provide exceptional experiences to your guests on their next visit. Also, asking for these details from your guests will make it easier to initiate the process of following up.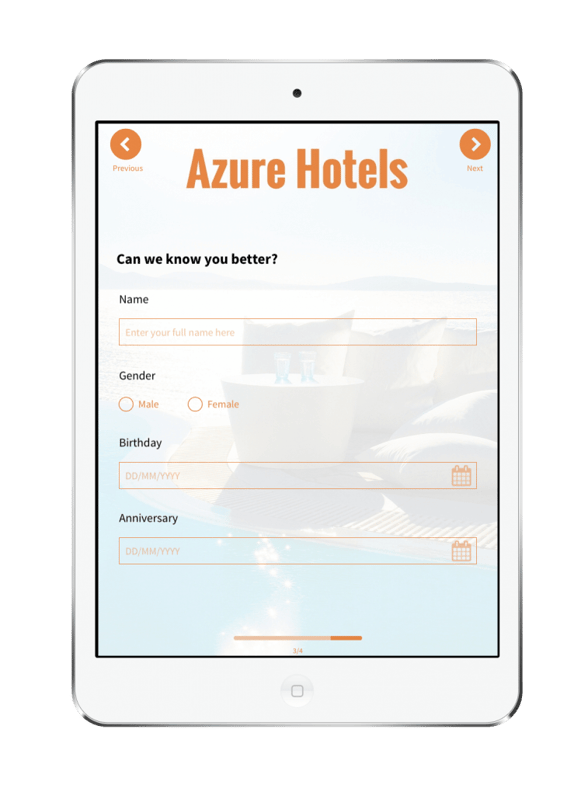 Once you've got the feedback you need, it's important to act on it. You must listen to your guests, solve issues that affect them, and act to fix the root causes behind their issues. Create a hotel experience that stands out from the rest, and one your guests will remember. Your guests will reward you with continued loyalty. All this starts with asking the right questions through customer feedback. Whether you use Android or iPad feedback apps, or survey software, asking for and working on your guests' feedback is key to your success.
Learn more about the Hotel Surveys