Over time, have you noticed how often you land up ordering from or visiting the same restaurants? There are always a few favorites that we all keep going back to. And this can be for a lot of reasons - good food, great service, familiar tastes. But at the baseline, it's always a great and satisfying Customer Experience we get there that takes us back.
The first step to achieving great Customer Experience and constantly improving it is to know whether your customers are satisfied with your food quality, taste, ambiance of your restaurant and the services provided at your restaurant. For this purpose, it is necessary to take Customer Feedback.
Measure Restaurant Feedback and Satisfaction 🍽️
Gauge feedback from guests and visitors at various touchpoints in your restaurant.
Customer Feedback your customers' opinion and thoughts about whether they are satisfied with the food and services and the overall experience with your restaurant.
When it comes to taking feedback from the customers of a restaurant, the first thing which comes in our mind is approaching the customers on the table with a pen and paper feedback form to be filled manually by the customers - but how often do these paper feedback forms reach you and how much analysis can you really do from these? Not much, right?

Restaurant operations, as we understand them, are being completely upended by development and also innovation and also when used appropriately, restaurant management software program is a sure-fire method to ensure a restaurant's success.
In order to obtain Customer Feedback in more effective manner, you need to provide an easy way to seek your customers and obtain feedback within minutes without taking much of their time. This can be done through a Restaurant Survey Software.
A Restaurant Survey Software enables you to run Restaurant Surveys to take Customer Feedback at various touch points and provides you detailed analysis and real-time reporting to take action and close the feedback loop.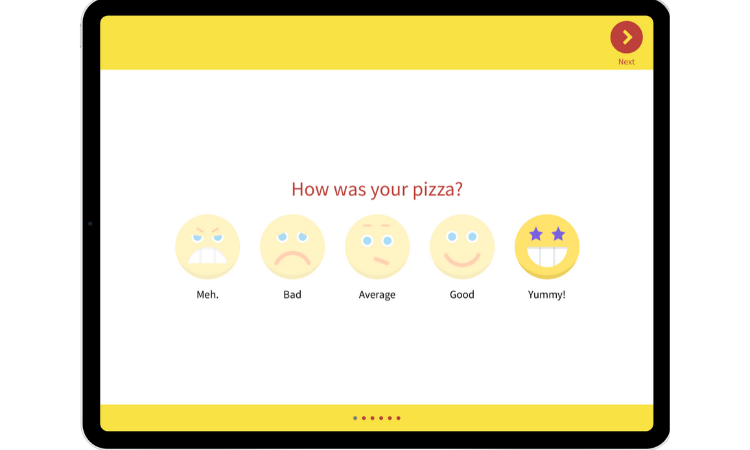 Here are some of the major benefits of a Restaurant Feedback App.
Benefits of a Restaurant Survey Software
It improves Customer Engagement
It helps to gather Customer Feedback in real time
It provides you Negative Feedback Alerts
It helps in knowing the feedback trends
It helps to measure metrics like NPS, CSAT and CES
A good app enables you to take Offline Feedback too
It helps in closing the feedback loop
It helps you measure Staff Performance
Let's review how a good Restaurant Feedback Software or App helps to provide these benefits:
1. It improves Customer Engagement
A Restaurant Feedback App acts as a source to develop a communication between you and your customers. When you seek customers' opinions while making business decisions, it improves Customer Engagement.
Moreover, customers feel really good and connected when you make decisions as per their opinions. This also develops brand loyalty among the customers.
2. It helps to gather Customer Feedback in real-time
A good Restaurant Feedback App provides you Customer Feedback in real-time. You don't need to go through a long process of reaching the customers to collect their feedback. Rather, you can collect feedback in a quicker and easier way and in real-time so that you can make the maximum benefit out of the it.
3. Gives you Negative Feedback Alerts
A good Restaurant Feedback App provides you instant alerts of negative feedback. This is a very useful component of a feedback app if you utilize it properly. As soon as you get a negative feedback, you can reach the customers, sometimes even before the customer has left the restaurant.
A dissatisfied customer usually never visits again to a restaurant.
Trying to resolve customer issues immediately creates a very good impact on the customer. When their issues are resolved right away, they feel very good and you can change even a negative feedback into a positive one. This helps a lot in customer retention.
4. You get to know the Feedback Trends.
When you make any business decisions in a restaurant, like adding some more cuisines in the menu, or removing some dishes from the menu, or changing prices of the food items or any other decision related to the food or ambiance of the restaurant; it certainly has an impact on the perceptions of the customers.
Some may like a particular decision, while others may dislike the same decision. By taking surveys through a Restaurant Survey App, you can analyse the feedback trends to know which business decision proved to be good and which one didn't work at all. This helps to to take better decisions in the future.
With an good Restaurant Feedback App, you can find metrics like NPS, CSAT and CES. Through NPS or Net Promoter Score, you get to know your promoters and detractors which helps you to work more towards customer satisfaction and change your detractors into promoters.
Through CSAT, you can measure Customer Satisfaction in quantitative terms and through CES or Customer Effort Score, you are able to ascertain the effort made by the customers for any request, complaint or issue resolution.
6. A good app enables you to take Offline Feedback too
An effective Restaurant Feedback App not only lets you take online feedback, but also lets you gather feedback offline in the absence of internet connectivity. An Offline Survey App helps you to gather feedback data offline through iPad and android tablets and then it automatically syncs when connected with the internet.
7. Helps in closing the Feedback Loop
An effective Restaurant Feedback Software converts the feedback received from the customers into tasks and automatically assigns to the concerned team. You can also add internal notes which your internal teams can view and take actions accordingly.
It also enables you to directly email the customers and it all gets saved with the feedback responses. It also helps you share feedback on the linked pages on social media and you can track the history and all the actions taken time to time on a feedback. This helps you in working on the feedback and closing the feedback loop.
8. Helps you measure staff performance
With the help of a good Restaurant Feedback software, you can also measure the performance of your restaurant staff. When a particular customer provides you some feedback, be it positive or negative, you can track for which department or employees the feedback is concerned.
For instance, a customer gives bad rating in a survey, the app will ask the reason provided with predetermined reason options from which the customer is dissatisfied like cleanliness, service, taste and quality of food etc. and the space to write if any other reason. The customer will provide a response by selecting an option and you can track the performance of the concerned team and restaurant staff.
In these ways, a Restaurant Feedback Software can prove to be really beneficial for you to grow your restaurant business. It not only helps you to obtain real customer insights but also helps to enhance Customer Satisfaction and facilitates customer retention.
Learn more about the Restaurant Surveys