Customer Satisfaction is the reason for survival and growth of any business, but if you want to attain an outstanding position in the market, it is important to delight your customers and improve Customer Experience. Researches suggest that 51% of consumers will stop shopping at a retailer after 1-2 poor in-store shopping trips.
Customer Delight is possible by exceeding your customers' expectations but how will you do so if you don't know what your customers percept about your brand and what they expect from you?
Customer Feedback helps in obtaining this information and know about the customer insights about your company and their expectations. Now the question arises regarding the feasibility of obtaining feedback from each customer, especially when you are into Retail business, it's just impossible to approach each customer for feedback.
But the good thing is that you have various Retail Feedback Software and apps available in the market which help you obtain Customer Feedback effectively. Using them is an ideal way to gauge Customer Satisfaction and thus enhance it. All you need to do is select one of them that suits your requirements and is most appropriate for your business.
Read this through to know about the top Retail Feedback Software and how they help you to attain your objectives. Here are the best Retail Feedback Apps in 2021.
Zonka Feedback
Qualtrics
QuickTapSurvey
SurveyMonkey
Medallia
SurveyAnyPlace
Let's explore how you can utilize them for your business.
1. Zonka Feedback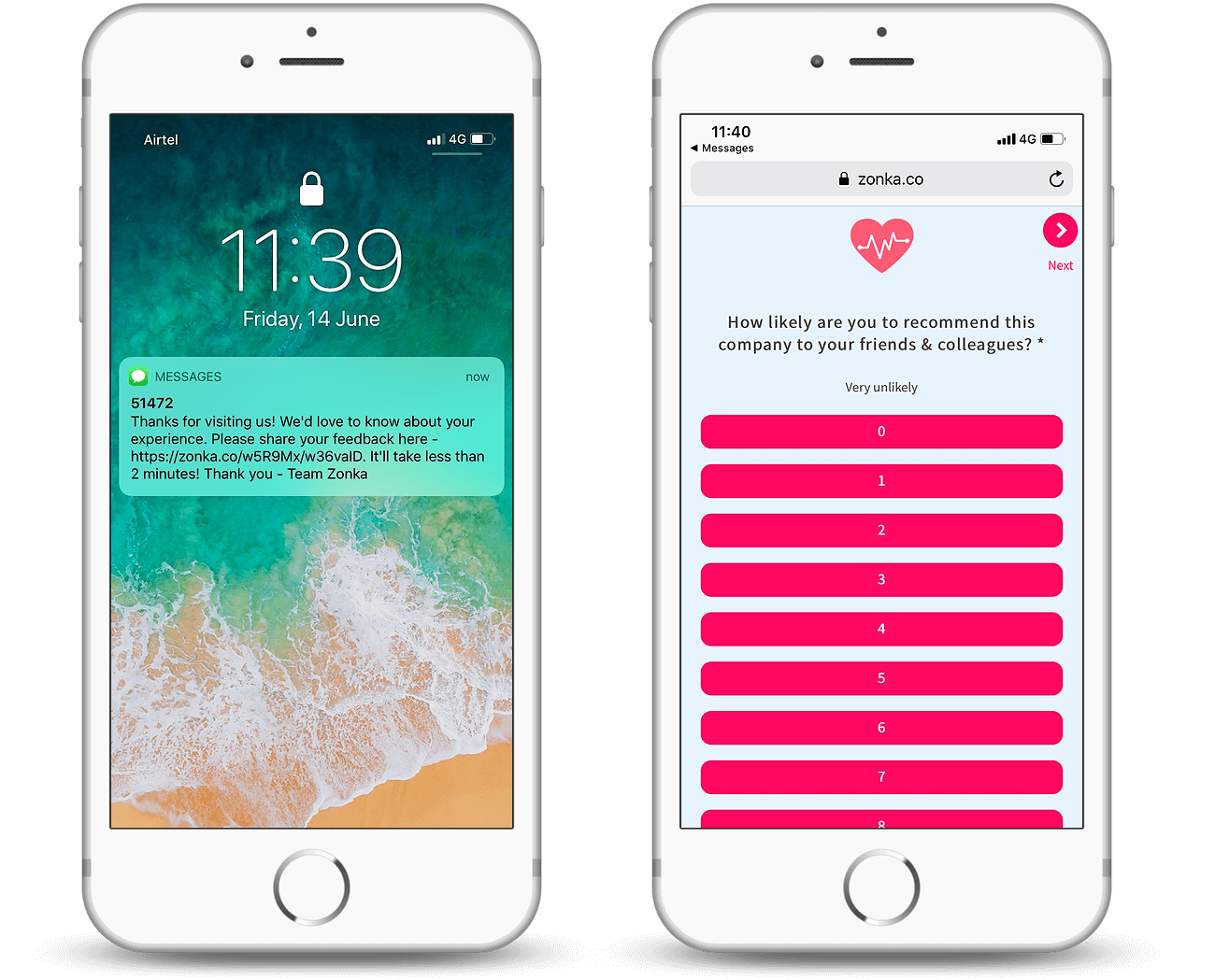 Zonka Feedback is one of the best Retail Survey App that not only helps to create surveys for gathering Customer Feedback, but also enables you to make them creative and more engaging. It is a complete platform that provides you fully customizable feedback forms and real-time reporting with in-depth analysis of customers' feedback. It comes with several templates with effective retail survey questions to create and measure feedback about your in-store experience.
And not only analysis of the feedback, with Zonka Feedback's collaborative Response Manager, you can work together in teams to take action and Close the Feedback Loop.
Moreover, it is Multi-location (enables you to easily track and manage feedback across different locations), works multi-channel (can work through kiosks & android tablets, SMS, email, printed QR codes and survey links on the bill), and is multi-lingual (surveys in multiple languages).
Ease of use: 4.8/5
Review Score: 4.9/5
Support Options: Email, Chat, and Help Center
Retail Survey Channel: Email, SMS, QR Codes, Android tablets and smart phones
Integrations: Intercom, Slack, Segment, Salesforce, Freshdesk, Totango, and more.
Pricing: $29/month
2. Qualtrics
Qualtrics is another Customer Survey Software currently working for over 450 retailers to help them capture Customer Feedback and increase customer loyalty and retention. With Qualtrics, you can monitor and optimize Customer Satisfaction across various touchpoints in your customer journey.
You can create surveys for gathering post-purchase feedback, cart abandonment feedback, and feedback at other touchpoints in order to build a rich database of customer insights.
Ease of use: 5/5
Review Score: 5/5
Support Options: Email, Chat, and Help Center
Retail Survey Channel: Multiple channels
Integrations: CRM integration, Email Integration, External Integrations
Pricing:1500$/annum
3. QuickTapSurvey
QuickTabSurvey is a Customer Feedback App which is famous for its ability to capture Offline Customer Feedback. It enables you to easily pull up surveys on your mobile device or tablet, iPhone, iPad and Android devices. You can collect data anywhere anytime even without internet. The data will be saved and uploaded as soon as your device connects with the internet.
QuickTabSurvey allows you to create beautiful surveys with your own branding & personalization including your brand logo, colors and images etc. It sends instant notifications regarding negative feedback to different employees so that they can take appropriate action.
It also sends regular reports for satisfaction with QuickTabSurvey. You can get daily, weekly, and monthly satisfaction reports with NPS and CSAT scores.
Ease of use: 4/5
Review Score: 5/5
Support Options: Online, Help Center
Retail Survey Channel: iPhone, iPad, Android devices(tablets and kiosks), online surveys
Integrations: Zapier, MailChimp, Salesforce and more
Pricing:19$/month
4. SurveyMonkey
SurveyMonkey is also a popular Customer Survey platform that makes it easy for you to measure and understand Customer Feedback. At present, it is helping 330,000 organizations to gather and measure feedback.
It offers you different plans among which you can choose the one that suits your business requirements. You can create customized your surveys and capture Customer Feedback through different channels like email, mobile, weblinks, social media and more.
You also get features to analyze your survey results and can integrate SurveyMonkey to other applications.
Ease of use: 5/5
Review Score: 5/5
Support Options: Online, Help Center
Retail Survey Channel: Email, mobile, weblinks, social media and more
Integrations: Slack, Salesforce Sales Cloud, MailChimp, Trello, HubSpot Marketing, Peek Pro Tour Operators, HubSpot CRM, TeamSupport.com, Zoho CRM, Wrike, Zapier, Hootsuite, Infusionsoft, Freshdesk, SharpSpring, Hatchbuck, Arlo Training & Event Software, QuickTapSurvey, ClicData, ActiveCampaign
Pricing: 25$/month
5. Medallia
Medallia is a Customer Experience platform that helps you measure Customer Experience throughout the shopping journey of your customers. It is a multichannel software that fetches Customer Feedback data from sources like web, social media, mobile, and customer service (on-premises feedback).
With Medallia, you can not only capture Customer Feedback but also analyze and act on customer and associate signals to transform experiences across the omni-channel shopping journey. It also has features like Text Analysis and Predictive Analysis for the same.
Its real-time alerting system on both desktop and mobile phones enables you to prioritize customer recovery and in-the-moment service. Used by big B2B brands, Medallia enables you to track the effectiveness of new products and promotions across targeted location and demographic groups.
Ease of use: 4.4/5
Review Score: 4.5/5
Support Options: Online, Help Center
Retail Survey Channel: web, social media, mobile, iPhone/iPad, Android devices and customer service (on-premises feedback)
Integrations: CRM integrations, Slack, Workspace by Facebook, Salesforce, Marketo, API and External Integrations
Pricing: (Not Provided by vendor)
6. SurveyAnyPlace
SurveyAnyPlace is an online Customer Feedback tool that helps you easily create visually engaging surveys for mobile devices, tablets and smartphones (Android and iOS). It is also accessible on PC and laptop browsers.
You can white-label the surveys you create with your own branding in a matter of few clicks and with the access to ready-made widgets, templates and effective question types.
You can create different types of questions including image answer options logic based questions and analyze the monthly response feedback data for your retail store.
Ease of use: 3/5
Review Score: 4/5
Support Options: Email, Online, Help Center
Retail Survey Channel: mobile devices, tablets and smartphones (Android and iOS), hyperlinks and QR codes
Integrations: Zapier Integration with over 1000 apps, Webhooks
Pricing: 33$/month for Essential plan (starting)
Measure Feedback from your customers at Retail Stores
Choose from over 30+ question types, add your own themes and create amazing surveys that people love answering and gauge feedback like never before.
Learn more about the Retail Surveys