Patient Experience and Patient Satisfaction are health care terms that are frequently used interchangeably. Although they seem to be synonymous-- they are, as a matter of fact, different terms that have entirely different significance to healthcare experts.
Measure Patient Feedback and Satisfaction👩‍⚕️
Create your healthcare surveys and questionnaires and gauge patient satisfaction level in real-time.
It is crucial to comprehend the difference in between both concepts and apply them properly. Doing so will certainly drive patient-centered care and also help you deliver the best experience. Both patient satisfaction and patient experience are essential tools for receiving information on how to boost the overall care.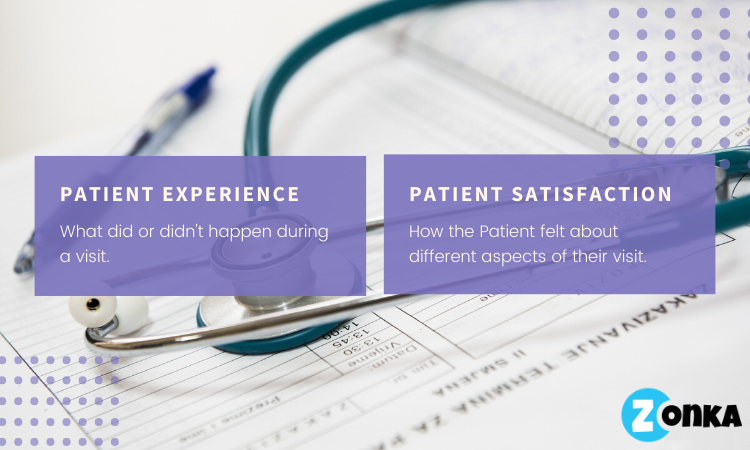 Patient Satisfaction
Patient Satisfaction is related to a patient's expectations during their care encounter. It is an important measure of healthcare quality and is a key determinant of patients' perspective behavioral intention.
Let's say there are 2 people who receive the same care from their physicians and have a diverse set of expectations of how that care is supposed to be delivered, can give different satisfaction ratings because of the different expectations.
Patient satisfaction would be about finding out if the patient was pleased with the room layout.
How professional were the lab assistants or x-ray staff?
Patient Experience
Healthcare professionals give a lot of importance to patient experience because it helps in quality improvement in clinics and hospitals. Conducting a Patient Experience survey can help in determining whether quality measures have been met or not.
The patient experience consists of a series of interactions that individuals have with the healthcare system, comprising of their treatment from health plans, and also from physicians, nurses, and the staff in hospitals, doctor procedures, and numerous other healthcare facilities. The Patient Satisfaction Survey questions should be used to improve the patient experience.
Patient Experience is one of the most integral components of health care quality. It consists of numerous aspects of health care delivery that patient's value to a great extent when they seek and receive care.
For example, good communication with health care providers, getting timely appointments, easy access to information, etc. Asking patients whether they had access to their health records or not is a measure of the Patient Experience.
Patient Satisfaction and Patient Experience Survey Examples
Patient satisfaction surveys ask, "Did your doctor spend enough time with you?"
Patient experience surveys ask, "How often did you get help when you wanted it?"
The both survey consists of multiple-choice questions. However, Patient Satisfaction Survey questions have answers choices from "very poor" to "very good." Patient Experience Survey questions consist of answer choices from "always" to "never."
Rules worth remembering:
Patient Experience and Satisfaction are inter-related, but they are not similar.
Every patient has a different kind of experience, but the encounter doesn't always result in a satisfied patient.
Patient Satisfaction cannot be enhanced without knowing what kind of expectations patients have.
Patient Experience consists of a series of interactions that patients have with the healthcare survey app like the care from health plans, certified medical professionals, nurses, and staff in hospitals, physician methods, and various other health care facilities. Being a vital component of healthcare quality, patient experience consists of numerous aspects of health care delivery that patients value when they receive care, such as getting timely appointments, easy access to details, and great interaction with health care providers.
While the objective is to drive Patient Experience and reduce hospital harms, these initiatives need providers to look at elements of Patient Satisfaction. The two terms Patient Satisfaction and Patient Experience are indeed connected, and in some cases, co-dependent. Nonetheless, making use of both these terms interchangeably can cause inaccurate patient-centered care. It is necessary to utilize these terms appropriately to deliver incredible healthcare services.
Learn more about the Patient Satisfaction