With the release of our Device Management module, it is now dead easy to monitor and manage devices deployed in your business locations. But with multiple devices deployed, finding a specific device could be somewhat like finding a needle in the haystack. Imagine you want to inspect the frequency of feedbacks coming in on the tablet device deployed at the reception in your location number 13.
To ease out this trouble Zonka feedback app has introduced 'Filter by Device Name' feature in Reports. Now in Zonka Reports, you can easily filter data by the friendly device names that you can easily add anytime.
How it Works
Follow these steps to begin filtering feedbacks using friendly device names on the web panel-
Visit https://www.zonkafeedback.com/

and log in with your details

Click on

Setup

drop-down from the top menu and then click on

Devices

Add/edit device name to keep a friendly name in Device Management

Go to

Reports

Choose

Advanced Filters

and from the dropdown now choose

Filter by Devices

Type/search the friendly device name for which you want to view the reports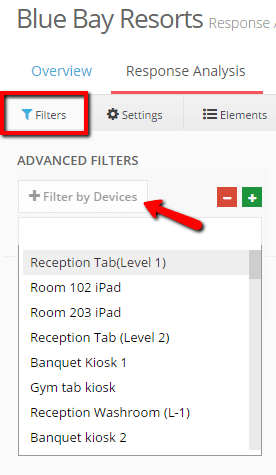 Benefits of Filtering by Device Name
Device-wise reports view

Scrutinize the feedbacks collected device-wise and also inspect the number of feedbacks coming in on each of them. If the device is not receiving enough feedbacks, you may want to re-check on its placement and may question the staff who is using that device for feedback collection.

Easy identification

Easily identify a particular device by its friendly name. You can edit the device name anytime.
Pro Tip: Mention location name where device is deployed in its name to easily identify it. For example - 'Reception iPad (Floor 2)'
Learn more about Zonka's Features