In order to capture feedbacks from multiple locations, various devices are deployed in each of them. Device Management feature gives top management the central control of all the devices deployed throughout the network of their enterprise.
Take Feedback & Gather Data anywhere with the Offline Survey App🔥
Run surveys on any device in offline mode, even in remote locations and get real-time alerts, responses and insights.
Suppose you have feedback collection requirements in 5 of your business locations and you have deployed 20 devices in totality to fulfill it. This new feature update will help you to manage and track all of these 20 devices from a single web panel remotely at any time.
How it Works
Follow these steps to access Device Management feature on your Zonka web panel:
Visit www.zonkafeedback.com

and log in with your details.

Click on

Setup

drop-down from the top menu and then click on

Devices

.

A list of all the deployed devices in all your locations will appear here.

Click on the device name from the list whose profile you want to access.
Pro tip: You can give friendly names to your devices to recognize them easily.
3 Most Powerful Attributes of Device Management
Reporting
Device management reporting tools give you real-time visibility into your organization's feedback scenario, including device status, battery, uptime, response collected, device location, access log and much more.
Remote tracking
Various tablets and mobile devices would be deployed in your business locations to capture responses. With Zonka you can track all these devices remotely. Be it 10 devices or 100, you can access all of them all at once on the web panel. You can track the devices by leveraging device details such as app status, battery, last communication, uptime, location, etc.

Device security
Protect devices from unauthorized access and can take away the access from any active device by deactivating it from the web panel directly. The admin can also view the access log along with the IP Address from where the device was logged in ensuring utmost security.
Feature Highlights
Here are the highlights of some of the most crucial features under device management that you can leverage for your business.
App Status
It shows the present status of the device - whether it is Online, Offline or on the App Dashboard - all in real-time. Inside a device's profile, you can control the device access by turning the slider off and deactivating the device.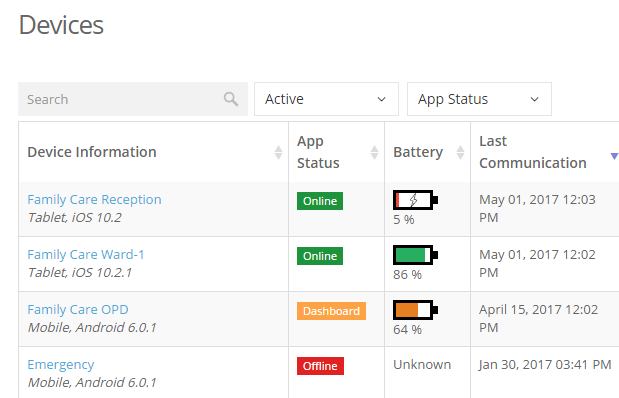 Up-time
Uptime is the time when the device was functional for response capturing. This information can help you counter any negligence or problem in the employment of the device.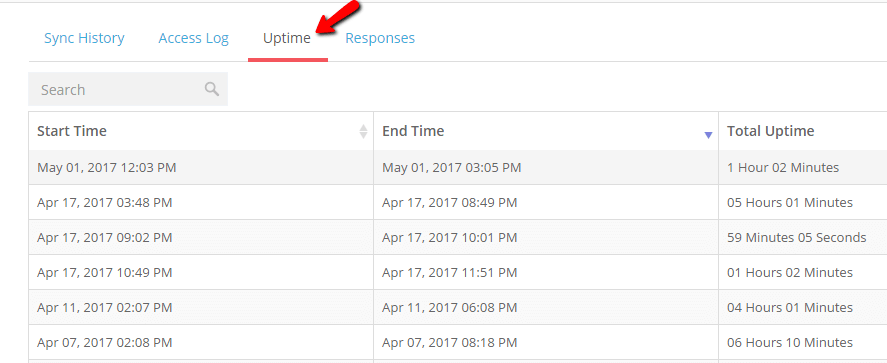 Location
Name of the business location where the device is installed appears here. This information is very crucial if you have multiple business locations active for feedback collection.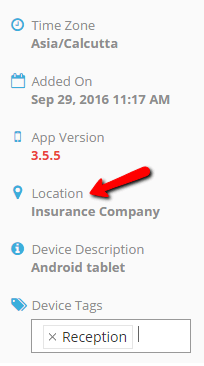 Response Collected
This shows the number of responses collected on that specific device over different dates and time period. You can select date/ time period from the calendar provided above.

Tags
You can define various tags for your device from here. These tags can help you to identify specific devices. For e.g- you can tag the devices by their area of implementation; reception kiosk, washroom kiosk etc.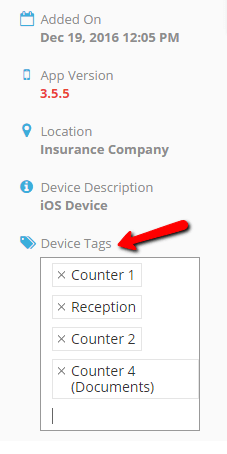 Access Log
It shows the details regarding the accessibility of the device. The username i.e. the user who accessed the device is mentioned here along with the IP Address using which the device was accessed is stated here. It also shows the date and time when the device was accessed.

Device management for Zonka comes packed with amazing features for managing your devices with utmost efficiency. For detailed information regarding what all can be done with it please visit-
https://help.zonkafeedback.com/en/
Learn more about Zonka's Features