Every product or service offered by any company worldwide was developed to address a target audience's pain points. But sometimes, we can create additional pain points for our customers through inefficiencies in the customer journey.
But before you can address your customers' pain points, you first have to identify them.
Yes, we said "them."
Your customers might be facing several different pain points, and with some know-how and a carefully laid-out marketing plan, you can position your products and services in the right way to draw your audience in and assure them that you have the answer to their problems.
But your competitors are doing this as well. They might also be working off information you don't have. This is especially true if they've been around studying the audience longer than you.
So how are you supposed to identify these pain points? And once you're aware of them, how will you address them with your audience?
Elevate CX with Customer Feedback🔥
Collect real-time, in-moment feedback at all touchpoints in customer journey and leverage feedback insights to transform customer experience.
Read on to find out.
What are customer pain points?
Customer pain points are the issues customers try to resolve through your product or service. It can also refer to the problems that arise for your audience throughout the customer journey that keep them from purchasing.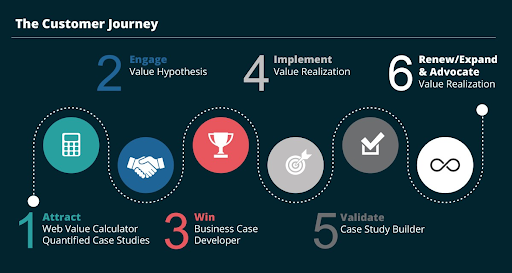 If people complain that they're waiting on hold for your support team for hours, then support wait times are a pain point in your customer journey. If they're clicking away from your product pages without converting, the page layout could be a pain point that's going unaddressed.
There are many kinds of pain points, which we'll go through now.
First up, you have process pain points. Process pain points can refer to inefficiencies in the customer journey. They have an impact not only on your consumers but also on your support crew.
Businesses must identify these obstacles to improve customer experience and agent efficiency. For example, if you're struggling to onboard new customers, you can use software like Hopscotch to onboard new users, ensuring their first experience using your service is positive.
Then you have financial pain points. These pain points relate to how much customers pay for a product or service. Typically this occurs when you're charging too much, pricing out a huge section of the audience. That's why it's important to understand the economic situation surrounding your ideal customers.
Support pain points occur when customers aren't receiving the appropriate support. This can be especially damaging at critical stages of the customer journey.
For example, consider a cleaning business that sells various car cleaning products like floor mat cleaner, interior cleaner, leather cleaner, and tire shine. Chatbots can help site visitors choose the right products. This 24/7 virtual guide can gather data from the customer and make product recommendations to ensure that they only see products related to their specific issue.
By providing assistance, chatbots can make customers more satisfied with their experience and more likely to complete their purchases.
Finally, you have productivity pain points. These are the pain points associated with your processes.
If, for example, it's taking forever for sales reps to get back to customers, you're creating a productivity pain point. You can alleviate these pain points by streamlining your entire organization into a smooth and seamless customer experience.
You can even identify secret opportunities for targeted customer needs by analyzing pain points.
One such example is dog insurance.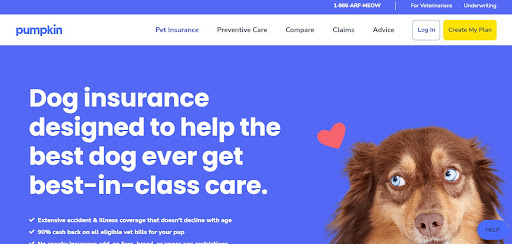 Many pet owners may not realize that they can protect their furry family members in the event of unexpected medical expenses or accidents. By recognizing and addressing the need for dog insurance coverage, businesses can effectively manage ‌customer pain points and provide ‌valuable service.
How can you recognize and address customer pain points?
Ask questions
You're never going to figure out what your audience is looking for, both from your products and your business processes, without getting a "voice of customer" perspective. By that, we mean understanding their point of view, getting their feedback, and implementing real change based on what you discover.
But you can't just walk up to every customer and ask them questions. That's why conducting product surveys using a powerful feedback tool is important. Regardless of which survey tool you choose, you can poll your audience with website surveys, microsurveys, email surveys, and more.
Ask the right questions to determine what your audience wants and what they're not getting. Then you can start figuring out how to improve. These pain points change over time, so be sure that you're polling your audience regularly.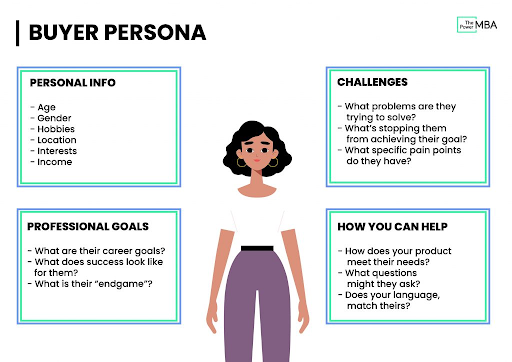 Once you have the necessary information, look for patterns and examine the demographics of the customers you surveyed. This will help you create pain point lists for each buyer persona and implement changes in how your products are marketed and delivered.
Read reviews
When identifying consumer pain issues, you should consider not only existing customers but also missed opportunities. Behind every lost sale lies a customer pain point your solution didn't address. Reviews can tell you how you missed the mark.
Reviews provide valuable insights into your audience's thoughts (both positive and negative). Keep track of the insights gathered from these reviews by using one of the best screenshot tools to take a snapshot of each review. Organize them and refer back as often as needed as you adjust your marketing strategy.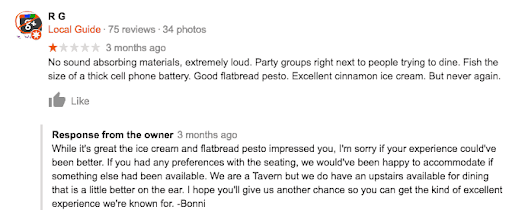 You can address the pain points gathered from reviews by implementing changes according to the patterns you see. But you should also respond to these reviews directly to let disgruntled customers know you see and hear them, like in the image above. Tell them how you intend to address their pain points, and you might win them back.
Survey the sales team
Surveys aren't just for your customers. You can survey the sales team to gain insight from their experiences working directly with customers.
In their day-to-day customer communication, what are the major complaints they're hearing? What are customers saying to them? What are the biggest barriers they're facing to closing more sales? Gather their insights, compare them to the customer surveys and reviews you've collected, and look for common issues popping up.
Then, work with your salespeople and adjust your sales processes accordingly to help remove these roadblocks from their path.
Monitor the competition
As we mentioned before, your competitors might be working off more complete information gathered over a longer period. If they're outselling you, it's up to you to find out why.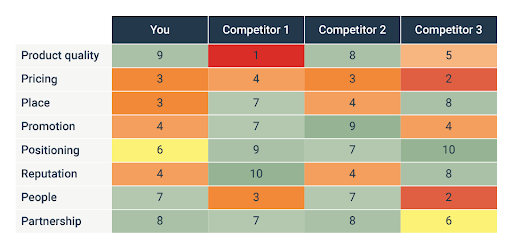 Examine their messaging and their overall customer experience. What are they doing that you aren't? Read the reviews on their product pages and compare them to the insights you gathered from your own audience.
By understanding why people are going elsewhere, you can make necessary changes and draw their audiences to you.
Use software
One effective way to recognize and address customer pain points is through any workflow software you use. You can use your CRM or project management platform to identify patterns and trends. You can then use those insights to develop solutions that address common issues.
You can make this happen by using these advanced systems to automatically track customer interactions in your pipeline. Then, you can proactively address each pain point by reviewing those processes and working to improve overall customer satisfaction. The insights and reports generated by these platforms will show you where people are dropping off.
Additionally, website analytic software and heat mapping tools can show how users interact with your site and where they click away.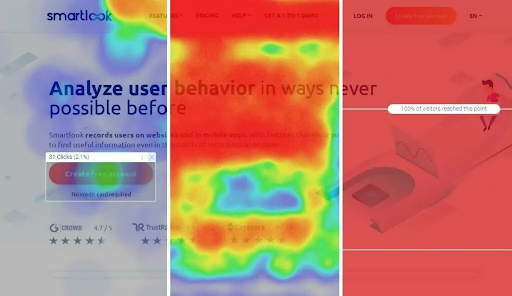 If, for instance, people are coming to your landing page and clicking away without following through to your site, the layout of the landing page or your CTA may need some revision.
Conclusion
Every product or service is meant to alleviate a pain point in your customers' lives. But pain points exist within your customer journey as well. If you want to draw in your audience and showcase your product to improve their lives, you'll need a seamless customer journey free of barriers to purchase.
Follow the advice in this guide to figure out what your customer's pain points are, work hard to remove them, and create a clear path to conversion.
Elevate CX with Customer Feedback🔥
Collect real-time, in-moment feedback at all touchpoints in customer journey and leverage feedback insights to transform customer experience.