How do you try a new product or brand? Would you prefer to invest a good amount of money in the products of a new brand which you don't even know whether anybody has used it or not? Maybe you go for it or maybe not, but you will for sure hesitate to spend money on such a brand which you haven't tried before. But what if you get to read many positive reviews for those products and the brand? You will then definitely feel safer to invest in the same brand, isn't it!
This is the case with most of the customers nowadays. 82% of the customers prefer to look for online reviews while deciding to buy a product or a service. 70% of the customers need to read at least 4 reviews before they decide to try a new business. Online Customer Reviews have a great impact on the minds of people.
Online reviews are the new word of mouth. And the new generation trusts them the most! Did you know that 91% of millennials trust online reviews like a personal recommendation from friends and family? This is the importance of customer reviews. And when it comes to the probability of customers recommending your products and services, what else can be used find it better than the popular metrics NPS®!
Measure Customer Loyalty with NPS ❤️
Create NPS surveys, measure customer loyalty, and close the feedback loop with Zonka Feedback.
But unfortunately, businesses use NPS® only to find out this probability and not actually to gain some real recommendations. In this article, we will cover all about why businesses do not actually use NPS® to its full extent, the process of using NPS® to generate online reviews and some cool tips and ways to motivate your customers to put some positive reviews into your bucket. Let's start with a basic introduction of NPS® and how it works.
What is NPS
®

?

NPS® or Net Promoter Score is a popular business metric to measure Customer Loyalty with a product, service or brand. It is based on a simple survey that asks the customers their likeliness to recommend a business to others. The ultimate question of an NPS® Survey is: On a scale of 0 to 10, How likely would you recommend our products and services to your friends and colleagues?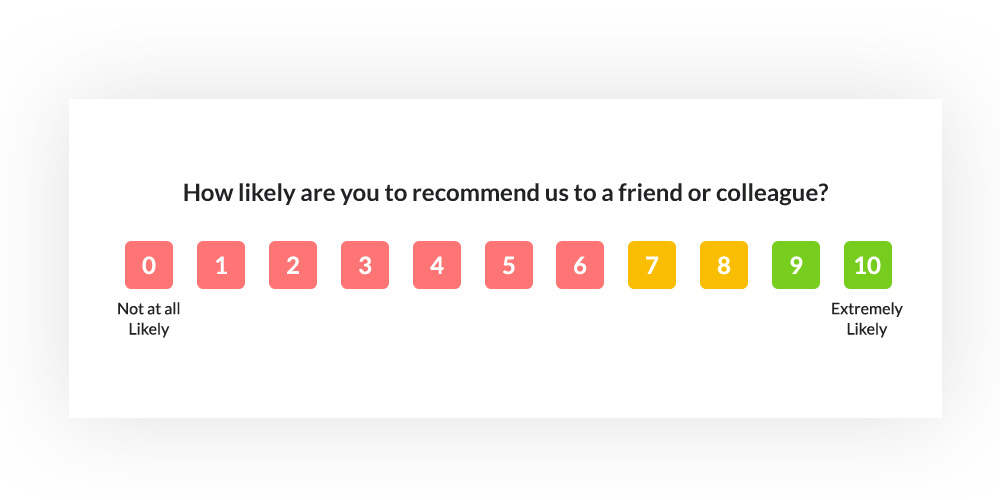 Customer who respond 9 and 10 are the most satisfied customers and are called promoters. Those who rate 7 or 8 are known as Passives who are usually satisfied customers but have a tendency to switch to your competitors if offered a better deal. Whereas, those who rate 6 and below are known as Detractors and are the most dissatisfied customers who will never recommend your brand to others.
Net Promoter Score is a numeric score that is calculated by subtracting the percentage of detractors from that of promoters.
Now let's learn how you can use NPS Surveys to get positive reviews from customers.
How to use NPS
®

Surveys for getting Reviews?

NPS® survey is a great way to gauge the likeliness of the customers to recommend your brand. When businesses get a bunch of promoters through NPS Survey results, they often stop there in the hope of getting a recommendation or a positive review.

But it is not necessary that the promoters actually recommend your brand. Of course, why would they take the initiative of promoting your brand? It is you who has to take this initiative! But when you have promoters, all you need to do is to ask them for reviews. Yes, the best way to get customer reviews is to request them for reviews.

And there are high chances that they won't deny it. Remember that when your customers gave you a rating of 9 or 10, it means that they have agreed to recommend your brand to other people. If they are truly happy with your products and services, which they are, they will spare a moment to write a positive review about their happy experience.

There is nothing that stops them from doing so. But is there something that is stopping you to utilize NPS for getting a positive review? Let's see where most businesses make a mistake and what stops them from using NPS Surveys to get positive online reviews.
What stops Businesses from using NPS
®

Survey to get Online Reviews?

Replying to Customer Feedback is as important as collecting it in the first place. But unfortunately, 75% of the business do not even reply to customer reviews. Especially when it comes to Promoters, businesses do not see any need to revert them or follow up with them. This is where they miss realizing the real importance of NPS®

Everybody knows that Net Promoter Score® is a metric to measure Customer Loyalty and satisfaction, and if the customers are not satisfied, appropriate actions should be taken to improve their experience. But nobody really focuses on satisfied customers i.e. Promoters.

Therefore, NPS is often taken as a measure of retaining customers and reducing churn without thinking that it can be used for marketing purposes also and can help to a great extent in new customer acquisition. So when it comes to Closing the Customer Feedback Loop with NPS®, most of the businesses consider closing the loop with detractors only. Whereas, it is a process to be performed on every NPS Survey response whether it is from a promoter, passive or detractor.

Let's learn the process to follow for generating Customer Reviews from NPS Surveys.
Process of NPS
®

Surveys for Generating Customer Reviews

Businesses follow the process of finding their Net Promoter Score®, but you should also concentrate on the steps you need to follow for generating Customer Reviews from NPS®. Here are the steps of this process:
Steps to Generating Customer Reviews from NPS
®

Surveys
Create and send NPS Surveys
Identify your Promoters
Show Gratitude and Ask them for reviews
Gently Remind them to write reviews if they haven't
Offer Small Incentives
Let's explore how you should follow these steps to achieve your objectives of gaining positive custom review:
1. Create and Send NPS Surveys
The first step is of course to create and send NPS Survey. NPS Surveys are simple surveys having a couple of questions. First, if the Ultimate Questions asking for the likeliness to recommend the brand and the second one is following up question asking the reason for customers' ratings.
I would suggest you use good NPS Survey Software for creating effective NPS Survey and sending them to your customers. With such a tool, you can create NPS Surveys and send them via multiple channels to many customers within a matter of few clicks.
2. Identify your Promoters
When you get responses to NPS Survey, the second step is to identify the Promoters among the respondents. The customers who gave a rating of 9 and 10 are the most satisfied customers and are called Promoters. These are your target customers from whom you can expect positive reviews.
3. Show Gratitude and Ask them for Reviews
The next and the most important step is to revert to the Promoters' responses. Thank them for giving you an excellent rating, promise them to keep delivering the same level of service and satisfaction, and at the same time, request them gently to post reviews. As they are happy with the experience you provided them, there is very little chance that they deny such a small thing.
4.Gently Remind them to write reviews if they haven't
Now you have requested your Promoters to write reviews but they haven't done so. You can send a gentle reminder to them regarding this. This process of sending requests and following up with the customers becomes easier if you use an effective NPS Survey Software. It will enable you to set triggers for sending automated emails and SMS to follow up with your customers.
5. Offer Small Incentives
You can also choose to offer small incentives and free gifts to motivate your customers to post reviews. Incentives like free purchase coupons or a discount on the next purchase can serve the purpose.
There are several popular marketing incentive tools like Tremendous, Tango Card, Awardco, and more that you can use to offer incentives to your customers
Let's explore some simple tips and ways to get Online Reviews from the Customers.
How to get Online Reviews from Customers through NPS
®

Surveys?

Now the question arises, how to take reviews from the customers so that it proves to be helpful in attracting more and more customers. Here are some simple ways:
Ways to Get Online Reviews from the Customers
Ask promoters to give reviews on social media
Identify and reward customers who can bring masses
Motivate the promoters to share success stories
Reach detractors and turn them into promoters
Use a good NPS survey software with skip logic
1. Ask Promoters to give Reviews on Social Media
Social media is a great source of information that most people use nowadays. Studies suggest that there are around 3.5 million people who use social media which is around 45% of the world's population. Social media reviews have the potential to promote or defame your products, services and brand.
Therefore, Promoters praising you and sharing their happy experiences over social media can help you a lot to attract more customers to your business. Even a single comment on your official Facebook or Instagram page has an impact on your potential customers.
2. Identify and Reward Customers who can bring Masses
You may have customers like bloggers and influencers who liked your products and services and gave you a brilliant score. You should identify such Promoters and approach them to request for online reviews. Influencer recommendations are something that people nowadays trust a lot. You may be surprised to know that 70% of teens trust influencer recommendations even more than celebrities.
You can think about how influencers' reviews can boost your business. So if you have some promoters who are such influencers or bloggers, contact them and request them to post reviews. You can even offer them some bonus or a small share of profit for the customers who make a purchase with you by a recommendation of such an influencer.
3. Motivate the Promoters to share Success Stories
Success Stories, testimonials and case studies are a great way to attract a lot of new customers. So you should motivate your promoters to share success stories, write testimonials about their experiences and or share information about their experience so that you can create case studies around their experiences and use them to attract more customers.
4. Reach Detractors and turn them into Promoters
It may sound impossible, but it's actually not! Reaching your detractors also can be helpful in generating positive reviews for your business. All you need to do is improve their experience and close the feedback loop effectively with detractors.
For dealing with detractors, you should respond to them, apologize to them for their bad experience and then ask where things went wrong. Do everything you can to improve their experience, they will surely notice this and can change their viewpoint about you.
When you work on the feedback given by unhappy customers, take appropriate actions and inform the customers what you have done to improve their experience, they feel really happy and satisfied. This helps you to close the feedback loop on a good note and convert your detractors into promoters whom you can further ask for positive customer reviews.
5. Use a good NPS Survey Software with Skip Logic
Using a good NPS Survey Software or app can help follow all the processes and ways smoothly and easily and in a really effective way. You get real-time notifications for every feedback and set triggers to send automated emails and SMS to your customers. Skip logic in the app will help you send separate messages to promoters, passives and detractors automatically where you can thank the promoters and request reviews, ask for suggestions from passives and take actions for improving the experience of the detractors.
Learn more about the Net Promoter Score (NPS)