Imagine your customers are taking a feedback survey on your request. They have almost filled the survey but just before they reach the end of the survey and click on the Submit button, the internet disconnects, all the responses so far disappear, and your device screen starts showing an internet connectivity error. How would your customers feel and how would it impact your brand's reputation? A simple issue like internet availability can impact your existing customers' experiences with your brand, and hence, your brand's ability to retain and attract new customers.
The only way to avoid such situations is by using offline surveys. Offline surveys do not require an active internet connection to capture responses. All the responses get saved in the mobile or kiosk device and sync when your device connects to the internet.
While Salesforce keeps all the customer data stored in the customer accounts or records, Salesforce Surveys sync all the customer survey response data to the corresponding Salesforce accounts and make all your data available for you and your various teams in one place.
With an offline Salesforce survey tool, you can collect customer feedback through various channels like iPad, iOS, or Android tablets and smartphones, and devices set up as kiosks. In this article, we will explore the benefits of using Offline surveys for feedback collection. We will also explore some use cases of Salesforce Offline Surveys, and Salesforce Feedback Management and learn how you can launch them with Zonka Feedback. Let's get started.
Measure CX at all touchpoints with Salesforce Surveys
Send surveys and get 360° view of your customers right within Salesforce with Zonka Feedback
Benefits of Salesforce Offline Surveys
Work through multiple channels
Sync offline survey responses automatically
View Location-wise survey reports
Collect Multilingual feedback
Track Individual Team-member performance
Automate notifications with Integrations
Close the feedback loop
Cover more ground without the bounds of the internet
Improve feedback accuracy with in-person feedback
Increase Survey Response Rate
Let's learn more about these benefits.
1. Work through multiple channels
Salesforce Offline surveys enable you to capture survey responses via multiple channels. You can collect responses through iPads, iPhones, Android smartphones, and tablets, on a Salesforce survey app, anytime anywhere. You can also set up these devices as unattended kiosks in multiple areas of your location where your customers can fill the survey responses and submit them without much hand-holding.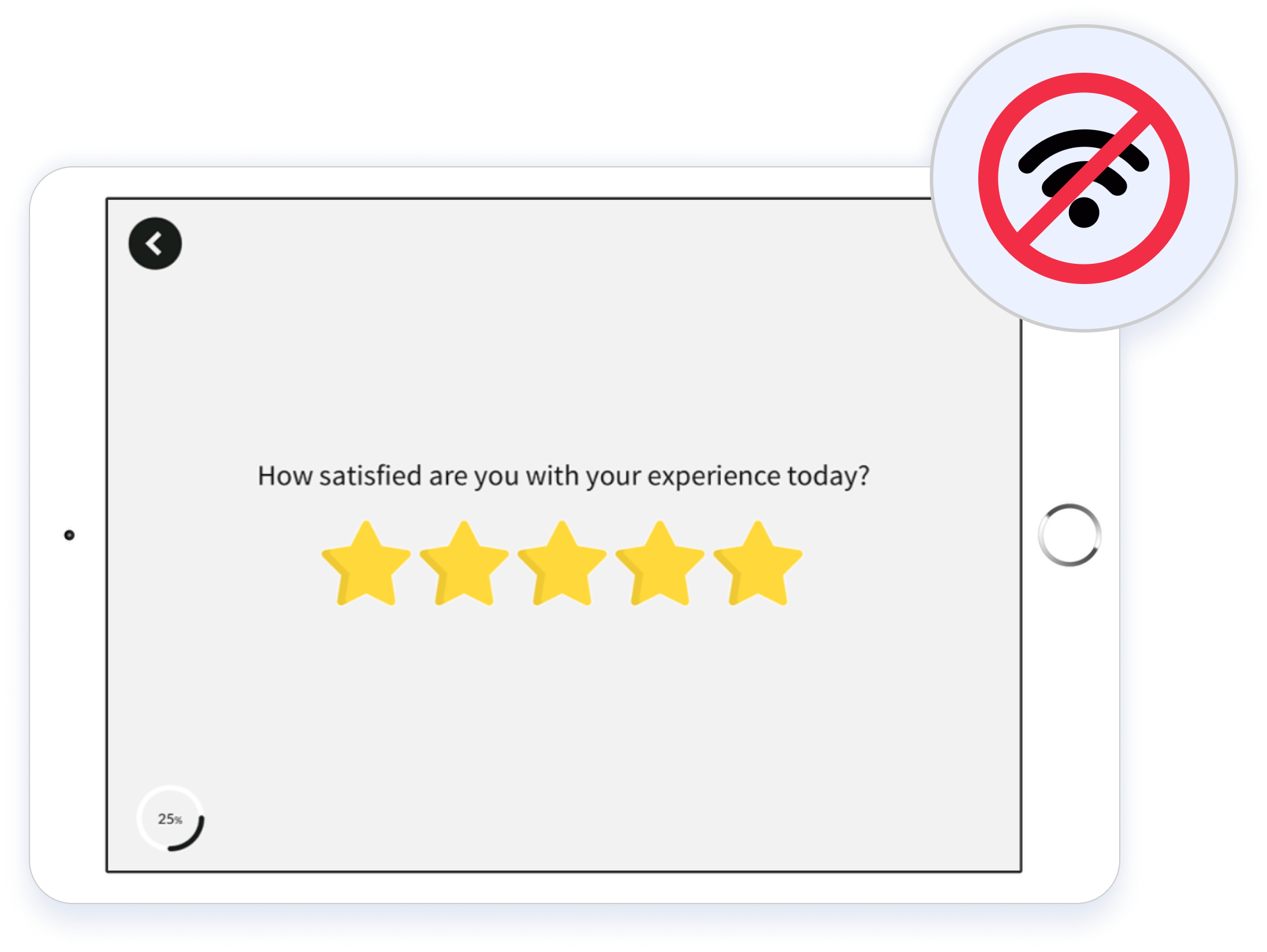 2. Sync offline survey responses automatically
The core benefit of offline surveys is the ability to conduct surveys offline at even the remotest of locations and at any time. The added advantage that you get with Zonka Feedback Salesforce offline surveys is that you don't need to save or sync the captured responses manually as you get an internet connection. Rather, it can save the response data up to weeks without the internet and automatically syncs all the collected response data as soon as your device connects to the internet.
3. View location-wise survey reports
If you have physical stores at multiple locations, Salesforce offline surveys can collect feedback at all of them and post-syncing, you can view reports and insights in a centralized location, i.e. Salesforce, making multi-location Salesforce survey reporting a piece of cake and actionable.
These location-wise reports can be used to compare feedback and CX metrics like NPS, CSAT, and CES across all your stores. Based on these comparison reports, you can make better business decisions that are feedback-driven, and create customer-centric business strategies to enhance customer satisfaction and grow your business.
4. Collect Multilingual feedback
With Zonka Feedback, you can also create Salesforce offline surveys in 29+ languages for your diverse customers.
While sitting in New Delhi, you can listen to the voice of your customer in an Arab country. Multilingual feedback ensures that your product and services are also language-agnostic as you collect customer feedback in local languages and take actions to make the customer experience more user-friendly.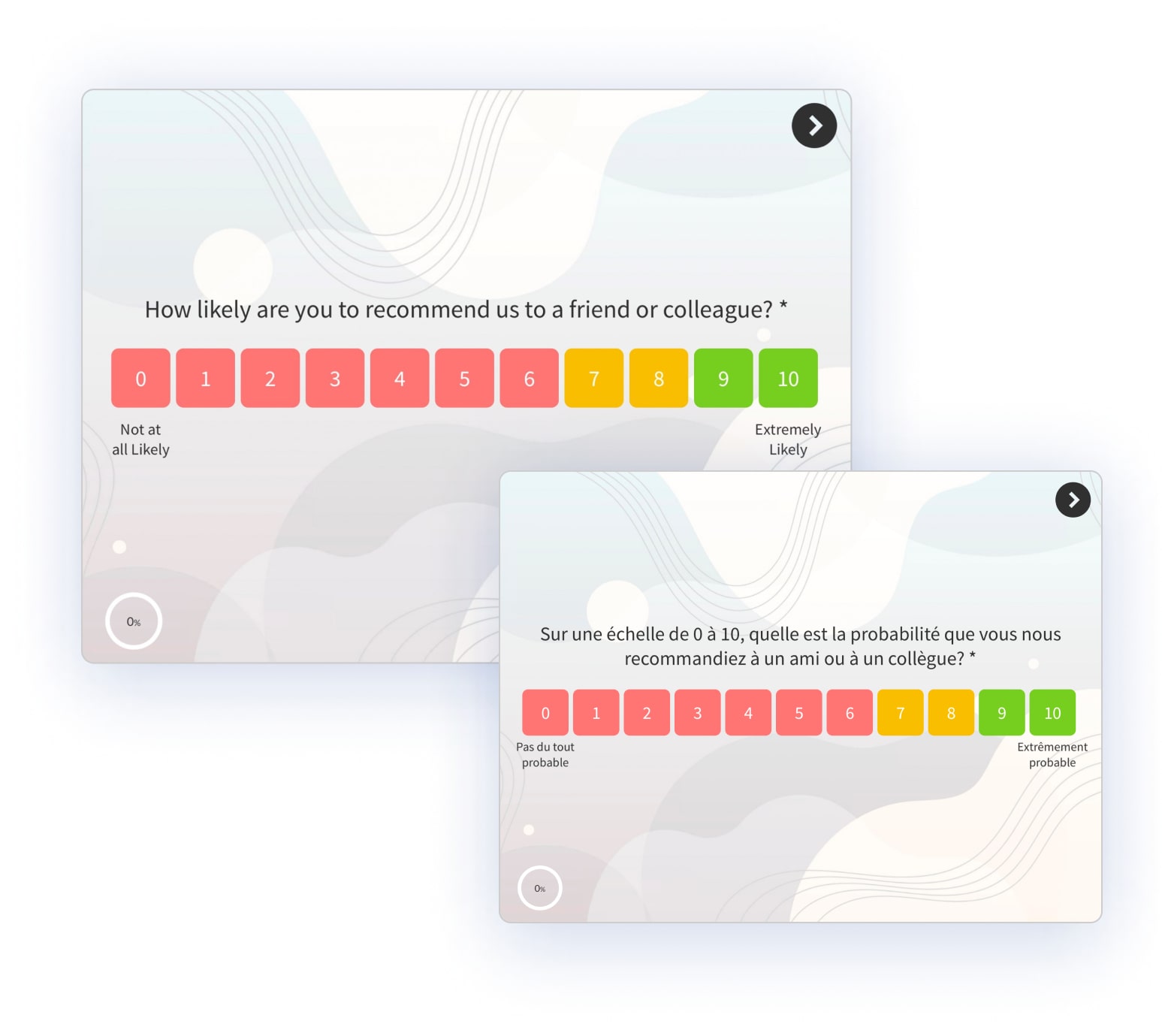 5. Track individual team-member performance
With mobile devices like Android and iOS tablets and smartphones, your on-ground team can collect customer feedback offline with Zonka Feedback mobile app. Now you can take CSAT feedback through your delivery personnel, and collect NPS after completing any service.
When their devices are connected to the internet, it will sync all their feedback data and you can view feedback on each of your team members' performances. In this way, you can easily track their individual performance from one place.
6. Automate notifications with integrations
With powerful integrations like Slack and other tools, you can also automate Salesforce survey response notifications with Zonka Feedback. As and when your offline survey response data gets synced, you will get Slack notifications. You can also automate notifications to various teams based on the response or ratings.
For instance, a notification can be sent to the customer service team on receiving a low CSAT rating. Likewise, you can set up to send a notification to your marketing teams to leverage the positive NPS rating and motivate the customers to spread the positive word of mouth and bring referrals into the business.
7. Close the feedback loop
You can also use Salesforce offline surveys to take feedback-driven actions and close the feedback loop effectively. Offline survey responses provide you valuable insights into the strengths and weaknesses of the business and help you identify the issues that your customers face. This helps you to take timely action on the feedback and close the feedback loop effectively, thus enhancing customer satisfaction and improving the overall customer experience.
8. Cover more ground without the bounds of the internet
Offline surveys have the potential to cover a wider range of customers in various areas. With offline surveys, your team members and field researchers need not depend on the availability and quality of the internet connection. They can take their mobile device anytime anywhere and collect feedback even in the remotest of locations. This helps you cover more customers, know more about their wants and choices and do better in terms of customer service and satisfaction.
9. Improve feedback accuracy with in-person feedback
As more customers are covered with the help of offline surveys, the collective response data you get is also richer and high in accuracy. By collecting feedback by in-person feedback, your field researchers can dig deeper into the customers' issues and insights, and understand more about the why behind their feedback. In this way, offline surveys help you easily find the root cause of various customer issues and provide you with action-driven data.
10. Increase survey response rate
With Salesforce offline surveys, one of the core hindrances in collecting feedback, which is the unavailability of internet connection or poor internet, gets eliminated. No matter whether your customers are in remote areas, your store is in a remote location, or in the basement of a building where internet connectivity is not available, you can capture feedback anywhere with offline surveys.
So it removes the barriers between you and customer feedback and helps you boost your survey response rate. You just need to connect your device to the internet once a month, and your response data gets automatically synced and saved in Salesforce accounts.
Let's explore some use cases of Salesforce offline surveys to understand more how beneficial they are to businesses of various industries.
Industry-specific Use Cases of Salesforce Offline Surveys
1. Logistics
Offline surveys are a great way to collect Delivery Feedback. Your delivery executives can easily collect delivery feedback from the customers with the help of handy devices like smartphones and tablets at any location without needing to have an active internet connection.
2. Hotels in remote areas
If you have a hotel in remote areas, or if you facilitate activities like adventure sports, offline feedback is the best way to collect customer insights. Your guests will obviously not like it if the survey on your kiosk devices gets stuck in between or consumes much of their precious time due to bad internet connectivity. But with offline guest satisfaction surveys, they can quickly fill the survey and submit their responses in any area of your hotel where you have installed a kiosk device.
Moreover, organizing adventure sports can include going to locations like mountains, rivers, or forests where there is absolutely no internet connectivity. There, Salesforce surveys are the only way to measure satisfaction with those activities and arrangements.
3. Airport or Airline Feedback
As offline surveys are not dependent on internet connectivity, you can gather airline feedback in airports and even on flights. Your staff can collect passenger feedback regarding various aspects like the food provided on the flight, lounge experience, staff behavior, the flight boarding process, and more. As soon as your flight lands and you take your device out and connect to the internet, all feedback data will be synced to the Salesforce accounts automatically.
4. Hospital Patient Feedback in Remote Location
You can use Salesforce offline surveys to collect Patient Feedback in hospitals, clinics, and healthcare centers in any location without internet. Whether you have a hospital in a village where there is no or poor internet connectivity, a clinic in a remote location, or a healthcare center of naturopathy in the mountains or other green areas where there is no internet, you can easily conduct inpatient and outpatient surveys to obtain feedback from your patients and their near ones accompanying them.
Taking your device and connecting to the internet once in a few weeks will sync all the patient satisfaction survey responses to the patients' records in Salesforce and you can analyze them to measure and improve patient satisfaction.
5. Product market fit research
Whether you are launching a new product, or you want to make improvements to your existing products, offline surveys can help understand if it is the right fit for the market. They are crucial in understanding customer demands and do better segmentation and targeting of your products in the market.
You can use offline surveys at various locations without the internet and survey your customers and potential customers to know better about their needs and preferences. This will help you develop better products that are a better fit for the market.
6. Blue-collar and services feedback
Offline surveys are useful to gauge customer experiences with blue-collar services like electricians, plumbers, carpenters, cleaning, painting, etc. Your blue-collar service professionals can easily carry devices like tablets and smartphones and present customer feedback e-forms requesting feedback from your customers without needing to have an active internet connection.
Customers can fill the survey forms without any hindrance due to bad internet connectivity and when your service workers return back to your location, you can connect their devices to the internet and all data would be synced to the customers' Salesforce accounts.
How to launch Salesforce Offline Surveys with Zonka Feedback?
Launching Salesforce Offline Surveys is easy with Zonka Feedback. Zonka Feedback enables you to easily create customized surveys, map them with Salesforce, and present them to your customers to collect feedback. Here are the steps for this:
1. Create Surveys on Zonka Feedback
When you have an active Zonka Feedback account, you can easily create customer surveys. Zonka Feedback provides hundreds of ready-to-use templates to enable you to create any type of survey and customize them as per your requirements. With beautiful designs and various pre-built survey questions (that you can modify), Zonka Feedback Survey Builder allows you to make your surveys visually appealing.
You get features like skip logic, hide logic, and survey redirection to create Salesforce dynamic offline forms and surveys and make them more conversational for your customers. You can create surveys for different industries like hospitals, restaurants, hotels, airports, educational institutes, e-commerce websites, retail and more. You can also create metric surveys to measure CX metrics like NPS, CSAT and CES. Create the survey with the easy survey builder with Zonka Feedback to collect feedback offline.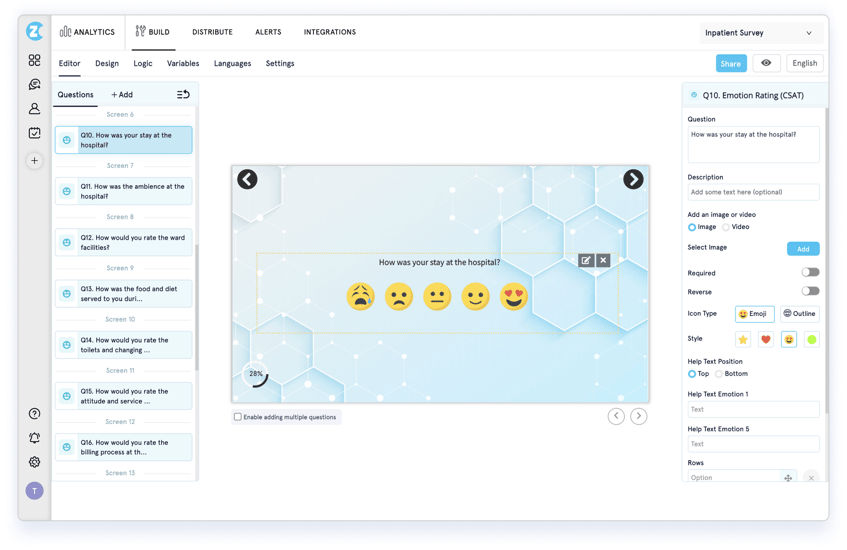 2. Enable Managed or Custom Mapping with Salesforce
To get the benefits of Zonka Feedback survey integration with Salesforce, you need to map Zonka Feedback Surveys with Salesforce. Zonka Feeback allows two types of mappings viz., Managed Mapping and Custom Mapping.
In Custom Mapping, you map all the survey response fields to the attributes of Salesforce objects. On the other hand, Managed Mapping is the automatic mapping of the survey response fields to the Salesforce contact objects.
Know more about and Understand Salesforce Survey Mapping Types with Zonka Feedback
3. Present the Survey and Collect Feedback
When you have created the survey and mapped Zonka Feedback with Salesforce, the final step is to present the Salesforce offline surveys to your customers and potential respondents. While you can send online surveys through channels like email and SMS, you can conduct offline surveys through channels like iPhone, iPad, Android tablets, and smartphones. Your executives can easily collect responses to the survey through these devices anytime anywhere without the internet.
You can also set these devices as kiosks at your location which your customers can approach and easily take the survey without any assistance required or any hindrance due to bad or no internet connectivity.
Conclusion
Zonka Feedback enables you to capture feedback offline for weeks without the internet through Salesforce offline surveys. When your devices get internet connectivity, all your response data is automatically synced and becomes available on your Salesforce customer accounts and records with the other customer data that you and your teams can access anytime and make use of.
With Salesforce offline surveys using Zonka Feeback, you can survey your customers and measure customer satisfaction anytime anywhere without any hindrance and take action to close the feedback loop and improve customer experience.
Measure CX at all touchpoints with Salesforce Surveys
Send surveys and get 360° view of your customers right within Salesforce with Zonka Feedback