Several studies show that satisfied patients who receive appropriate counseling, treatment instructions, comprehensive care, and an overall satisfactory experience, often respond positively to the treatment and experience better clinical outcomes. What healthcare providers must remember is that every positive experience can add to patient satisfaction, and thereby, the success of the hospital or facility. So, if you're not already going the extra mile to ensure patient satisfaction, you might lose out on current as well as potential patients.
Measure Patient Feedback and Satisfaction👩‍⚕️
Create your healthcare surveys and questionnaires and gauge feedback from patients in real-time.
Satisfied patients are loyal and also recommend you and your facility to others in a world where word-of-mouth marketing can do wonders. But how exactly do you ensure patient satisfaction and earn this loyalty? Read on to find out.
Ways to Improve Patient Experience
Improve Communication
Take Time to Educate Patients
Train Staff to Handle Patient Queries
Keep it Transparent
Offer Payment Plans
Use Latest Technology
Conduct Patient Satisfaction Surveys
1. Improve Communication
Good communication in a healthcare facility means excellent interaction with everyone from the receptionist to the medical expert. Communication is important throughout the patients' relationship with your facility. Therefore, every staff member, as well as medical professionals, must keep in mind how they interact with and educate patients. The key is having patients involved in their own care and keeping them updated on the progress at all times.
Here are some tips to improve patient communication:
Provide clear and direct instructions and information throughout the process from appointment to the treatment procedure.
Listen attentively and answer all the questions they may have in terms of treatment, payment options, prescription, medical assessments, etc.
Create a positive environment by initiating interactions and proactively offering help.
2. Take Time to Educate Patients
A study revealed that patients felt rushed and less satisfied during their appointments because physicians spent less time with them than they expected. It's a general perception of patients that when doctors do not take time to communicate educate the patients, they do not get the optimum health solutions. This lack of patient engagement can also affect medical outcomes since patients who do not feel satisfied may be less likely to adhere to the treatment instructions.
Therefore, make sure to spend more time with your patients and explain the reason as well as treatment for the illness in great detail. Patients feel more connected and responsible if they are given the power to decide their own treatment course. So, before prescribing medication or choosing a treatment method, do take your patients' opinions and suggestions into account.
3. Train Staff to Handle Patient Queries
Patients might have several questions throughout their relationship with your facility. For example, they might need to understand how they can leverage their health insurance or have a question regarding their diet at the hospital. This is the reason it is important to train staff on how to answer every question and assist patients and their families in different scenarios. In addition to effective medical care, helpful and friendly staff would close the gap between patient experience and patient satisfaction.
4. Keep it Transparent
Often, patients find out about certain charges at the time of billing, which leaves them frustrated since they didn't anticipate those charges. Or many times they may experience certain side effects during the treatment that they weren't aware of. Events like these are bound to leave a negative impact on patients and drive them away. So, to avoid that, make transparency your priority. Here are some tips:
Clearly communicate all the charges (that usually are hidden) before the treatment so that there are no surprises.
Give patients treatment-related guides or brochures so that they can read about the treatment and its side effects in detail before making a decision.
Respect patients' time and communicate any delays in appointments or consultations beforehand so they do not have to wait.
5. Offer Payment Plans
With patients required to pay more and more out of their pockets, most of them may expect certain payment flexibility. Payment plans offer patients that flexibility by breaking down the entire bill into increments that can be more easily managed. This allows patients to seek medical care that they need without having to worry about finances. A strategy to help patients make flexible payments will not only improve patient satisfaction but will also give you an edge over your competitors. You can also use the SSM smart square login dashboard to manage your employees and their payment through one complete management platform.
6. Use Latest Technology
Technology can enhance medical processes and at the same improve patients' ease. For example, if a patient loses their medical file, the hospital staff can use cloud-based medical software to retrieve the same, with information as simple as the patient's contact number. With appropriate tools and software, you can optimize various processes while also saving time and effort.
Moreover, patients now want to be more involved in their treatment and stay up-to-date at every step. To enable that, here are a couple of things you can do:
Go Online:

67% of patients say that they are more likely to choose a medical provider that has online appointment booking. So, make sure to

invest in a website and mobile application

so that patients can access medical care with more ease.



Invest in Automation:

70% of patients say that would prefer a medical provider that sends email and text reminders for appointments and follow-up care. Therefore, you can invest in an

automated email and text messaging tool

that will take over this task without any significant need for human intervention.
7. Conduct Patient Satisfaction Surveys
Different patients may have different expectations from your healthcare facility. For example, some patients may prefer flexible payment plans while it may not be a matter of concern for some. Some patients may require early discharge while some may feel that they are being rushed out. This is where you can leverage the benefits of patient feedback methodologies.

So, to find out what matters to your patients, ask them directly. Patient satisfaction survey software is one of the most effective tools for feedback collection. It can help you highlight the areas of improvement and work on them till you can meet patients' expectations. Here are some tips for an effective patient survey strategy:
Collect feedback at different touchpoints, such as reception, visitor's lounge, billing desk, post-discharge, etc.
To collect the most accurate feedback, create groups, such as admitted patients, patients' families, outpatients, etc.
Collect on-premises feedback to gain insights in real-time.
Take corrective actions and close the feedback loop by informing patients about the action taken.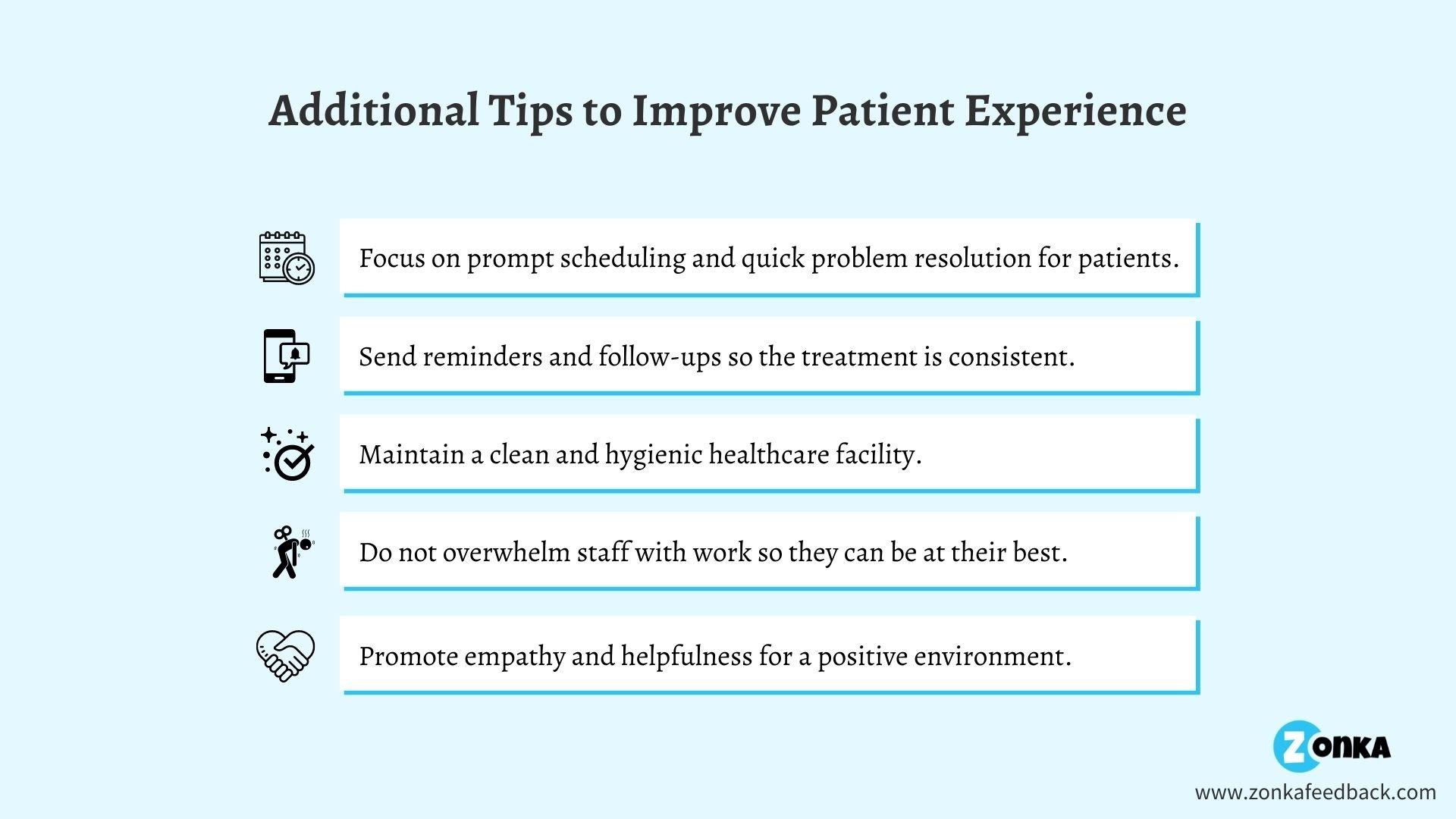 Zonka Feedback Patient Satisfaction Survey Tool
To understand what drives patient satisfaction at your facility, it is important to understand patient expectations and experiences. And our patient satisfaction survey tool is designed to help you do exactly that. Here's how our patient feedback tool can help you tremendously:
It allows you to share all types of surveys through different channels, such as email, SMS, mobile phone, mobile application, kiosk, website, weblink, live chat, and QR code.
It measures patient satisfaction across different metrics, including patient satisfaction (CSAT) and patient loyalty (NPS).
The tool enables you to drive insightful patient data, make corrective actions, and close the feedback loop.
It offers ready-to-use and customizable templates that you can use to create the most attractive and interactive patient surveys.
It allows the personalization and branding of surveys.
Zonka Feedback's latest and most intelligent features are designed specifically to help you create logical and attractive surveys and collect patient feedback in the most effective manner.