According to Microsoft, 96% of consumers across the globe say customer service is an important factor in their choice of loyalty to a brand. While 68% of customers believe the key to great customer service is a polite customer service representative, 62% think that service insight and knowledge is the key to a great customer service experience.
Great customer service has become integral to delivering excellent customer experiences. So much so that 86% of buyers are willing to pay more if the brand makes their shopping experience quick and easy. So, how do brands understand unique customer expectations? How can brands achieve excellent service standards to earn customer loyalty? The answer is simple - by using CES Surveys to measure Customer Effort.
Measure & Improve Customer Effort

👩‍💻
With CES Survey insights, design low-effort experiences for your customers and improve loyalty.
Customer Effort Score
Customer Effort Score is one of the most important customer service metrics that measure the effort customers put into accomplishing a certain goal with the brand. It measures the convenience of customers in doing business with a brand.
To calculate Customer Effort Score, you can use CES surveys that are usually sent after customer service interactions. It asks customers to rate the customer service and their effort in completing a purchase or getting an issue resolved on a scale of 1 to 10. You can always add a follow-up open-ended question to understand the reasons for customers' scores.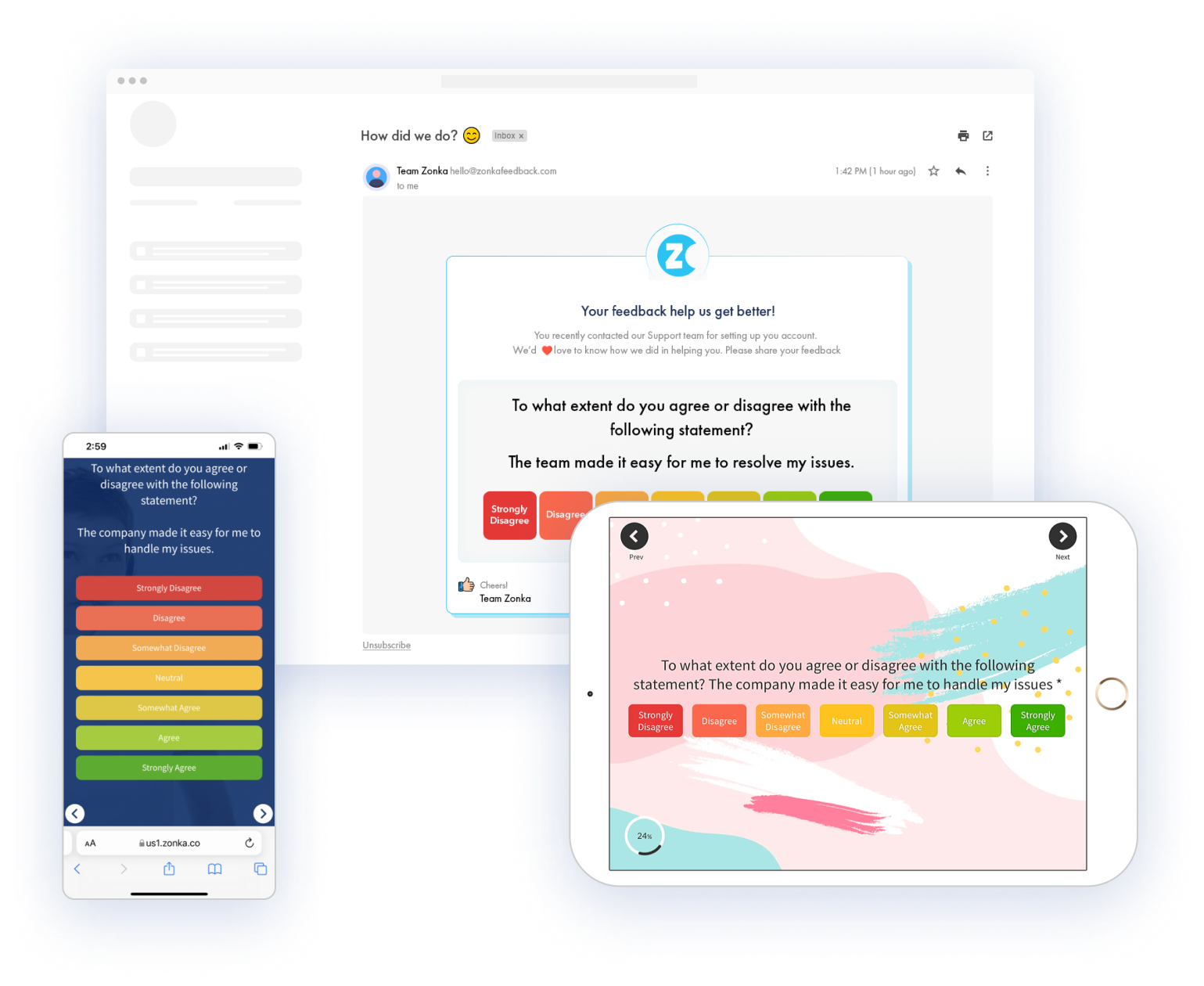 Why Should You Care About Customer Effort Score?
Different departments or processes in a business can use Customer Effort Score and customer reviews to Customer effort score data can help brands in different ways, such as:
1. Reduced Negative Word of Mouth
An average customer tells 15 people when they've had a poor customer service experience. Increased customer effort in doing business with brands not only influences their repurchase decisions but also spreads bad word of mouth against the brand. Therefore, you can use Customer Effort Score data to understand your current customer service performance and improve it based on comments and open-ended answers in the feedback survey. Moreover, CES surveys help identify issues to allow proactive management so that you do not end with negative reviews all over the web.
2. Reduced Customer Service Costs
Since CES surveys allow customers to share what went wrong, brands can identify problems that usually surface during service experiences. This helps in finding hiccups that may lead to creating new tickets and resolving several issues proactively. This reduces the load on customer service teams, making the process more cost-effective.
Customer Effort Score data also reveals if certain training or process improvement is required. This can help dramatically in speeding up resolutions and customer communication, allowing customer support staff to perform more efficiently, thus increasing the overall productivity.
3. Optimized Self-Service
89% of consumers expect companies to have a self-service support portal. Often, customers prefer to do everything on their end before reaching out to brands for help. This is the reason brands that make self-service easier for customers clearly stand out. Therefore, Customer Effort Score surveys to evaluate self-service features at onboarding, purchase, troubleshooting, etc., can help identify issues that may be affecting the performance of your self-service channels. For example, if there's the unavailability of some information, your customers can report the same and you can use feedback to fix the problem.
4. Improved User Experience
89% of consumers have switched to doing business with a competitor following a poor customer experience. Customers no longer mind paying extra if brands can make doing business with them easier. So, even if you offer competitive prices and a huge array of products or services, you will fail to offer customer loyalty without ensuring excellent customer service standards.
With the help of Customer Effort Score, you can proactively reach out to customers after every interaction or support communication to identify and resolve issues. It will also communicate your brand's focus on delivering flawless customer service.
5. Increased Customer Loyalty
In 2010, researchers from CEB found that reducing the amount of effort a customer has to make to get their problem solved is a higher indicator of customer loyalty. And brands cannot possibly reduce customer effort without finding out the Customer Effort Score and identifying common service issues. The Customer Effort Score gives an insight into where you stand currently and helps chart a path to excellent customer service in accordance with customers' expectations, thus improving customer loyalty.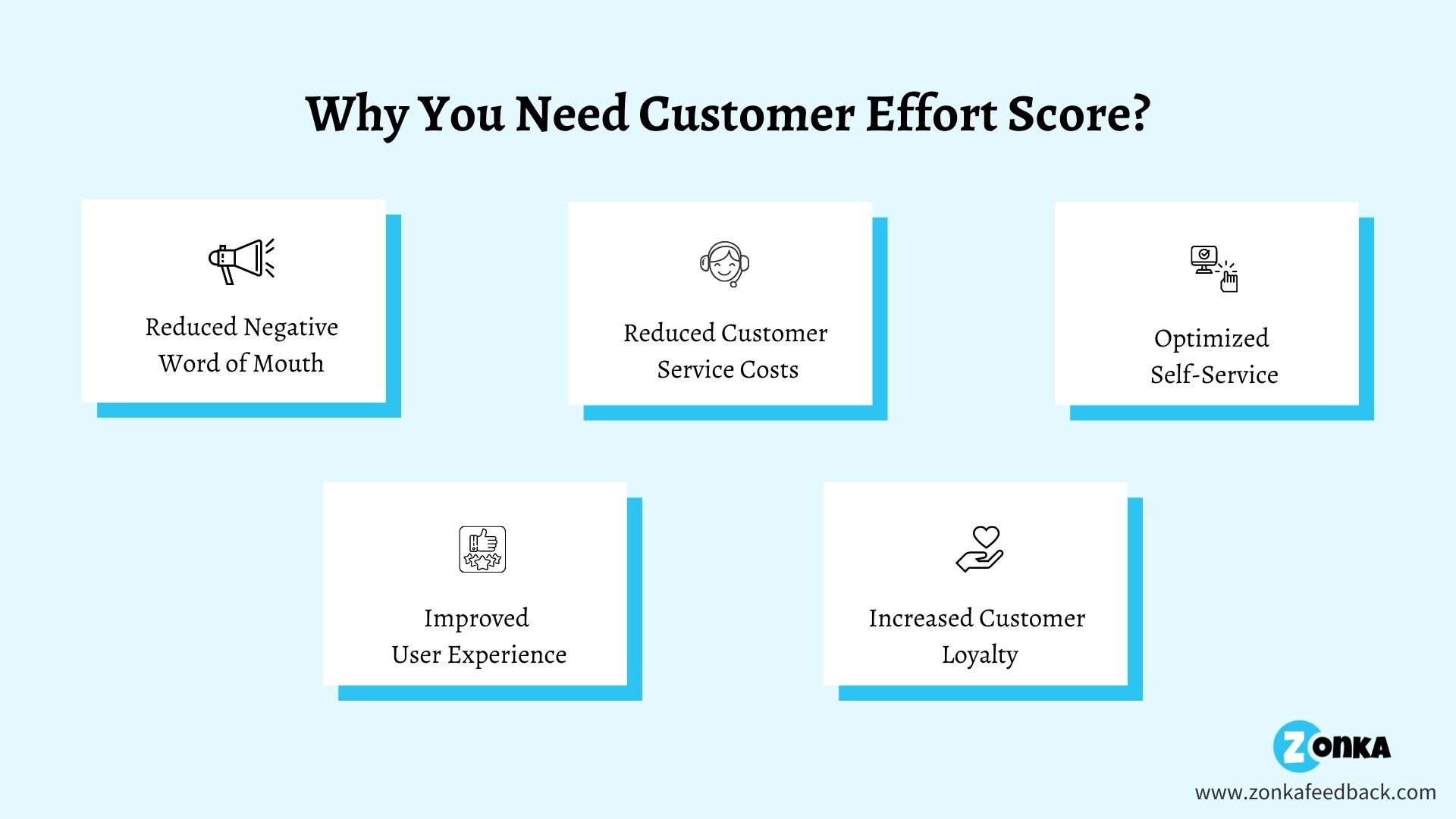 Best Practices to Measure CES
When you're sending out CES surveys, here are a few things you should keep in mind:
Use Email Signature Surveys: Email Signature Surveys allow measuring agent performance and capture feedback on every support interaction.

Use Email Embedded Surveys

: Email Embedded Surveys are usually used for post-resolution feedback. It allows customers to share feedback right within their inboxes.
You can read our detailed article on Collecting Customer Service Feedback Using In-Signature Surveys and Email Embedded Surveys to understand which one to use when.
Use Open-Ended Questions: Open-ended questions allow customers to share their service challenges in their own words, helping brands to identify exactly what it is that is leading to high customer effort.
Ask Follow-Up Questions: Follow-up questions are important for checking the quality and swiftness of resolution and closing the feedback loop.

Integrate with Service Tools and Helpdesk

: Integrating your survey software with customer servicing tools, such as Zendesk, Intercom, Freshdesk, etc., allows surveying customers instantly when offering support through emails and chat.
You can check out our detailed articles on measuring CES with Intercom and measuring CES with Zendesk.
Conclusion
To achieve excellent customer service standards, you should not only measure Customer Effort Score but also work on improving it. You can read this article that talks in detail about How to Improve Customer Effort Score.
If you're looking to start measuring Customer Effort, you can also read our comprehensive Customer Effort Score Guide where you can learn all about how to create good CES surveys, when to send CES surveys, and how to use CES data to improve customer service.