With the increasing number of mobile users worldwide, several businesses are using SMS as the preferred communication channel to engage and share useful information with their customers. Although there are numerous channels available to survey your customers, SMS is one of the quickest ways to reach out to them.
Reach a Wide Audience with SMS Surveys📈
With SMS Surveys, collect feedback in a fast and easy way through Survey Invitations sent via text message.
Therefore, it should be a part of every marketing strategy that can help you enhance certain aspects of your business and satisfy your customer's needs. According to Gartner, SMS is considered as the top 4 most-adopted mobile marketing tactics.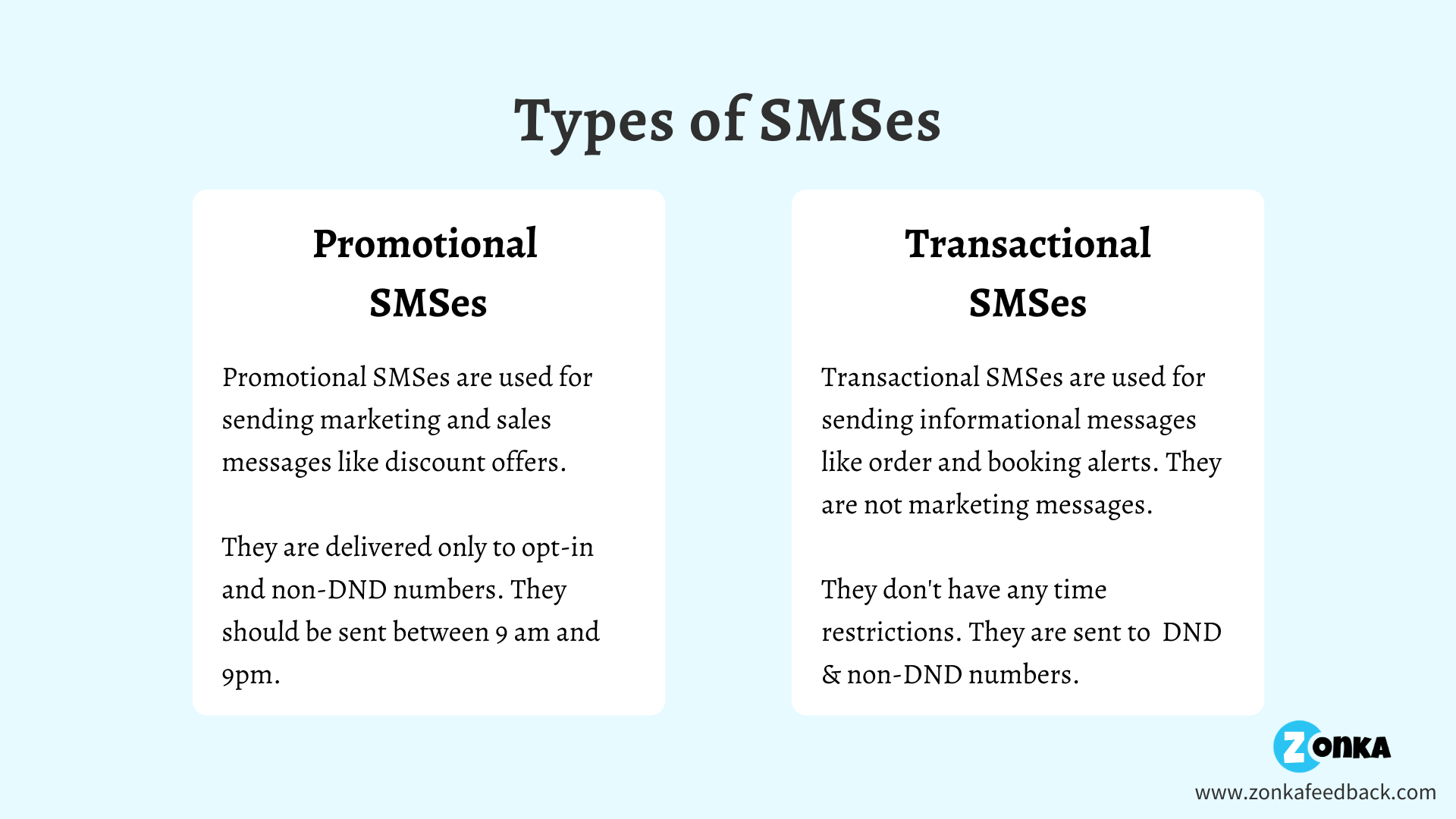 In SMS Surveys, web links are sent along with a message to the target audience via SMS (short message service). For instance, you can send surveys to customers after every interaction to know their insights about your products and services.
8 Benefits of Using SMS Surveys
Acquiring online or in-person customer feedback can be a challenging task, especially if your customers don't have sufficient time to open their emails or have one-on-one communication with the customer rep over a phone call or chat session. In such scenarios, it's best to make use of SMS Surveys, where they can access the surveys in their phone browser and complete them as per their convenience. Some other benefits of SMS Surveys are: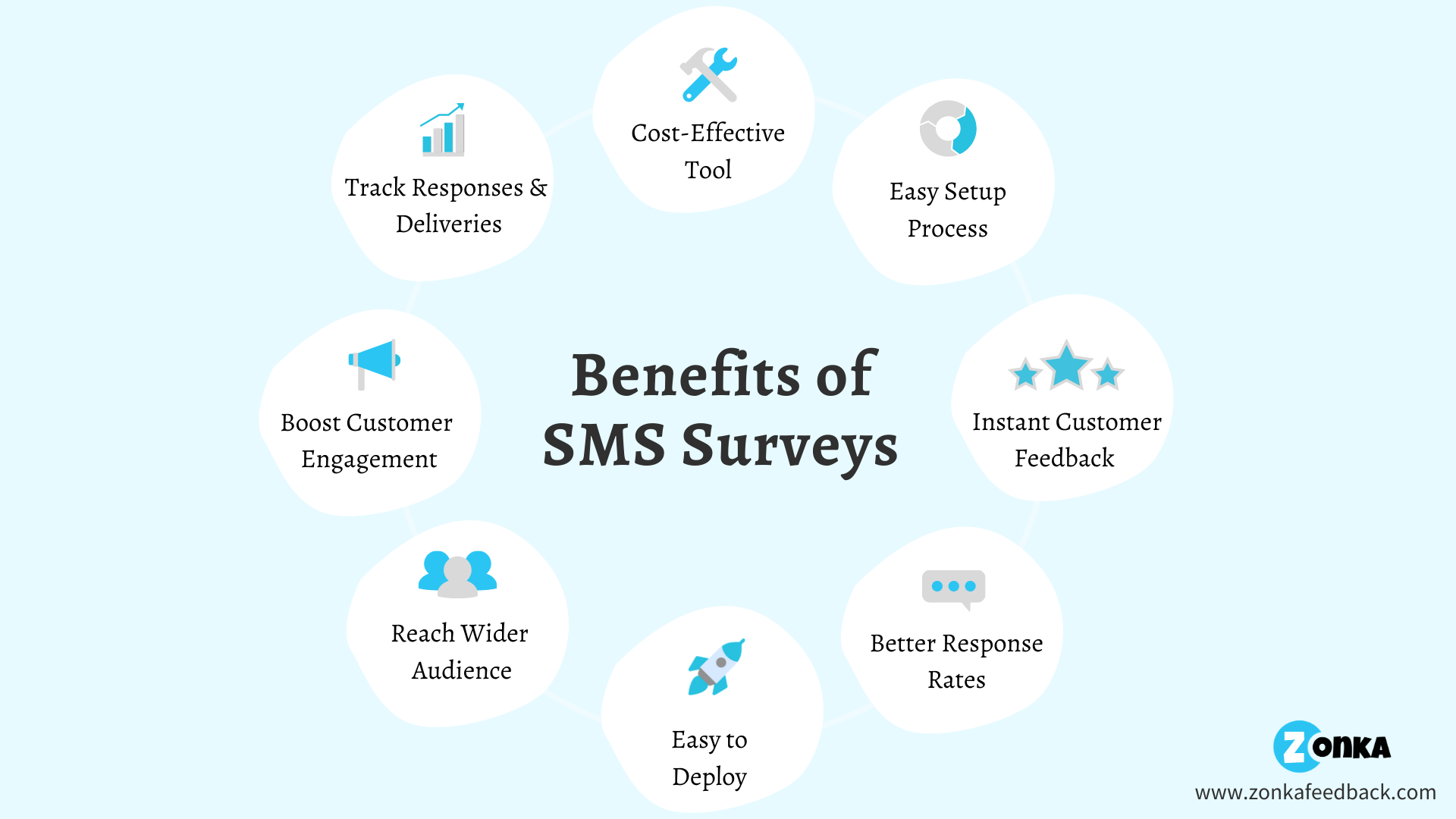 1. Cost-Effective Tool
It requires only a few cents per message to create an SMS campaign as compared to other types of surveys. Plus, it's easy to send text messages and survey links to bulk contacts. Due to higher open rates, it's an effective marketing tool to collect customer feedback and know their concerns. Study shows that open rates for text messages are 98%.
2. Easy Setup Process
It can take a lot of time to send surveys manually. But with the help of SMS Survey software, you can use in-built survey templates or create customized surveys via WYSIWYG survey builder as well as schedule them with less time and effort. You also get an option to modify the text message as per your requirement to let your customers know the purpose of the survey.
3. Instant Way to Get Feedback
Most of us have the habit of carrying mobile devices with us all the time, and our customers are no different. Whenever we receive any SMS, the first natural reaction is to open it immediately. According to Mobilesquared, mobile users open 90% of the messages within the first 3 minutes. So, this is another strong reason that depicts SMS is a perfect platform for conducting surveys and capturing instant feedback.

4. Better Response Rates
Studies show that SMS messages have a 209% better response rate as compared to any other channel like phone, email, or Facebook. Response rates can vary depending upon the surveys for different industries. But according to mobile marketing experts, most of the mobile users respond to different types of messages such as promotional deals, event updates, appointment reminders, etc. via an SMS.
5. Easy to Deploy
Thanks to all the user-friendly SMS survey software available in the market, you can easily create and deploy surveys within a few minutes. The best part is you don't have to feed individual customer's details manually. By making use of an automated tool, you can easily upload bulk contacts via CSV into the system and send them surveys in one go.
6. Reach a Diverse Set of Customers
Every generation uses SMS, be it millennials or older generations. It's an ideal outreach method to connect with a wide range of customers residing in any part of the world and collect data.
7. Increase Customer Engagement
Every customer wants to be heard and feels appreciated. Sending SMS Surveys shows that you care about your customers and want to listen to their opinion. It will also help you understand them better, how they feel about your brand, and what all you can do to improve their customer experience. Data shows that SMS generates 6 to 8 times higher engagement rates than email marketing when used for redemption, data collection and brand awareness.
8. Tracks Responses and Deliveries
Sending surveys and receiving responses is one part. But how will you keep track of all the information? This is why most of the businesses employ SMS survey software to gather real-time responses in one place, track various activities, and view logs of responses, deliveries, total messages sent in a month, survey open and response rate, etc.
Creating and sending SMS Surveys with Zonka Feedback
Zonka Feedback offers a pool of features that helps you collect feedback from your customers in real-time, determine the areas of improvement, and measures customer experience metrics – NPS, CSAT, CES 2.0. You can integrate the SMS Survey Tool to any platform and automate sending SMSes.
Sending SMS Surveys from the SMS Platform
You can manually send the SMS Surveys from the platform directly. It is very simple and takes less than 5 minutes to send.
With the SMS Platform, you have two options —
Send the SMS Surveys immediately
Schedule the SMS Surveys to be sent at a later time
The steps to sending SMS Surveys manually from the SMS Platform are as follows:
Create and customize your Survey: There are no restrictions to the type of survey you can send via SMSes using Zonka Feedback. Choose from any expert template and customize it to your preference or create a survey of your choice from scratch.
Choose SMS as a Survey Distribution Channel: From the different channels available for distribution, choose SMS Surveys.
Choose the option to send SMS from SMS Platform: You will see two options to send SMS Surveys - Send SMS Now/Later or set up APIs and Integrations. Choose the first one to send SMS Surveys from the platform.
Compose your SMS: Customize the message of your SMS Survey. Share the purpose of the survey to your audiences so they know the reason for the survey. Also, personalize the surveys by inserting placeholders like Contact Name, or any other attributes.

Add Recipients: There are four different ways you can add recipients to your SMS Surveys to send them quickly. These include:

Add manually: Add the contact phone numbers with or without their names manually in the recipients box to send SMSes. Ideal if you're looking at sending to a few people.
Import CSV: Import a CSV with the contact phone numbers as well as names to Zonka Feedback. Ideal when you're sending SMS Surveys in bulk to a lot of people.
Import CSV with additional data: If you want to pass additional data in your Survey (without the Contact filling up that extra information), you can upload a CSV with additional data. For instance, if you're doing an employee survey and want to add Department Name, or while doing a post-flight survey, you want to add the Flight Number, or in an eCommerce survey, you want to add the Order ID.
Add from Contact List: People you send SMS and Email Surveys to as well as people who respond to a survey get added as a Contact in Zonka Feedback. These contacts can be put together in a Contact List. While sending SMS Surveys, you can choose any Contact List to send the Survey to.

Preview and Send SMS: Once you've sent the SMS Surveys, you can track deliveries and view SMS Survey Logs. Once the Contacts start filling out the surveys and feedback forms, you can view the responses in real-time, along with detailed, in-depth reports.
Triggering SMS Surveys after an event or interaction
Often you want to trigger SMS Surveys based on a certain event, or interaction or transaction, like sending an SMS Survey after purchase, or delivery, or after the flight. These are called Transactional SMS Surveys and can be set up very easily in the Zonka Feedback SMS Surveys Tool by integrating with your favorite apps.
These apps, once integrated with Zonka Feedback, will notify Zonka Feedback once the event has occurred and the SMS Survey will be triggered.
Get a complete access to Zonka Feedback's API Docs for quick integrations.
SMS Surveys are a powerful data collection tool that every business should use to improve their performance. They can help you build long-term relationships with your customers and give you deeper insights to make informed decisions about your business.
Learn more about the SMS Surveys